Connie Romano is not one to stand on convention. Upon retirement from a 37-year career with General Motors, she bid farewell to an upper management position to follow her dream.
"I didn't want a traditional retirement, I wanted to do something fun, something my dog, Stuart, and I could enjoy together," she says.
Romano refers to Stuart, a West Highland white terrier, as her "heart" dog. 
"He came into my life in 2000, and he changed it," she says. "We did everything together."
With a tag line of, "Dogs Are the New Kids," Romano set out to pursue a goal of creating a warm, welcoming environment for "fur-kids" and pet owners alike.  
"I wanted a place where people could come in and sit down with their dogs, with no traffic, no heat, no wind, no rain, have a snack and enjoy meeting other dog people," she says. 
Stuart passed away in April 2012, but his inspiration lives on. Romano's vision became reality in August 2015 when Bark Out Loud Doggie Boutique and Café opened in Mansfield, Texas. 
The café, which offers table seating for 13, also opens to an outdoor patio, where umbrellaed tables await, seating eight. When the weather warms up, pets can chill out in an outdoor wading pool.  
"It's fun to see the reaction of a first-time visitor when they ask if it's OK to bring their dog in with them," she says. "I get excited every single time I see their reaction to the café." 
A variety of canine delicacies are served—for example, gourmet bakery treats, Bark-A-Lattes, ice cream, frozen yogurt, pup-corn, pup-tato chips and cheesecake. Furry diners proudly take a seat at the table, settling into their own doggie-friendly chair. Human guests sip coffee, tea, smoothies or soft drinks, and select from an assortment of snacks.
"We bring the food out to the table; we don't just hand them a tray," she says. "Children are ecstatic when their dog sits in its own little chair at the table."
Canine birthday "paw-ties" are a regular occurrence, and partying pups salivate when a special cake, baked by Romano's husband, Mike, is placed before the guest of honor. After a "Happy Birthday" sing-along, the feted pooch grins for the camera, and the event is memorialized on Facebook.
"The day-to-day birthdays are probably the most precious thing we do," Romano says.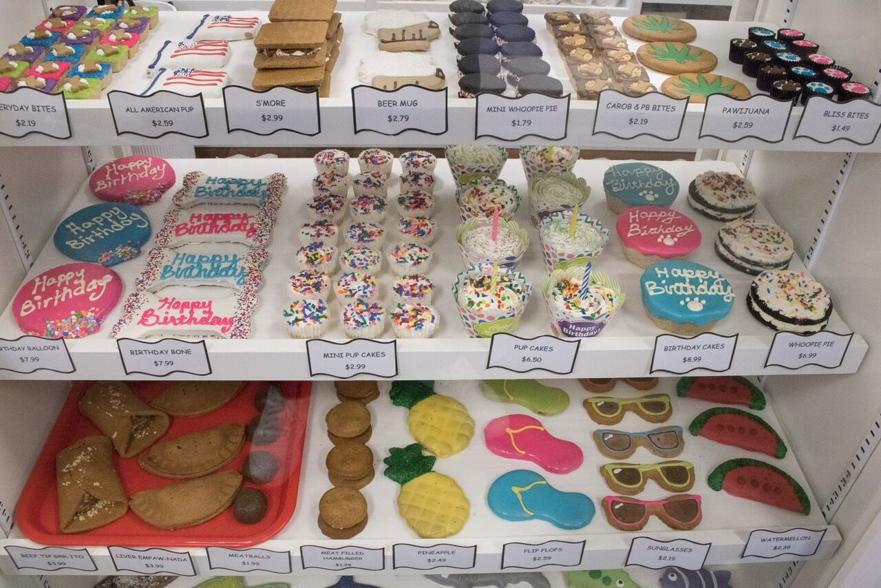 While cakes and cookies for canine ice cream sandwiches are baked in the Romanos' kitchen at home, ice cream and other goodies, such as cheesecake, are prepared on site in the small café kitchen. Gourmet bakery delicacies are purchased from trusted vendors, and all are made with human-grade ingredients.
Everybody's yappy when yappy hour rolls around. It's a daily event, where human guests are welcome to bring their own alcoholic beverages for patio seating, and Fido might quaff a cooling doggie beer.
The Bark Out Loud atmosphere is joyful, as visiting pets and their owners get their groove on by listening to music from a repertoire of 70 dog-related songs.
"Often, people sing along, especially the kids," she says. "They love it when 'Who Let the Dogs Out' comes on. Everyone is singing and laughing. I love it."
For pet owners with an artistic bent, Paint Your Pup Paw-ty nights offer would-be portraitists a chance to hone their skills and create a furry work of art in a festive atmosphere. The events, held monthly, are led by a local artist, and the minimal fee provides painting supplies, appetizers, soft drinks and dessert. Guests may bring their own alcoholic beverages.  
"The café becomes an art gallery on those Saturday nights," Romano says. 
The place bustles on most holidays, with exciting events that run the gamut from Labor Day ice cream socials, for example, to the ever-popular visits with Santa Pawz. 
"We have a real Santa," she says. "The dogs love it and literally run to him."
The café is kept spotlessly clean and occupies approximately 25 percent of floor space in the 1,400-square-foot facility.
In August 2018, the store celebrated its own third birthday with a customer appreciation party. The gala featured human refreshments, and free Hawg N' Heffer beer floats for the furry set. Door prizes, free vendor samples and goodie bags rounded out the merriment.
"We had 60 dogs and 80 to 90 people at the party," she says. "It's about bringing people and dogs together. This is my fun."
The Bark Out Loud experience begins when pet owners and their fur-kids pass through the door.
"I try to remember the name of every dog that walks in, and we take pictures of each one," Romano says. "When I ask an owner if I can post the photo on our Facebook page, they are thrilled."
Customers joining the Best Fur Friend, or BFF, Club receive a membership card, and after the fifth visit, BFFs nosh a free bakery cookie. Pet owners receive a vehicle magnet, and a selfie with their pet is displayed on the Bark Out Loud BFF wall. 
Shopping discounts are offered to firefighters, police officers and members of the military.
"We always support these folks," Romano says.
Growing with Demand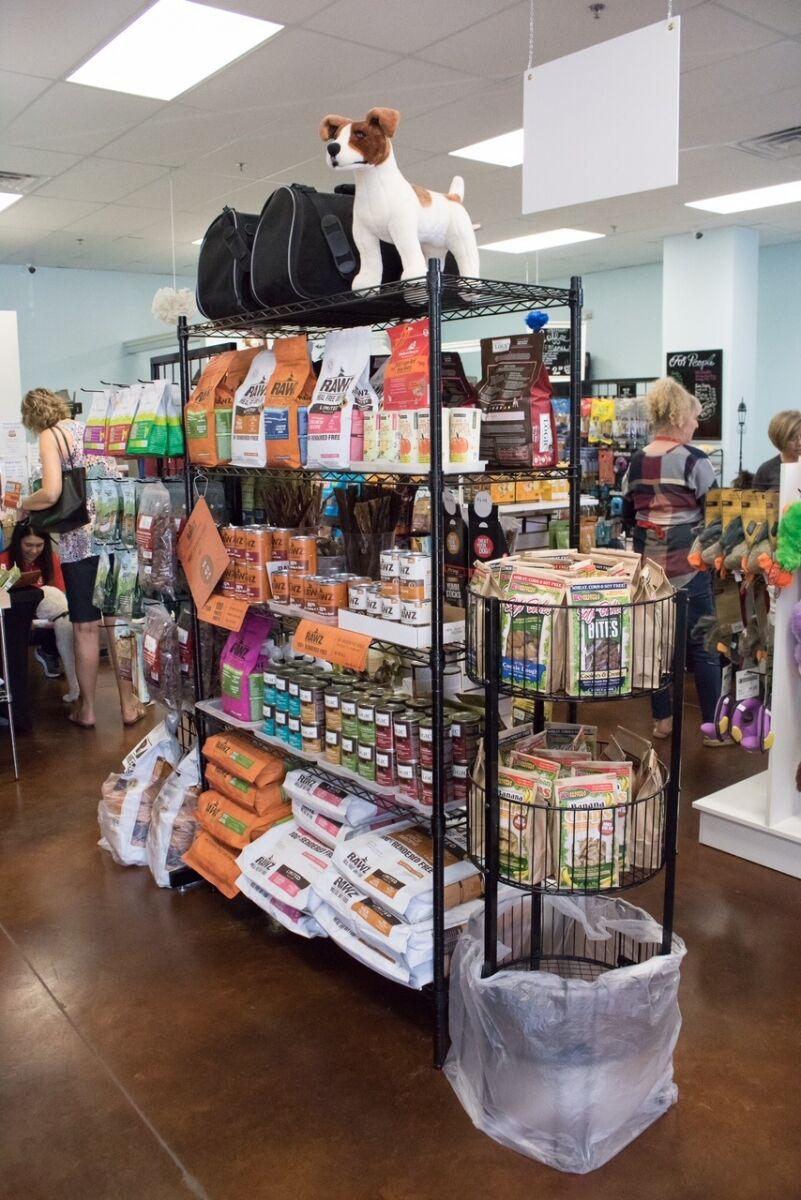 Initially, Bark Out Loud offered a limited range of retail items, but as the popularity of the enterprise gained momentum, customer requests swelled. Romano took note, and the inventory evolved. 
"I carried some retail products in the beginning," she says. "We had a huge case of gourmet treats—that is my big thing—along with dog beer, wine, natural chews, and some unique toys and apparel, items not available at the big-box stores, but selections grew with customer demand."
The progression included an expansion of food choices.
"Initially, I carried one brand of dog food, available in kibble and canned," she says. "I wanted to take baby steps."
The introduction of raw foods occurred when a new resident telephoned with an urgent need for a particular brand of frozen raw food for her dogs.
"It was a Sunday night. I called my distributor, who put me in touch with the representative," she says. "I didn't even have a freezer at that point."
The plan gelled within a few days. 
"I bought a freezer, and the rest is history," Romano says.
"I feed raw to my own dogs, so I am a testimonial to the health benefits," she says. "More customers are coming in, and the category is growing."
Food options also include freeze-dried, canned and kibble. Supplements have joined the mix, including an offering that has been very well received.
"I stock raw goat's milk supplied by Peach Tree Hill Goats, a local farm," she says. "We sell out of it all the time."
In addition to mealtime sustenance, the aroma of an assortment of treats—including those found at the "raw bar," where freeze-dried body parts are displayed—tantalize canine customers.
"Once the benefits of the body parts are explained, customers purchase them, and then come back for more," Romano added.
The wide variety of pet supplies includes boutique items, leashes, collars, harnesses, backpacks, safety collars, toys and more. 
A medley of human gift items, such as One Fur All's Pet House Candles, pet-themed towels, socks, signs, books and greeting cards are in stock. T-shirts are also in the mix, including Romano's own original designs.
"One shirt has a wine glass illustration on it and says, 'Which wine pairs best with dog hair?' The other has a mug, saying 'Which mug pairs best with dog hair?'" she says. "When I take these shirts to events, people just buy the heck out of them."
When it comes to her employees, Romano says she prefers to hire sales associates that have experience in the retail world. Additionally, she seeks people who are familiar with canine behavior, for instance, dog sitters or walkers, kennel assistants, vet techs or those who have worked in the doggie day care world.
"Everyone here has some type of experience with dogs, and that's really important, because you can't be afraid and must know how to interact or manage them," she says. "I look for people who are able to diffuse a situation without fear and can read body language well enough to see if something is coming on."
As a result, Romano is proud that her store has had no incidents.
Outstanding customer service is vital to the Bark Out Loud experience, and a key reason why a retail background is crucial.
"If someone comes to the door at closing time, we say, 'Come on in!' and open back up," she says. "They might stay for 30 minutes, but they remember and come back."
Further, because she hires people with a passion for animals and a background with dogs, nutritional information is more readily absorbed. As a result, these knowledgeable emissaries are ready and able to assist customers in food and product selections. 
A Furry Kinship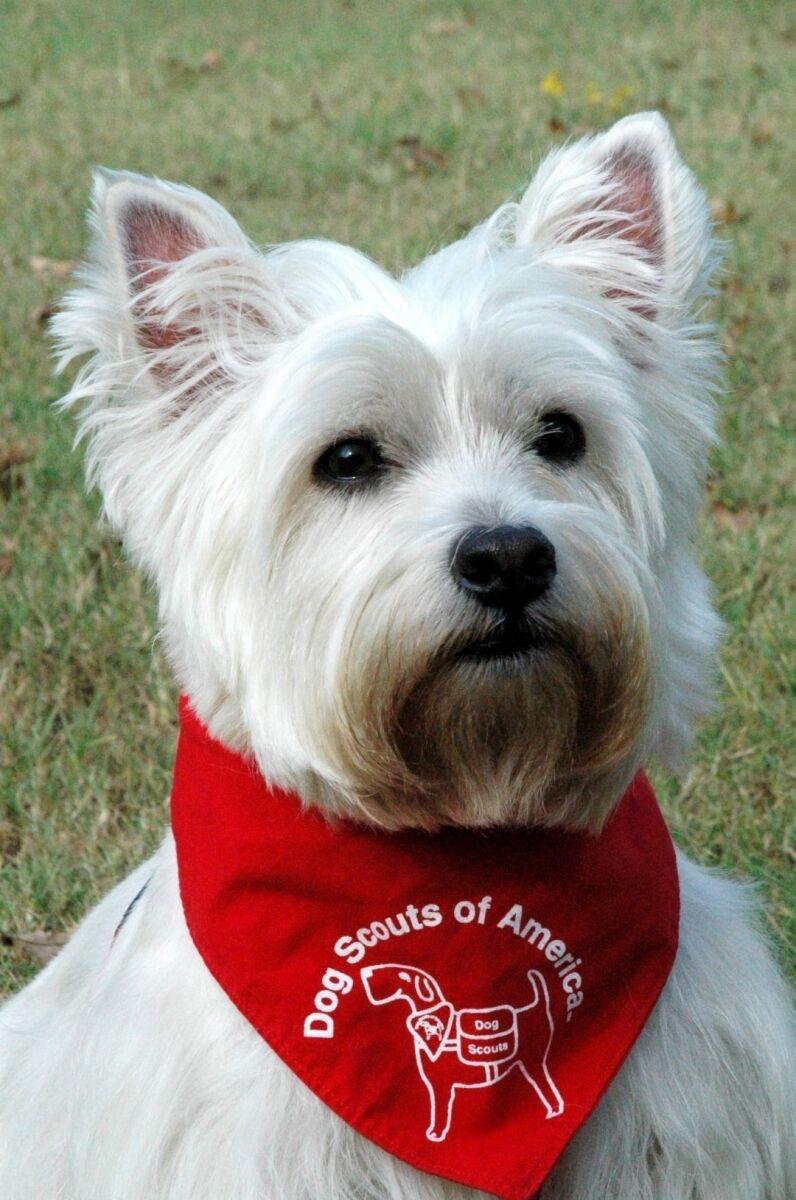 As a long-time member of Dog Scouts of America, a society that aims to improve the lives of dogs through education, training and community involvement, Romano has been involved in many of the organization's outreach and fundraising efforts. 
Bark Out Loud continues Romano's partnership with the organization's annual effort to provide pet oxygen masks to area fire departments by raffling gift baskets or gift certificates. To date, 30 fire departments have been supplied with the life-saving gear.
Stuart also served as a spokes-dog for the local chapter.
"We have a photo of Stuart, as we presented our first multiple sets to the Mansfield Fire Department, hanging in our store," she says. "It always makes me feel good to know Stuart is still working it."
Assisting the elderly in the care and feeding of their pets, Bark Out Loud teams up with Dog Scouts of America to provide food, grooming, nail trimming, vaccinations, and spaying and neutering services, in association with Meals on Wheels. 
"I've always had this spot in my heart for Meals on Wheels," she says. "I have done this for three years in a row, and many pets have received free care that they probably would not have had otherwise." 
The Don't Forget to Feed Me pet food bank keeps owners and pets together by providing pet food to those in need in the North Texas area. Bark Out Loud customers participate in this effort through food donations at the store, and each contributor receives a raffle ticket for two Bark Out Loud gift-card drawings.
"We ended up raising 1,000 pounds of food the first time we held this event," Romano says.
In support of adoption, the store participates in Clear the Shelters, an annual nationwide adoption event, with 62 North Texas shelters joining together to find homes for adoptable pets need. 
"I promote adoption whenever I can," she says. "We also provide a packet of information, product discounts and products to newly adoptive pet parents to get them started with their new family member."
Community service includes providing low-cost vaccination clinics on a bi-monthly basis. Penny Paws Veterinary Community Outreach sets up outside the store, where a veterinarian and technicians provide low-cost vaccinations, microchips, heartworm tests, rattlesnake vaccine and nail trims.
"When I retired from General Motors, my co-workers gave me a plaque that says, 'Do what you love and love what you do,'" Romano says. "I have those words hanging above a painting of Stuart here in the store. He was truly my inspiration."
Where Guests Bark Out Loud 
"You guys want to go see Connie?" 
The query sends CJ and Annaka skittering to their leashes.
The 9-year-old bichon frisé pups have been hanging out with Connie Romano at Bark Out Loud Pet Boutique and Café since the doors opened.
The owners, Crystal Brown-Tatum and her husband, Phillip, live within walking distance of their fur-kids' favorite place. Brown-Tatum noted that convenience initially piqued her interest.
"It's next door to where we live, so seeing a new dog boutique in the neighborhood naturally brought me in," she says.
However, it's the overall atmosphere of the store, and the attitude of the owner and staff, that keeps the family coming back.
"Connie is like a part of our family," Brown-Tatum says. "She really takes an interest in our dogs and engages with them, remembers things about them and makes recommendations. She is very knowledgeable and sincere about all her customers and their pets."
It's an attitude that permeates throughout the establishment.
"Her staff is bubbly and engaging," she says. "It's such a fun place to visit."
When CJ and Annaka enjoy a dog's day out or observe birthdays at the café, visiting pooches and their people are always welcome to join in the celebration. As a result, friendships, both human and canine, are formed.
That ambiance attracts dog lovers from all walks of life.
"It's a magical place where strangers unite and engage in conversation and laughter," Brown-Tatum says. "In a crazy world, pets and their owners can find a safe haven at Bark Out Loud Doggie Boutique and Café."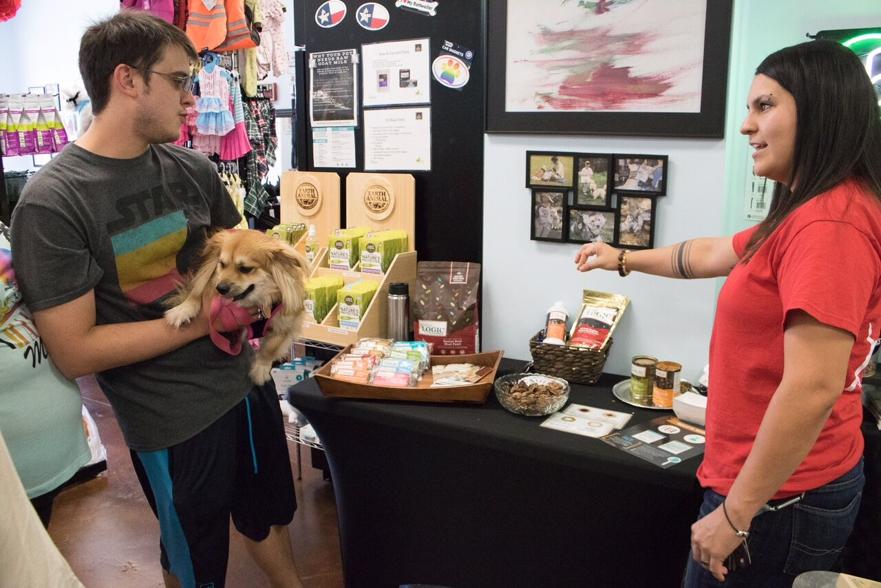 It's A Retail Life
What is Bark Out Loud best known for?
Connie Romano: When I see social media comments about the store, people always mention the great time they had with their dog. We offer a fun experience for dogs and their people.
What is the greatest challenge in the pet retail industry today?
Romano: So many offerings are available at pet expos that it can be overwhelming to find items to carry that will create a strong product mix. 
The greatest challenge for the pet industry overall?
Romano: Competing with the online retailers is a challenge. They take away the personal touch of the experience. Customers and their pets should be able to come in and smell or play with a product. I am happy with the way my customer base has grown, but the online retailers are always on 
my mind.
What do you see for the future of Bark Out Loud?
Romano: I'm doing what I love and I'm content. If a space adjacent to this store should become available, I might consider expanding to add a dog wash.  
Bark Out Loud Doggie Boutique and Café at a Glance
Location: 1601 E. Debbie Lane, Suite 1111, Mansfield, TX
Owner: Connie Romano
Number of employees: 1 full time, 2 part time
Years in business: 3
Average square feet: 1,400
Website: webarkoutloud.com
Products and services: Pet café and boutique, bakery case, foods and supplies, gift items, yappy hours, pet birthday parties, Paint Your Pup, vaccination clinics