When did Jax & Bones first come to market? How has it evolved since then?
Tina Nguyen: I created Jax & Bones in 2004, inspired by my love for my dog Jax. At that time, I couldn't find products on the market that suited my design aesthetics. I always felt that dogs were forever companions and was puzzled by all the poor choices in the industry. Everything I saw on the market was sub par, and in a world of evolving trends and fashion, nothing reflected the present style that I wanted to give to my best friend. My deep love for my beloved beagle, Jax, and my love for design provided the drive and passion to create this business. 
My goal was and still is to provide pet owners with better choices. We all have preconceived ideas of what it's like to live with pets. They smell, they shed, they chew and they get their beds dirty. The reality is that pets are our family, but you still can have a beautiful home with them in it. 
I continue to focus on the unmet need: design-driven pet beds and accessories that appeal to all types of pet owners to help them express their personal style. I design not only to make things look good, but I thoughtfully choose fabrics and materials that address the needs every dog and home owner faces.
Fast forward, and Jax & Bones has grown into more than just a high-end pet product business that meets customers' lifestyles. We believe that in today's world, customers want to know the quality they are buying and want to feel good [about] why they are buying it. Since the marketplace is filled with options, the choice to choose Jax & Bones is simple. With its handcrafted original designs and sustainably sourced materials, you are buying from a company that believes in human-grade products.
Since 2004, the company has stayed true to manufacturing our Jax & Bones pet beds inside our family-operated facility in Baldwin Park, Calif. We don't want to see American jobs go anywhere else. This might be one of the things we are most proud of—employing more than 40 team members. We design and craft goods that are beautiful and long lasting, but above all, we have given 14 years of bringing jobs back to this country. 
In 2018, the company launched a sub brand called Slumber Jax that caters to multichain locations and stores looking for the same quality of pet beds and products at an affordable price point. The brand was born because clients kept asking for pet beds under $99 retail.
Tell us about Jax & Bones' offerings of luxury, eco-friendly pet products. 
Nguyen: We believe good design isn't just for humans. We push the boundaries of the traditional pet industry by offering high-quality products for dogs that please the human-design sensibility and also place a big emphasis on our social impact. 
Along with being designed and made in the USA, our pet beds are of the utmost quality, have an immense design aesthetic and utilize sustainable, eco-friendly materials. 
Since the beginning, Jax & Bones was at the forefront in 2006 using Sustainafill, our signature premium green fiber that comes from the USA. The fiber is recycled from plastic bottles and is hypoallergenic.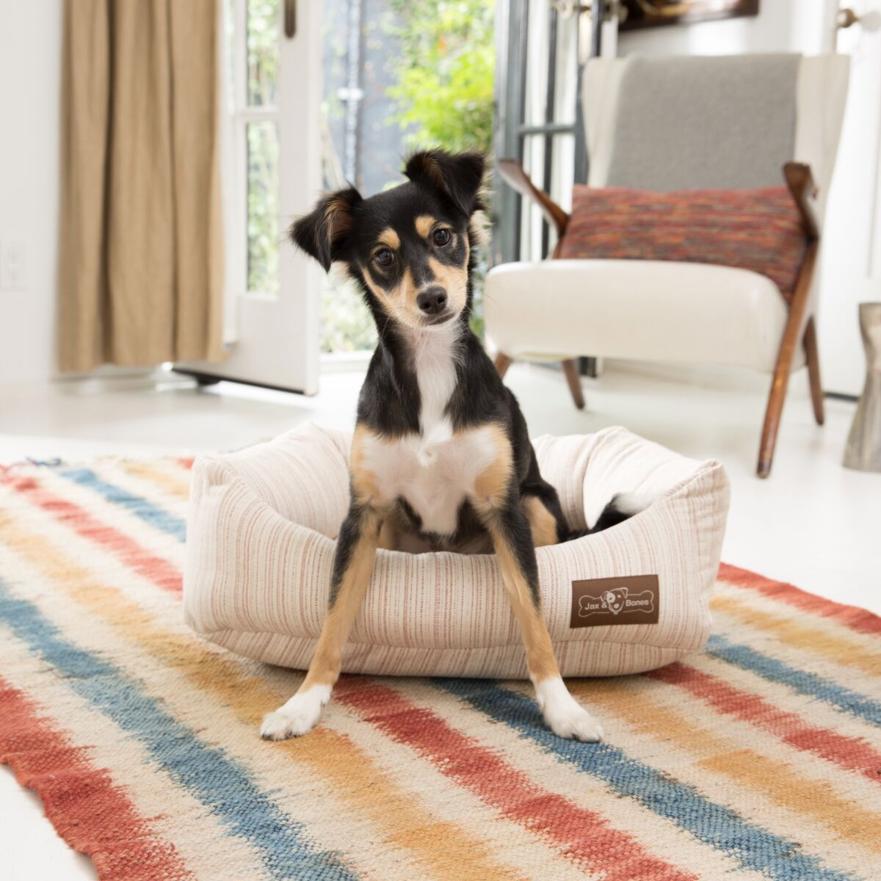 Our top-selling pet bed shapes include the Lounge, Napper and Memory Foam Cuddler, which caters to dogs up to 110 pounds. I knew there was a need to accommodate larger breeds, and each fabric designed or selected addressed issues such as shedding or accidents. 
Many of our handmade fabric accessories like our luxury blankets or poop bag dispensers were also created organically using scraps from pet bedding, creating fashionable items that leave a tiny paw print on the environment. It's not just about dog products; we wanted to make a difference while creating a beautiful product.
Along with the pet beds, the company is also well known for toys and accessories for the pet owner and lover. The popular Good Karma Rope Toys, developed in 2006, were designed with azo-free dyes and are hand tied with no machinery involved. As the dog chews, the toy unravels to naturally floss the dog's teeth to promote strong dental health. 
The company excels in merchandising and offering toys that cater to seasonal selections such as holidays. In today's market, how can Jax & Bones' product portfolio help independent pet specialty stores leverage and cater to current consumer trends and demands?
Nguyen: As a company, we are constantly evolving and operating from a place of innovation and insight, ensuring we stay ahead of consumer trends and, therefore, are ready to meet the demands of young and changing customers. This means constantly updating our fabric selection to cater to all types of clientele, providing more than 100 styles with our bed customization program, and innovating pet bed styles with additions like memory foam and water-resistant fabrics. We are committed to meeting and exceeding the needs of our customers—both in the independent pet chains and larger multilevel stores.
Is the market for higher-end lifestyle products continuing to grow? What's driving the demand?
Nguyen: Yes. In fact, it's not just a rise in household income that is driving demand but a new focus on lifestyle. The younger millennials are driving consumer behavior, born with an expectation for convenience but also lifestyle. They are savvy and forward thinking, willing to shop for deals for things they can, but then investing in more luxurious things to complement their life. This means the culture is changing to one that appreciates quality, design and innovation.
Tell us about key people at your company who your pet specialty retail partners should know about.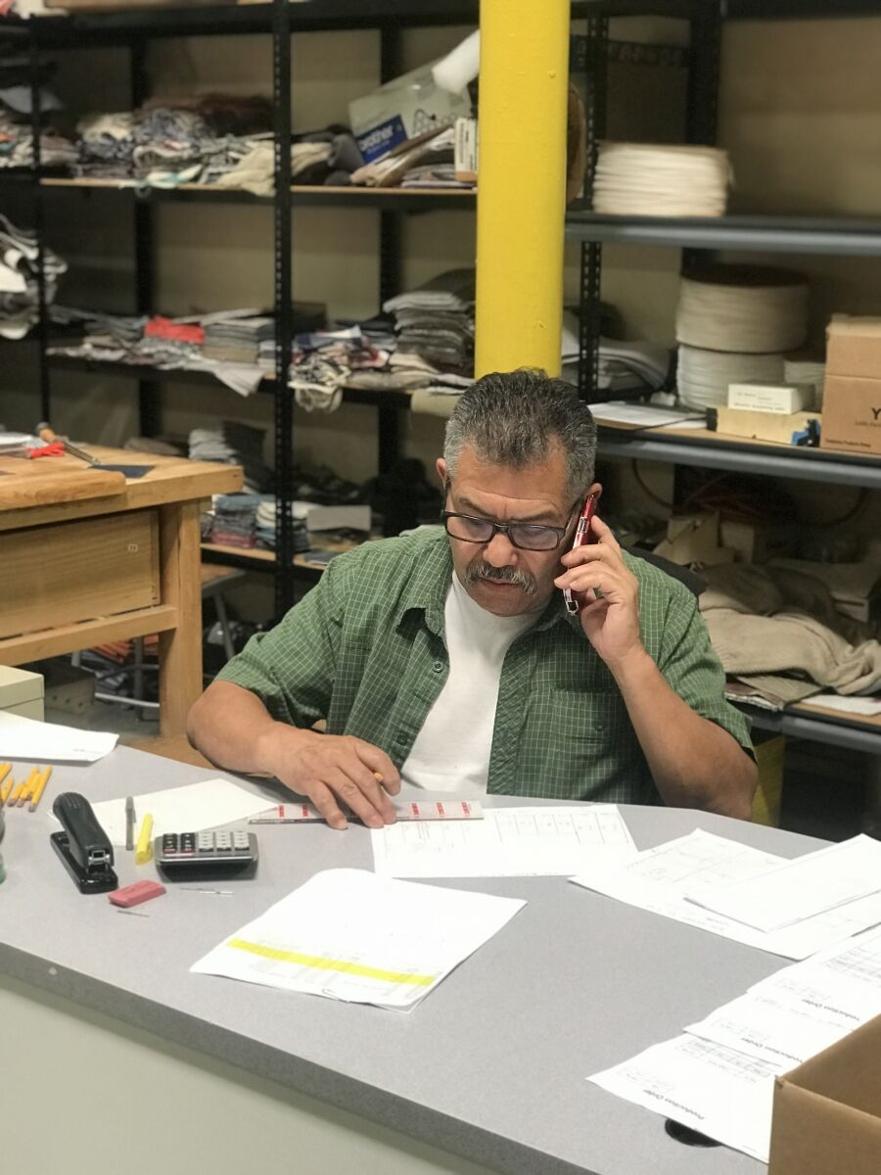 Nguyen: Romualdo Jimenez is our production and warehouse manager and has been with Jax & Bones since 2004. He has been a huge asset in the U.S. manufacturing side of the business, overseeing product construction and quality control. He has guided the production group from a two-member team to, presently, more than 30. His blend of artistry and efficiency make him an invaluable family member of Jax & Bones.  
Clare Christensen is one of our newest team members. She is our regional sales manager and comes to us with years of experience in the pet industry. Her vibrant personality and knowledge of each individual client's needs makes her stand apart from the rest.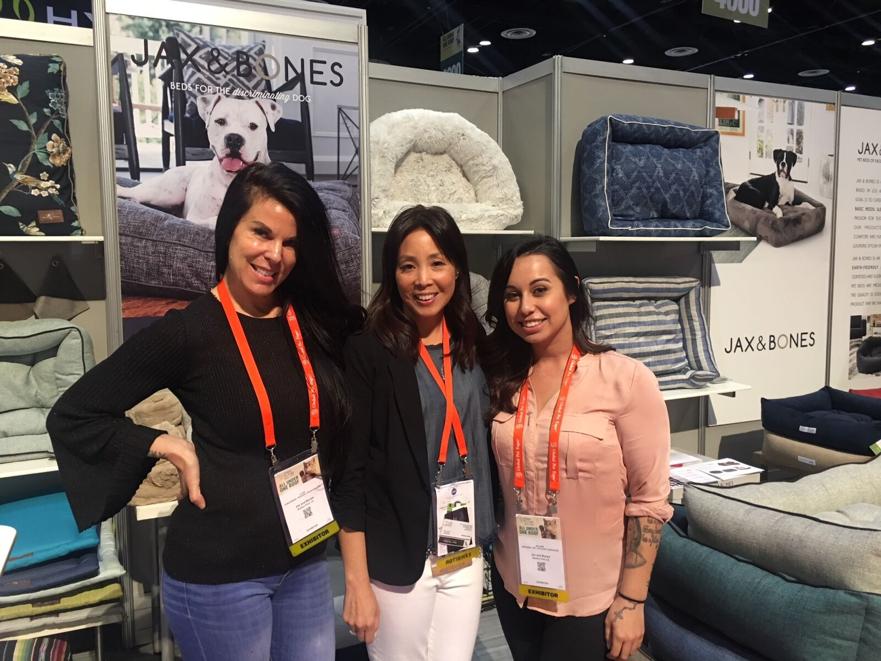 Last but not least, Valorie Guevera. She is a key connection with our pet specialty retail partners in the Midwest and Southwest. She is always ready and eager to answer customer questions, providing the best information, and even helping them with fabric suggestions and selection. Her dedication to her position is genuine and shines through her personality and charm. 
The fact that your products are eco-friendly and are made with handcrafted fabrics, plus the fact that the beds are made in the USA, are central to the brand's identity. Why did you choose the route of manufacturing here in the U.S. and committing to being eco-friendly?
Nguyen: We handcraft all our pet beds in our facility in Baldwin Park, Calif. As a proud U.S. manufacturer, we have the flexibility to offer our customers a huge range of items to meet their changing needs. Additionally, this allows us to control everything we do. Being able to minimize waste and act socially responsible is part of the team's core values. 
We are making a difference so that our children and four-legged friends have a better future. 
Tell us about your production facility. 
Nguyen: We own and operate a 15,000-square-foot warehouse in Baldwin Park, Calif., and employ skilled craftsman who construct every item using high-quality materials, carefully sourced from all over the world. Each product is inspected at every step in the production process and before packing and shipping. 
All of our products are checked by various members at Jax & Bones. As we cut and sew within our facility, we place high importance on quality control and consistency.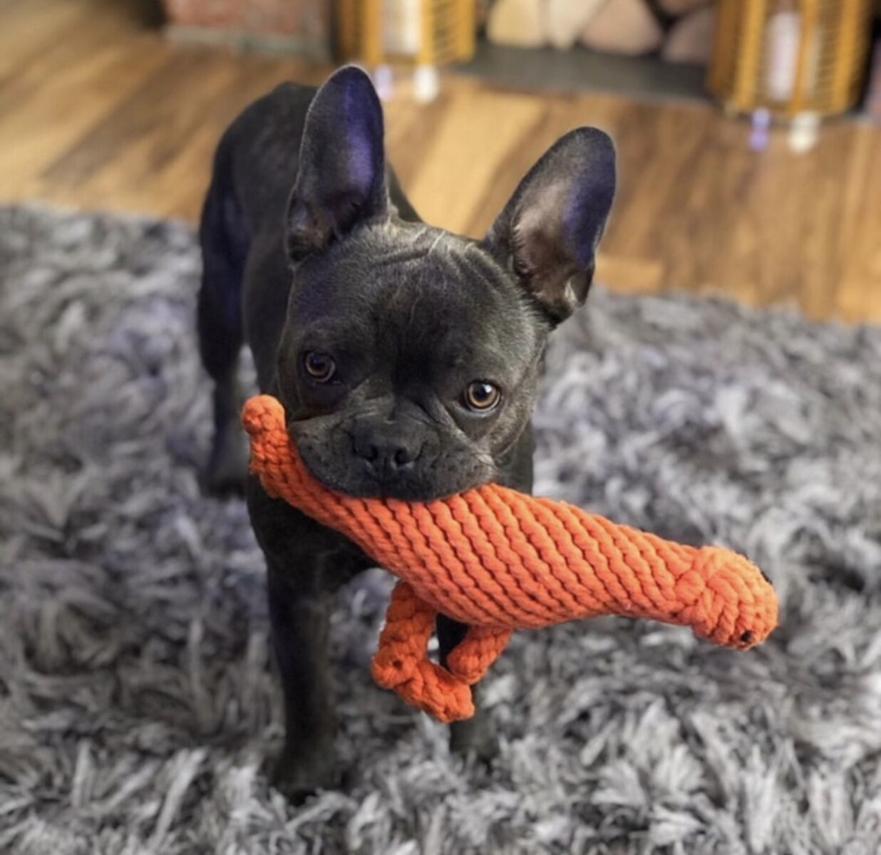 What does the future hold for Jax & Bones?
Nguyen: Jax & Bones has always been on top of trends and leading the industry. In 2018, we launched a sub line called Slumber Jax that is designed for all pet lovers looking for bedding under $99 retail. This line includes options for the cat.
Also, we have an exciting product collaboration that will launch with animal rescue groups that focuses on the bigger picture seen in the animal community.
At Jax & Bones, our mission is to show your pet as much love as you do by designing the highest-quality pet products. We believe that animals are important family members and that our homes are a sacred space. All animals deserve products that show them how much we care.