Over a rousing game of table tennis, cheered on by a pack of four shelties, heads bobbing back and forth with the ball, Jason and Katie Ast reached a pivotal decision. They would open their new pet retail business as a just-for-dogs endeavor. The couple wanted to stand apart from the competition by providing a stellar customer experience with focused knowledge and a progressive offering of product and services.
This was no spur-of-the-moment undertaking; a year of due diligence included plenty of research.
"We created our business on paper first, which was more than just a simple business plan," says Jason Ast, co-owner with wife Katie of Just Dog People in Garner, N.C. "It detailed how we would operate, how we would manage, how we would train our staff. We wanted to forge our own way of doing business."
However, throughout the process, the couple grappled with the range of possible services and offerings. As the plan evolved, a sticking point persisted—whether to cater to multiple species or to stand by their canine passion. No strangers to cutting-edge concepts, the Asts felt a strong pull to open an establishment focused on and catering to area dog lovers explicitly.
Lobbing a ping-pong ball over the net, Katie's sage observation sealed the deal, "We are just crazy dog people."
Jason and Katie brought unique skills and expertise to their vision. Neither were strangers to taking a leap of faith: For 12 years, Katie had owned and operated the first boarding and day care facility in the town of Garner, a rapidly growing area just outside of Raleigh, N.C.
"Katie was ahead of the curve," Ast says. "Today, there are about eight such places within 20 miles of us. We had a large, local following because of her business."
Jason, a self-described serial entrepreneur, had operated multiple businesses over the years but longed to shed his tie and enjoy life.
The duo's goal was realized in 2016, when the doors to Just Dog People opened in 3,800 square feet of space, sited at the busy intersection of Garner's two main highways.
The Asts' sheltie family has since grown to five as Zoe, Olive, Bea and Veda recently welcomed puppy Wren. While they originally served as shop dogs and greeters, store traffic has increased and the pups now take turns going to work with their owners, hanging out in the store office.
In the beginning, the concept of a dog-only store was met with resistance from vendors, who advised that offering products for the feline set was essential. The couple listened, and products for cats were initially added to the mix, only to be eliminated after a year or so.
"Obviously, dogs-only was a bit of a risk, but we realized that is who we are. I can't talk to people about cats, and it's difficult enough to train staff on one species, let alone two or more. It's easy to find dog people," Ast says. "So, we are highly targeted to one species."
Today, at Just Dog People, or JDP, canine enthusiasts browse an array of theme-grouped display tables.
"One of the things we hated about the larger pet stores were the aisles, so we wanted to use our space in a more interesting way," he says. "We use tables, set up so customers meander around, viewing all four angles. Because our focus is dogs, we are able to bring in products that people don't even know exist."
Staff members are trained to step in and offer explanations or assistance should they notice customers' confusion when observing an unusual item.
"Our store is made for shopping, and for fun, so there are interactive items on each table," Ast says.
For instance, when St. Patrick's Day rolled around, a cookie-filled pot of gold at the end of a rainbow enticed shoppers to try their luck with a cookie purchase, some of which revealed $5 or $10 gift certificates.
The entire store gets spooky during JDP's Howl-O-Ween soiree, where pets quaff pumpkin spice lattes, dig for bones in a graveyard concocted of kiddy pools and mulch, and parade in their costumed best.
"Howl-O-Ween is one of our favorites," Ast says. "Katie started it back at the kennel with a parade of day care dogs, so it goes back probably 16 years. It's just so much fun.
"We always try to offer the unexpected around every turn, that is the most unique thing about us," he says. "We get to see people every day that are just happy to be with their dog."
All About Empowerment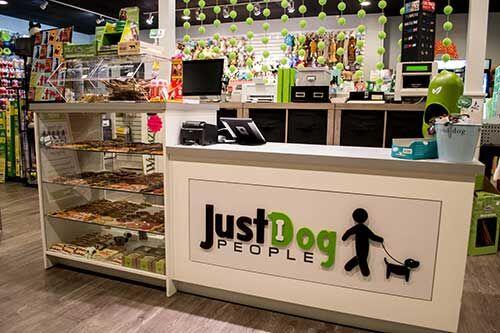 To that aim, JDP is, first and foremost, committed to presenting customers with an exceptional experience, and Ast notes that staff members, or JDP ambassadors, are vital to that outcome. For this reason, the company looks for candidates with strong communication skills, confidence and a mindset of hospitality.
"Because service is No. 1, we look for people who understand the humility of serving others," he says. "That takes confidence."
This self-assurance is bolstered by assigning problem-solving autonomy to staffers from day one.
"If met with a customer issue or complaint, no matter the problem, we don't want our staff members running around trying to find someone to make a decision for them," Ast says. "We want our people to make things right, on the spot, and they will never get in trouble for a mistake. When you empower people, especially young people, they respect that and want to keep that trust."
For this reason, employee training is extensive and supportive.
"Everyone starts as a rookie, with 30 work days to accomplish a set of classes, tasks and proficiencies," Ast says. "At that point, they reach 'First Paw,' which is a level of training. Within this time, they learn to open and close the store, cash out, do inventory, check things in and do returns. It takes a lot of effort and time, but the whole team helps out."
Rookies study nutrition in a Food 101 class.
"We try to break it all down to the ridiculous: how to look at food and how to get through general conversations," Ast says. "Should they become stumped, they can call on us."
When associates master a new level, or "Paw," a bonus and an hourly pay increase is awarded. In addition, with no managerial positions, a roundtable concept finds senior staffers helping out newcomers.
"It's kind of a kick-back program where those that came before are responsible for teaching the rookies, who, in turn, will teach the next rookies," he adds. "It builds these unbelievable employees.
"We have three rules: One is to give your teammates a better work day than they would expect; two is to give the customer a better experience than they expect; and three is to always make it right for the customer," Ast says. "That's the bar that we have set, and we don't accept anything else."
The regularly updated JDP training manual provides additional and extensive training and information.
Where Pups Dine Well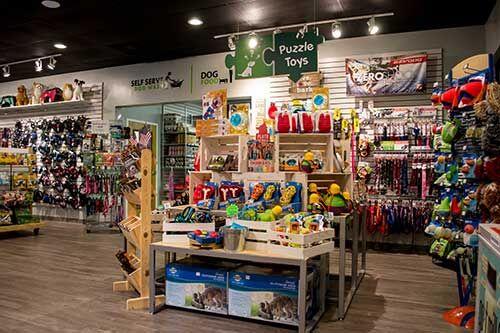 Pet owners select from a broad range of foods, including kibble, canned, dehydrated, freeze-dried and raw. A body-parts bar presents an array of processed parts, while the raw bar offers unprocessed selections. These offerings also provide an opportunity to discuss clean feeding, Ast adds.
Bakery treats are also in the mix.
"We are amazed at how many treats we sell," he says. "We have a nice cookie display built into our cash wrap. We do all the holidays, special events and birthdays."
While raw is the food of choice, customer preference is always respected.
"We don't pooh-pooh anybody's feeding plan," he says. "We feed raw, our employees feed raw, but we don't 'sell' raw; we allow people to reveal a need, or we wait for them to come and ask us about it. We have big, beautiful freezers in the middle of our store for everyone to see. Our raw sales are up in huge amounts, but we are careful how we present it to the public."
One-on-one food consultations are available, with behavior and eating habits taken into consideration when finding the right food to meet the nutritional needs of each individual dog.
"I probably talk to three or four people randomly each day, on top of scheduled appointments," Ast says. "We also do intolerance testing, which is closely tied to food. I just love nutrition—the before and after, how dogs behave when we finally find the right diet. So I spend the majority of my days talking to people about food and nutrition."
In this way, Just Dog Wellness Services assists customers in navigating feeding issues, often related to food intolerances.
"Typically, allergies and intolerances are two different things," he says. "If a consumer sees signs of what they think is an allergy, there is a very high likelihood it is an intolerance. We use this tool to find out."
As a result of this analysis, and in partnership with 5Strands Affordable Testing in Georgia, pet owners are provided paths that assist in monitoring their dog's nutritional reboot, bringing them closer to clearing up these issues.
Education also includes seminars, such as Introduction to Raw Feeding, which has replaced the Food 101 seminar for customers. These workshops are presented to customers and private groups.
"I have found that talking openly and honestly to the general consumer about dog food often leaves them feeling like bad pet parents," Ast says. "I've tried to tailor this discussion, but there's just not a way to leave people feeling good, so we have replaced Food 101 with Intro to Raw, because these people already know there is a better way."
Pampered Pups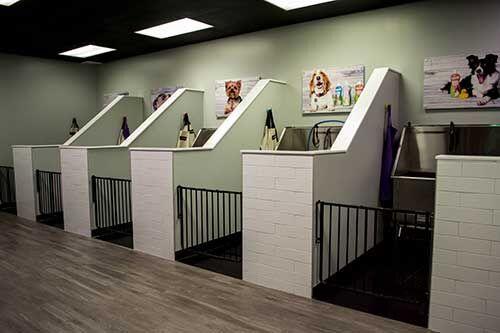 For the pup in need of a little pampering, JDP's Drop and Shop bathing program allows dog owners to drop furry family members off for an hour of indulgences, including bathing, anal gland expressions, blueberry facials and mud baths. JDP ambassadors who have earned a three Paw or higher designation serve as bathers.
"It's one of the incentives to working up because they are paid per bath, on top of their hourly rate," Ast says.
The Shedding Experience is designed to help owners of overly fluffy dogs to get ahead of the hair.
"Any dog can do it, but it's typically husky or shepherd-type breeds," Ast says. "We strip them, use a special shedding shampoo and treatment, give them a blueberry facial. An average shepherd or husky will fill a 10-gallon bag of shedded hair."
For do-it-yourselfers, self-serve dog facilities are the focal point in the store.
"Even if not washing a dog, customers are overlooking those who are washing their dogs," he says. "It's a neat experience, especially for people new to the store who may not [have] heard [of] this concept."
Adoption days are held on a regular basis; however, JDP is looking forward to further expansion of shelter and rescue support, as well as the general pet-loving community, in partnership with the soon-to-be opened Barks and Recreation facility (see sidebar), which will be sited in the space immediately adjacent to JDP. •
It's A Retail Life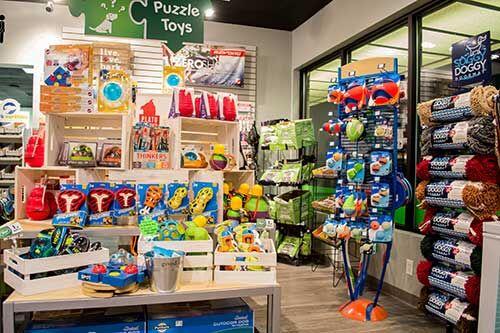 What is Just Dog People best known for?
Jason Ast: We focus on creating superior customer experiences. If we can deliver that service every time, everything else will fall into place.
What's the biggest challenge for the independent pet retailer?
Ast:  I would like our partners on the veterinary side to take a step back and tray to understand this huge movement of people who are trying to feed themselves better, which is trickling down to how they are feeding their dogs. There's a lot of information out there that is not in context, there are other scenarios or factors involved, and people that have real lives and jobs outside of the dog world turn to people like us and their veterinarians for help.
Biggest challenge for the pet industry overall?
Ast:  The industry is behind the times. Customers need a partner, and the pet specialty world has another opportunity to step up and have constant engagement. We have done that with Just Dog Wellness Testing. We can have 10-20 touchpoints with a customer in a 30-day period as we watch their dog get better. Those are opportunities to spread our message of familiarity and trust.
Are you watching any interesting trends?
Ast:  Everyone is throwing raw-infused into their kibble, and people are going back to grain-inclusive because of the [canine dilated cardiomyopathy] DCM scare. Manufacturers are labeling their products as "no peas or legumes" or adding taurine. All of our manufacturers made the rounds after the DCM scare broke to announce new formulas. We didn't bring in new foods or remove foods. We took a stand and encouraged our customers to do their research, as we did our own research. We consumed ourselves for weeks trying to understand everything about DCM before deciding that there wasn't enough evidence.
What do you see for the future of JDP?
Ast:  We'd like to open more stores and to further develop our role in the community.
Surrounded by the Best
Jackie Leonard was mortified. After his first hour of obedience class instruction, Toby, her feisty rescue pup, was dismissed for bad behavior. However, once referred to Katie Ast, owner of Bone Voyage in Garner, S.C., a facility offering boarding, day care and training, the miniature pinscher flourished in one-on-one schooling.
"Katie said Toby was a very smart dog who wanted to learn," Leonard says.
Indeed, the diminutive pooch worked his way up the obedience ladder, eventually tackling agility work. It was the beginning of a 16-year relationship between Leonard and the Asts.
When Katie and husband, Jason, opened the doors to Just Dog People, Leonard readily followed. Toby has since passed, but Leonard continues shopping for her rescue pack.
"I have been a customer since day one," Leonard says.
Upon retirement from the federal government in January 2017, Leonard joined the Just Dog People (JDP) team.
"When I started working at JDP, I literally knew nothing about the dog world," she says. "Sure, I had dogs, and I thought I fed them well—I took care of them the best I knew how. However, working at JDP opened up a whole new world for me."
"I love Katie and Jason," she says. "They are phenomenal to work for and great friends."
During this time, Leonard had been caretaking her elderly mother, who she lost in December 2019.
"At that point, I knew I wanted to do something that would benefit dogs, their owners and the community," she says.
The Asts were on board, and the three began to brainstorm.
Kismet played a role when the 1,900-square-foot space immediately adjacent to JDP became available. The trio took a look, declaring the site perfect. Leonard took a leap of faith, placing the newly christened Barks and Recreation concept on the design table.
The endeavor will follow the theme of JDP, according to Leonard, with a similar logo and canine silhouettes gracing the outside walls of the corner unit. With plenty of windows, the open space is filled with light and welcoming.
Services will include training, with outside trainers also be able to utilize the space. A gymlike membership program will allow pet owners to drop their dogs off for treadmill work, hydrotherapy and massage therapy. Dogs that may not do well in traditional day care will have the opportunity to burn off excess energy and get fit at the same time.
"Additionally, we will offer programs like scent searches or puzzle toys to stimulate canine senses," Leonard says. "I also look at it as a place where senior citizens can spend time with their pet should a dog park be prohibitive."
Rescues and shelters will receive support through adoption days. The spacious area has the ability to host larger adoption events, which will take place indoors.
Training services and support for adoptive and foster pet guardians will be central.
"We want to be a resource for adoption, and if someone comes in looking for a dog to adopt, we will have information on hand," Leonard says. "Also, we want to assist adoptive pet parents with training and in helping the new furry family member to decompress and become part of the family."
Doggie birthday parties and other special events will be in the mix. A kitchen area will offer cooking demonstrations for foods and treats.
The two establishments will work in concert to cover the local dog-loving community's every need.
"If someone comes in with an overweight dog, we can counsel them on foods, and then take it a step further by setting up an exercise routine," Leonard says. "Barks and Recreation will overlap in partnership with JDP."
"I'm excited for this adventure, and to be working alongside Katie and Jason," she adds. "I believe the path to success is to surround yourself with successful people."