Established in 1887, the charming burg of Blue Ridge, Ga., is situated in the verdant Chattahoochee National Forest. A vibrant holiday hub, the region is noted for its breathtaking mountain scenery, miles of nearby hiking trails, tubing and rafting adventures, fishing and camping. One of the few settings in the world where mystical staurolite crystals, or "fairy crosses," are found, legend has it that the unique stones were formed as the Cherokees wept along the Trail of Tears. The nearby 40,000-acre Cohutta Wilderness was so named by native Cherokees as the "poles of the shed," holding up the sky above the enchanted, mountainous land. The cultural aura, both past and present, is enveloped in a downhome southern vibe.
In this inspirational setting, Laurie McClearen embraced a lifelong love of all creatures by opening the doors to an agriculturally based business in 2006, with a goal of uplifting the nutrition of pets and livestock residing in the mountain town and surrounding areas.
The concern was aptly christened Cohutta County Store. In an effort to keep the local populace well supplied with their foods of choice, the venture initially carried a broad range of selections, with livestock feed housed in a spacious warehouse.
McClearen achieved her objective of providing more nutritionally stellar offerings by sharing her own pet knowledge, along with an expertise gleaned from raising beef cattle and horses.
"From there, she was able to talk to pet owners about pet nutrition," says Cassie Rose, assistant manager.
Over time, the product mix shifted from standard mealtime fare to more nourishing options.
"We do our best to supply the healthiest, most nutritious foods available, to communicate with our clients and to support our community," Rose says.
Laurie's husband, Jim McClearen, who has a practice in small- and large-animal veterinary medicine, often weighs in, bringing his own unique contributions to the table.
"We believe we give out an abundant amount of information for a variety of animals on a regular basis," Rose says.
In those early days, Cohutta Country Store also carried western apparel as well as work and cowboy boots. With a 2019 relocation, however, this inventory was phased out.
"We needed to have the right people coming in to shop for these items, and we didn't want anything old to stay in the store," Rose says. "We try to keep everything fresh and vibrant, new and exciting."
The move allowed for a homier focus.
"Our old store felt industrial—kind of grocery store-ish," Rose says. "When we decided to get out of footwear and western attire, it looked empty, no matter how we tried to fill it."
The new 5,000-square-foot space comprises two side-by-side 1,000-square-foot storefronts. One is devoted to a full line of pet foods and supplies, with chicks joining the mix in the springtime. The adjoining space is replete with boutique items, including pet-related tchotchkes, jewelry, sunglasses, hats, long- and short-sleeved shirts, and souvenir trinkets.
"Blue Ridge has become a booming tourist town," she says. "So we have also touristy, home décor items that say 'Blue Ridge' on them."
A 3,000-square-foot warehouse stores livestock feed, including hay.
"The retail space has a southern, downhome charm, and we feel more comfortable here, as do our customers," Rose says.
Innovative displays are transformed on a regular basis.
"Anytime something new comes in, we rearrange to keep things fresh," Rose says.
In keeping with that aim, the Cohutta name and logo were recently revamped.
"We were Cohutta Country Store, and now we are Cohutta Pet and Feed, with 'Country Store' at the top of our new logo," Rose says. "It's in keeping with everything fresh."
Pet necessities and souvenir keepsakes are not the only means of catering to the influx of visitors to this flourishing vacation destination. Gift bags are also supplied to local pet-friendly bed and breakfast establishments and rental cabins.
"We leave our brochures with bags of grain-free treats, which are usually set out in a little basket for guests," Rose says. "It lets vacationers know we are here."
For this reason, the pet food and supply mix caters to locals and visitors alike.
"We are an independent pet and feed store devoted to providing the very best foods and animal supplies available, with a focus on customer service and our community," Rose says. "We have dedicated our lives to helping others, and it reflects perfectly in the loyalty of our clients."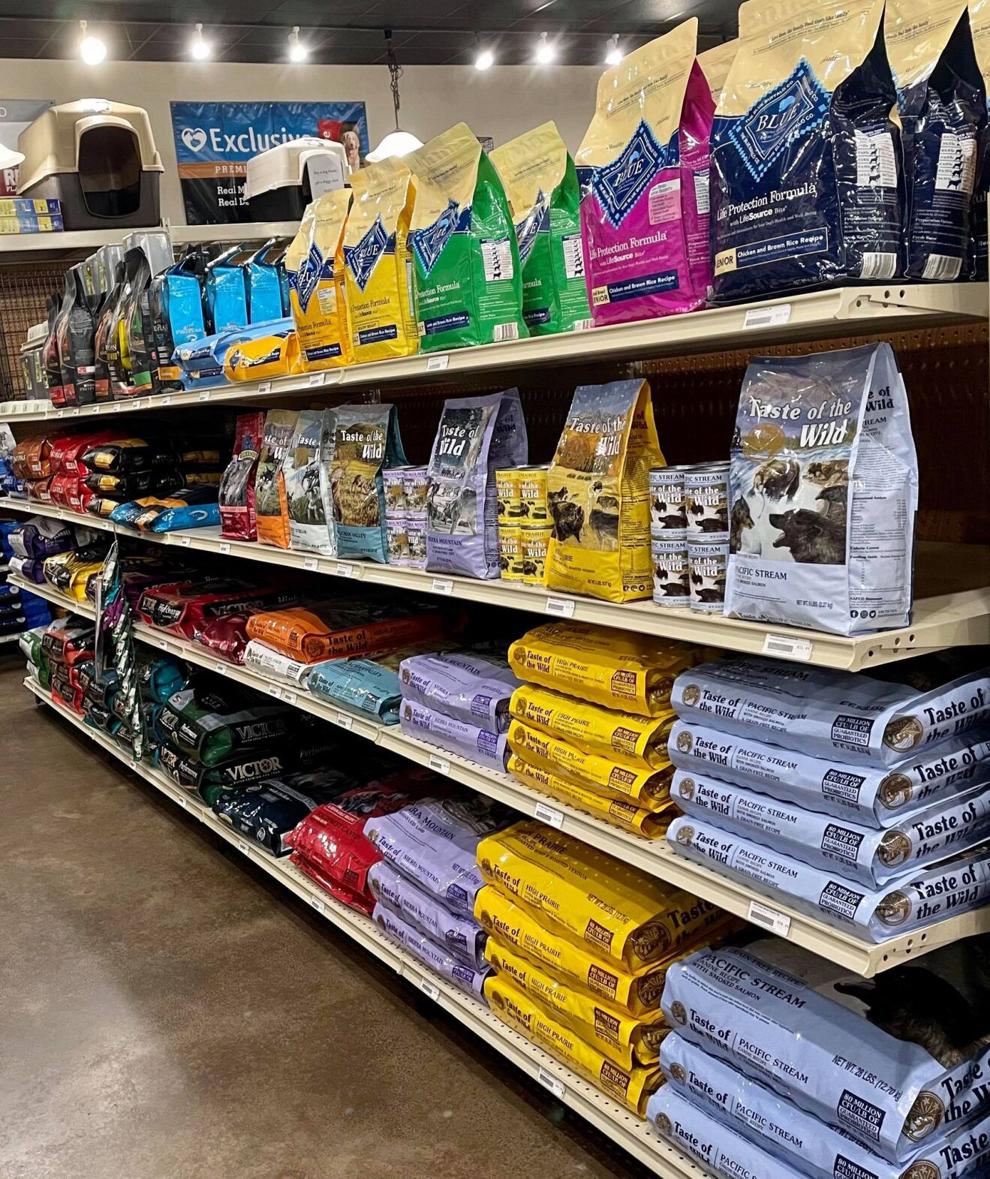 Healthy, Balanced and Nutritious
With an ideology based on providing animals with a top-quality, healthy diet, Cohutta Pet and Feed offers a wide range of all-natural holistic, grain-free, grain-inclusive and ancient-grain options, including canned, kibble, pouched, freeze-dried and life-stage selections.
"Our philosophy is that if we wouldn't feed it to our pets, we wouldn't recommend it for yours," Rose says. "We are not some big corporate conglomerate looking to make a quick buck by selling the cheapest feeds available.
"The only thing we don't carry is raw frozen," Rose says. "Up here in the mountains, there is no demand, and if we tried to keep it in stock for tourists, it would never be the right brand."
An emphasis is placed on local products.
"We like to keep everything as local as possible," she says. "It's harder with food, but we try to keep everything USA-made in that category."
A bakery case presents a mouthwatering array of ever-changing goodies.
Nutritional consultations are always available, and this one-on-one, personal connection is a valued method of conveying information.
"Clients can walk in and tell us what's going on with their dog, and we are able to pull up information," she says. "We do so much research."
For example, Rose's personal "Go-To" notebook covers a variety of pet issues, such as pancreatitis in dogs or crystals in cat urine. Key factors and suggested foods are noted.
Information provided by manufacturer's representatives is another educational outlet.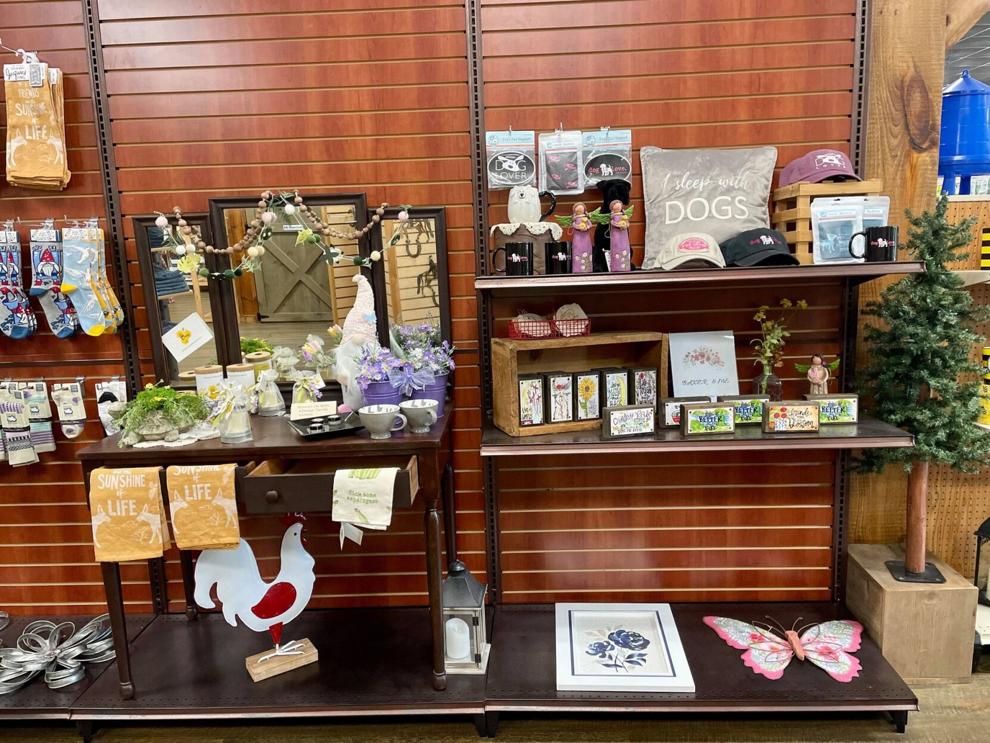 Pet supplies run the gamut, including treats, toys, leashes, collars, grooming supplies, beds and crates, along with more seasonal items such as sweaters or life jackets.
"We have Blue Ridge Lake here and a lot of rivers, so life jackets are in demand," Rose says.
While the retailer was deemed essential during the COVID pandemic, it offered curbside delivery, as well as personal deliveries. However, clients generally preferred to stop in, and the doors remained open seven days per week.
In addition, goodie bags were distributed to the offices of local veterinarians, with information regarding the foods carried, samples of pet cookies or treats, discount coupons, gifts for staff and words of encouragement.
"We thanked them for being brave during tough times and staying open to help the pets in our community," Rose says.
A lack of holiday traffic during the pandemic did have an effect on business, but the local population remained supportive.
"We have clients that have been with us a long time; we are all one big happy family, and a lot of them have become good friends," Rose says. "Everyone still needed to feed their pets, and they mostly just came in. We didn't have extra calls for delivery other than our usual large-animal customers."
One Big Happy Family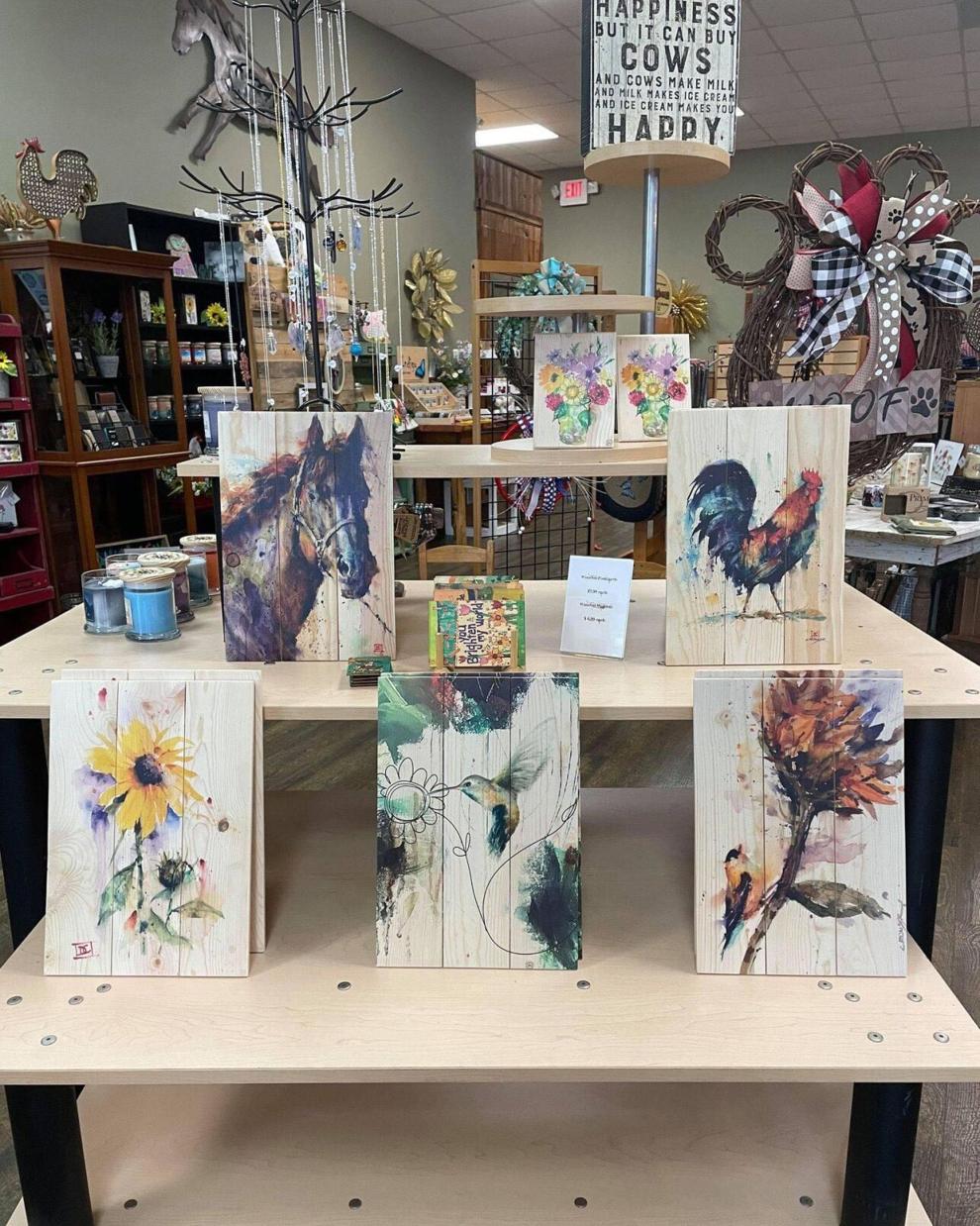 Customer service is the linchpin to the success of Cohutta Pet and Feed, and that dedication involves reaching out to everyone within the community.
"That might mean sending a client to a different feed store, if necessary, or providing grooming recommendations," Rose says. "We are not going to sit here and say, 'Oh, you need this' if it's something that we feel a veterinarian should look at, so we offer referrals."
This collaborative style, combined with easygoing friendliness, further engenders loyalty, according to Rose.
"We don't try to push our clients in one direction or another, or try to pull them to us for any specific reason," she says. "We are here to help as much as possible."
Along these lines, Rose is known as the "Fur and Feather Sitter" for Cohutta Pet and Feed's informal pet sitting service.
"We do this mostly as a favor, and try to do as much as we can for everybody," she says. "I used to travel to a local bed and breakfast to help out with the chickens, and they even named a chicken after me."
Besides well-versed, easygoing staffers, a quartet of furry greeters hails shoppers. Dylan, a border collie and Great Pyrenees mix, wows visitors with his sweet disposition and honey/caramel eyes. Harley, a Chihuahua/dachshund/blue heeler mix, is the other canine member of the hospitality committee, while two Manx cats, Emmy and Dorie, also share welcoming duties.
When it comes to treat or food spills, these staff members are enthusiastic in their tidiness.
"Our store cleanup crew works for biscuits, so we never have to worry about that," Rose says.
Cleanliness is a focus at Cohutta Pet and Feed, and particularly when springtime chicks arrive, things can get a little dusty, requiring constant sweeping and vacuuming by associates.
"We want people to walk through our store and not realize animals are here," Rose notes.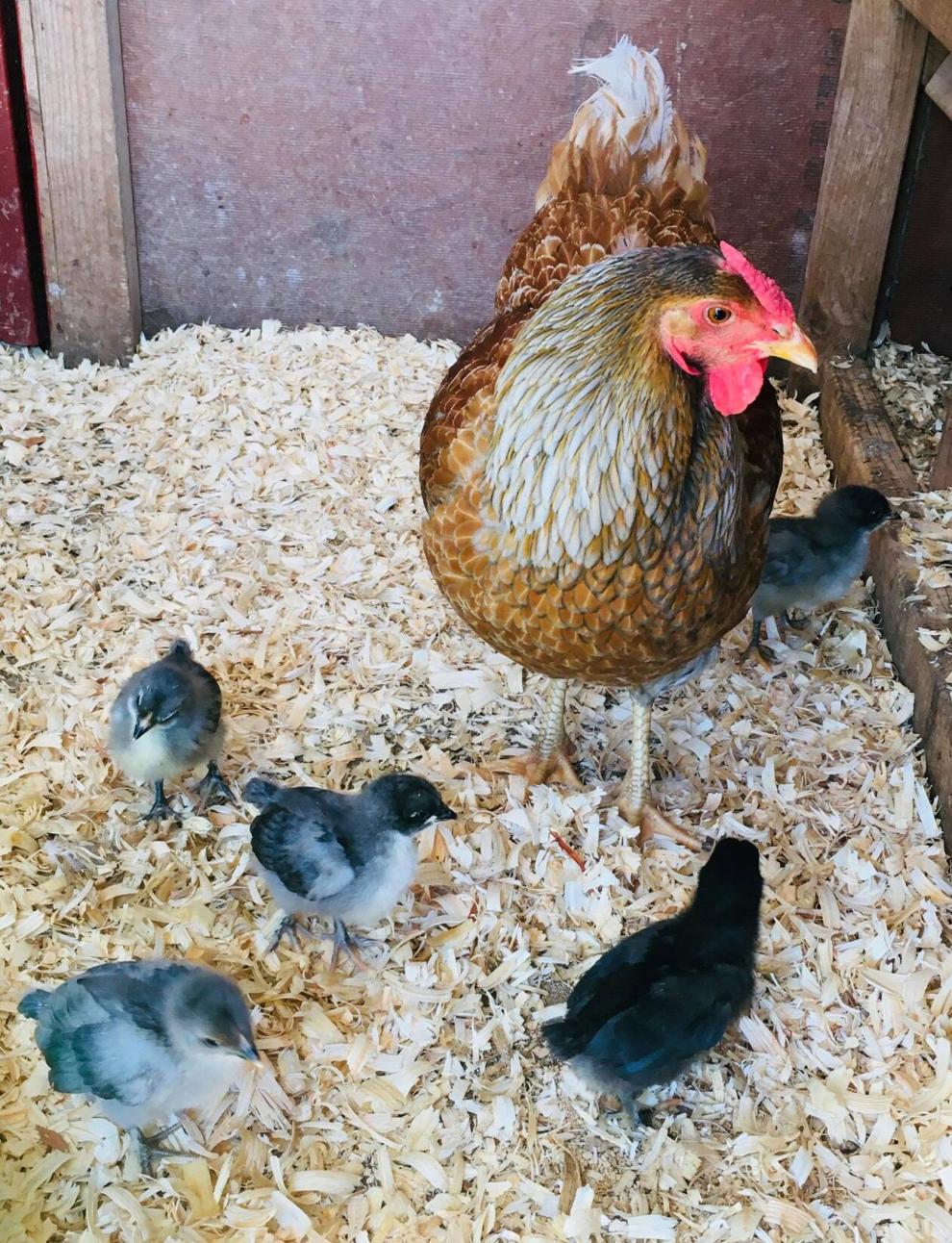 A Resource for Chicken Lovers
Chicks are a wildly popular offering, with hundreds of the fluffy babies arriving for poultry aficionados to peruse and add to their flocks.
Rose is known as the "Chicken Whisperer" to Blue Ridge poultry devotees, and a private Facebook group, Chicken Chat, regularly updated by Rose, allows chicken keepers to stay apprised of all things feathered by sharing tips and advice.
"We try to keep it as local as possible, but you will see people on there from Alabama or Kentucky who have come by while on vacation, or have friends or family here," she says.
The page also provides enthusiasts with timely updates about chick arrivals. Special requests are welcomed.
"I let people know when we are ready to get chicks in and ask what they want each year," she says. "We try to stay away from regular, run-of-the-mill birds that are available at the big-box suppliers. We want to be known for having the specialty, the pretty or the fun ones."
Poultry medications are also in stock. Pre-COVID, classes covering poultry husbandry also took place.
For chicken lovers wishing to add to, change or limit their flocks, regularly held Flock Swaps find humans and birds congregating on the lawn area in front of the store.
"It's a free event, and people with extra roosters, hens, babies or needing new blood into their flock can bring birds to buy, sell or trade," Rose says.
Each transaction is private between buyer and seller, although Cohutta Pet and Feed remains open during the event.
"I try to hold one about every three months, and they are very well attended," she adds.
Living up to her whispering moniker, Rose is adept at sexing chicks, a rare talent in the poultry world.
"I can tell the boys from the girls at about a week to two weeks old," she says.
Reaching Out
To aid shelters and rescues and the pets they serve, the retailer shares photo posts of available dogs and cats on the store's social media pages. In addition, the store offers discounts and samples to fosters and newly adoptive pet owners.
"We also donate a lot of our foods, mostly to the Humane Society of Blue Ridge," Rose says.
Participation in Blueridge's annual Paws in the Park event is eagerly anticipated by the pet community, particularly after the 2020 pandemic cancellation. The get-together finds families and pets assembling for a fun-filled October day. With a goal of raising funds and spotlighting the plight of homeless and abandoned pets, festivities for 2021 will include a pet parade, dock-diving dogs, a 5K run, raffles and other entertaining activities.
"We set up a booth with samples and coupons and talk to pet owners about nutrition," Rose says. "It also helps broaden our own horizons since we are about a five-minute drive from the popular downtown shopping area."
Support for Future Farmers of America (FFA) and Blueridge's Young Farmers Association are near-and-dear-to-the-heart causes. Cohutta Pet and Feed special-orders the feeds required for FFA animal projects.
"We work with these groups pretty much any way we can," she says.
McClearen is intimately involved in the Young Farmers Association, attending meetings, providing input and speaking.
For pet owners wishing to expand their pet's good manners, the front porch of Cohutta Pet and Feed is put to use by Cold Nose College to provide obedience and nose-work training. Classes are generally one-on-one or limited to approximately three dogs.
"They'll call us up to set up these sessions," Rose says. "And, of course, they need training treats from time to time and items like the no-pull leashes."
"We are here to help as much as possible," Rose adds.
---
Cohutta Pet and Feed at A Glance
Officers: Laurie McClearen, owner; Cassie Rose, assistant manager
Location: 83 Dunbarton Farm Rd., Blue Ridge, Ga.
Number of employees: 3 full time, 2 part time
Years in business: 15
Square footage: 5,000, 3,000 of which is feed warehouse space
Website: cohuttacountrystore.com
Products and services: Natural foods for dogs and cats, equine and livestock feed, boutique items, baby chicks and supplies, Flock Swap, Chicken Chat, delivery, obedience training, pet sitting
---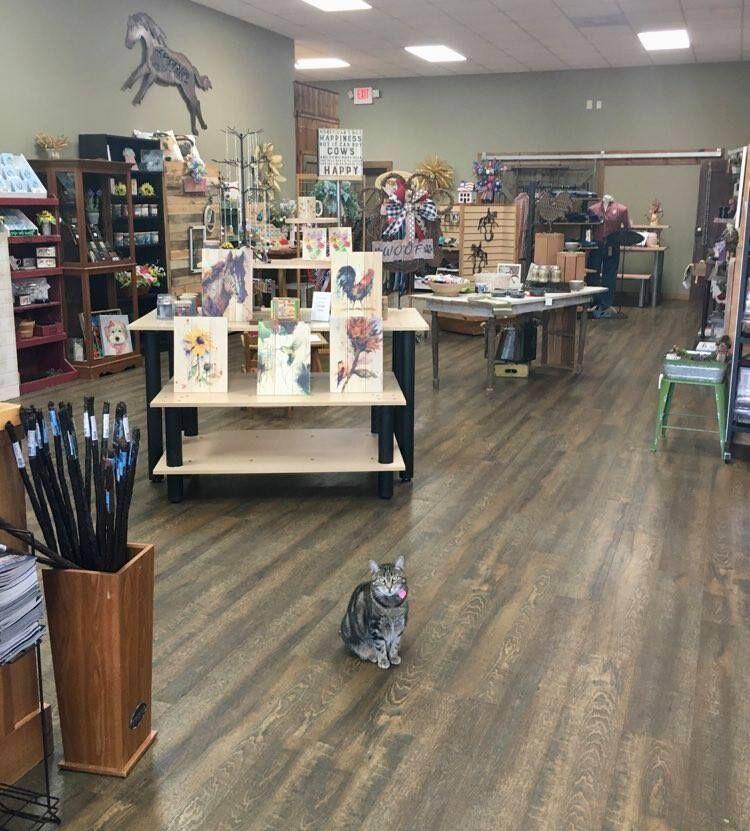 It's a Retail Life
What is Cohutta Pet and Feed best known for?
Cassie Rose: Our knowledge, friendliness and easygoing, helpful ways.
What is the biggest challenge for the independent pet retailer?
Rose: Online sales.
What about for the pet industry overall?
Rose: The misinformation that is out there.
Are you watching any interesting trends?
Rose: Dogs are living longer, so we are seeing more senior dogs. We actually have an endcap devoted to seniors with walk-and-lift harnesses, treats, and supplements for issues like hip and joint pain, arthritis, skin and coat problems or breath fresheners.
What do you see for the future of Cohutta Pet and Feed?
Rose: We hope to be around for quite a while. We have absolutely amazing friends in our clients, and have definitely put some knowledge out there. We believe more pet lovers are looking into their own dogs as far as nutrition and breed characteristics.
---
Waddle On Inn
It might seem a tantalizing solution: Dump that unwanted duck or goose at the local lake to live out its life in the freedom of the wild. But domesticated birds, accustomed to relying on humans for food, shelter and water, are not likely to thrive. Further, a newcomer to an established flock will not be welcomed with open wings and can become a target for predators.
In order to address the plight of these displaced ducks and geese, Julie Wootten established Blue Ridge's Waddle On Inn, a rescue devoted to birds that are abandoned or injured, or have special needs. Ducks and geese are provided medical care if required, and eventually placed in loving forever homes. The rescue was established in 2015, and 32 waterfowl waddled on in that initial year. By the first half of 2021, 561 of the feathered critters had already been saved.
"As a rescue, we do home-checks of potential adoptive families. Coops must be predator safe, ducks and geese must be fed properly, a water source is necessary—some may have become terrified of a pond and require a pool, and new owners must be willing to take the duck to a veterinarian should there be an issue," Wootten says. "We treat the process just like a dog or cat rescue would when it comes to adoption."
Since abandoned domestic ducks and geese do not have the survival instincts of their wild kin, they often arrive malnourished or injured. Permanent disabilities can include amputations, as a result of becoming tangled in fishing wire, for instance. A dedicated coop for disabled birds is maintained with numbers hovering at 15 birds, while capacity for the main coup is 50 birds.
"For me, and the rescue, I can keep any duck that comes in alive for their entire lifespan, but if there is no quality to their life, it's not fair to them," she says. "I have built my rescue on quality of life."
Preferring to support local business, Wootten has been a Cohutta Pet and Feed customer since 2015.
"What I love about Cohutta, No. 1, is that it's a mom-and-pop store. Laurie McClearen is always available, and both she and Cassie Rose are very knowledgeable. I have never gone in there with a question that has not been answered," she says. "After they met me and became more aware of the issues with dumping, Laurie made the decision that the store would no longer sell ducklings, and you will never find a duck for sale in her store. I appreciate that."
Waddle On Inn orders its feed from Cohutta, purchasing by the pallet.
"I get a pallet discount, and they actually deliver it for me," Wootten says. "Last year I had COVID, and when I told Laurie I was so sick that I couldn't come in for feed, Laurie had everything loaded up and delivered that very day, with no delivery fee. Not many stores would do that."
In addition to feed supplies for her rescue, she also recommends Cohutta Pet and Feed to her adoptive duck and goose owners.
"I tell them 'Go to Cohutta; tell them that Julie sent you for the ducks and they will know exactly what you need,'" she says.
Wootten has specific advice for potential waterfowl owners.
"Understand the commitment," she says. "Ducks and geese have a lifespan of 10 to 20 years; make sure you are prepared for that. Feed them properly, and if you are in over your head, don't dump them. Call a rescue to take them in."