The coffee's always on at The Natural Pet Enrichment Center in North Royalton, Ohio. It's a welcoming vibe, designed to convey the laidback comfort of a neighborly abode. Soft, warm colors and cozy carpeting beckon both pets and their owners. Wall art adds to the homey feel. To the rear of the store, the Paws and Relax area, with its large U-shaped sofa, wood accents and TV that's always tuned to a crackling fireplace, encourages visitors to unwind, chat, sip and sit a spell.
"We offer coffee and cookies all the time. It's important that our customers feel they are walking into a friend's home—that is our vision," says Chris McCoy, who co-owns the establishment with her husband, Mark. "Sometimes people just come in to relax and savor the coffee. When parents are shopping here, their children can grab a cookie, sit down and even do homework."
It's a hospitable recipe for success.  
McCoy's love of animals has been lifelong. As she was born to a family of doctors and nurses, an interest in health care was natural for her—with a career in the veterinary field a goal.
"But I took a different path," she says. "I married, had kids and was in management at FedEx for 30 years, but I always loved animals and studying about them."
When the McCoy family's beloved English bulldog, Precious, developed health issues, veterinary visits for medications and treatments proved unsatisfactory. McCoy began delving into a nutritional approach, settling on a raw diet and balanced meals. The results were significant.
"I changed her diet, and changed her life," she says.
Along the journey, McCoy frequented a small pet supply store and forged a relationship with the owner. When a decision was made to sell the store, the McCoys took over, in spite of the fact that both were still employed with FedEx at the time.
After acquiring the venture in 2008, McCoy continued to work from 4-10:30 a.m. at the delivery services company before heading to the new endeavor to welcome customers until the 7 p.m. closing time.
"I just said, 'I'm going to do this,'" she says. "It's been a true passion."
Originally sited in 900 square feet, McCoy served as sole employee for the first two years of operations.
"We had that location for eight years, and I would do a uniform change in the backroom and open the store," she says. 
McCoy retired from FedEx in 2015, and, as the business grew, additional employees came onboard. A move to a more spacious, 5,000-square-foot space took place in October 2016.
"We knew we had to expand—there was product stacked to the ceiling," she says. "We hadn't realized how much we needed that space, but now we could probably use even more."
In 2018, Mark retired and joined his wife full time at the store. Their daughter Kaitlyn came onboard full time in 2019.
"Our daughter-in-law, Amanda, helped me manage the store for a long time, but she is now a stay-at-home mom, which is important," McCoy says. 
Where Customers Come First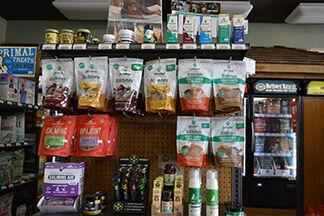 From its humble beginnings, stellar service has always been a cornerstone to The Natural Pet Enrichment Center's ideology. Whether it be simple acts, such as carrying purchases out to the car or offering phone orders that will be ferried out to the vehicles of busy young parents, customer consideration is spotlighted.
"We encourage our young moms and dads to call the front, and we will run the foods out," she says. "They love that they can place their order ahead of time, by computer or phone, and we will run the credit card processor out to the car so the little ones can sleep."
In-store and over the phone, staff members are always accessible and eager to answer questions, undertake research and follow up with answers.
"We make a point to have a good conversation, to answer questions, to do everything we can to address their concerns," she says.
For example, when news from the U.S. Food & Drug Administration (FDA) broke about a possible link between canine dilated cardiomyopathy (DCM) and certain diets, extra staffers were brought in to answer phone calls and speak with customers as they arrived with queries and unease.
Printed articles encouraged at-home reading. Additionally, veterinarians were brought in to hold conversations and address concerns.
This compassion and caring is a core value of the company, and that empathy also encircles pet owners experiencing the loss of a pet.
When in 2015 the McCoys lost their beloved store dog, Bing, a Labrador retriever, to cancer, their grief was shared across the customer base. 
"He was such a little celebrity. We'd hold birthday parties for him in the store, and more than 250 people would show up," McCoy says. "It was devastating when he died, for us and for our customers."
This experience underlined a lack of resources available to pet lovers coping with sorrow over the loss of a pet. The spacious new store offered room to create the Paws and Relax area, where the support group is hosted. Further, a trained grief counselor, also a customer, agreed to facilitate the monthly meetings, which are held after hours.
"It's a time when people can come in, share emotions, talk about their heartache," McCoy says. "We want them to know we care."
For 2020, a monthly Preparing for Loss gathering will meet to bolster pet owners dealing with end-of-life issues.
"For a lot of people, their pets are children, and they often grieve for a long time," she says. "We offer plenty of tissues and sharing, with candles for remembrance. It is a devastating time, and we want to be an outlet."
Workshops are also offered in the space. For example, customers interested in learning more about pet food options and nutrition might attend presentations provided by manufacturer representatives. 
"We hold these education nights at the end of the day, so customers can come in and ask questions in a relaxed setting," McCoy says. "Vendors participate, whether it be kibble, freeze-dried or raw companies."
The opportunity to learn more about the holistic approach to pet health is made possible with presentations by a local holistic veterinarian. Other experts take to the podium to focus on subjects such as cannabidiol (CBD) or natural supplements and formulas.
It's a busy place, and every employee at The Natural Pet Enrichment Center has been a one-time customer, bringing distinct experiential contributions to the table. This diverse expertise includes knowledge in raw feeding, agility training, show dogs, service-dog training and even childhood education.
McCoy's daughter Kaitlyn contributes her feline knowledge.
"It's great because not everyone on our team has experience with cats," McCoy says. "When you have a multicat household, it brings perspective."
Employee education plays a strong role in providing exceptional customer service, and working with sales representatives to provide information for each product line is central to that aim. In addition, team members are invited to attend trade shows, such as SuperZoo and Global Pet Expo, in order to meet face-to-face with manufacturers and to further product familiarity.
Independent study is also promoted. 
"Of course, training is ongoing every day, too," she says. "We often say, 'You can't train passion,' but providing education about what we feel is important is an element that makes our service work so well."
Participation in employee feeding programs is another beneficial component to ever-increasing expertise.
When assisting customers, staff members are encouraged to listen without judgment, and that means meeting a customer where they are.
"We don't want to tell customers they are making a mistake," McCoy says. "Instead, we offer suggestions; for instance, we might try to add some fresh food or provide education about fillers. If we make someone feel badly about their choices, they might walk out and never come back."
"When You Know Better, You Feed Better." The tagline is key to the philosophy of The Natural Pet Enrichment Center. So much so that the phrase has been trademarked and is literally owned by the business. McCoy spreads the word throughout the pet community.
"I do a lot of public speaking on how to feed better," McCoy says.
Foods in the product mix are corn, wheat and soy free, with no byproducts or artificial colors, flavors or preservatives.
"We promote a lot of raw, fresh and gently cooked foods," she says.
A full line of pet supplies and supplements are also on hand, along with CBD products.
"Our No. 1 seller is Pet Releaf, but we also carry other manufacturer products," she says.
In a recent expansion of service offerings, a 1,500-square-foot self-serve dog wash has been sited in a nearby, separate space. Once a restaurant, the facility has been transformed into a spalike atmosphere. Open six days a week, the unmanned dog-wash is monitored by security cameras, allowing for speedy customer assistance, if needed. Two bays feature a K9000 dog-wash system, activated by credit card, Apple Pay or tokens purchased at the store.
"It's like going to the self-serve car wash," McCoy says. "All the soap and shampoo comes out of a hose, and there are towels, aprons and a two-speed dryer, all included." 
The bays are gated and private, allowing pooches to clean up without the distraction of other dogs.  
Besides room for a future third bay, a small office space may soon be put to good use.
"We are exploring the possibility of a veterinary or chiropractic office," she says. 
Dogs and cats in need are always at the forefront at The Natural Pet Enrichment Center and receive a paw up through support of adoption agencies and rescues in a variety of ways, including food and supplies through store donations, customer contributions, distributor participation and fundraisers. A favorite is held during the holiday season.
"We have an old-time Santa that comes in for photos, and also do pictures with the Grinch for a donation," McCoy says. "We have the holiday backdrop set up for the whole month, so customers unable to come in on a Saturday when the Santa and photographer are here can use their phones [to take pictures themselves]."
Additionally, food for the area's two K-9 police dogs is provided in cooperation with manufacturers.
Social media plays a strong role in customer engagement, and photos of customer pets are featured regularly on the store's Instagram and Facebook accounts. Beyond social media, McCoy says the store does not advertise.
"We want to make a great first impression so that when a customer leaves our store, they can't wait to tell their friends about us," she says. •
A Second Chance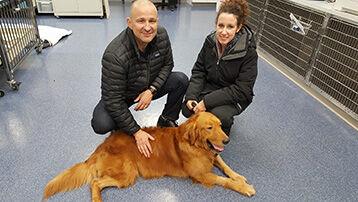 When a beleaguered golden retriever staggered into a neighborhood backyard, a coyote trap clinched to his left front paw and a gruesome gunshot wound in his left hind leg, the stray's future looked grim. X-rays revealed a hind stifle joint obliterated by the bullet's impact. To make matters worse, infection had spread to the bone. The steel trap grasping his front toes left the likelihood of saving any digits questionable. The prognosis proved increasingly dire.
"The veterinarian at the clinic felt that since both injured limbs were on the same side of the dog's body, rehabilitation would be touch and go," says Heather Labuda.
Funds were raised, and after a rear leg amputation and the loss of just one front toe, the retriever's survival depended on regaining circulation to the remaining toes. The plucky dog persevered.
Enter Heather and Doug Labuda. Upon watching a newscast covering the dog's plight, Heather added her name to the list of potential adoptees, along with 80 other applicants from across the country.
"We already had two dogs and two cats, but, growing up, the family dog was a golden therapy dog, and my mom had fostered and rescued goldens," she says.
The elementary school reading specialist, who works with below-grade-level children, sought a pup her students could relate to.
"I was looking for a dog with a purpose, one able to go through therapy dog training," Labuda says. "My students would relate to a dog with a disability. When I saw him on the news, I couldn't get that face out of my head."
Labuda kept tabs on his progress and, in November 2015, was thrilled to learn that she and Doug had been chosen in the adoptive process. The happy news arrived just as she pulled into the parking lot of The Natural Pet Enrichment Center.
"After calling my husband and my parents, I walked into the store to tell Chris and the rest of the staff the happy news," she says.
Christened Chance, in honor of his second chance at life, the dog arrived at his new forever home 15 pounds underweight, up 20 pounds from his rescue weight.
"He was sick; he didn't have any muscle tone," Labuda says. 
She turned to The Natural Pet Enrichment Center for assistance.
"I asked Chris to recommend good food and supplements that would help Chance put on healthy weight," she says. "I'd never owned a three-legged dog, and Chance is a little different than your average three-legged dog. Chris and Mark were the first people I turned to for advice."
But aside from recovering from physical injuries, Chance was also dealing with unknown emotional damage. Labuda credits staff members at The Natural Pet Enrichment Center with assisting in this regard.
"He survived because of his personality, but if you raise your voice to him, he doesn't just cower, he flattens himself to the floor," she says. "I can walk him around a school full of kids, and he's fine and gets along with our dogs and my mom's dogs, but if he encounters a dog that he doesn't know, he panics."
"Every time I'd go into Natural Pet, I'd talk to Chris or Mark or staff member Elsa, who trains therapy dogs," she says.  
The Natural Pet Enrichment Center also contributed to Chance's extensive rehabilitation costs through fundraising.
"They hosted a benefit for him," she says. "It was basically a meet-and-greet event with raffles to raise funds, plus they kept a jar out so people could donate. The story was on the news."
Excess funds were earmarked for the emergency clinic to be used for other stray animals in need.
"Chance wouldn't be where he was if it wasn't through this huge support system, much of which comes from The Natural Pet Enrichment Center," Labuda says.
Chance and Labuda give back during the summer months, when children gather in the Paws and Relax area to read.
"I bring books and lay them out so the kids can make selections," Labuda says. "It's great."
Labuda considers the staff of The Natural Pet Enrichment Center to be family.
"I'm usually there about once a week," she says. "If I go two weeks without a visit, I stop in to see what's going on. We don't just go in to buy products; there's so much more to the experience than that." 
It's A Retail Life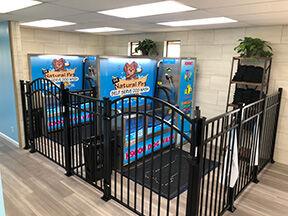 What is The Natural Pet Enrichment Center best known for?
Chris McCoy: Our customer service and our passion, hands down.
What is the greatest challenge for today's independent retailer?
McCoy: The internet and getting people to continue to come out and visit brick-and-mortar stores to see what they have to offer. Retailers need to give shoppers a reason to come out of their house.
For the pet industry overall?
McCoy: Putting nutrition at the forefront, and working with veterinarians.
Are you watching any interesting trends?
McCoy: What I see is big companies buying up small companies. I don't like the direction this is taking with distributors. It's destroying a lot of the family businesses that gave great service and trading.
What do you see for the future of The Natural Pet Enrichment Center?
McCoy: To expand on what we offer to our customers, and to continue to be a destination.