Bob Schuhle, owner of Pet Food Depot, has experienced his fair share of the ups and downs that come with running a business for nearly 30 years. While he is quick to credit the longevity of his establishment to commitment to family, pet owners and their companions, and to neighborhood ties, he also underscores the importance of adapting to consumer demand and economic variances.
When Schuhle left behind a 19-year career as a convenience store owner, the animal loving community drew him to his next venture.
"The nicest people in the world are those on vacation, but second to that are animal lovers—they love their pets and enjoy shopping for them," Schuhle says.
The Pet Food Depot saga began in 1990 with the purchase of an existing equine feed business.
The enterprise had recently opened its doors when Schuhle stepped in as proprietor, and it remained sited in the original building for eight years. In 1998, Schuhle purchased property in Phoenix and began construction on a standalone 7,000-square-foot Midwestern barn-style structure.
"We have been in our 'new' building for 21 years now," he says.
As the local population expanded, the business kept pace. Soon, one store became five.
"The effort level in those early years was not as strong as it is now," Schuhle says. "It was easy money in those days; if you lost a customer, there were five more coming."
However, those robust times were destined for decline.
"The 2008 recession seemed like a line in the sand for feed stores," he says. "No one was jumping to buy a horse or horse property. The squeeze came from multiple directions."
Scaling back to two stores, the 7,000-square-foot flagship store in Phoenix endured, along with a second location situated next to a supermarket in nearby Scottsdale, Ariz.
Schuhle noted that backtracking can promote growth, and closing three stores confirmed this philosophy.
"I have been able to learn from my own mistakes and the mistakes of others," Schuhle says. "When the economy weakened, our main store bore the burden. At some point, we realized it couldn't carry that weight forever. The correction was as good as picking out a new location."
In the early days, the product mix consisted of 80 percent equine feed and supplies, with 20 percent catering to the pet-owning set. Today, urbanization has reversed those figures.
Family plays a central role in the Pet Food Depot story, with five Schuhle family members integral to day-to-day operations. Schuhle's two sons, Bobby and Eddy, Bobby's wife, Addie, and their two sons, 21-year-old Branden and 17-year-old Presley, take pride in their stance as an independent, family-owned and operated business.
"We don't go around tapping people on the shoulder and telling them we are family owned, but our customers realize that they are dealing with the same people all the time, and we are often asked if we are the owners," Schuhle says. "I'm always surprised at how often our customers tell us they respect and appreciate the fact that a mom-and-pop business can survive in the big corporate market."
The spacious Phoenix store, with its old-fashioned barn design and regularly updated parking lot marquee, draws the attention of passersby. However, more distinctive features contribute to this establishment's destination status—restored, vintage trucks bearing the company logo are parked outside. A huge resin bulldog beckons from the back of a pickup truck, while an oversized cement chicken and massive tortoise serve as roadside greeters, enticing a visit.
"We are a stopping place. The tortoise is even on the Pokémon application as a stop," says Addie Schuhle, buyer/manager. "We've had several different trucks parked up front throughout the years; for example, a '39 Dodge, a '38 Plymouth. They are an advertisement."
Further, few can resist a second look when employees don one of three different dog costumes to wave and dance.
"We have a big red dog, Dalmatian and bulldog costumes," Addie says.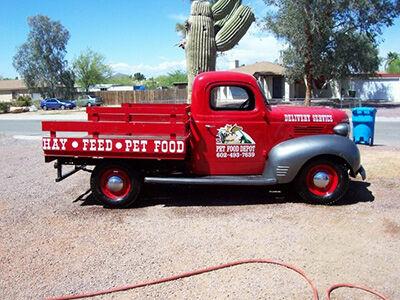 Following Demand
Pet Food Depot shoppers browse a wide range of premium pet foods, including kibble, canned, dehydrated and raw, alongside a selection of supplements and pet supplies. However, horse owners are still able to purchase hay, pellets and supplements, and pig, goat and poultry feed is available. The store also sells chickens and rabbits, and with 30 laying hens in residence, fresh eggs are on-hand for purchase at the counter.
While the Phoenix store carries a broader range of foods and products, inventory at the smaller Scottsdale store is more selective.
"You have to pay attention to your product mix because you can't carry everything in 3,000 square feet that you can in 7,000," Bob says. "We can't be everything to everybody, but we try to reach as many people as possible."
The Phoenix store features an extensive raw bar with a variety of freeze-dried animal parts, while canines craving a fragrant doggie doughnut can belly up to the new bakery case for delights that are sure to satisfy.
In addition to shopping for supplies, pet-loving patrons visit the weekly mobile veterinary clinic for vaccinations, exams and medications. The popular service takes place on Saturday afternoons at the Phoenix store.
"We have been offering this service for 21 years," Bob says.
Pet food and supply delivery is available at no charge via a dedicated vehicle, while hay and other horse and livestock needs are delivered by flatbed truck for a fee. However, Bob feels fortunate that the majority of Pet Food Depot customers enjoy visiting the store personally to shop for their supplies.
A recently instituted loyalty program, allowing customers to earn free bags of dog food through purchases, is another popular offering.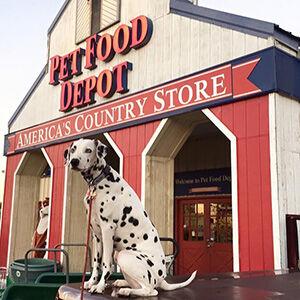 Stellar Customer Service
Presenting outstanding customer service is a cornerstone to the Pet Food Depot ideology, and Bob noted that selecting the right job applicant is the first step in offering this stellar amenity.
"We look for people who are willing to engage in conversation, to be as helpful as possible, and if they don't know the answers, find someone who does," he says. "Our staff members are an extension of our family, and the better job they do, the better we are."
Tutelage includes plenty of floor time and mentorship with Bob, along with manufacturer training.
"I listen to our associates as they interact with customers. Are they giving good advice? Is the information accurate?" he says. "I am on the sales floor a lot, and people are amazed to see me out there, but that is my job. Over the years, you learn to read faces, and if I see a perplexed expression, I will approach and offer help in finding what they are looking for."
In addition to assistance and advice on the sales floor, customers also partake of a variety of workshops offered on a weekly basis. Issues such as potty training, barking or leash-pulling are addressed.
"The workshops are free and held at the Phoenix store," he says. "It's another example of raising our effort level. If you don't raise your game, you are going to struggle."
In addition, regular puppy training classes are held in cooperation with a local trainer.
Family member work schedules are staggered, with someone always on hand to greet and assist customers, oversee daily operations and support staff members.
"We try to have a family member here every day of the week," he says. "My oldest grandson, Branden, is running the Scottsdale store and doing the ordering. My two sons, Eddy and Bobby, are here five days a week, as is Bobby's wife, Addie. My youngest grandson Presley, who is in high school, is here one day per week."
Signage on aisle endcaps serves as a reminder that Pet Food Depot is a family-run operation.
While the focus on family is essential to Pet Food Depot's operation, connection to community is another essential facet.
Offering a paw up to pets seeking a forever home, adoption days take place several times per month, and regular "meet and greets" with a local greyhound rescue also raise adoption awareness. Store-held food drives benefit local shelters and rescue agencies, with customer-donated foods collected in bins for distribution. Further, damaged goods are regularly shared with local rescue agencies.
"We'll pick and choose between the different rescues to help them out," Bob says.
When November rolls around, the Phoenix store takes on a festival-like atmosphere with the annual customer appreciation event. A unique theme is chosen each year.
For instance, the 2018 Carnival of Savings featured a dunk tank, jump house, cotton candy, clowns and face painting. Earlier, Woody's Roundup embraced a Toy Story theme, complete with a mechanical bull for cowboys and cowgirls ready to mount up for an eight-second ride.
For 2019, the Fall Harvest of Savings event will offer autumn-appropriate foods such as corn on the cob, hot dogs and kettle corn. Gift bags will be available to the first 100 attendees with donated product from manufacturers, who are also on hand to provide information and samples.
"We put together baskets, and people buy raffle tickets, with proceeds donated to the local high school's Future Farmers of America [FFA] program, who also set up their own bake sale at the event," Addie says. "Last year, we were able to donate $1,000 to the FFA."
As the holidays roll around, the annual Christmas Raffle is a major hit. For this event, vendors donate raffle prizes specific to their brand.
"We have been doing this for 26 years," Addie says. "Customers win prizes like televisions, iPads or Xboxes, all donated by manufacturers.
"Once, a customer whose stove had gone out just before the raffle won a Best Buy card and was able to purchase a new stove just in time for Christmas dinner," Addie adds.
Shoppers sometimes switch brands for a chance at a gift card offered by a specific manufacturer.
And community members in need are not forgotten.
"I am on the board of directors of Allison's Heart, a nonprofit community outreach program started by a good friend," Addie says. "Initially, we gathered clothing at our stores to distribute to the homeless population in downtown Phoenix."
As the program grew, local elementary schools and women's shelters were added.
Pet Food Depot fundraisers to benefit the program include a Bingo Night, complete with silent auction, as well as an "aerobic-thon," where customers sweat it out for pledged monies.
"We put together backpacks at the beginning of the year for kids and collect clothing for families," she says. "It's rewarding and humbling."
The parking lot marquee at the Phoenix store is updated regularly, keeping customers and locals apprised of the many in-store activities, as do A-frames at both stores.
"It's all about our neighborhoods," Addie says. "We are involved." •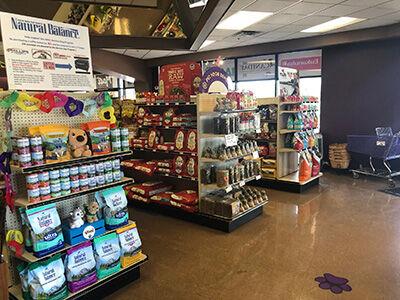 A Home Away from Home
When Cari "Kiki" Cavuoto needs a dose of that old-fashioned family hospitality, she heads to Pet Food Depot, where the welcome is warm, the service knowledgeable and the prices outstanding.
The East Coast native discovered Pet Food Depot not long after relocating to the Phoenix area.
"At the time, I was employed as a vet tech at the same animal hospital that the Schuhles took their animals to," she says. "So, I started doing my weekly shopping at Pet Food Depot. I'd see them at my work; they'd see me at their work. It was cool."
The rest is history.
"I've been shopping there since 1997," she says. "It's like going home. They are fun, knowledgeable and treat me like family—they really do."
The animal lover is enthusiastic about supporting a local, family-owned business. However, with a menagerie consisting of one horse, three dogs, two cats, a turkey and a double-digit flock of chickens, Cavuoto is also price conscious.
"Supporting local is huge for me, but I am not losing anything pricewise or selection-wise by shopping at Pet Food Depot," she says. "Often the prices at smaller stores are higher, or the selection is not as good, or you have to drive farther. Feeding all these animals is a big deal, so where I spend my money is important."
Cavuoto has also taken advantage of the Saturday veterinary clinics.
"The word 'convenience' doesn't even touch this service, it is so wonderful," she says. "I recently found a stray kitten and wanted it tested for leukemia, so I ran in there and had the blood work done. The price was great, too."
While Cavuoto does not attend many in-store events, she considers her weekly shopping forays to be happenings in their own right.
"My favorite thing is going there to pick up hay or supplies and sitting out back with Addie to gab," she says. "I really love them. It's like going home."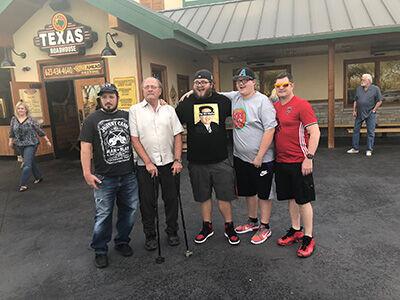 It's A Retail Life
What is Pet Food Depot best known for?
Bob Schuhle: For being family owned and operated. And for our fair prices. We try to get the best prices, and pass that along to our customers. I've never had anyone say that the prices at Pet Food Depot are higher than the big boxes.
What is the biggest challenge for the independent pet retailer today?
Schuhle: Falling into complacency. Keep your eyes open and learn as much as you can.
What about for the pet industry overall?
Schuhle: We can't run scared. The online retailers and big boxes are out there, so do everything you can to hold on to your share of the market
Any interesting trends?
Schuhle: Looking back over the years, we once set price levels. Today, it seems like the sky is the limit. As long as the food seems worth the money, customers will pay. Who would have thought you could buy a $100 bag of dog food?
What do you see for the future of Pet Food Depot?
Schuhle: I expect that in the near future we'll be able to open another location. We are confident in what we have learned and will use that knowledge going forward