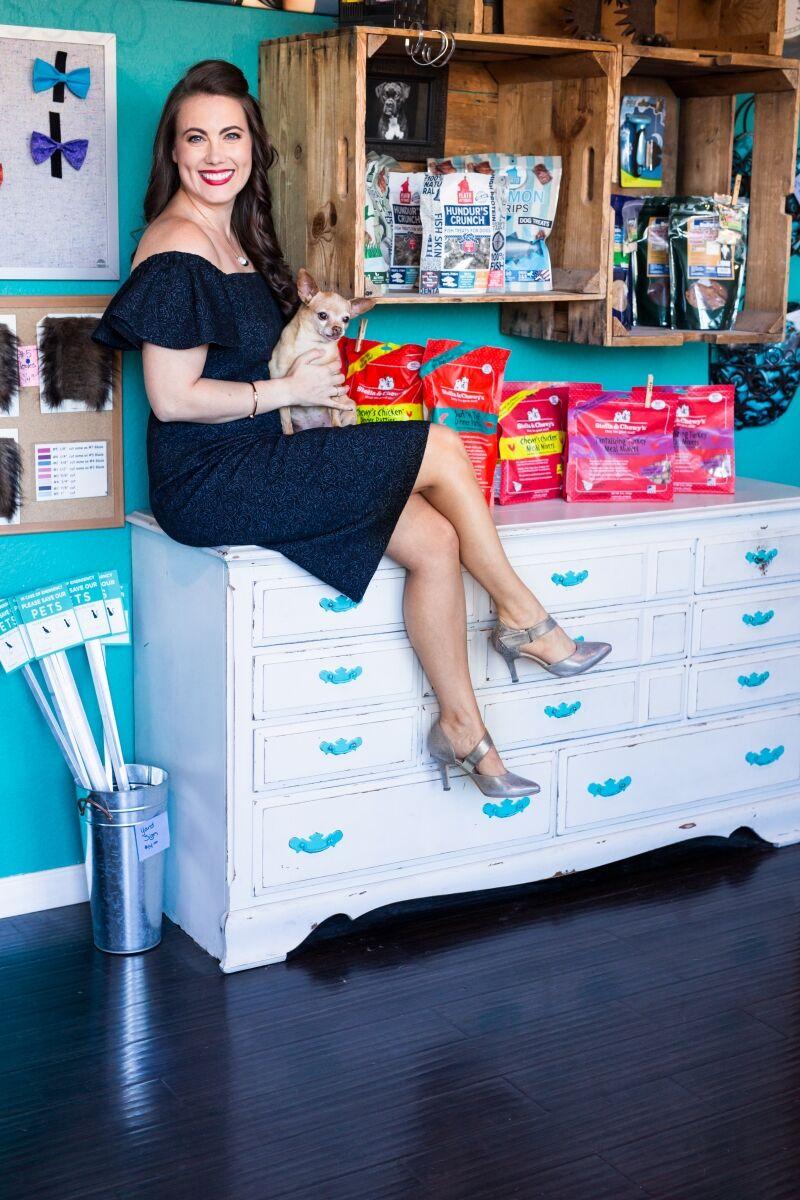 The "secret sauce" to Puff and Fluff Grooming and Pet Sitting's growth and success features a simple, straightforward ingredient list, according to owner Liz Illg.
"Build processes and procedures that will support your vision—that's it," Illg says. "Do that, or find someone to spend the time for you, and you will be so much better off, and if something were to happen tomorrow, you could step away and the business would still run and make money.
"That's what my business does for me, every single day," she added.
Illg answered the entrepreneurial call during her Arizona college years. The onetime Iowa farm girl began offering pet sitting services to Phoenix locals, and as word spread and referrals flourished, the young businesswoman brought other pet sitters on board.
"My love for animals started from a young age, and pet sitting was a great part-time gig," she says.
Upon graduation, Illg launched her professional journey with a sales and marketing position at an online employment website. However, she aspired to a livelihood rooted in passion, one that would offer more than a cubicle existence.
"So I decided to look closely at the pet industry," she says. "I had no business doing that. I had college debt; I'd just purchased a condo."
When a small local grooming shop in the Phoenix area became available, Illg took a leap of faith.
With an undergraduate degree in business, a master's degree in education, and sales and marketing familiarity under her belt, Illg felt that the 450-square-foot acquisition could be crafted into "something amazing."
After shopping several financial institutions for funding, Illg eventually located a bank willing to take a risk on her vision.
"They gave me a line of credit—at an 18 percent interest rate," she says.
Still $4,000 short, she approached her Iowa farming father with the plan.
"He was incredulous," she says. "We didn't groom pets on the farm, and he really didn't think it was a good idea."
A few days later, however, an envelope arrived in the mail. Inside was a check wrapped in a note in her father's handwriting that read, "You can pay me back when you are a success."
Illg's enterprise was on the path to realization, and, in 2013, Puff and Fluff Grooming and Pet Sitting welcomed its first Phoenix-area customers.
"I became the operations of the business, the open-and-close front person; I wore all the hats of a small-business owner," she says. "I am not a groomer, but I love animals and people. Grooming is a great mixture of high-volume, high-traffic industry, with people who are happy when their pets are clean and looking really good."
As her undertaking developed, operating hours were expanded from five to seven days a week. When the next-door suite became available, Illg took over the 450-square-foot space, doubling the size of her storefront.
Soon, she was able to pay off her line of credit. Upon hearing about another location for sale, Illg found herself the proud owner of two grooming salons.
"That's when the nightmare occurred," she says. "I had no idea what it takes to run multiple operations—that I couldn't be in two places at one time."
Driving from store to store while fielding questions between managers, Illg realized there was a need to further support Puff and Fluff staff members in addressing operative concerns. She began to establish sound management methods and to hire support personnel to assist with the ins and outs of the venture.
"I had to really reflect on my actions, to empower the people around me with systems and procedures that would assist them in running the business from my perspective," she says. "It took me about a year to document every process, to address every question a manager could ask."
Today, with an operation that is five Phoenix-area stores strong, these measures have galvanized staffers, allowing Illg to branch out into other spheres of interest, such as public speaking and consulting.
"I am in constant communication with my managers. They are my voice, my understanding, and are aware that I am empathetic to people, and that's what I expect from my staff," she says.
Each store presents a branded décor and ambience. The cozy, uncluttered, shabby-chic reception area features white furnishings and signature teal-colored walls that are uniform.
When opening a new storefront, Illg's systems engender a seamless setup experience.
"I have a checklist of needs; we buy the same white cabinet for every store, the same chairs," she says. "I can easily open a storefront in two days."
The Puff and Fluff Family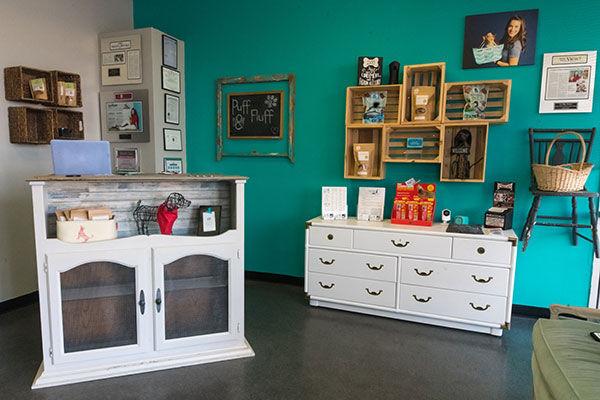 Customers are regarded as members of the Puff and Fluff family and, as such, transparency, education, convenience and communication are key elements to creating this bond.
"We call it 'The Puff and Fluff Way,'" Illg says. "We have conversations with our customers. It's a learning experience."
As a result of constant communication, and due to the procedural systems in place, Illg's presence at each storefront is not required, allowing her to serve as visionary while assessing trends and fulfilling customer demands.
"The pet parent in the last six or seven years is completely different from the pet parent of the past," she says.
To meet the demands of an evolving market, Illg does not cut corners when it comes to the spa experience.
This mindfulness includes stocking products she is comfortable using on her own five Chihuahua-mix rescues: Rosie, Ruby, Tilly, Luci and Penne.
"When my dogs go into the shop, I want the best for them—and every owner bringing their dogs to my shops should have the best as well," she says.
Furry visitors luxuriate in hypo-shampoo lather, blueberry facial and relaxing massages, among the many offerings on the extensive grooming menu. Well laid out and easy-to-understand services are outlined on the Puff and Fluff website, including pricing.
"My whole philosophy is based on pleasing the client. Literally, I am in business to make people happy," Illg says. "We build upon that regularly and review our website on an almost monthly basis to make sure it's still satisfying the client's needs, wants and desires."
Cats are also welcomed.
"I have three to four groomers who groom cats; it's a specialty," she says. "Not all of my storefronts do cats, but with multiple locations, I can leverage people and move them around as needed."
The grooming area is not visible from the reception area for safety reasons.
"That's always a hot topic," Illg says. "At one time, we were visible, and that's where I noticed a lot of injuries were occurring when an owner would walk in and the dog would begin moving around on the table."
Coiffed pooches are generally ready to go home within two to three hours, depending on the size of the dog or the haircut.
For a nominal charge, those wishing for speedier service, for puppies or elderly dogs for instance, take advantage of Puff and Fluff's ASAP offering, where the dog is handed to the groomer, who starts immediately on their charge.
"We like to do that with puppies—it's a really good training environment," Illg says. "The ASAP dog literally never touches the floor. It goes from the manager's hands to the groomer's hands."
Pamperships are also available. For a flat fee, the auto-debit program allows customers to purchase a package of monthly amenities—for instance, unlimited baths and nail trims, along with grooming. Members also receive a monthly gift and additional discounts on products.
"It guarantees activity, but also guarantees that these pet lovers will keep coming to Puff and Fluff," Illg says. "That's a valuable asset."
The Puff and Fluff Repeat program provides the opportunity to pre-purchase five grooming sessions, with the sixth free.
A special discount day, held monthly, provides access for pet lovers who might not be able to afford grooming services otherwise.
"It's about letting down barriers—let's face it, some people cannot afford to groom their dogs as often as they'd like to," she says. "The last thing I want is for someone to not be able to have their dog's hygiene taken care of."
In support of pet adoption, local rescues receive a 50 percent grooming discount.
"Basically, they are paying the groomers' percentage and that's it," Illg says. "Any 501c3 rescue can have their dogs groomed in this way. It gets more dogs adopted."
Appointment booking is easy and convenient through an online system, and customers welcome the ability to sign on around the clock to complete this task.
"When I wake up in the morning, I might have 15-20 bookings from the night before," she says. "It gives customers the freedom to book when they think about it."
Pet sitting services are available on a limited basis.
"We do not advertise pet sitting, but we do have pet sitters that will sit for our clients," Illg says. "It's popular because people are in the space and already know the groomer or manager that will sit with their pet."
A monthly newsletter keeps customers in the Puff and Fluff loop and provides ongoing education, as do informative blogs. In addition, an active social medial presence and monthly giveaways serve to sustain customer engagement.
"I connect with my community a lot online, and each day we send a feedback email to our grooming clients. They can respond directly to me if they have any concerns," she says. "People want to be heard, and this lets them be heard in a timely fashion."
Puff and Fluff reaches out to the community in myriad ways. For instance, free Bath and Brush events find the grooming team setting up shop at local businesses.
"We might set up at a local restaurant and do a free bath and brush while the pet owners enjoy brunch," Illg says. "As a certified yoga instructor, I sometimes do a doga class for dogs and their owners at local apartment complexes. It's just a way to be out there; it's connecting your brand with people.
"I have a master PR list, so if I have an idea and want it to be heard, I pitch it," she says. "We have probably been on local news and radio stations 50-75 times. It's a lot about educating people about their pets and trends."
It's the methodology of a corporate entity, and often Puff and Fluff is mistaken as such, according to Illg.
"We have a lot more opportunities because I do operate as a full-fledged business," she says. "But, it is a small business; I own it 100 percent and built it from the ground up."
Core Values
Making sure customers understand the operation's philosophies is also important to Illg.
"Our core values represent what is going on internally in our business and also what the client can expect from Puff and Fluff," she says. "It's about being transparent."
To further encourage this philosophy, Illg seeks artistic groomers with a deep love and compassion for animals. Patience, customer service, teamwork and integrity are stressed.
A Puff and Fluff apprenticeship program is also available for animal lovers wishing to learn the grooming trade. The 12-day-long course is free of charge and taught by a Puff and Fluff master groomer. The result can be a new hire, trained in the Puff and Fluff way, and ready to go to work.
"Again, it's about letting down barriers," Illg says. "I think if somebody loves dogs and wants to groom, how can I make it affordable for this person to learn this trade?"
Training manuals also assist in promoting company guidelines.
"My people know what to do. I read a daily recap and I'm done," she says. "I've become the investor and the visionary, although I am an active participant because I'm still writing, I'm still pitching and supporting my business 100 percent."
In the past year, Illg has been consulting with other businesses, sharing her experiences and expertise in building processes and procedures and boosting brand identity.
"I work with any type of business, including those in the pet industry," she says. "It's a good space for me to be in and has given me the opportunity to enjoy both of my passions—being around people and their pets and employing really great individuals and supporting them with a good job. Now I have the opportunity to teach people what I have learned. It's my jam." •
It's A Retail Life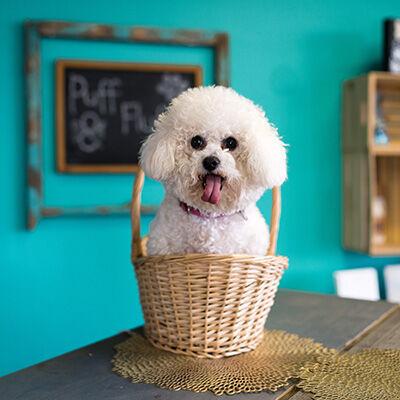 What is Puff and Fluff Grooming and Pet Sitting best known for?
Liz Illg: Pampering pets.
What is the biggest challenge for pet groomers today?
Illg: The owner as groomer. Everybody wants to grow, but you can't do that if you are working in your business.
What's the biggest challenge for the grooming industry overall?
Illg: Trends that are constantly changing and evolving. It's a challenge to keep up.
What trends are you watching now?
Illg: Very artistic grooming. For example, the Asian style of grooming. People see these styles on YouTube and Instagram and would like their dog to have that look, but if their dog doesn't have the right hair type, we can't make it happen. That's a hard conversation to have with a client. It's really about education.
What do you see for the future of Puff and Fluff?
Illg: I see growth and expansion. People ask if I am going to franchise, and the answer is no. I plan to continue to build this empire all by myself.
Caught in the Act
Bear is the master of canine melodrama, and Puff and Fluff Grooming and Pet Sitting is a favorite performance venue. When a spa day rolls around, the 13-year-old Pomeranian delights in transforming the reception area into his own private stage.
"Whenever I drop Bear off, he barks and acts really nervous," says Bear's owner, Adriana Boring.
However, once he is safely ensconced behind the closed doors of the grooming area, Bear's tragic mask morphs to comedic grin.
"The staff would tell me how funny it is—that he loves being there but puts on this big front, just for me," she says. "The manager once sent me a video of the change so I could see, and it's hysterical—he has the time of his life. I still love to watch it."
For Boring, this simple act illustrates the "Puff and Fluff Way," and the affinity between staffers, client and canine.
"I always know that Bear is in good hands," she says. "He is a weird pup and gets nervous easily, but I have no hesitation about leaving him there."
Boring also values the email she receives after every appointment asking for feedback.
"I always respond and always receive a reply," she says. "Liz and I communicate via email once a month; it feels like we have this rapport and she genuinely cares about what I have to say."
Boring and Bear have been customers since 2013, and she appreciates that staff members remember and keep track of Bear's services, and that she can text for a last-minute appointment.
"If once in a blue moon I forget to book an appointment, I know they are willing to accommodate me and get Bear in," she says. "I feel like they recognize my loyalty, and that's a nice feeling."