When The Green K9 opened in 2010, offering day care, boarding, grooming and retail services, co-owner Marni Lewis and her husband, Paul, set out to foster a new standard in the pet care business comprising convenience, quality care, community focus and nutritional awareness under one roof. Today, their endeavor lives up to that benchmark.
"Each service melds into the other; for instance, if a dog is being fed an unhealthy diet, we can provide nutritional education," Lewis says. "If a dog comes in for boarding or day care and goes home after a great bath, that dog will be back for grooming. We are all about helping pets and educating pet parents."
The Green K9 is not the couple's first foray into the world of pet services. They previously owned and operated a successful boarding, day care and grooming facility in Davie, Fla. After the sale of that venture, and subsequent move to Mount Dora, Fla., Marni and Paul moved into a spacious, 7,200-square-foot space with three-quarters of an acre of land. The couple rolled up their sleeves, opening the doors to The Green K9 and adding retail to the mix.
The Lewis' ambition of raising consumer expectations for canine care and comfort in their new city was off and running.
"We wanted people to expect more for their dog than just being boarded in a box," Lewis says. "I love that owners are wanting more—it forces pet care facilities to be better for the dogs."
The Green K9 stands by that credo. Marni and Paul each bring their own unique talents and contributions to the endeavor.
Marni not only oversees day care, boarding and grooming, but is one of two groomers in that department. The former managed-care-industry professional credits her mother with sparking an interest in dogs and the pet industry.
"It is very much in my blood; my mother once owned a kennel, bred German shepherds and operated a dog-training school," she says.
Meanwhile, Army veteran Paul brings a successful career in sales to his role managing the retail sector of the business.  
Making Friends
Indoor play and boarding spaces occupy a substantial portion of The Green K9 enterprise. However, the four-legged set can also luxuriate in the sunshine, splash in wading pools, caper in playhouses, and romp with each other and myriad toy offerings. 
"We have large outdoor play areas on three-quarters of an acre," Lewis says. "The indoor boarding and day care space is approximately 4,700 square feet—it's enormous."
Stringent guidelines ensure canine safety, beginning with separating four-legged revelers by size. Six-foot-tall fencing surrounds the outdoor space, with play area dimensions another consideration. 
"We have found that if the outdoor yard is too large, it is difficult for our staff to sprint over to put hands on dogs that may be having an argument," she says. 
Capacity is limited to 35 dogs per day, and day care charges are constantly supervised.
Boarded canines slumber in peaceful repose, nestling into either the 9-by-5 Retreat or the 10-by-6 Grand Retreat suite. Well-rested lodgers burn off excess energy as they gambol with their day care buddies.
A stress-free stay is paramount. Should smaller dogs become nervous or anxious in the boarding environment, the opportunity to co-sleep with fellow diminutive pups often produces a calming effect, Lewis notes. A staffer joins the slumber party, bedding down in the middle of the space.
The entire facility is staffed 24 hours a day, and boarding capacity is capped at 60 dogs. In addition, K9 Cams provide live video feeds, allowing pet owners to stay connected to their pets, both indoors and out.
To discourage accidents, day care and boarding charges are taken outside on an hourly schedule, beginning very early in the morning and ending late at night for overnight guests.
"In this way, an indoor accident is rare, and we have clean dogs," Lewis says.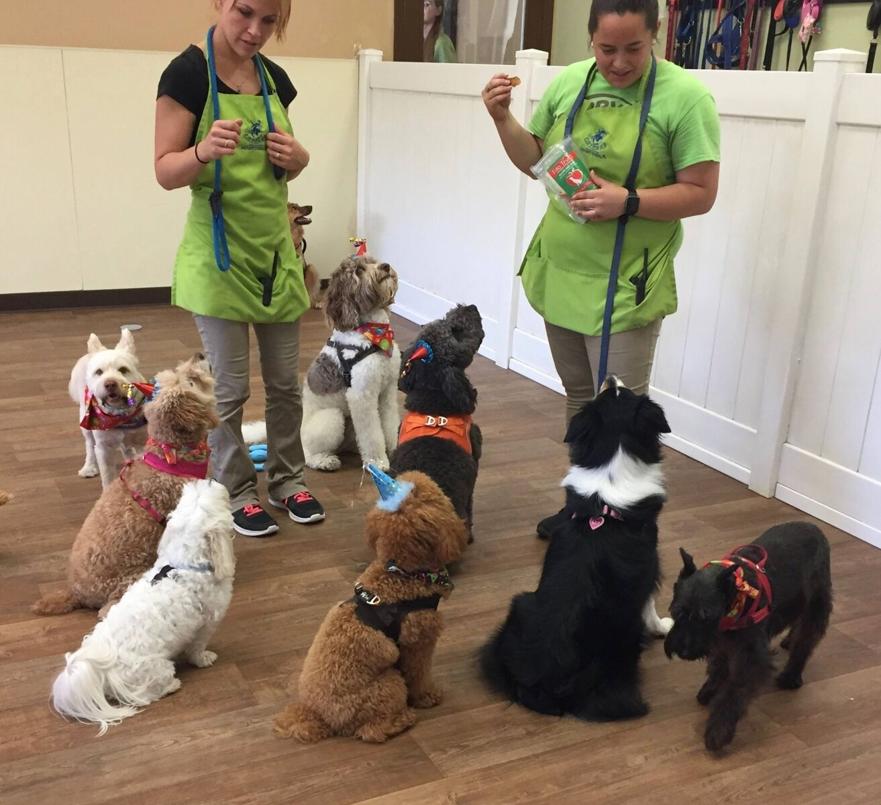 Further, dogs that stay for longer periods of time return home sparkling clean after a complimentary bath.
Pet owners provide their own food and treats for their pet's stay, and Lewis generally oversees mealtime.  
"We have bins on racks, and everything is labeled and detailed," she says.
Permission to offer chicken and rice or broth to a dog that may go off its feed during the stay is obtained beforehand.
"We do everything humanly possible to ensure our charges eat," she says. 
Boarding and day care services also function as an educational platform. For instance, in an effort to champion high-quality foods, pet owners are provided a sample bag of healthful treats, along with a brochure outlining the benefits of a nutritious diet.
"You can't push too much at once, so I start with the treats," Lewis says. 
Day care is free to dogs awaiting a groom, and four-legged guests are taken outside to a grassy area every hour for relief. To alleviate stress and make the grooming experience more enjoyable, dogs waiting to be picked up by their owner relax in a boarding suite rather than a cage.
Extraordinary handiwork is a key component of the business' grooming services. 
"As the owner, it is my reputation going out that door, so I am definitely all about quality assurance," Lewis says. "We are not like a big-box grooming operation that grooms 30 dogs a day.
Out of the approximately 15 dogs we bathe per day, we might be doing three to four full grooms, and the rest are baths."
Shopping Convenience
Shoppers at The Green K9 browse a large selection of the highest-quality eco-friendly, organic, holistic and natural dog and cat food and products.
The carefully selected food inventory is corn, wheat, soy and byproduct free, with a higher percentage of animal protein as opposed to those high in carbohydrates, fillers, artificial coloring and preservatives. In addition, foods manufactured by family-owned, independent businesses receive first nod.
"We place an emphasis on dehydrated, freeze-dried and raw; in fact, walking into our food room, the first thing you'll find is a display of these foods," Lewis says. "We really push the fresh food."
Through food consultations and sampling, Paul assists customers in determining a nutritious diet based on the needs of the individual pet. 
"When a customer walks into our store, they will probably be talking to the owner," Lewis says. "Paul is all about the food and handles all the ordering and inventory."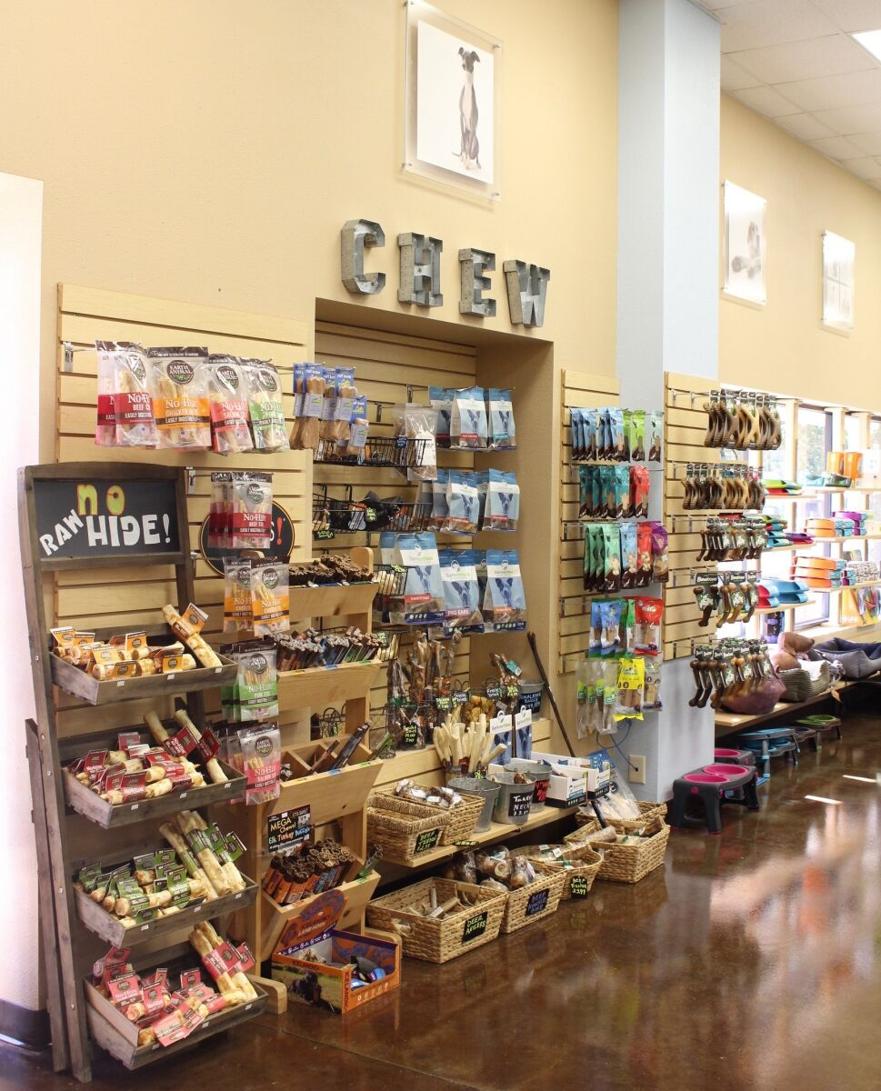 An extensive selection of pet supplies is in the mix, with every effort made to offer products that are made in the USA.
"That's not always possible—it's difficult with toys and dog beds—but if an item is not USA made, we make sure the materials are safe and durable," Lewis says. "We also try to find items made with recycled or recyclable materials."
Dog-Loving People
It's a busy place, and Lewis says first and foremost, an outgoing personality with plenty of energy is a sought- after trait in an employee. Equally important is that staff members enjoy interacting with dogs.
"We want dog people," she says. "With web cams in our day care, our customers are not only watching their dogs at play, but how our people relate with them."
Initial training for a new hire consists of an orientation period, during which safety, policies and procedures are covered. With grooming overseen by Marni, and Paul responsible for retail operations and education, a strong focus is placed on mentoring and on-the-job training in the day care and boarding departments.
"We have so much information that it can sometimes be educational overload, so we offer a constant training series as our people are working, because I believe they have to be doing a task to understand what we are talking about," Lewis says.
For these reasons, day care and boarding policies are strict. 
"We break it down into safety, comfort and exercise," she says. "These are live animals here."
Indoors, a ratio of one play-area staff member to 15 dogs, along with staff support walking the halls, ensures a safe playtime. Because the outdoor yards are larger, two associates are present to supervise. 
In addition to rigorous procedural and protocol compliance, the ability to problem solve is another crucial employee characteristic. Additionally, day care and boarding workers are expected to take the time to inspect and physically touch each dog in their care. 
"So much grooming comes out of the day care dog, whether it's a nail trim, an ear infection or a sanitary trim," Lewis says. "These issues need to be taken care of."  
A Multipronged Approach 
Pet rescue is at the heart of The Green K9, and the multipronged approach taken to helping homeless pets includes special fundraising events benefiting shelters and rescues, donations to local organizations and fostering.  
"Pets available for adoption are always present at our events, and the proceeds also benefit the rescue groups," Lewis says.
Fundraising takes place in a variety of ways, including a yearly fashion show featuring canine models strutting the cat walk, or the monthly Pups on the Patio, where vendors, pet rescue groups, and two and four-legged members of the community converge to raise funds, mingle, and sample the food and drink of local restaurants.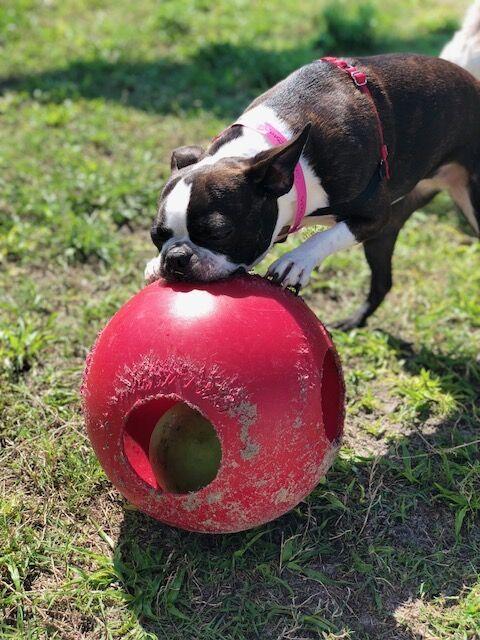 Pets that are more difficult to place—for example, older dogs that have been surrendered due to owner illness or death, or those with abuse or behavioral issues—are fostered one at a time at The Green K9. These animals stay at the facility until the ideal home comes along.
"Some are here for as long as a year before they find the right home," she says. 
Lewis says she prefers fostered dogs be adopted by a customer of The Green K9.  
"We get so attached to them and want to stay in their life, to see them again and hear about them," she says. "We offer free day care to these dogs, and their new pet parents buy food from us and use our grooming and boarding services."
The Lewises are looking forward to the next evolution in raising pet adoption awareness in the form of a nonprofit, membership dog park on a nine-acre site. Completion is anticipated within the next two years.
The facility will feature a pet adoption center, coffee and snack bar, self-serve dog wash, agility course, swimming pond, pavilions for parties and size-appropriate play yards. Nature trails will meander the property's wetlands. All proceeds will benefit area rescues and shelters, with volunteers from these organizations staffing the facility.
Customers of The Green K9 are eagerly anticipating the opening of the facility.
"It's another service," she says. "You have to think outside the box."
Cleveland Takes a Holiday
A busy mother of three, events manager Kelley Douglass works from a home office. When the family decided to look for a new dog, her husband Landy found the perfect candidate. The family christened the cute little labradoodle puppy Cleveland.
These days, the dynamic, 70-pound, 16-month-old youngster loves romping at The Green K9 with his day care buddies, allowing Douglass a quiet workday to concentrate on business tasks, along with the many chores that come with family life.
"He does day care, boarding and grooming services, and I buy all his food there," Douglass says. "Cleveland is a delightful dog, but he's a puppy and an energetic one at that."
Douglass appreciates being able to rely on the knowledge of The Green K9 staff for any and all pet-related questions, from nutrition to behavioral issues.
"They have been phenomenal in their support and are always ready with suggestions," she says. "I love The Green K9. These guys do an amazing job in so many ways."
When the busy mom was called away on an extended business trip, and with the rest of the family gone all day at work and at school, she worried about how Cleveland would manage in her absence.
"Cleveland is a puppy—we couldn't just leave him in a crate for 12 hours a day," she says. 
Instead, she turned to The Green K9, where Cleveland spent a delightful "spring break" playing with his four-legged chums, splashing in the outdoor pools and burning off excess energy, and allowing Douglass to focus on her professional responsibilities.
"He had a great time," she says. "He always does. Whenever I pick him up after day care, the staff members give me a rundown on who he played with and what he did. It is such a relief for me to know he is there having a great time."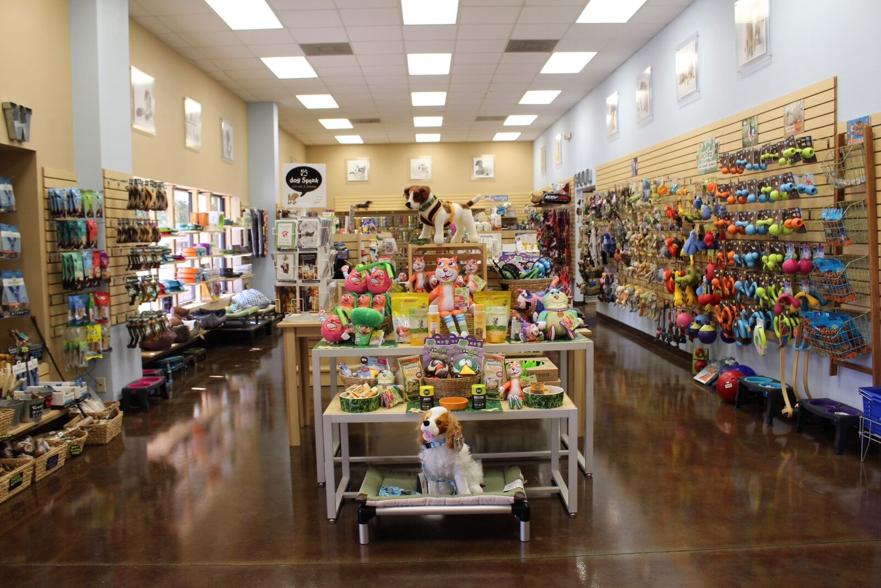 It's a Retail Life
What is The Green K9 best known for?
Marni Lewis: Our customer service and the high level of care we provide for dogs.
What's the greatest challenge for pet retailers and in the industry overall?
Lewis: I believe there are several major challenges for the industry as a whole: competing with online sellers, a millennial demographic that wants competitive pricing and convenience, pet specialty chains taking over smaller independents, and large manufacturers marketing their "improved" products as healthy and natural.
To meet these challenges, brick-and-mortar retailers need to provide a unique and memorable shopping experience, expert advice, authentic brands and personal connections.
Any interesting trends right now?
Lewis: The rise of members-only dog parks. We want to build the best dog park in the country and to make the list of the top 10 dog parks nationwide.
What do you see for the future of The Green K9?
Lewis: We will continue to improve our business offerings and our reputation for outstanding services and increase sales with the addition of home-delivery service and a shopping cart on our website. We will also be expanding our grooming area and adding more grooming professionals.
The Green K9 At a Glance
Location: 3815 Lake Center Drive, Mount Dora, FL
Owners: Marni and Paul Lewis
Years in business: 8
Average Square feet: 7,200
Number of employees: 12 full time, 2 part time
Website: thegreenk9.com
Products and services: Day care, boarding, grooming and bathing, high-quality pet foods, supplements and supplies, K9 Cams, fostering