After a 20-year career in the corporate world, Teresa McCarter was ready for change. As a patron of a local boutique pet retailer that offered "a warm southern welcome," she envisioned opening her own establishment, where animals and their owners would be embraced with open arms. In 2008, the pet lover decided to take a leap of faith, follow a dream and extend her own brand of gracious southern hospitality.
"Animals have always been part of my mom's life," says Brian Anderson, McCarter's son and co-owner of Happy Dog Café, Boutique and Spa in Belmont, N.C. "Today, she has four dogs and a bird, and I have four dogs myself. We have always been an animal family."
The original concept featured pet foods and supplies alongside boutique and bakery items.
"Mom started out with just a storefront with products, but no services," he says.
In 2009, Anderson left an executive position to join forces with McCarter, bringing his own unique talents and skills to the table. The business began to evolve, and, two years later, grooming and day care joined the Happy Dog offerings.
"When we put our heads together to diversify, grooming and day care came to mind, and that really propelled us into a new era at Happy Dog Café," Anderson says. "Instead of staying stagnant and just selling products, these services have really helped leverage the cash flow, and we do a high volume of products, too."
Soon, online shopping was added to the roster, with free delivery to local residents.
"We saw that the internet was going to be huge competition and wanted to hit it head on," Anderson says.
Promoting a "shop local" theme with an online presence offers the best of both worlds to local consumers, he says.
"We have done very well with that, thankfully," he adds.
Happy Dog Café is sited on Main Street in historic downtown Belmont, N.C. The city, settled in the 1750s, offers old-fashioned, small-town southern charm, and Happy Dog Café echoes that warm, welcoming ambience.
"It's cozy and inviting," Anderson says. "We are family owned, and when people walk through our door, they can tell that we are different."
Good manners, courtesy and a gracious welcome are considered hallmarks of southern hospitality, and Happy Dog Café embraces these traditions. For this reason, a cheerful demeanor combined with a love of animals are sought-after traits in an employee.
"When a customer comes into our store, they are family, and their experience must be extraordinary," he says. "We want our staff members to remember names and situations, to say, 'my pleasure' and 'thank you.'
"It comes down to treating our customers the same way we would like to be treated," he adds.
Associates take part in vendor-provided training and study online via Pet Store Pro, the online training tool for pet stores offered by the Pet Industry Distributors Association (PIDA). As added motivation, students that earn an "A" in an online class are rewarded with a $50 bonus.
"That's a big incentive, and they love it," he says. "We cannot imagine being where we are now without the help, love and dedication of our Happy Dog Café employee family."
The store's polite and well-trained emissaries are more than qualified to assist customers in food and supply selections for furry family members, according to Anderson.
A mix of dehydrated, raw, kibble and canned food offerings encompass a broad range of natural, organic and holistic choices, with no fillers, byproducts or artificial coloring.
"The nourishment and well-being of the pet is our No. 1 objective," he says. "We focus on dehydrated and raw foods."
USA-made products are highlighted across the entire inventory of foods and supplies.
"When purchasing made in the USA products, we are employing our own citizens, and we feel very strongly about that," Anderson says.
The Kitty Korner supplies cat lovers and their charges with feline foods and supplies.
Anderson says Happy Dog Café endeavors to present distinctive offerings.
"We carry a full range of pet supplies and really pride ourselves on our more unique items, things not found in a big box," he says. "We further differentiate through our customer service."
The Happy Dog Café bakery features an old-fashioned, glass-fronted case where shoppers can select goodies for their pets. In true southern style, an employee hand delivers selected treats to recipients. Most popular are McCarter's own creations, Bow-Wow bones and cheese balls.
"My mom has baked these treats for 10 years," Anderson says.
Besides McCarter's delicacies, a broad array of delights—for example, carob muffins or Doggie Daiquiris—tantalize the canine palate on a daily basis. Furry birthday celebrants tuck into Barkday cakes on their special day.
Compassion, Patience, Merrymaking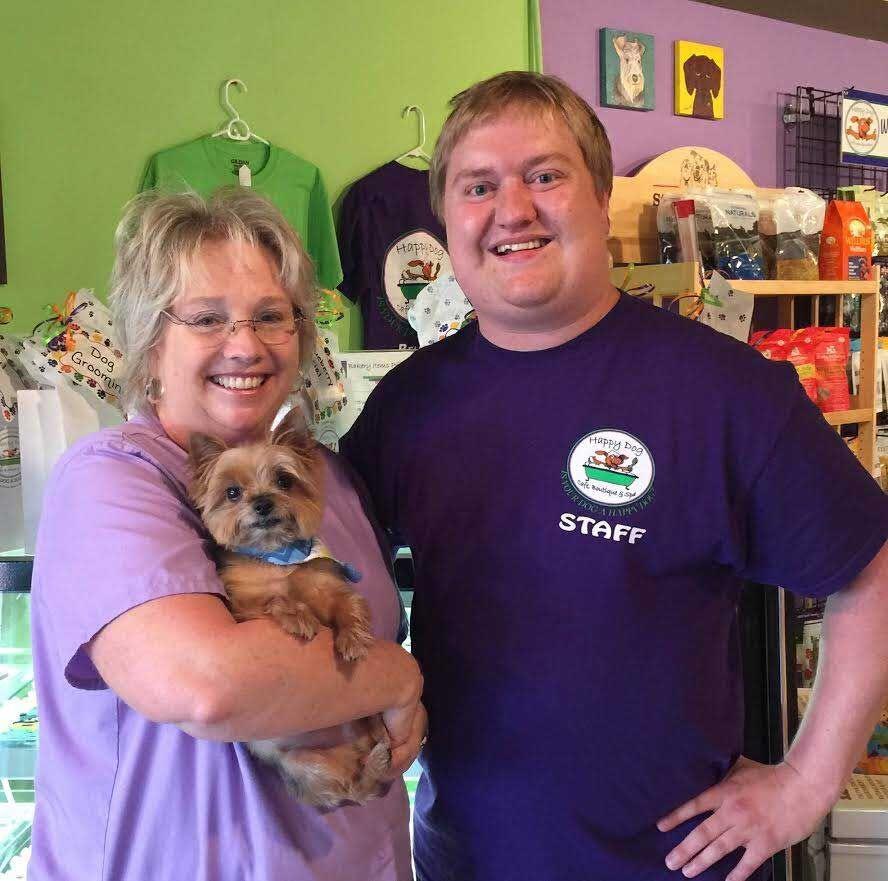 With seven groomers on staff, the store's grooming facility, launched in 2011, occupies approximately 900 square feet of space, yet the service is the largest overall segment of the business.
"We have a two-week lead time for grooming appointments," Anderson says.
"The success of our grooming salon comes down to plenty of attention to detail and doing everything possible to satisfy our customers."
A scheduler oversees appointment booking, while a grooming manager, who has been with the company since the inception of the department, takes charge of training and grooming employee duties.
Groomers impart pre-groom, after care and nutritional education to customers.
"If we notice a dog that has dry or flakey skin, for instance, we want to try to get those pets into a higher-quality food," Anderson says.
Compassion, patience, a high level of skill, attention to detail and outstanding customer service are key characteristics in a groomer.
"We're talking great groomers that groom in the Happy Dog way," he says. "We want to make sure our four-legged clients receive exceptional care."
Along with grooming, dog day care also joined the 2011 service rollout. Initially offered on a small-scale basis, with seven to 10 dogs participating, facilities today span 1,700 square feet of indoor space. Up to 30 pooches gambol in size-appropriate rooms and delight in a mix of daily activities—scrambling after laser lights, snapping at floating bubbles or sniffing out hidden treats in the ball pit. A stroll to the local downtown park provides canine merrymakers with outdoor stimulation before returning to the climate-controlled play area for more fun.
"We don't have outdoor facilities, but most of our dogs are indoor dogs, and they are happy as a lark here," he says. "We have a waiting list."
Employees working in the day care facilities are well educated in canine behavior, with a local expert providing tutelage and expertise.
"They are flooded with information and education," Anderson says.
While the day care facilities are not visible from the sales floor, visitors are always welcome to view the goings on through the closed-circuit television system.
"There are 15 cameras throughout the store, and they are focused on grooming and day care," Anderson says.
A balanced, healthy lifestyle is the goal when puppy, adolescent and adult dogs converge with their owners to take part in the Commander in Leash training classes, taught in-store on a regular basis by an advanced master dog trainer and educator. In addition, dog owners desiring one-on-one lessons take advantage of private, in-home services.
Because of the popularity of the program, two classes run concurrently at a given time.
Sit a Spell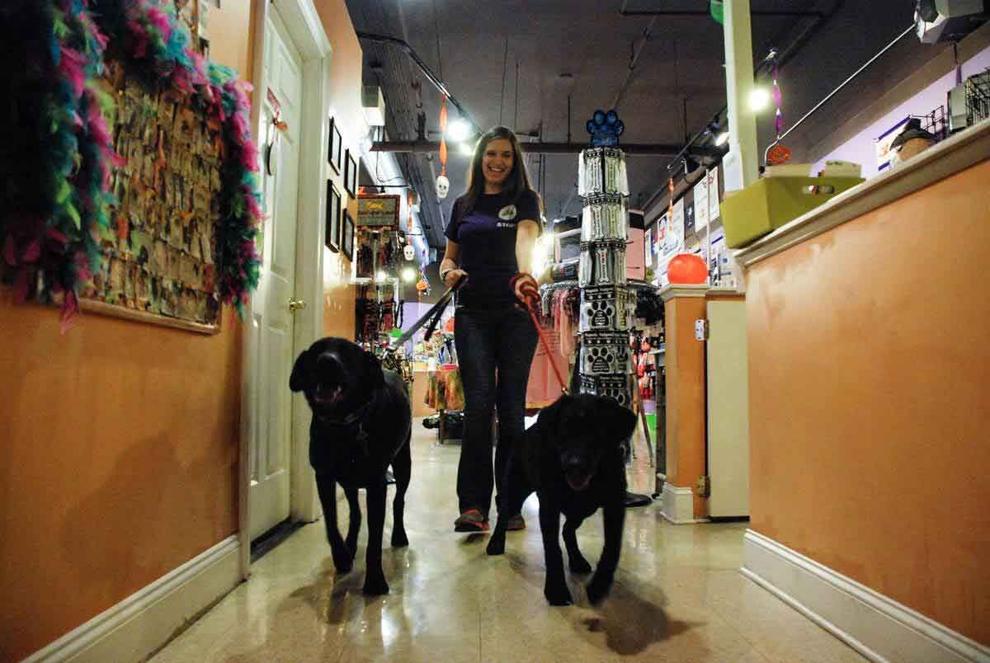 With education and pet-care support an ongoing effort, manufacturer vendors are often on hand to impart knowledge and samples during demo days and special events.
"Our main emphasis is consumer education," Anderson says.
In that regard, educational and promotional efforts are often month-long undertakings, such as Dental Month or Raw Food Month."For example, during Dental Month, we offer a 15 percent discount on dental products or services," he says. "For Raw Month, we will have vendors on hand to provide free samples and information."
Raising awareness for the plight of homeless pets is another focus during these month-long events.
For example, Adopt-A-Senior Month stressed the adoption of elderly animals. Black Pet Adoption Month spotlighted "black dog syndrome," or BDS, a phenomenon in which black dogs, or cats, are passed over for adoption in favor of lighter-colored animals. A fundraising component for each event benefited the local shelter, Gaston County Animal Control.
"We used the same format for each event, an idea we got from Stella & Chewy's," he says.
Fundraisers for the local shelter take place throughout the year. For example, Happy Dog Café's Photos with Santa finds pet owners and their animal companions posing for a cause.
Out in the community, Happy Dog Café is often a presence at local dog parks, offering some of that good old southern hospitality.
"What better way for us to get involved in the community than to show up at a dog park on a hot day and put on a doggie ice cream social?" he says. "People love that."
Dog About Town
Riley Mosteller, all of seven years old, has been a fan of Happy Dog Café, Boutique and Spa since puppyhood.
Happy Dog Café, Boutique and Spa is a favored destination during the golden retriever's daily romps around downtown Belmont, N.C., with owner Tonia Mosteller.
If a translation program for dog-speak existed, Riley likely would express his enthusiasm in this way: "I love our walks, and we often pop in at Happy Dog. Mom always says she has to 'mop the floor' to get me out of there, and why not? Teresa, Brian and the staff treat me like family. I am always welcomed with open arms."
Further, Riley loves to romp with his buddies in the store's day care facilities. There's nothing better, in his mind, than a stroll to the park with his canine gang.
"We play, wrestle and bark," he'd say.
One day, while taking part in an errand-running outing with Tonia, the family car passed his day care posse on its way to a park outing. He whined, attempting to convey his dismay at missing the fun. Instead, he and Mosteller arrived back home, where Riley plopped down on the deck of his fenced backyard, pulling a long face.
"I wanted to be with my mates," Riley might say. "I tried to explain my feelings to Midnight, my cat, but felines don't understand a dog's need to frisk with a pack of chums."
However, Riley is a clever dog. As soon as his "mom" left once more, and the coast was clear, he lifted the gate latch and struck out on a mission to join his furry cohorts.
"Of course, I know the way to Happy Dog; it's only a mile. What's the big deal?" he'd add. "When I arrived, Teresa, Brian and the whole staff were thrilled to see me, although they did seem a bit perplexed."
In the meantime, Mosteller received an anxious call from her son, Zach.
"When Zach opened the door to let Riley in, he was gone," she says. "We panicked, but soon heard from Teresa at Happy Dog, saying that Riley had found his way there."
Relieved that the family's beloved pet was safe, Mosteller says she shares Riley's enthusiasm for Happy Dog.
"We have been shopping for Riley's food, toys and treats at Happy Dog since he was a puppy," she says. "He loves their freshly baked goodies. We spoil him quite a bit."
Besides frisking with his pals in day care, Riley luxuriates in his Happy Dog grooming dates.
"Riley enjoys his 'spa days,' as we call them," Mosteller says. "All of his grooming needs happen at Happy Dog."
Beyond Riley's enthusiasm for Happy Dog, Mosteller says it's the superior customer service and love of animals that keeps the pair coming back.
"Brian, Teresa and the entire staff are just phenomenal; they are more like family members and have such a passion for animals," she says. "It's the welcome feeling, the kindness, the overall charm of the store. The entire team is knowledgeable, helpful and polite."
She notes the Happy Dog community environment as another plus.
"You get to know other pet families and their fur babies," she says. "There is truly the feeling of a large, extended family. I can't speak highly enough of the overall customer service experience, from the moment Riley and I enter the door, we are greeted and embraced."
It's A Retail Life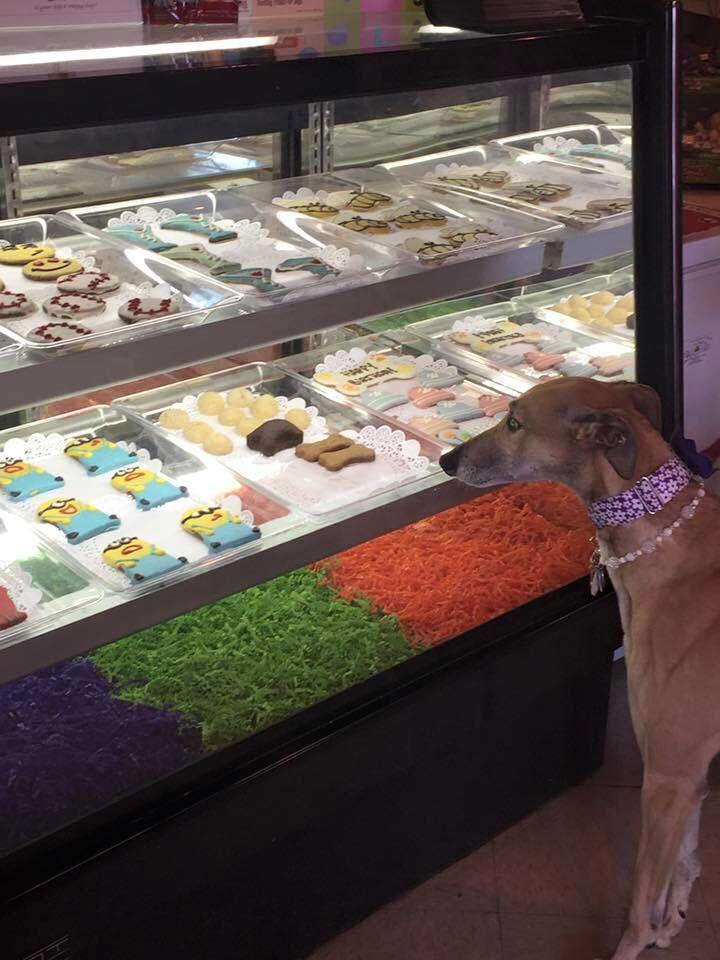 What is Happy Dog Café, Boutique and Spa best known for?
Brian Anderson: Our customer service, family-oriented atmosphere and community engagement.
What is the biggest challenge for the independent retailer?
Anderson: Cash flow. Whether it comes to stocking items or adding more employees or expanding services, cash flow is our biggest concern.
For the pet industry overall?
Anderson: Convenience. With the online retailers out there, you have to find ways to get your customers to say, "I want to shop local, but I want the convenience of online." I think a lot of retailers haven't embraced that concept yet.
Are you watching any interesting trends in the marketplace?
Anderson: The cat market is really starting to take off, and we are planning to expand our Kitty Korner. It's as if we are treating all God's creatures like our own, and I love that.
What do you see for the future of Happy Dog Café?
Anderson: Increased sales online. That will be our biggest project for the next few years, with a huge emphasis on customer service and delivery.