Phones in hand, swiping through online product reviews, invisible dollars paying while drones deliver next day: The newest generation of consumers sure doesn't shop like they used to. Like it or not, the millennial wave of consumers is here—and they love to splurge on themselves and their pets.
Millennials, or America's youth born between 1982 and 2000, number 83.1 million, reports the U.S. Census Bureau, exceeding the 75.4 million baby boomers. This tech- and text-savvy group now comprises 27 percent of the U.S. adult population, and, by 2018, their spending power will reach $3.39 trillion. That's equal to the GDP of Germany, noted Nathan Richter, a partner of Wakefield Research Group, a market research company in Arlington, Va., and New York.
And a significant portion of this next generation owns a pet, reports market research publisher Packaged Facts, a division of MarketResearch.com, in its latest report, Millennials as Pet Market Consumers. Today, there are 43 million pet owners in the 18- to 34-year-old age group—which is 31 percent of all pet owners.
"About 74 percent of millennial pet owners own a dog, nearly half own a cat, and across all species of pets, owners of small animals, reptiles and fish are more often from millennials and gen-Xers," said Bob Vetere, president and CEO of the American Pet Products Association. "As millennials prepare to take the reins as the primary demographic of pet owners from the boomers, we are keeping a close eye on ownership and spending data."
Retailers should keep an eye on this data, too. Here's what to consider when selling to millennials, a self-indulgent, eco-conscious, ethnically shifting customer base.
Discretionary Spenders
Many of these millennials grew up leashed to the Internet. As a result, the 18- to 34-year-olds generally prefer a convenient, mobile shopping experience, according to a generational-spending study from The NPD Group Inc. in Port Washington, N.Y., and the University of Pennsylvania in Philadelphia.
What do they shop for? Items once considered optional.
Gift cards, video games and technology earn the younger millennials' (aged 18 to 24) spending dollars, while health and beauty products, housewares, footwear and pet supplies take the older millennials' cash.  
This discretionary spending is one of the group's defining characteristics, said Richter, who characterized millennials as "irrational shoppers." He said nearly 60 percent own smartphones and 64 percent eat out once a week or more. They spend two to three times more on apparel than nonmillennials, and they're 52 percent more likely than other generations to make impulse or pampering purchases.
"Younger consumers think differently about what is 'essential' when purchasing products," he said. "Millennials will buy discretionary products under the guise that they are nondiscretionary."
And they practice this same shopping behavior on their pets.
"Millennials learn of pet products through the Internet more than any other generation, but they use pet product company websites less than any other group," Vetere said. "They tend to spend more on their pets than previous groups, and products that previous generations may have found as discretionary, the millennials are finding as necessary."
Millennials might differ from their baby boomer elders, but the two groups share some spending habits, said Doug Poindexter, president of the World Pet Association.
"Both are resourceful and money-conscious, and both value a sense of community and belonging with where they live and shop," he said. "That said, millennials will use technology and social media more to compare online reviews for products and gain insight than their boomer counterparts. They also tend to favor small store formats in walkable urban locations, rather than less-accessible big-box options. This is a key difference for smaller pet retailers and a real opportunity for them to appeal to this consumer market." 
Indulging Their Pets
Millennials' splurging spending crosses over to pet product purchases. Richter noted that 76 percent of millennials reported binging on things such as expensive treats, BPA-free toys, organic food, hypoallergenic food and custom beds for their pets.
Vetere has seen similar trends.
"Millennials show more money allocated for their dogs' carriers, toys and other supplies than any other group of owners," Vetere said, noting that as a collective group, baby boomers still spend more on their pets across the board. "Millennials are more likely to purchase high-tech products, as well as BPA-free, natural and organic, and are twice as likely to buy clothing for their pets. They also take their pets with them more."
Why all this earth- and nutrition-conscious splurging?
"They not only consider their pets as part of the family, but also consider pets as the next step to actually starting their own human family," Vetere continued. "They consider their pets as an outward extension of themselves and their own personalities, so they want to be seen together, be it on social media, on trips, errands, even at the workplace."
Indeed, Richter noted that 82 percent of millennials agreed that getting a pet is part of preparing to have a family—and 61 percent thought it was important to have a "portable" pet, compared to just 31 percent of baby boomers.
Diverse Demographic
This emerging generation of pet lovers has another unique characteristic: They are more ethnically diverse than the generations that preceded them.
U.S. Census Bureau reports that 44.2 percent of millennials are part of a minority race or ethnic group (a group other than non-Hispanic, single-race white). Moreover, reflecting the demographic trends nationwide, the minority race or ethnic group they're most likely a part of is Hispanic.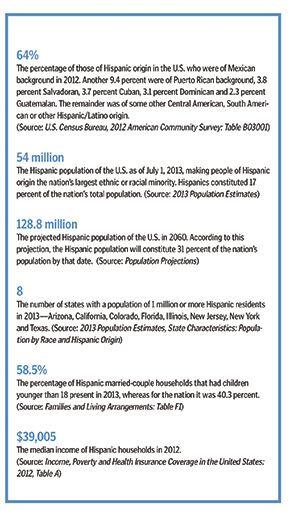 Across the age groups, this population segment is 55 million strong, and it's expected to increase at a rate much faster than the rest of the population, "… at 12 percent cumulatively between 2015 and 2020, compared with only 2 percent for non-Hispanics," said David Sprinkle, research director and publisher of Packaged Facts. "As a result, Latinos will account for somewhat over half of the total growth in the U.S. population during this period."
The statistics show Hispanics—particularly those born in the U.S.—love their pets.
"As U.S.-born Latinos increase their numbers in the community, pet ownership rates are increasing among the Latino population," noted Sprinkle in a press release. "The more acculturated Latinos become, the more likely they are to own dogs or cats."
Non-Hispanic whites still account for a larger percentage of overall pet ownership, Sprinkle said, but the growth is coming mostly from Latinos and other multicultural communities.
"Changes in the population of dog owners have begun to mirror shifts in the U.S. population as a whole," Sprinkle said. "Dog owners remain predominantly non-Hispanic white, but growth in the population of dog owners is coming mostly from Latinos, Asians and other multicultural population segments."
And millennials are expected to lead the way, Sprinkle said. Between 2007 and 2015, millennial pet owners grew 25 percent, while the number of pet owners in the 35-and-over age group increased just 14 percent, he said. The majority of this growth came from multicultural young adults, making Latinos in particular a key millennial pet owner segment.
Poindexter cited similar conclusions.
"We are seeing a lot of research coming out about how a sizable proportion of pet ownership growth in the 18- to 34-year-old age group is due to multicultural millennials," he said. "At the same time, research indicates that white non-Hispanic populations tend to spend more on pets than other populations and own pets in much higher numbers than other groups.
"Due to the shift in demographics in the United States, with Latinos expected to grow over 160 percent from 2010 to 2050, according to a 2012 Nielsen report, it's critical for retailers of all types to identify ways to reach out to these communities," Poindexter said.
Capturing the Next Generation
Millennials will add 2.6 million pet owners between 2015 and 2020, reported Packaged Facts, and their pet product and services spending will continue its upward trajectory as they age. As recently as 2014, households headed by millennial consumers spent almost $11 billion on their pets.
"Millennials have become a strong consumer force in the pet market due to their sheer population numbers and the impressive buying power they bring to the table," Sprinkle said. "They are more likely than other pet owners to both expect to spend and to actually spend more on high-priced pet products and pet care services."
So with all these statistics and trend reports in mind, how can brick-and-mortar retailers—and even those with an online presence—best appeal to this tech-savvy, Google-searching, Amazon-addicted, ethnically diverse generation?
Poindexter said it succinctly: "What is ultimately important for every retailer—and this is especially true for smaller retail operations—is to be in tune with what's going on in their community and what the people in their community are looking for as consumers." 
This is where smaller retailers have the advantage, he said.
"While large, national companies must do extensive research and data collection to identify trends and attitudes, retailers with a handful of stores stand a better chance of identifying what those in their communities are looking for," Poindexter said. "If that means translating an open/closed sign into a foreign language that's common in their city or offering products for a type of pet that is popular on their streets, then that's a wonderful way to engage with those around them and build a lasting relationship with consumers.
"Smaller retailers should look for opportunities to think outside the box and promote themselves and their services at community events and meeting spaces, ensuring they're a visible presence among key consumer groups," he added.
This article originally appeared in the June 2016 issue of Pet Product News.