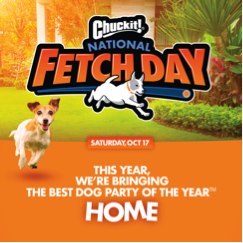 Chuckit! is calling out to all pet owners to grab some gear, step outside, throw some toys and "make fetch happen" to celebrate National Fetch Day on Oct. 17. The observance, sponsored by Chuckit!, takes place annually on the third Saturday of October.
With the inability to gather for live celebrations due to the COVID-19 pandemic, creative campaigns are underway to make sure everyone has a chance to play fetch, officials said in a statement.
"Fetch is one of the most important activities a dog and their owners can take part in," said Chris Wilson, executive vice president of marketing and product development of Petmate, parent company of Chuckit! in Arlington, Texas. "With the huge increase we've seen in demand for canine companionship, we wanted to celebrate and bring awareness to the classic game. It's great exercise for everyone involved, creating bonds of trust and camaraderie, and is just plain fun. This year, we knew we had to do something extra special to bring a little more excitement to dogs and their parents who have been stuck inside due to the pandemic."
Chuckit! is bringing the festivities to backyards with a series of fetch-themed activities to get all dogs moving, including shelter dogs looking for a forever home, officials said. Chuckit! will supply 200 winners with everything they need to "make fetch happen" in their own backyards with a backyard party-pack containing exclusive Chuckit! party balls and branded party gear.
A chance at a grand prize is also up for grabs, which includes a VIP spa treatment and appearance on a Chuckit! product package, according to officials.
In addition, Chuckit! has partnered with North Shore Animal League America to create a virtual game of fetch.
"On Oct. 17, with just a swipe of the finger on your phone or a click at the computer, anyone can throw a ball to a rescue animal with the Chuckit! custom Virtual Fetch Challenge," officials said. "Log on and play with rescue dogs at the North Shore Animal League with the specially-designed remote ball launcher which will actually toss a Chuckit! ball to the rescue dogs on location at North Shore Animal League America's outdoor park."
Along with a monetary donation, for each of the first 5,000 balls thrown through the Virtual Fetch Challenge, Chuckit! will donate a toy to a shelter dog, officials added. Three featured shelter dogs will also get a fully sponsored adoption in celebration of the day.
To help small businesses, Chuckit! is also partnering with local dog-friendly establishments to give out free Chuckit! gear to those who arrange for curbside or carry-out on National Fetch Day. Participating businesses can be found here.
For more details on National Fetch Day, visit here.