The multibillion-dollar global pet food market is under scrutiny in the recently published book "Big Kibble: The Hidden Dangers of the Commercial Pet Food Industry and How to Do Better by Our Dogs."
The book is co-written by Shawn Buckley, the founder of JustFoodForDogs—a maker of fresh, whole food pet diets, which the company sells in its retail kitchens, at Pet Food Express stores in California and at Petco locations nationwide—and Oscar Chavez, DVM, the Irvine, Calif.-based company's chief medical officer. The fresh food movement proponents take on many hot topics, including pet food regulations (or lack thereof, as they say).
Pet Product News caught up with Buckley and Dr. Chavez to learn more about why they wrote "Big Kibble" and what it means to the pet food industry.
Pet Product News: What was the tipping in point in which you knew that you had to sit down and write "Big Kibble"? What research was involved?
Shawn Buckley: Our business partner Julian Mack deserves the credit here. He suggested it in 2017 stemming from our previous seven years of industry pushback, challenges and roadblocks we experienced launching and growing JustFoodForDogs. It took three years because we wanted a proper, well-cited and researched book in partnership with a big publisher, which ended up being Macmillan/St. Martin's Press.
Dr. Oscar Chavez: For decades, the pet food industry and much of the mainstream veterinary community have been promoting the benefits of ultra-processed kibble and canned as the gold standard in nutrition while demonizing real food. We know that fresh whole food eating is healthier for our own wellness. Why would it be any different for our pets? We knew we had to write a book, we knew it had to have a shocking cover, and we knew it had to be very carefully researched, cited and fact checked. We are on a genuine mission to improve our understanding of veterinary nutrition. We wanted the book to stand on its own objectivity. Sure, we have an opinion, and it comes through in the book, but the facts are verifiable and undeniable. That's what you need in order to responsibly and credibly affect change.
PPN: It's been said that "Big Kibble" has the potential to be a watershed moment for the commercial pet food industry, much like "Fast Food Nation" was for the fast-food industry. Tell me about that.
Buckley: We agree entirely; and for that to be possible, the material within the book had to be extremely well examined and cited. We owe a lot to our co-writer, Wendy Paris, as well as our research and legal teams. We feel like we are at a tipping point, where pet parents are realizing that a hyper-processed pellet, produced from a methodology invented over half a century ago, is not likely the healthiest way to feed their four-legged family member—regardless of how pretty the packaging or television ads might be. The concept is simple: whole food diets, nutritionally balanced for pets, are more bioavailable than kibble. And the results are anecdotally demonstrable to almost any pet parent within a matter of weeks—which lends itself to a word-of-mouth movement.
Chavez: It is our hope that pet parents, veterinarians and industry insiders will read the book with an open mind. We believe they'll find our story compelling. There is no legal motivation for change in our industry. Unlike other industries, the rules that are reviewed and updated in AAFCO [Association of American Feed Control Officials] usually regulate toward mediocracy, consistently trying to keep things the same. We experienced this in our company as we grew nationally. We use superior, human-grade and pharmaceutical/food-quality supplement ingredients in our nutrient blend, but regulators have told us they were "not allowed" in pet food because they are not specifically listed in AAFCO. The system is set up to hide real quality from consumers and keep manufacturers from simply communicating the truth. This is wrong, unfair and stifles progress in nutrition.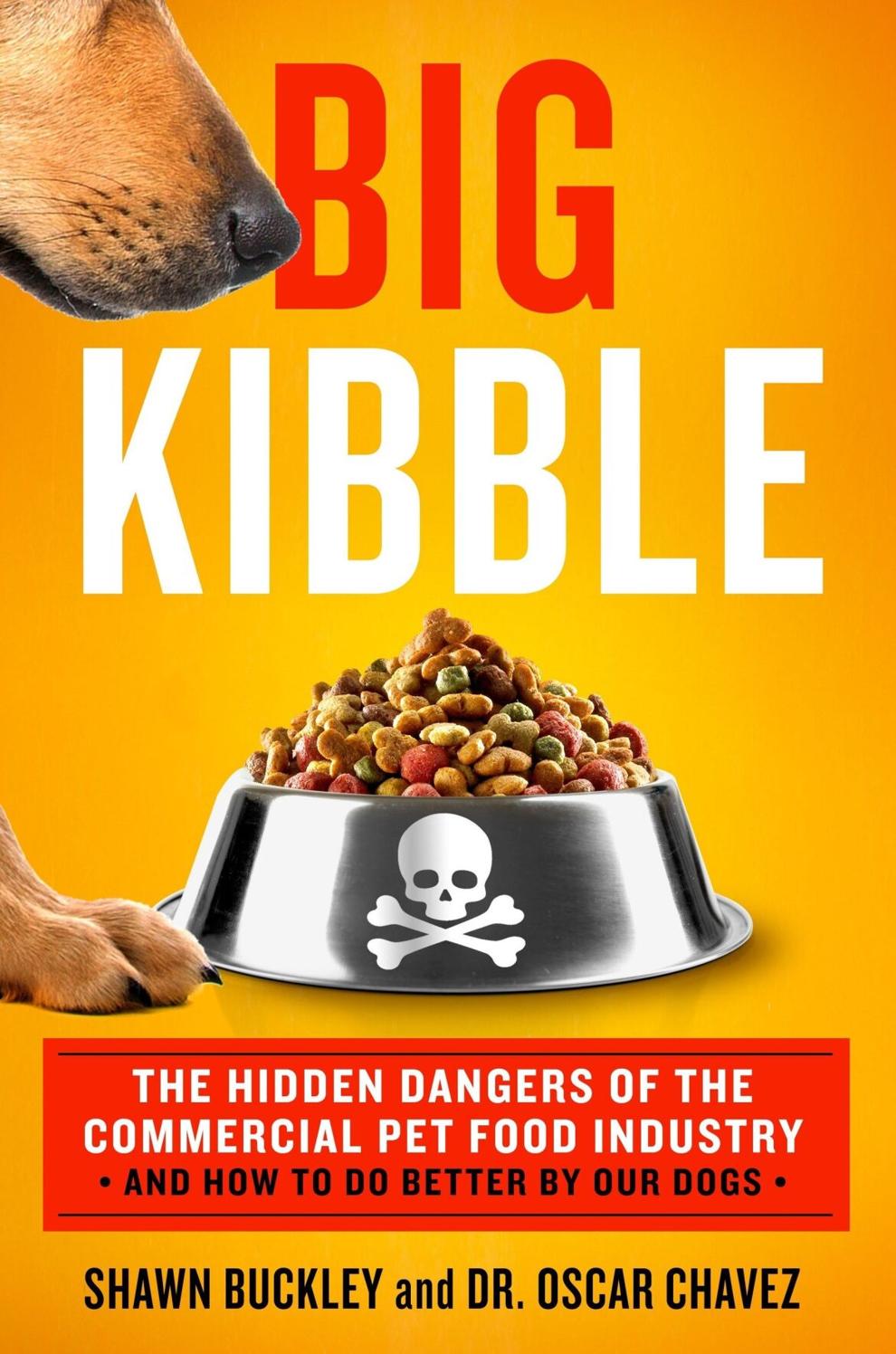 PPN: Chapter 4 looks at the rise of big kibble, exploring how "economic and social developments of the late twentieth and early twenty-first centuries have shaped what's in the bowl, too often in ways that are dangerous or even deadly to our nation's dogs. These developments include consolidation, globalization and money in medicine." Can you elaborate?
Chavez: It is a fact of business life that as corporations grow, there's a tendency to focus primarily on growth and driving down costs, sometimes at all costs. Chapter 4 is a carefully cited analysis of that history as it relates to our industry. We believe the industry as a whole should take a step back, see where we are and how we got here, and then get back to basics and put our pets' interests first. There's nothing wrong with growth and globalization, as long as it is done responsibly and we don't lose sight of the very reason the industry exists to begin with—which is that pet parents' relationship with their pets has evolved. Would you feed kibble to your 80-pound, two-legged family member for a dollar a day? No, you would be scared to. You would be right to be scared, because of what that kibble is and what it has become in relation to its quality and supply chain.
PPN: "Big Kibble" delves deep into pet food regulations—or lack thereof, as the book puts it—particularly when it comes to ingredients. What do you want people to know?
Buckley: The most common guidelines for pet food ingredients come from AAFCO, and some of what is allowed to be included [in] pet food is not just gross, but in our opinion, it can be dangerous. At the moment, the official ingredients do not differentiate those allowed for livestock and those permitted to be used in pet food. A giant leap forward would be a separate official ingredient list for our pets.
Chavez: We want people to know that there is the illusion of regulation. There's just enough regulation and focus for the industry to say it's highly regulated, but that in reality this isn't true. Labelling regulations are misguided and do not necessarily protect pets or consumers; they just make it harder for the smaller companies, or truly differentiated companies, to compete. There is not a real focus in making better quality standards for pet food. 4D meat [meat that comes from animals that are either dead, diseased, dying or destroyed] is still allowable in rendered products, and while some key compliance policies have been just recently discontinued, the FDA [U.S. Food & Drug Administration] has repeatedly and publicly announced that it will use "enforcement discretion" on the issue of the use of 4D meat in pet food. This is not true regulation.
PPN: What ways can independent pet specialty retailers best educate themselves about the pet food available on the market?
Chavez: It's tough because every company claims to produce the best food and probably genuinely believes they do. My best advice would be to get to know the people behind the company, deeply. Are they really in it for the pets? All companies need profits to survive, but profits at the expense of quality or real progress is not genuine, no matter the industry. Find out—then partner with the ones that value what you value and believe what you believe.
PPN: What do you hope is the biggest takeaway for pet retailers, and for pet owners at large?
Buckley: You can't put meat in a bag for a year, at room temperature, without doing some very bad things to it first. We believe the future of pet food will be based in a cooked, whole food diet, and it stands to reason that specialty retailers would be in the best position to offer these products.
Chavez: We are not making a dime off the sale of this book. As authors, all of our proceeds from "Big Kibble" are going to rescue organizations. We're really in it for the pets. We risk alienating regulatory agencies, most vets and our own industry by publishing a book like this. It's risky, but we have a conviction that this is an industry that can do a lot more for our pets. I hope people get past their existing "beliefs" and past our title and cover, and simply read the book. We hope it comes across as genuine, because it is, and we hope it sparks conversation. We'd be thrilled if it affects real change.
PPN: What's next on your agenda?
Buckley: Continue to advocate for the benefits of real food for pets.
Chavez: We see this movement continuing to evolve and grow. We think the hard work of the employees of our company, key industry partners and science will continue to build the case for fresh whole food. We think this will become the norm for pets. My prediction is we're just at the very beginning of a revolution and transformation of our understanding of veterinary nutrition.
---
Stay tuned to petproductnews.com! Next week, pet industry insiders will offer their take on what they see as the perceptions and realities within the pet food industry in a Q&A with PPN.