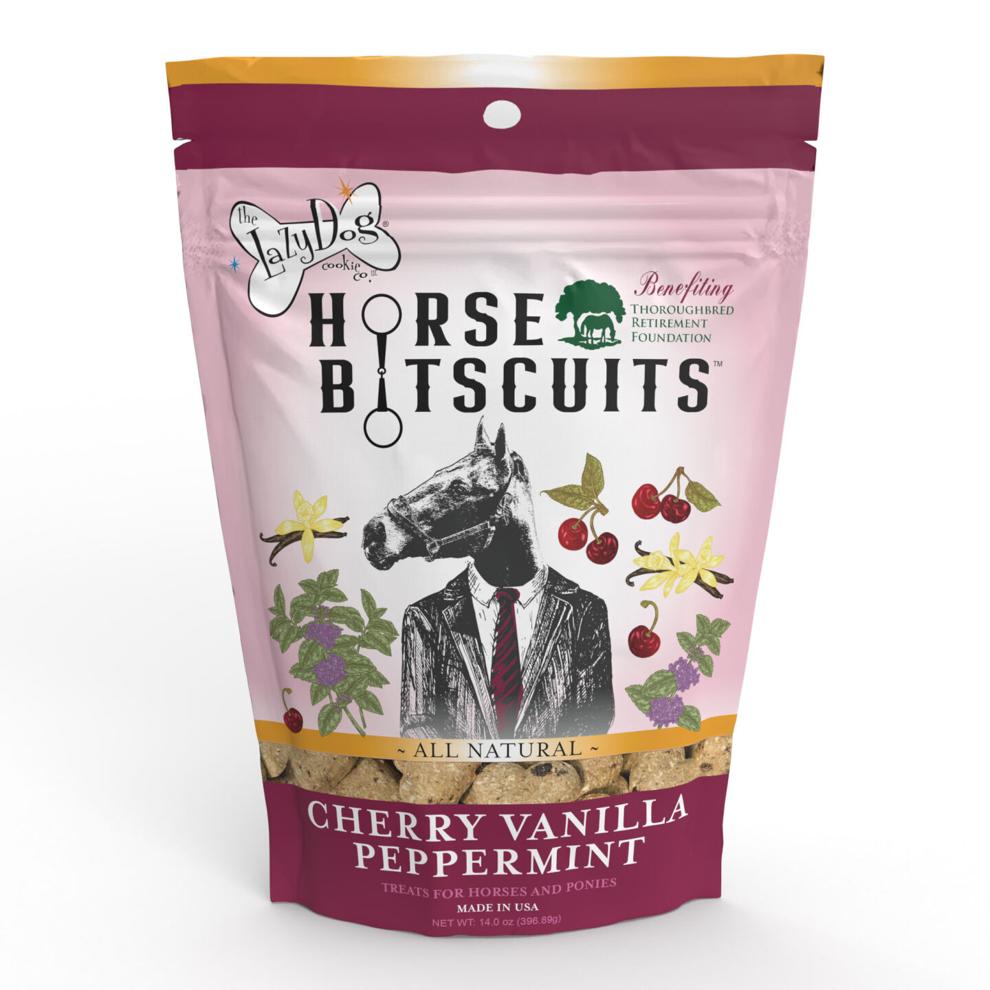 Lazy Dog Cookie Co. launched its first horse and pony treat Horse Bitscuits. Made in the U.S. and formulated with all-natural, sugar-free ingredients, the Cherry Vanilla Peppermint cookie will retail for $8.99 per 14-ounce bag with 15 percent of profits donated by Lazy Dog Cookie Co. to the Thoroughbred Retirement Foundation (TRF).
Horse Bitscuits are now available for purchase at local retailers in Saratoga Springs, N.Y., including Benson's Pet Supply, Impressions, Cheshire Horse and AgWay. Customers across the United States may purchase Horse Bitscuits online through lazydogcookies.com and on the TRF website and soon on Chewy.
"As a company, we have always believed in giving back to the animals we love" said, Amy Augustine, co-founder Lazy Dog Cookie in Saratoga Springs, N.Y. "We first learned of the work of the Thoroughbred Retirement Foundation in 2021 when we attended their annual summer fundraiser here in Saratoga. The more we learned about their work, saving horses and changing lives, the more we wanted to get involved. On our first visit to the Saratoga backstretch, we realized that horses like cookies as much as dogs and that's where it all began. Today, we are proud to introduce our first-ever horse treat and to support the horses of the TRF with every bag we sell."
TRF is a national organization devoted to saving Thoroughbred horses no longer able to compete at the racetrack from possible neglect, abuse and slaughter, company officials said.
"The TRF is immensely grateful to Amy and Keith for including us as a beneficiary of their new product and promoting our mission of saving horses and changing lives," said Patricia Stickney, executive director of TRF.
Lazy Dog welcomes inquiries from interested retailers and product ambassadors.