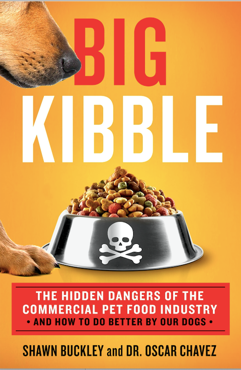 A new book is about to peel back the curtain on the multi-billion global pet food market, tackling issues such as pet food recalls, pet food regulations (or lack thereof), ingredients and overseas slave labor.
"Big Kibble: Hidden Dangers of the Commercial Pet Food Industry and How to Do Better by Our Dogs," set to be published on Dec. 1 by St. Martin's Press, has the potential to be a watershed moment for the pet food industry, much like "Fast Food Nation" was for the fast-food industry, according to the book's publicist.
"The book offers an inside look at the shocking lack of regulation within the pet food industry, and how readers can dramatically improve the quality of their dogs' lives through diet," officials said in a statement.
"Big Kibble" is co-authored by Shawn Buckley, founder of JustFoodForDogs, maker of fresh, whole food pet food, and Dr. Oscar Chavez, chief medical officer of the Irvine, Calif.-based company.
The authors dive into how only a handful of multinational corporations dominate the industry, and how guidelines for pet food production are set by a private, nonprofit group that is "heavily influenced by the corporations that sell it, allowing them to include ever-cheaper ingredients." This means, according to the authors, that legal ingredients in kibble could include poultry feces, saw dust, expired food and diseased meat.
"Many veterinarians still don't know that kibble is not the best food for dogs, because Big Kibble invests substantially in marketing to veterinarians, education and research," officials said. "So far, these corporations have been able to get away with it—until now."
"Big Kibble" has already received early praise from celebrities, such as actress Kristen Bell, who said, "I'm so happy [Buckley and Chavez] now have a book to help spread awareness and information on how to improve animals' lives."
To pre-order, visit here.
---
Don't miss the latest pet industry news! Get updates delivered to your inbox weekly. Sign up for our newsletter here!