Meat-eating dogs and cats might have a bigger impact on the environment than the average pet owner thinks. In fact, if U.S. dogs and cat were their own country, they'd rank fifth in global meat consumption, according to a 2017 study conducted by University of California, Los Angeles (UCLA) geography professor Gregory Okin.
Increasingly, U.S. consumers are choosing to follow plant-based diets themselves, in part to help reduce the environmental effect of meat production, Okin noted. Following that same logic, pet owners are increasingly seeking products that give them a way to reduce their carbon footprint when feeding their pets.
"After a year of COVID-19, multiple wildfires and extreme weather, we see the idea of becoming more green or sustainable gaining popularity," said Anne Carlson, founder and CEO of Jiminy's, a pet food and treat manufacturer that uses crickets as a sustainable source of protein. "Starting with pets is a natural starting point. According to a UCLA study, cats and dogs are responsible for 25 percent to 30 percent of the environmental impact of meat consumption in the U.S."
In 2018, pet food manufacturers used 1.83 million tons of meat and poultry products, excluding fishery products, to produce dog and cat foods, according to a January 2020 report commissioned by the Institute for Feed Education and Research, North American Renderers Association and Pet Food Institute.
With sustainability becoming a bigger focus for many pet product manufacturers, more are finding ways to innovate with meat alternatives and sustainable ingredients.
"At Jiminy's, we replace traditional animal protein with cricket protein," Carlson said. "Cricket protein uses exponentially less land, emits almost no greenhouse gases and requires less water. In fact, if you switch a dog from a chicken-based diet to a cricket-based diet, you and your dog will save 480,000 gallons of water per year. Just one dog—talk about impact!"
In addition to its cricket-protein treats, the Berkeley, Calif.-based company manufactures two insect-protein diets for dogs: Cricket Crave and Good Grub. Cricket Crave's ingredients include cricket-protein powder, oats, quinoa and sweet potatoes, while Good Grub features dried black soldier fly larvae alongside oats, sweet potatoes and flaxseed.
"Cricket farming is close to ideal," Carlson said. "There's no need for acres and acres of grassland. A cricket barn is self-contained, and there's no waste runoff to foul groundwater. Insect farms can be placed within a city and can go vertical too, so the footprint is extremely efficient and sustainable.
"Traditional protein sources produce huge amounts of methane," Carlson added. "With crickets, there's almost no methane produced—a far worse greenhouse gas than CO2. This is where you really see Jiminy's fighting climate change with a measurable solution."
Like Jiminy's, Life Line Pet Nutrition, a pet supplement company, has been sourcing sustainable products since its inception.
"Our kelp is managed for sustainability," said Ted Hayes, president of the Gig Harbor, Wash.-based company. "It is cut every three to seven years from carefully managed beds. In addition, the kelp is dried utilizing geothermal hot water powered dryers."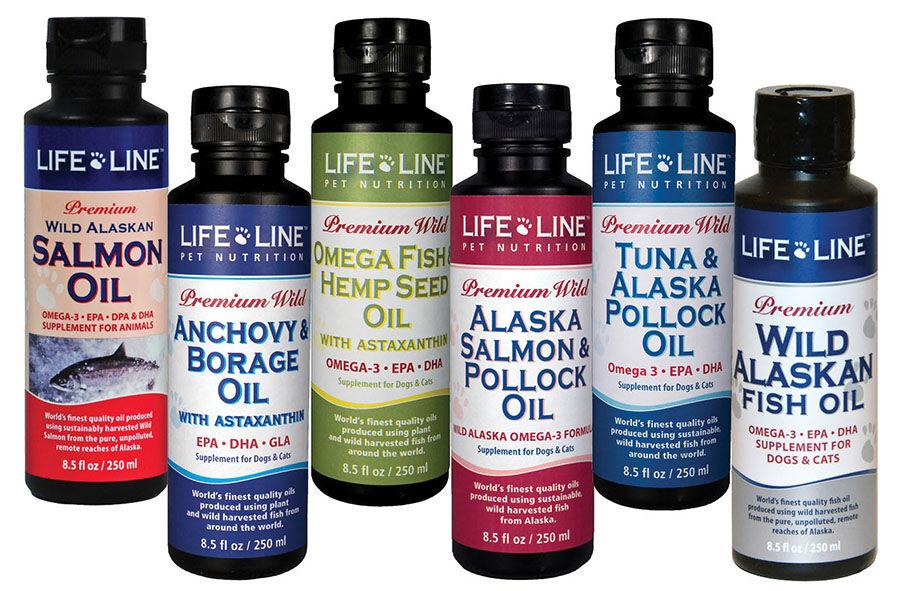 Life Line's fish oils have also been carefully sourced for sustainability, Hayes added.
"The wild Alaskan salmon and pollock fishery are both MSC [Marine Stewardship Council] certified for sustainability," Hayes said. "In addition, the pollock fishery is managed by the National Marine Fisheries Service and the salmon fishery is managed by the Alaska Board of Fisheries, Alaska Department of Fish and Game, North Pacific Fishery Management Council, North Pacific Anadromous Fish Commission and the Pacific Salmon Commission."
The company's new fish oil formulations use menhaden and tuna that also come from fisheries that are MSC certified, according to Hayes. Life Line's anchovy fishery is managed jointly by the governments of Peru and Chile, and occurs in the Humboldt Current System, one of the most productive ecosystems in the world, Hayes further noted.
"We are in this for the long term and rely on sustainable sources for all our ingredients," Hayes said.
Jiminy's and Life Line Pet Nutrition are just two of the pet product manufacturers making big strides toward reducing carbon footprints. Here are some other examples:
Annamaet Petfoods is currently developing a feline formula that aims to help combat the growing trend of obesity in cats. The product will feature a fresh-caught invasive species of fish with an excellent nutrient profile, according to the company.
"Using this novel protein will provide a superior natural ingredient for cats while protecting our natural resources—a win-win situation," Rob Downey, president and CEO of Annamaet Petfoods in Hatfield, Pa., recently told Pet Product News (PPN).
In April, Canidae launched Canidae Sustain, a new environmentally friendly alternative pet food line. The launch coincides with the company's new Sustain the Goodness campaign, which illustrates Canidae's mission to improve the lives of pets and their people and investment in creating a healthier planet for pets and people to play on, officials said in a statement.
The Stamford, Conn.-based company has partnered with Katherine Schwarzenegger Pratt to help promote the new line.
"I love that Canidae Sustain's ingredients use sustainably sourced proteins like cage-free chicken and upcycled brewer's yeast, and also include regeneratively farmed ingredients where possible," Schwarzenegger Pratt said in a statement.
Also in April, Canadian cat brand Catit introduced Catit Nuna, a cat food made with 92 percent sustainable insect protein, according to officials.
"Whole grubs are used to guarantee your cat is getting the complete nutritional package, as each grub is simply bursting with protein, vitamins, omega 6, calcium, phosphorus, zinc and minerals," officials said in a statement. "Nuna grubs are carefully dried and ground into a fine nutritious flour before being mixed into our recipe."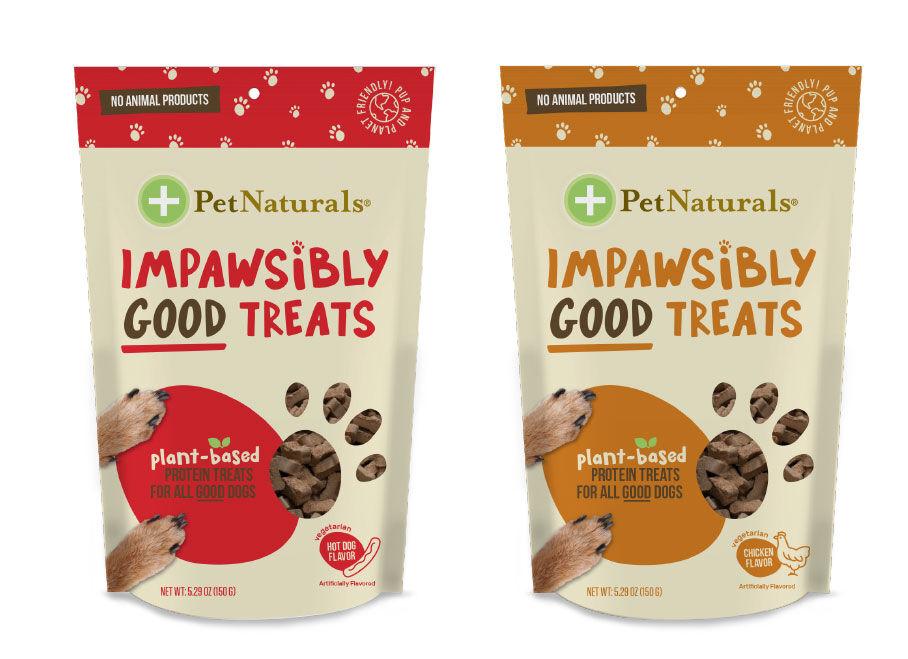 Earlier this year, FoodScience Corp., which is based in Williston, Vt., launched a line of plant-based dog treats. Pet Naturals Impawsibly Good Treats feature four meatless protein sources: quinoa, chia, brewer's yeast and oats.
"We are excited to debut Impawsibly Good Treats with flavors that are familiar to consumers, and their pets, while still providing the health and ecological benefits they are looking for," Derek Archambault, vice president for marketing, said at the time of launch.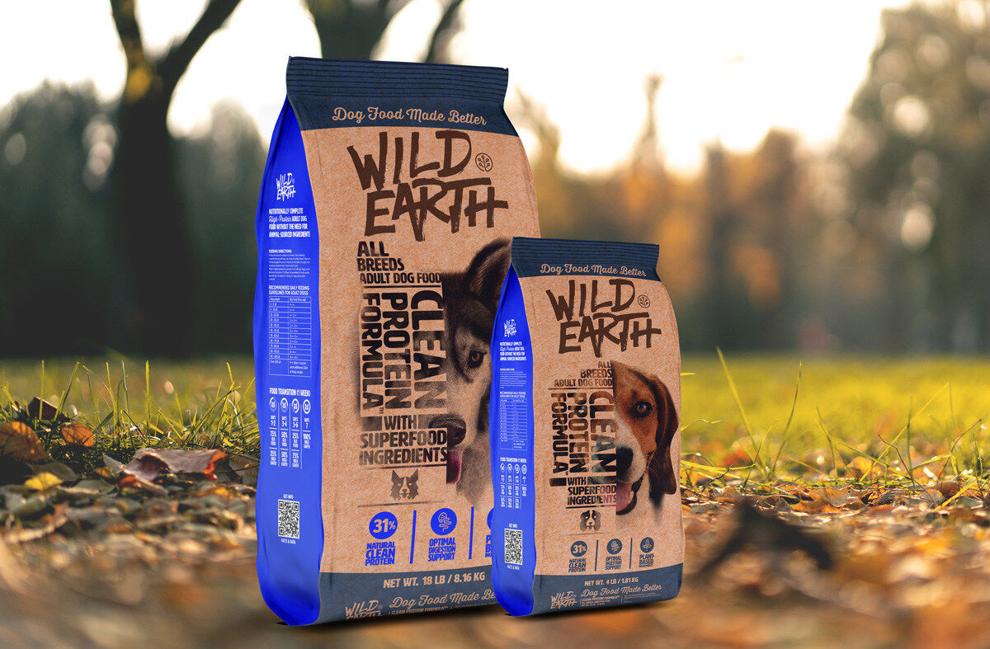 Wild Earth has expanded its pursuit of developing a high-protein no-meat dog food quite significantly since scoring a deal with Mark Cuban on Shark Tank in 2019. The Berkeley, Calif.-based company also gained a multimillion-dollar investment led by venture capital firm VegInvest shortly after.
"Given the shocking amount of animal farming required for pet food, and the environmental strain caused by feeding companion animals, Wild Earth represents an important component of a more sustainable and humane food system," Amy Trakinski, managing director of VegInvest, said at the time of the investment.
Wild Earth's pet food replaces factory-farmed meat with yeast proteins that provide the 10 essential amino acids that dogs require without the harmful effects of meat production, according to officials.
"Yeast provides all the nutritional benefits of meat, without the negative impact on the environment," officials said.