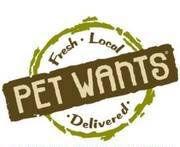 Pet Wants, a Cincinnati-based pet food and supplies franchise, hit record-setting sales for the 10th consecutive month, officials said in a statement. January and February sales increased year-over-year by 35 percent and 26 percent, respectively. March is now the second highest sales month in Pet Wants' history, only falling short to December 2020, according to officials.
"The pet industry exploded in 2020, and we were all curious to see if that momentum would take us into the new year," said Chris Seman, president of Strategic Franchising, which owns Pet Wants. "The Q1 sales numbers show us that Pet Wants continues to be a great investment, and we are really excited about the future."
Pet Wants added 22 new franchise locations in 2020 and increased its overall sales by 25 percent, officials said. The company plans to add an additional 47 locations in 2021, officials added.
Pet Wants, which originally launched in 2010, was built to provide small batch, slow-cooked, fresh, high-quality pet food delivered to customers through mobile home delivery services and/or retail stores. Officials said that the company is tapping into the desire of pet owners to feed their dogs and cats the healthiest food possible.
"Americans are adding pets to their families at record rates, and they want these pets to have healthy, long lives," Seman said. "Pet Wants specializes in healthy, fresh, natural food at an affordable price, and that's not something you can find everywhere."
Officials said that they are actively searching for franchise owners. Franchise owners have the option of operating a mobile or retail location. Details can be found here.