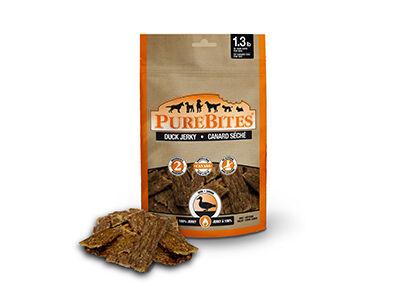 PureBites has donated $230,000 worth of treats and meals to the Toronto Humane Society. The donation is part of the company's ongoing Helping Pets initiative. In total, this donation will provide dogs and cats in need with over 350,000 treats and 40,000 meals, company officials said.
"We started our Helping Pets initiative in the middle of the dark days of the COVID-19 lockdown" said Marc Cathcart, president of Pure Treats Inc., the Montreal, Quebec, Canada-based makers of PureBites dog and cat treats, food and toppers. "As many pet parents can attest, their furry loved ones have been instrumental in helping them through the last year. We wanted to continue our support of new pet parents and the shelters that assist millions of pets to find their forever homes. This year's donation includes our one ingredient raw freeze dried cat treats, gently air dried jerky dog treats, wet cat mixers/toppers, as well as our complete cat meals."
PureBites is committed to supporting the shelters that continue to find placements for pets and in helping keep their tummies full, officials added.
"On behalf of the Toronto Humane Society, we would like to extend our appreciation to the team at PureBites for their generous donation," said Hannah Sotropa, assistant communications manager for the Toronto Humane Society. "Your contribution helps us to provide a reliable source of nourishment to the animals in our care and within the community. Additionally, your support helps local community partners, as we work in collaboration to reduce pet food insecurity in Ontario."