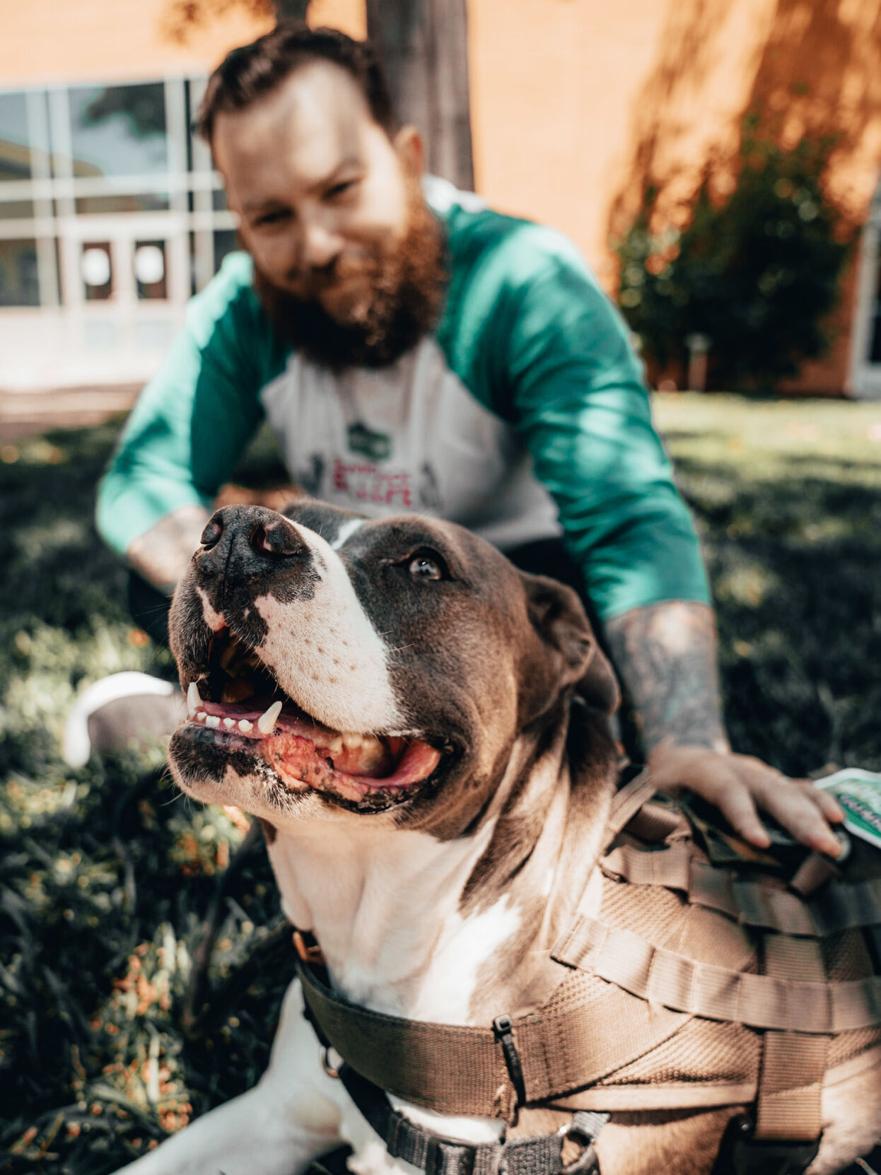 Purina Dog Chow, a brand of Nestlé Purina PetCare in St. Louis, has launched its third annual "Service Dog Salute" campaign in honor of National Service Dog Awareness Month. The campaign supports the care and training of more service dogs for America's military veterans, "so that every hero in need can find a canine hero of their own."
A service dog can be life-changing in helping veterans with post-traumatic stress disorder (PTSD) and other post-combat challenges, officials said in a statement.
"Psychiatric service dogs are not the same as emotional support, therapy or companion dogs," officials added. "Like service dogs for the blind, deaf and physically disabled, psychiatric service dogs for veterans must be specifically trained to help their handler perform tasks they cannot otherwise perform on their own."
The training process, according to officials, can take from one to two-and-a-half years to learn to perform needed tasks. This may include placing body weight on the veteran to promote a sense of calm during panic attacks, waking the veteran from upsetting dreams or night terrors, reminding the veteran to take medications, alerting the veteran when someone is approaching from behind, and patrolling the perimeter of a room for triggers and threats.
Over the next year, Dog Chow will follow the journey of several service dogs in training that are currently preparing to serve a veteran in need.
To help spread the word about the benefits of service dogs and how dog owners can help, radio and TV personality and avid military advocate Bobby Bones is joining forces with Dog Chow's Service Dog Salute campaign for a second year.
"Service dogs provide so many benefits for military veterans, but it can cost over $20,000 on average to train one service dog—and less than 1 percent of veterans who need one can get one," Bones said. "When our veterans come home from service, they may not be equipped to live their life without these dogs. I'm honored to be a part of a program that is helping more veterans get the service dogs they need."
Dog Chow continues to help fund organizations that train service dogs for veterans with PTSD. From now through Thanksgiving (Nov. 26), for every purchase of a specially marked bag, Dog Chow will make a donation to its two partnering veteran service dog organizations, up to a total of $100,000. The donations will be split equally between the Pets & Vets program at Tony La Russa's Animal Rescue Foundation (ARF) and Got Your Six Support Dogs. Over the past three years, Dog Chow has donated more than $700,000 to support the training of more service dogs for military veterans, according to officials.
"As a veteran, I am sensitive to the many issues fellow veterans face as they transition after their service; those who faced combat often have the greatest challenges," said Steve Degnan, chief human resources officer for Nestlé Purina North America. "It's a privilege to be able to help my fellow service members, and I am proud that Dog Chow supports our nation's military veterans in such an important and needed way."
Purina and Dog Chow are also working with members of Congress in support of federal legislation to provide training and service dogs for veterans. The PAWS for Veterans Therapy Act (HR4305) will create a pilot program in the VA to give veterans access to treatment derived from working with service dogs, according to officials. The bill has been approved by the House, but still awaits passage in the Senate. To support this legislation, Dog Chow officials are asking supporters to visit its website to send an email to their state senators urging them to pass the bill.