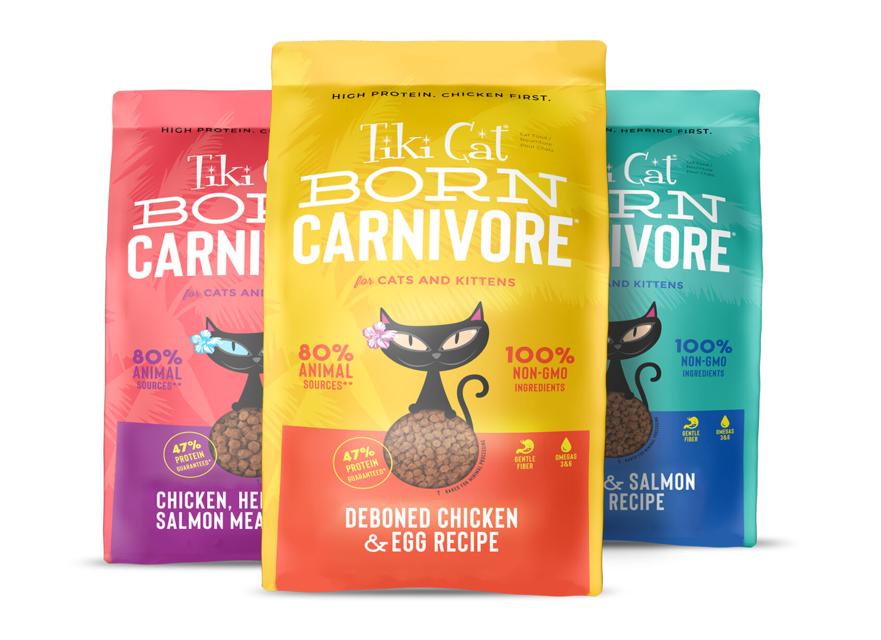 Tiki Cat has relaunched its Born Carnivore dry food line. The new formulas are 100 percent GMO-free, and offers the high animal protein-based, low-carbohydrate diet that felines require and derive from natural prey, officials said in a statement. The baked kibble is available in three flavors—Chicken & Egg, Herring & Salmon and Chicken & Herring—as well as Light (turkey) and Kitten (chicken) varieties.
"With real meat or fish as its No. 1 ingredient, Born Carnivore contains more than 47 percent protein, (46 percent for the Kitten variety), 80 percent of which comes from animal sources," officials said. "This high-protein, low carb formulation is important because cats in nature are true carnivores, relying on animal protein from their prey for all of their essential nutrients such as taurine, arachidonic acid and vitamin A."
Unlike dogs, officials continued, cats are unable to efficiently process and derive nutrients from plants and require meat to survive.
"At Tiki Cat, our mission is to provide food that nutritionally mimics the carnivorous diet cats eat in nature," said Ann Hudson, vice president of marketing for Tiki Pets, a brand of Whitebridge Pet Products in St. Louis "Our Born Carnivore line, with its high level of animal protein, provides an option that approximates the nutrition derived from a natural diet to pet parents who prefer to feed their cat a dry kibble.
"Now, with our latest innovation, all Born Carnivore varieties have new non-GMO formulas," Hudson added. "Dry cat food consumers can now buy a healthier kibble that's completely free of genetically modified ingredients, which is something people are increasingly concerned about for their pets just as they are for themselves."
Tiki Cat Born Carnivore's relaunched formulas align with today's market trends, as sales of non-GMO pet products have increased tenfold over the past four years, Hudson said. Sixteen percent of cat owners purchased non-GMO pet products in 2019, officials noted.