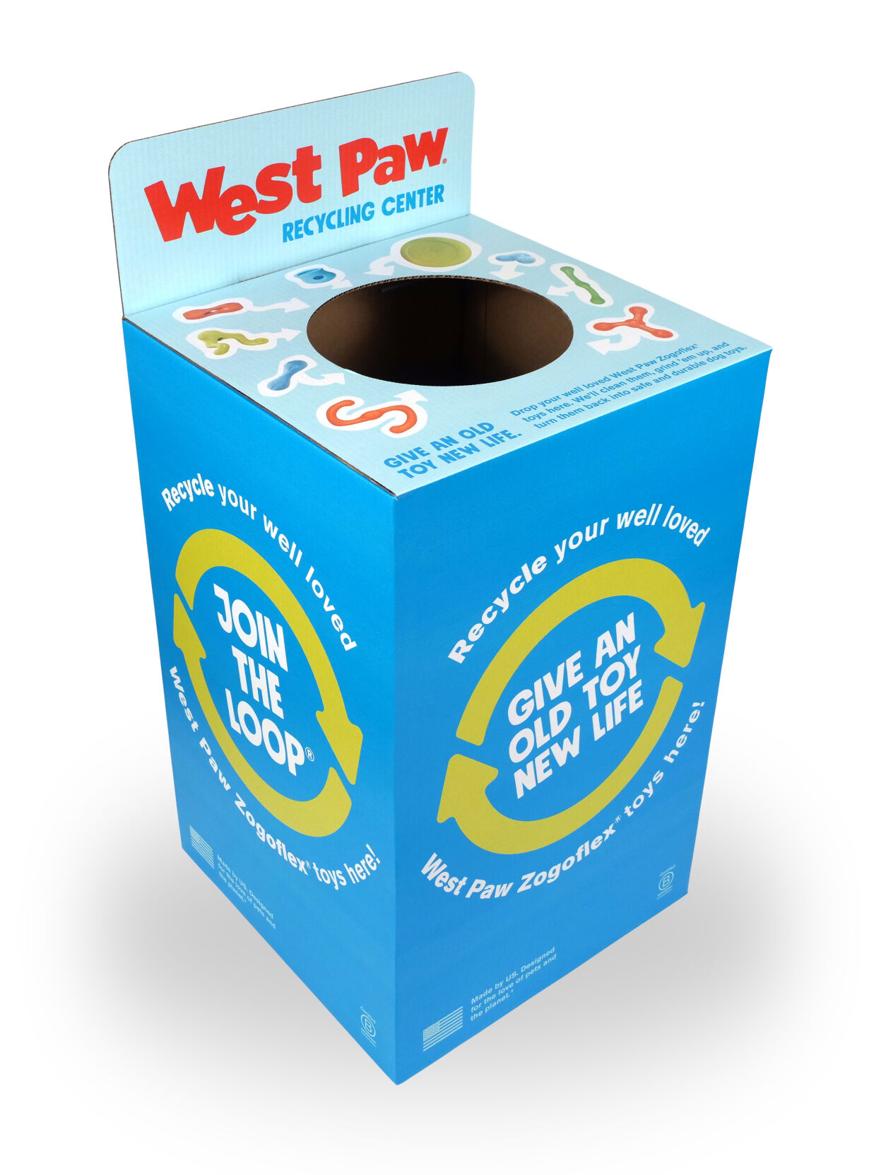 West Paw, a dog toy manufacturer in Bozeman, Mont., is now offering free in-store recycling collection bins to its retail partners.
"[West Paw] will proactively aim to increase the amount of dog-tired Zogoflex toys returned to the company for recycling via branded recycling bins," officials said in a statement. "Once full, retailers simply adhere the pre-paid shipping label and send back to West Paw for inspection, cleaning, sanitizing and recycling. By offering customers an easy and free way (no postage!) to recycle their dog-tired toys, the company aims to increase the amount of recycled plastic content in their Zogoflex toys while reducing the amount headed to the landfill."
West Paw will also be supporting retailers by offering window stickers calling out the program as well as social media posts to help them share the news with the followers in their communities, officials added.
The recycling collection bins are an extension of the company's Join the Loop program, which was introduced in 2004 as a way for "loyal and eco-conscious retailers and consumers to send back their well-loved and worn out Zogoflex toys."
"As the durable, nontoxic material used to make Zogoflex is a No. 7 plastic, they cannot easily be recycled in most parts of the country," officials said. "Join the Loop was West Paw's way of collecting, cleaning and recycling damaged toys. Additionally, West Paw assesses the damage of all returned toys to learn how they can continually improve the toy's durability."
As of December 2020, officials said that the company had recycled more than 266,589 pounds of toys. That's equivalent to more than 700,000 toys.
"West Paw is confident [that] by offering customers a free and easy drop-off location at their favorite pet product store, retailers will notice an increase in consumer traffic, and Zogoflex returns for recycling will as well," said Spencer Williams, owner and CEO of West Paw. "This is a win-win for participating retail partners as well as the planet."
U.S.-based retailers can order Join the Loop Starter Kits here.
---
For more of PPN's coverage on West Paw, read: