Sustainability is becoming increasingly important to consumers. According to Nielsen, sustainable product sales in the U.S. jumped from $107 billion in 2014 to $128 billion in 2018—and continues to rise. Sustainable products are taking more and more share of total sales, with Nielsen forecasting that 25 percent of total store sales will be sustainable products in 2021.
Millennials are the largest pet owning population in the U.S. They are also the future of sustainability in the U.S. In a 2017 Nielsen survey, 83 percent of millennials answered that it's very important to them that companies implement programs to improve the environment. Seventy-five percent said they will definitely or probably change their purchase/consumption habits to reduce their impact on the environment.
It's more important than ever that retailers carry alternative, natural cat litters. Consumers are educating themselves on the benefits of sustainable, biodegradable, nontoxic products—so it's imperative for retailers to also educate themselves and carry products that align with their consumers' evolution of buying habits.
Naturally Fresh Cat Litter is made from all-natural walnut shells, which neutralize odors organically. It's three times more absorbent than clay (so it lasts three times longer), and it's good for the planet: biodegradable, certified sustainable, and annually renewable. To add to the list of benefits, it's nontoxic, free of silica dust, and perfume-free, so it's safe for kittens and great for cats and pet parents who struggle with allergies.
Naturally Fresh is the go-to for all-natural cat litter. Now their updated packaging reflects that.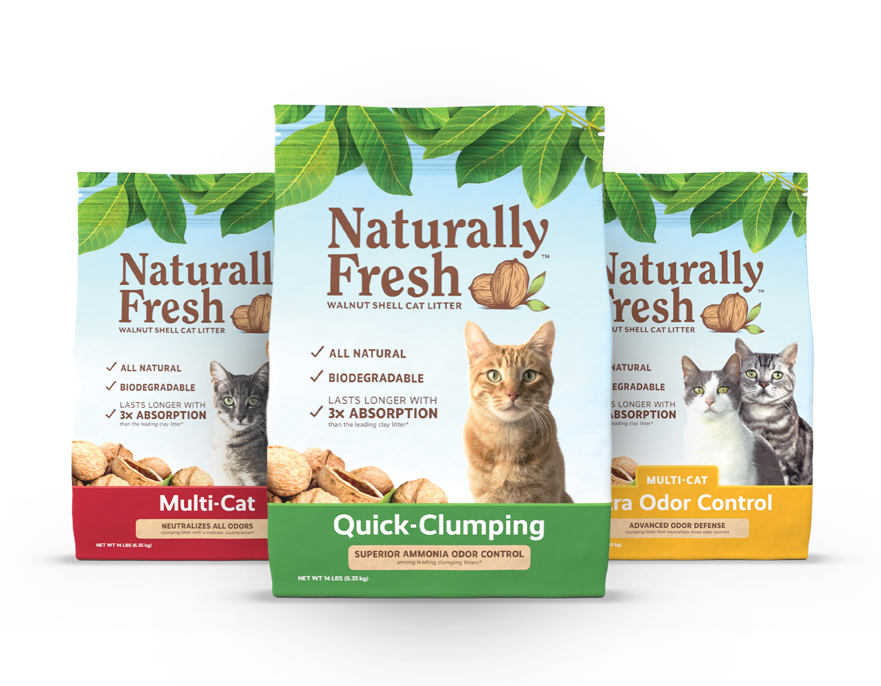 What's changing?
The refreshed packaging features a more natural look that aligns with the eco-friendly, sustainable litter. More walnut details are included on the package to help tell the story of the main ingredient.
Most importantly, the new packaging helps consumers choose the best formula for their cat kids. That's thanks to clear differentiation between products and detailed formula specifics. The description on the front of the bag now helps pet parents quickly identify and differentiate between the Naturally Fresh formulas, as each formula meets different needs of cat owners. More detailed product information on the back allows pet owners to easily decide which formula will work best for their household. We know pet owners have a deep love for their cats and want to provide the litter that's best for them; now it's even easier for them to find the formula that fits, whether they have one cat kid, four cat kids, or more.
The Quick-Clumping (green bag), Multi-Cat (red bag), Ultra Odor Control (yellow bag), and Alpine Meadow Scent (blue bag) formulas will sport the new look.
What's staying the same?
The litter inside is the same biodegradable litter pet parents trust and cat kids love!
What else has stayed the same? Those photogenic cats on the front of each bag, so loyal customers can quickly recognize their go-to formula.
Why were changes made?
Naturally Fresh Cat Litter is eco-friendly, sustainable, and all-natural, so it was only right for the packaging to reflect the brand and product more accurately. Since 2010, Naturally Fresh has made walnut shell litter from walnuts grown in California. Committed to sustainable practices, Naturally Fresh eliminates waste by utilizing walnut shells to create litter and produce it in a solar-run facility. It's all so they can make a litter that's good for cats, people, and the planet.
What's coming next?
This is just the beginning for the new Naturally Fresh look. While the new packaging is initially being released for the four top-selling Naturally Fresh litter formulas, the two remaining formula packages are being refreshed as well—Pellet, Non-Clumping (purple bag) and Herbal Attraction (orange bag).