Fun is the name of the game when it comes to creating products for small mammals to enjoy with their owners, many of whom are children. As an entry-level pet category, any small mammal product that can safely enhance playtime between kids and their critters is sure to fly off a retailer's shelves.
Indeed, for retailers looking to attract more small-mammal-related product sales, much was on display at Global Pet Expo in Orlando, Fla., this year to generate more excitement in the sector. Manufacturers innovated, updated and tweaked treat ingredients, toys and bedding to offer heightened interactivity, visual appeal and convenience.
GPE 2015 Winning Critter Products
"The best products are designed with the understanding that kids love treating and playing with their small pets," said Dave Hitsman, director of product development for Ware Manufacturing in Phoenix. "I think the new Every Kid's Favorite Pastime toy dispenser we debuted at Global Pet Expo won first place in the small mammal category because it combines the fun of treating and playing, and that's very important for strong sales movement."
The product is a wood toy dispenser packaged to include a treat, Hitsman said, adding that when new treats are needed, retailers win repeat sales as kids replenish their supply.
Ware also scored the category's third place win for its Ramp It Up! guinea pig ramp.
"Guinea pigs prefer to be on the ground and dislike climbing," Hitsman said. "However, our new ramp is designed with walls on either side so guinea pigs can't see height. They took to it immediately and started running up and down, chasing each other, just having a ball.
"For kids, that's a lot of fun to watch," he said, adding that the extra exercise is a health benefit for the pets as well.
Another key feature that adds sales appeal is the fact that "because the ramp is vertical, no extra space is needed in the kids' room; the ramp easily fits into any standard cage," he said.
The second place winning product, Marshall Pet Products' Bear Rug, keeps a ferret's love of tunneling in mind and matches it with a cute design that is appealing to children.
"Our new Bear Rug started with a brainstorming session on ferret cage accessories," said Linda Cope, global marketing director for the Wolcott, N.Y., manufacturer. "Ferrets like to tunnel and snuggle inside accessories to sleep, so the multiple [entrances] and exits through the bear legs and mouth make it a perfect fit for a new cage accessory."
Marshall Pet Products also debuted two chews for ferrets at Global Pet Expo: Ferret Lax Chews and Furo-Vite Chews.
"We want to give ferret owners a fun, alternative way to treat common health issues such as hairballs and vitamin deficiencies," Cope said.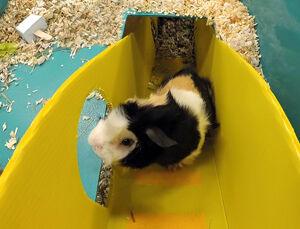 New Tempting Tidbits, Toys
"Treats will always be popular with pets and their people, so providing a variety of healthful, enriching options is crucial," said Lucas Stock, communications manager for Oxbow Animal Health in Murdock, Neb. 
In February, the company introduced five additions to its Simple Rewards line. 
"The new treats are baked and combine hearty, high-fiber hay with fun, fresh flavors that include Peppermint, Apple & Banana, Bell Pepper, Carrot & Dill and Cranberry," Stock said. "The new treats come in playful heart and flower shapes, making treat time even more fun for owner and pet." 
Phoebe Rose Stanley, product development and marketing coordinator for Vitakraft Sunseed Inc. in Bowling Green, Ohio, said her company is launching several new treats for small mammals, too.
"Our June 2015 product launches include reformulated Sunseed Vita Prima Grainola Treat Bars," Stanley said. "The snack offers fresh, all-natural new ingredients, including quinoa, peas, carrots, barley and apples."
Another Vitakraft Sunseed product launch is VitaSmart Hedgehog diet, a nutritionally fortified, high-protein insect formula.
"What makes our new hedgehog diet great is that the pellets include probiotics to support normal digestive health and DHA omega 3s to support vital organs, including the heart, brain and eyes," Stanley said. "The hedgehog diet also includes omega fatty acids and flaxseed to support a healthy skin and coat."
A&E Cage Co., a Burlington, N.J., manufacturer, presented its newest line of java wood toys and chews for small animals.
"Our goal with this line is to give a breath of fresh air to the small mammal market," said John Lance, the company's owner. "Our all-natural products meet the small animal's foraging needs as well as their nutritional and chewing needs."
Cleaning and Convenience
Research shows that cage odor and difficulty in cleaning habitats are viewed as drawbacks to small animal pet ownership, said Jason Casto, director of Kaytee hard goods/Pets International for Walnut Creek, Calif.-based Central Garden & Pet. To that end, his company debuted an innovative disposable bedding tray cartridge at Global Pet Expo this year.
"The Kaytee CritterTrail Quick Clean Habitat for hamsters, gerbils or mice makes it easier to clean the habitat," Casto said. "Consumers simply dispose and replace the bedding tray once a week to make cage cleaning easy while also eliminating odors."
This summer, Stanley said Vitakraft will launch a new litter called Fresh World Bedding that offers up to 14-day odor control, softer crumbles and less mess.
"Our crumbles are 100 percent recycled paper that comes from a Michigan nonprofit organization called PaperGator that supports local schools and churches," Stanley said. "This new litter is also 99.5 percent dust free."
Stock noted that these days pet owners are paying closer attention to what type of bedding material they choose, with safety and comfort being key attributes.
Oxbow recently rereleased its Eco-Straw compressed wheat litter. The dust-free litter absorbs 300 percent its weight in moisture and can be composted, he said.
The Right Products Right Away
Retailers should carry a complete selection of quality small animal habitats and accessories so customers can get started with the right products in the right sizes for their pets, Casto said.
"This way, the consumer gains the trust and confidence in knowing that all the items they need are available and have been designed to work together for the best experience," he said.
Customers like to touch, feel and see products in use, manufacturers reported, so stores that sell small animals have an edge.
"Place toys and treats in the cages with the animals so customers can see them in action," Lance said. "Colorful endcap displays near the small animals also drive sales higher."  
---
This article originally appeared in the June 2015 issue of Pet Product News