Participants:
Tom Herron, owner of Fins Feathers Paws & Claws in Harleysville, Pa.
Kirbay Preuss, manager at Preuss Pets in Lansing, Mich.
CJ Rankin, owner of Gallery of Pets in Austin, Texas
Stacy M. Davis, purchasing director for That Fish Place/That Pet Place in Lancaster, Pa.
Pet Product News: What trends, innovations and other developments are you seeing in the exotics segment of the pet industry?
Tom Herron: When it comes to the small-animal segment, customers are interested in enrichment. In the herp segment, the future is the movement toward bioactive substrate. None of the big players have really jumped in yet. I'm dealing with some smaller, independent people. I think that Zoo Med has stuff on the horizon, but it just isn't out yet.
Kirbay Preuss: We are noticing that getting a lot of our products locally sourced is working well, because it helps us differentiate ourselves. For example, we have a large clientele who have bearded dragons. One of our employees actually breeds our bearded dragons that we sell. We've had success offering items such as handmade bearded dragon harnesses as well as handmade bearded dragon hammocks. Those have been really popular for us.
We're also seeing an increase in people wanting to elaborate on the captive environment they keep their pets in, to ensure animals have access to ample enrichment. The idea of selecting a pre-made environment that serves as the bare minimum hobbyists need to get started is becoming less of a thing.
Customers are looking for a variety when it comes to nutrition. We recently brought in a line of fully organic fruits, veggies and freeze-dried items that birds really enjoy. We've also added a whole herbal tea collection [for birds]. … It has a lot of different benefits for them, and it has been really popular.
CJ Rankin: Demand for exotics moves in cycles. For example, we were receiving requests for hedgehogs for months. So then we finally get them in, and we ended up saturating the market. We sold about 20, and then sales just trickled on month by month after that.
Customers aren't as keen to go for exotic herps. That's not as big of a niche market as we see with bearded dragons or leopard geckos. Retailers really need to educate people before they buy something. Otherwise, they're just going to keep it in the store for months without selling it.
Stacy M. Davis: Younger people are starting out with pets mostly from our mammal section. We see customers buying multiple gerbils, guinea pigs and rabbits along with rats. These hobbyists are enthusiastic about having the best products for their small-animal pets.
To help promote small animals, we hold several promotional days in our store where we have a photographer take photos of customers' pets in tiny wagons, in teacups and flowery displays. Customers bring their pets in for the event. We set up a ball pit for ferrets, we hold hamster races on our race track and agility course for rabbits, and a make your own toy station are just some of the activities for this event. It has been very successful for us.
PPN: How has the exotics category changed for you? What adjustments have you had to make to your business model to compensate?
Herron: I'm seeing a shift in demographics. It used to be that all kids had hamsters. Right now, though, I'm selling a lot more rats. And it's not just children who are interested. Right now, 20-year-olds are buying rats. In general, I'm seeing slightly older young adults interested in small mammals, and especially rats.
Herps are also increasingly popular. I call this generation the Discovery Channel Generation. They grew up watching all this stuff on Animal Planet and the Discovery Channel, and now they want to have it. Customers who are 30 and under are really into herps.
Preuss: There is definitely a trend toward pet humanization. I was recently at a conference and I was around some veterinarians, and we were talking about the domestication of these different types of animals and watching just how product categories tend to slowly expand based on which species were domesticated first. We see all of these dog and cat products at these shows, and it provides this little glimpse of what might be coming in small animal and reptile supplies.
Rankin: Customers are generally more concerned with the overall health of their small animals, herps and birds than they were even 10 years ago. Our customer service is top notch. It has to be nowadays. Otherwise people just won't shop with you. You can't get most of what we do online. You can't get the knowledge base, the education or the same level of customer service online.
Davis: People are more concerned with setting up a natural habitat for their reptiles, instead of the breeder style of plastic bins and a hide box. Our customers want to re-create the natural habitat for their pets.
Because of this, we provide a wide array of healthy livestock set up in their natural habitats, which helps customers see how the setups can look in their home.
PPN: What's the competitive landscape in the exotics segment like? How do you deal with competition?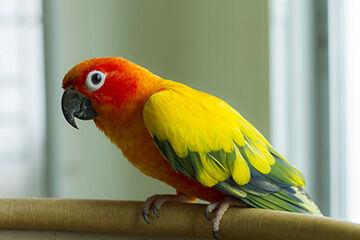 Herron: We used to sell dog food. Right now, I sell absolutely no dog food. I've slowly dwindled the number of product lines I carry down over the years. When customers can buy on Chewy.com for less than I can buy directly, how do retailers compete with that? Since I got rid of dog food, my herp numbers have basically filled in the gap. We offer exotics boarding. It has been very successful for us.
Livestock sales absolutely offer an advantage to independent retailers. When it comes to herps, I used to have a lot more of the oddball stuff, but it doesn't sell very well. So I ended up sitting on it. … We have concentrated on just the things that actually sell. We try to pick the strong areas and do them really well, which has been working very well for us.
Preuss: Online competition is definitely our biggest challenge. We have customers who come in and they've got their phones pulled out and they're doing a quick Amazon search to price-match products we have in the store.
It's important for us to make sure we have product differentiation. We try to carry lines—as rare as they are anymore—that are exclusive to independent retailers. We also try to carry products that are truly unique.
What's kept us around for so long is our focus on offering customers an experience. We have a 3,000-gallon river that runs through the store. We have a waterfall out front. We have an actual school bus in the building. We've really worked on making it almost a mini museum, versus just a store that customers come to for shopping. On top of that, we want to ensure customers have access to information that's reliable. Even though there are some great articles online, there's not necessarily the 35 or 40 years of experience and trial-and-error behind that information.
Rankin: As far as selling animals, there's no competition. In Austin and the surrounding areas, customers aren't going to find another store like us. We focus on socializing our animals, especially the babies. We try to get them to be as social as they can be.
Another big elephant in the room is pricing. Customers might be able to get an animal somewhere else at a lower price. But I point out: It's not going to be as nice. It's not going to be hand-fed. It's not going to be sweet. It's not going to be healthy. We're pretty down-to-earth and usually get most of the Austin customers, in my opinion.
Davis: We focus on keeping livestock healthy. It helps promote sales because customers are looking not just at one particular animal, but the entire room of reptiles or small animals or birds. If they see any animal that appears unhealthy, they shy away from making a purchase.
We quarantine our livestock, and we regularly take animals to the vet when necessary in order to provide them with the best possible care. We also hire staff who are as passionate as we are about the animals.
PPN: Are natural products and diets increasingly popular with customers?
Preuss: Customers are looking for more natural dietary options. I think too, with the whole DCM [canine dilated cardiomyopathy] controversy that came up, it reminded everybody that it's so important when it comes to any animal to look beyond not just even the ingredients, not just the sourcing, but at the actual nutritional and dietary requirements of their pets. Natural dietary options are definitely trending, but customers are also interested in making sure that their animals receive the proper nutrition.
Davis: Interest in offering a natural environment is the biggest change that we see. No longer do the majority of our customers want a plain bin and water dish with a sterile hide.
We can always do better. … With reptiles, for example, we are now offering a full line of isopods that customers can use as cleanup crews in their reptile and amphibian tanks.
PPN: Is livestock availability impacting the retail segment?
Herron: Our biggest problem is [that] we haven't been able to get enough birds to meet demand. They only breed in the spring. Christmas is coming up, and we are bare bones, which we're not happy about.
A lot of avian breeders are old school. In some cases, their kids don't want to take over breeding cause they saw how much work mom and dad did. The number of bird breeders is decreasing, and also, they're all selling online. When they can get retail prices as opposed to wholesale prices, they sell online. We get what's leftover. The internet is just massacring us on all fronts, basically.
Preuss: When it comes to reptiles and small animals, we haven't had a hard time sourcing livestock for the most part, but it has been more challenging to find birds.
Rankin: I don't think it's necessarily hard to find livestock; I think it's hard to find quality livestock. It's more based on whether something is available locally. I don't like to ship in a ton of my animals if I don't have to.
Overall, though, it is becoming harder to find quality livestock. Bird breeders are becoming scarcer. It's harder to sell adults. Everyone wants babies, and I feel like it's harder to find baby birds.
Usually I don't have any problem with most small mammals. But at the moment, I don't have a local breeder that I can get rats from. There are not a lot of people breeding them anymore, and I don't want to get livestock from someone who just breeds them constantly. We want a quality source of livestock.
Davis: One of our greatest difficulties is not having enough local breeders to keep up with demand sometimes. We don't waver from the regular breeders we will use. If that breeder is out of babies, we wait until they have more ready for us as opposed to buying from a less reputable source.
PPN: Is the exotics category growing, staying even or in decline?
What prospects do you see in the broader category?
Herron: The herp category is going to remain strong. Small animal will also probably stay strong, just because they're much easier to take care of than dogs and cats. Birds should also continue to do well, provided we can solve the livestock problem. These three segments are the future for independent pet retailers. These segments are what will keep us alive, along with focusing more on services.
Preuss: I'm always hopeful that all categories will expand. The small animal and reptile segments are growing tremendously. I expect that will continue, as long as we don't encounter a lot of new barriers within the state of Michigan that would ban us from selling certain things. We dealt with that last year. ... the state Senate was trying to create a white list of species that can be sold in the state of Michigan. Had it passed, it would have severely affected our sales. We have to keep an eye on how politics affects business, as well.
Rankin: Business is good. We have a really good customer base. A lot of our customers are returning customers. People come back because they have a good experience with us. They tell their friends, who then have a good experience. One of the opportunities I see is for us to focus on educating customers. Also, hopefully we can breed more animals in captivity and be a part of the solution when it comes to preserving species in the wild.
Davis: Small-animal sales are growing, reptile sales are growing and even bird sales have increased for us. Hopefully these segments continue to see growth, and vendors keep coming out with new products that make the natural and enriched habitat possible for all exotics. •