As with any nascent industry, misinformation and a lack of knowledge are issues in the pet cannabidiol (CBD)-product space.
Many consumers don't know much about even the very basics of what CBD is, where it comes from and what effects it has on a human or canine body, and many are walking around with flat-out misconceptions about this plant-based compound.
"There is extreme confusion in the general public: Is [CBD] marijuana or hemp?" said Steve Smith, president and co-founder of Pet Releaf, a manufacturer of CBD pet products in Littleton, Colo.
Still, the meteoric growth that the pet CBD industry has experienced is showing no signs of stopping. Pet CBD sales are forecast to top more than $1 billion in 2022, according to the Brightfield Group, a Wall Street market research firm in Chicago.
But one of the growing pains in the still largely unregulated pet CBD industry, according to some industry insiders,  is the bad actors, or "pirates," as Smith calls them.
"These snake oil hucksters in the CBD world are fashioning CBD as the new magic potion that will do anything and everything," he said.
And some manufacturers are selling products with cheaper, questionably sourced ingredients that might be harmful to people and pets, industry insiders report.
Smith, who represents the industry as a member of the U.S. Hemp Roundtable's U.S. Food & Drug Administration (FDA) committee, reports that big regulatory changes that will rein in the industry's current "Wild West" mentality are afoot. The U.S. Hemp Roundtable is a nonprofit coalition of hemp companies.
"The No. 1 reason we were asked and agreed to join the roundtable board was that we feel a moral obligation to protect this industry," Smith said.
And he is not alone in wanting to put the kibosh on misinformation and false claims.
To help cut through some of the CBD information muddle, Pet Product News solicited responses from pet CBD principals to questions retailers might be inclined to ask. While these well-regarded companies may not always agree on all the particulars, they shared with us their definitions of category terms and CBD knowledge to clear up some of the major questions that can confound both retailers and pet owners.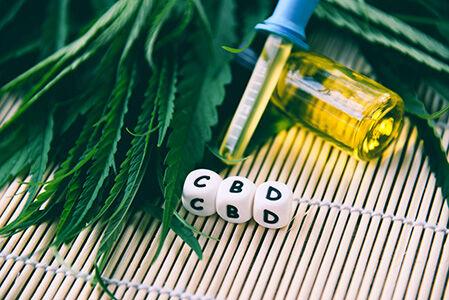 Here's what they had to say:
What Is CBD?
Cannabidiol (CBD) is a compound from the cannabis family. It has become wildly popular for its ability to promote relaxation, support healthy mobility, along with other benefits. CBD is hemp-derived, and while hemp comes from the same family of plants as marijuana (Cannabis sativa), hemp only contains trace amounts of tetrahydrocannabinol (THC) (less than 0.3 percent) and will not get your pet high. It can be used as an oil, in food and in various lifestyle products. —Mayra Morales, spokesperson for Honest Paws, a wholesaler of CBD oils, treats and topicals in League City, Texas
Cannabidiol (CBD) is only one of the more than 100 naturally occurring phytocannabinoids found in the cannabis (either hemp or marijuana) plant. It is one of five major cannabinoids and one of the most well known and well studied, along with its psychoactive cannabinoid companion, THC. It is nonintoxicating and known to have many therapeutic health benefits, including immune system support, relieving inflammation, pain and anxiety relief, antioxidant protection, antiseizure, antitumor and antibacterial properties.—Heidi Hill, president and co-founder of Holistic Hound, a Berkeley, Calif.-based manufacturer of CBD supplements, treats and topicals
What is the difference between hemp and CBD?
CBD can be derived from both marijuana and hemp. Hemp, however, contains less than 0.3 percent of THC and is primarily made up of CBD. That's why hemp-derived CBD is perfect for pets. All benefits, no side effects. —Mayra Morales
What are the differences between full-spectrum and broad-spectrum CBD and CBD isolates?
Full-spectrum CBD: "Full spectrum" is a term used to described hemp-derived products containing CBD as well as all the other beneficial constituents of the hemp plant, such as minor cannabinoids, flavonoids, terpenes, essential fatty acids, and vitamins and minerals, all of which work synergistically to provide physical and mental balance in the body. We believe that full-spectrum hemp, or whole-plant medicine, is much more beneficial than an isolate, which is CBD or any other cannabinoid isolated from the hemp plant.
Broad-spectrum CBD: The same as [full-spectrum CBD] but with the psychoactive cannabinoid, THC, removed.
CBD isolates: Products with the CBD phytocannabinoid only extracted, leaving out all the other beneficial parts of the plant. These products were popular early on and were and are often cheaper as many of them were sourced from outside the U.S. While there are some good suppliers, we maintain that full-spectrum products are superior to isolates. —Heidi Hill
While there are no formal definitions of these terms, the industry has generally defined these terms as referring to levels of processing of the raw material. "Full-spectrum" hemp extract typically refers to the least processed form hemp extract can take. It contains all of the compounds found naturally in the plant—CBD, terpenes and other cannabinoids. For this reason, full spectrum is popular among people looking for more holistic products. However, full spectrum also has all of the issues present in the starting material, including inaccuracy, contaminants like pesticides and THC—the active chemical in marijuana. "Broad spectrum" refers to a full-spectrum product that has been processed to remove THC using chemical filtration techniques. The resulting product, if done correctly, will have the CBD and other compounds found in full spectrum but will lack the risk of THC and other contaminants like pesticides.—Sean Callan, Ph.D., CEO of Precision Botanicals, a Denver-based supplier of CBD for Bixbi Pet, a Boulder, Colo.-based pet food company
An "isolate" refers to a single compound that has been purified and extracted from the starting product. For example, protein powders often contain "whey isolate" as a source of protein—pure protein extracted from dairy whey. For CBD, an "isolate" refers to pure CBD (often 99-plus percent pure). CBD isolate is the form of the product people prefer if they want CBD and nothing else. Some brands will insist that CBD only works if other cannabinoids are present—the so-called "entourage effect"; however, there is little data to suggest that this is true. Simply put, if a customer wants to buy CBD (and nothing else), they should buy an isolate. If they want their hemp product to contain CBD and other compounds that occur in the hemp plant, they should buy a full- or broad-spectrum product—though with full spectrum there is a risk of the product containing THC. —Sean Callan
What does the term "phytocannabinoid rich" mean, and how does it differ from other terms we see on product packaging?
Phytocannabinoid-rich hemp oil is synonymous with full-spectrum CBD oil. They both refer to hemp oil that contains all the benefit-rich cannabinoids, including CBD and trace amounts of THC. —Mayra Morales
This term is generally synonymous with broad-spectrum oils. It has been used by only a few companies, but it was never well understood nor embraced by retailers or consumers. Many found it confusing as it didn't reflect the true amount of active CBD on the packaging. The term is no longer recognized by the National Animal Supplement Council (NASC), of which we are a member, and will likely be used less and less as the industry matures. —Heidi Hill
"Phytocannabinoid-rich" is an industry terminology without a formal definition. It is typically used to refer to a hemp extract containing, in theory, high percentages of multiple cannabinoids, including CBD. In practice, however, this term is sometimes used as a buzzword, with no specific meaning other than it sounds impressive. —Sean Callan
What is the endocannabinoid system, and how does CBD work with that system?
In order to understand how CBD works, we must understand the endocannabinoid system (ECS). The ECS is an intricate network of receptors located throughout the body that play an important role in regulating and balancing bodily processes such as digestion, mood, sleep, pain, immune system, etc., also known as "homeostasis." These receptors can be triggered and activated by cannabinoids made by the body, known as endocannabinoids, as well as cannabinoids from plant sources, known as phytocannabinoids, to help modulate and restore optimal balance throughout the body and brain. —Heidi Hill
The ECS helps maintain health and well-being and is a master adaptogenic network involving neurological, cardiovascular, skin, respiratory, immune, gastrointestinal, musculoskeletal systems and influencing many important cellular functions and metabolic processes.  —Gary Pusillo, Ph.D. board-certified animal nutritionist, developer of HempVet Pet Health Remedies in Burlington, Vt.
Are all CBD topicals and edibles safe, and are they efficacious in their claims?
The hemp health CBD category is inundated with startup companies that are adapting human formulations to the pet channel. Retailers and pet parents need to ask serious questions about the CBD products they're considering: Who formulated the products? What is their education and experience in formulating ingestible animal products? Are they regulatory compliant with all Association of American Feed Control Officials (AAFCO) and FDA guidelines? Has the company received FDA warning letters? If so, why? And how long have they been in business? —Gary Pusillo
What extraction methods are used by CBD manufacturers, and what are the differences between these methods? 
All extraction methods operate on the same principle: using a solvent to pull the desired compounds out of the hemp plant. The three main classes of extraction are supercritical CO2, ethanol and a butane or propane extraction. Of these, the hemp/CBD industry overwhelmingly gravitates toward the first two, as they are safer and equally effective. A lot of marketing time and energy is spent on which method is better, but between CO2 and ethanol extraction, either method is fine as long as the brand is taking steps to clean up their CBD to ensure all solvent residue is removed. I've seen marketing information from brands claiming that supercritical CO2 is a superior method because it is "solvent free." This is a misconception: Supercritical CO2 is a solvent. —Sean Callan
How would you advise retailers to vet CBD products before they stock them? What should they look for in a CBD product manufacturer or product?
Your primary concern when deciding what CBD products are best is to ask for a certificate of analysis (COA). With this, you can verify their CBD is tested for potency, pesticides, residual solvents, heavy metals, microbial and terpenes, from a third party. This way you can also verify that the amount of cannabidiol is in fact what is stated as well as the levels of THC. —Mayra Morales
Retailers and pet parents should look for products containing broad-spectrum hemp, not isolates. They should buy only from companies that are audited members of the NASC and display the NASC seal. Most retailers and pet parents are not fully informed about the importance of supplementation with broad-spectrum hemp, containing more than 100 important phytocannabinoids and terpenes. First and foremost, CBD is not the entire story. In fact, CBD is just one molecule and is not a single magic bullet. Focus needs to be on the entire class of phytocannabinoid compounds. We learn from botanical medicine that all the plant constituents are responsible for clinical benefits, not single isolate "magic bullets."  —Gary Pusillo
[Ask lots of questions, such as:]
1.) Where is the hemp sourced, and is it organically grown? Hemp plants are known to uptake toxins, environmental contaminants and pesticides from the soil. This exposure is dangerous for us and for our animals.
2.) Is it an isolate product that contains only CBD, or is it full spectrum, meaning that it contains all the beneficial constituents of the whole plant, including other cannabinoids, terpenes, flavonoids and fatty acids? These naturally occurring components all work together for enhanced benefit and what is called the "entourage effect."
We believe full-spectrum products to be superior to CBD isolate products in the breadth of benefit achieved when utilizing all the constituent parts of the plant.
3.) Are the products third-party tested, and are [the results of those tests] provided? Don't accept anything less, period.
4.) Is the potency and dosing clear and understandable for your companion animal? Do you know exactly how much CBD is included in each dose? Stick with market leaders and recommended companies who offer clear, animal-appropriate dosing.
5.) Is the company a member of the NASC and compliant with its quality standards and guidelines regarding claims, packaging, etc.? 
6.) What is the background and longevity of the manufacturer? Can the company demonstrate they are in this business for the right reason—to improve the health, wellness and quality of life of animals?
7.) Does the company provide training, sales materials and support to help you confidently understand and sell these products?
8.) Are they recommended and distributed by companies you trust? —Heidi Hill
Trade Talk
Steve Smith is president and co-founder of Pet Releaf, a manufacturer of CBD pet products in Littleton, Colo., and a member of the U.S. Hemp Roundtable's four-person U.S. Food & Drug Administration (FDA) committee to represent the interests of the hemp-derived food and supplements community.
What are the latest developments relating to legislation and regulation of cannabidiol (CBD)-based pet products?
The U.S. Hemp Roundtable's FDA Committee [nominated as industry experts by two U.S. senators] has been in constant communication with the FDA, including in-person meetings in Washington, D.C. The task of the FDA is to ensure public safety, not protect the newest fad, so many companies [that manufacture CBD pet products] will not be happy with the regulations that come out in 18 to 24 months.
It appears the FDA will be recommending a hard limit on retail/OTC CBD milligrams per day on feed and supplements. Anything above those limits without comprehensive safety studies will be prohibited. Single-molecule applications such as CBD isolate are receiving skeptical initial responses from [FDA] scientists since those products require technical equipment and expertise to ensure the safety of the public. Nanotechnology has been another area of concern.
Unfortunately, most pet CBD companies are telling retailers that CBD is legal for them to sell in all 50 states. This is wrong and could land an unknowing retailer in a sticky situation with law enforcement. The roundtable's board was instrumental in the passage of the 2018 [Farm Bill] in many states. So, unless a specific state has a law legalizing retail sales of CBD products, retailers are exposed to potential law enforcement action.
The formalized legality and state-specific regulations on a state-by-state basis are truly a constantly moving target. The roundtable has a State Action Center on its website, hempsupporter.com, which has news and updates on CBD laws for the various states.
Retailers may sell legal hemp-derived CBD products online, even if those products are not legal to sell on retail shelves in their state. The best way to know if a CBD product is legal to sell is whether it carries the United States Hemp Association (USHA) seal; a USHA seal guarantees that the hemp is a legally farmed U.S. hemp product and has been processed from seed to sale in a traceable manner. Without the seal, a retailer could face months or years of legal and regulatory headaches trying to prove their CBD was legal under the 2018 Hemp Bill, requiring their various hemp farmers, extraction companies and manufacturer's involvement to prove seed to sale traceability of legality.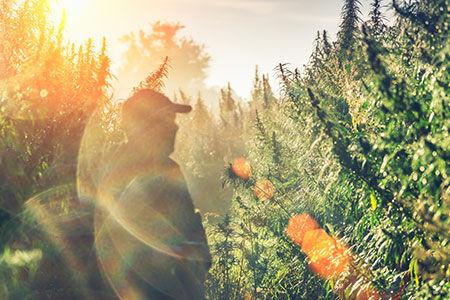 State of Hemp
Several states are dominating in cannabidiol (CBD) farming.
Long before anybody even knew what cannabidiol (CBD) was, hemp was an important American fiber crop, but by the late 1950s, it had been supplanted by synthetic fibers.
Today, hemp is seeing a renaissance as more and more entrepreneurs go all in and as early adopters continue to push demand for CBD products for themselves and their pets.
A Hemp Industry Daily report lists the top five hemp states in 2018 by acreage licensed as Colorado, Kentucky, Montana, Nevada and New York. As of mid-2019, the top five had 80,000, 58,000, 40,000, 9,000 and 5,000 acres under cultivation, respectively.
In 2013, Colorado became the first state since the 1950s to harvest commercial hemp under a 55-acre pilot program. Centennial State politicians look to cement their state's first-in legacy and expand opportunities through the Colorado Hemp Advancement and Management Plan, which will study every aspect of hemp production to develop an even stronger hemp industry along the Rocky Mountain Front.
Former Colorado hemp farmers are expanding into the hemp-friendly states of Oklahoma, Texas and New Mexico.
Hot on Colorado's heels, Kentucky has a storied hemp legacy that predates the Revolutionary War. In fact, from the end of the Civil War until World War I, Kentucky was the only state with a significant hemp industry, reports farmcollector.com. One person well-versed in Kentucky's place in hemp history is U.S. Senator and Kentuckian Mitch McConnell, one of hemp's biggest boosters and the primary driver in getting hemp included as an agricultural crop in the 2018 Farm Bill. The state has tripled its hemp acreage, increased its hemp farmers fivefold, and seen an influx of hemp manufacturers and processors in 2019.
Montana plans to up its hemp acreage to help out farmers who've been hit by tariffs, reduced margins and weather losses. In addition, the governor signed legislation that exempts hemp-processing equipment from property taxes, does away with background checks for hemp farmers and creates a "Montana-grown" certification program. The state looks to attract more processing facilities so that hemp and jobs associated with it can stay in Montana rather than be shipped elsewhere.
Mid-year prices across the top 10 hemp states for 2019 range from $200 to $1,100 per pound for hemp flower and $25 to $120 per pound for whole plant.
Source: Hemp Industry Daily: Cultivation Snapshot U.S. Hemp Supply and Prices