The market for aquarium lighting has shifted in recent years, with LEDs taking the lion's share of sales. While other types of fixtures still have a place on the market, the technology offered by the latest LEDs is winning over hobbyists who are looking for more ways to control and customize their tank lighting. 
"Mostly everybody wants LEDs," said Mathew Amaro, owner of Lil' Shop of Reef's in Woodland, Calif. "They last way longer, and they can pretty much adjust the color spectrum the way they want nowadays."
Though industry participants echoed this sentiment, a few retailers reported recommending other types of lighting, and, for some, T5 fixtures are still popular.  
"Everybody's moving toward LEDs, but hobbyists that are growing the SPS corals and stuff like that, they do want the broad-spectrum lighting so that corals can color up nicely," said Anise Jamal, owner of That Aquarium Place in Spring, Texas. "You still get color from LEDs, but it takes a little while longer versus a T5 shooting out the broad spectrum."
Other types of lights, once popular, are now all but extinct from the hobby.
"Metal halides are pretty much ancient now," Amaro said. "No one asks for metal halides. It's too expensive to run them."
Instead, customers have embraced modern LED fixtures, and, increasingly, they are looking for integrated control options and other programmable features. 
"Consumers are demanding more flexibility and programmable lighting options for aquariums," said Chris LeRose, aquatic division manager at the Hagen Group in Mansfield, Mass. "Consumers want lighting that allows them to program full lighting cycles specific to their aquarium environment." 
While controller features are typically associated with reef-keeping applications, retailers reported seeing more freshwater-planted tank hobbyists seeking them out as well. 
"Integration is a big selling point," Jamal said. "Having the sunrise-sundown modes, having the different spectrum, shooting them at different times, are all popular features. Controlling each LED separately is a big draw for light sales."
New Products
Customizable and Connected
Several new lighting fixtures have caught retailers' and hobbyists' attention this year. 
More hybrid features are appearing on the market. On the freshwater side, fixtures for smaller setups and planted tanks are popular.
"For freshwater applications, we like the Fluval LED lights, the plant spectrum lights that they came out with," said Anise Jamal, owner of That Aquarium Place in Spring, Texas. "Those were really good." 
Hagen's latest release is the Fluval 3.0 LED lighting series. The range includes the Marina, Freshwater and Planted fixtures, and it features linear LEDs with sizes ranging from 18 inches to 48 inches designed for traditional aquariums as well as nano setups.
"All are fully programmable via Bluetooth connectivity," said Chris LeRose, aquatic division manager at the Hagen Group in Mansfield, Mass. "Gone are the days of flipping the lights on in the morning. What started with timers turning lights on and off has evolved into connective lighting apps that allow hobbyists to mimic natural light cycles and weather events for specific types of aquatic settings."
Some customers have moved back to high-output T5s to promote growth. Aquatic Life recently introduced a hybrid fixture that allows T5 fluorescent and LED bulbs to be combined in a single unit. 
"Aquatic Life's T5 hybrid is a beautiful fixture," Jamal said. "You can drop your LEDs in between the T5s along the side, which gives you a broad spectrum of lighting."
The hybrid fixture can help hobbyists get the most color out of their corals while using T5s and LEDs, said Michael Elliott, owner of South El Monte, Calif.-based Lifetime Products, maker of Aquatic Life branded aquarium products.
"Our T5HO Hybrid fixture is a fluorescent fixture that includes different universal brackets to hold the hobbyist's favorite brand of LEDs between the two T5HO fixtures," Elliott said.
"We're seeing [hobbyists] realize that with all LED fixtures, they aren't getting the colors out of the corals they used to see with the metal halide and T5HO fixtures. However, they have spent money on their LED fixtures, so they are looking for an affordable way to add T5HO fixtures back into the lighting mix."
Merchandising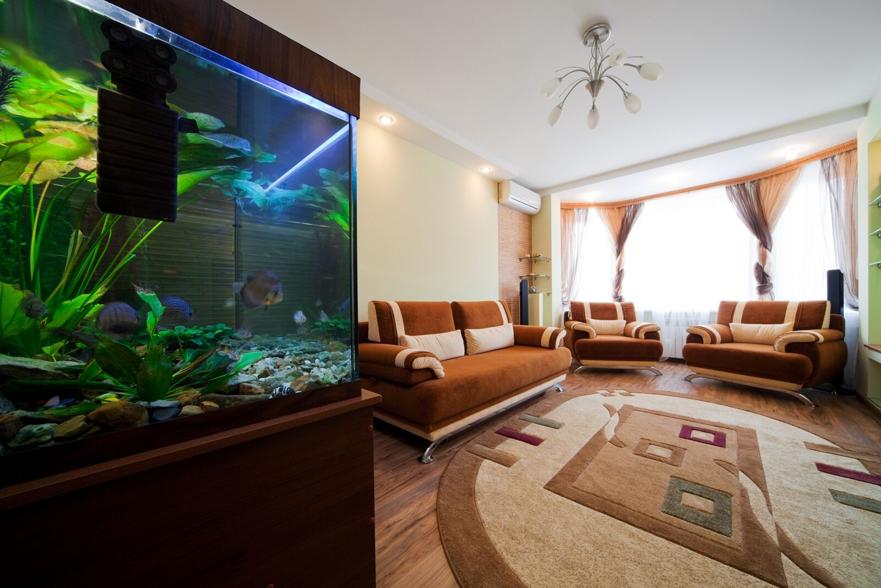 Show and Tell
Though competition is difficult and margins aren't what they used to be when it comes to lighting, pet retailers can stoke sales with creative displays and supportive customer service, said industry insiders.
"We don't really make much money on our dry goods," said Chad Ketchum, owner of Coast to Coast Aquatics in Kissimmee, Fla. "It's a tradeoff. It's not livestock that you have to feed, but you don't make much money on it."
Ketchum said to combat this issue, he shows off what lights look like in-store and focuses on the customer service aspect.
"Our customers tell us that they're more than happy to come here and spend their money just because our customer service beats anywhere else," he said. 
Because livestock and new lighting features are both popular, it can help to combine lights with attractive display tanks and implement their various modes to help drive sales.
"We have our lights set up in store to show customers what the differences are," said Anise Jamal, owner of That Aquarium Place in Spring, Texas. "This helps demonstrate the various features. … Showing the sunrise-sundown modes is a big selling point." 
Competitive Landscape
Hard goods are increasingly difficult to sell for brick-and-mortar aquarium stores, according to industry participants. 
"Customers either buy or they don't," said Shane Billmyre, owner of Caye's Aquarium in Portland, Ore. "Normally, if you're strong in one area, then you don't [care] about the others really. You have to have a strength somewhere. Our strength has always been livestock. There's a lot more profit margin in livestock than there would ever be in a dry good product."
Competing on price isn't always feasible, but retailers have success making the difference back in superior customer service. 
"It's hard with dry goods, because anybody can go online and buy anything for a fraction of the price," said Mathew Amaro, owner of Lil' Shop of Reef's in Woodland, Calif. "It's kind of crazy. Some people can buy it online for what I can buy it for. Usually, I just tell them they're only going to get so much customer service online. If something goes wrong with your tank or you need some help setting it up, they're not going to ever help you. That's why you come to a fish store."
In some cases, the answer might be to hold fewer products on shelves and wait for orders to come in.
"We do a lot of special orders," Billmyre said. "But on-shelf, on-hand, it takes too much money to hope for a buy, especially when there are too many variables."  
However, every local market is different, and, in some cases, retailers reported hard good sales are still strong, as brick-and-mortar stores continue to leverage their unique advantages over big-box and online-only retailers.
"It's really not difficult to sell lights," said Anise Jamal, owner of That Aquarium Place in Spring, Texas. "Around 85 to 90 percent of people still want instant gratification. Plus, if they buy it from a store, we can help them set it up and show them what the light does and what it's about. They can ask those questions. They know they can ask online, but it's usually faster and easier to just buy the light upfront."