The aquatics industry is experiencing strong growth driven by a rise in interest in the hobby. As many consumers have been stuck at home in the midst of the coronavirus pandemic, they have turned to aquarium keeping in large numbers, retailers reported. Because aquatics retailers were labeled essential businesses, both livestock and dry goods sales have grown substantially, including lighting and related equipment for aquariums. Demand for both freshwater and marine systems has been strong.
"We've definitely seen an increase in sales," said Bruce Boziel, manager of Aquatics Unlimited, a retailer in Greenfield, Wis. "It was kind of strange when the whole pandemic started. Our weekend traffic started slowing down, and we weren't really sure what was going on. Then all of a sudden, both weekend and weekday foot traffic started to skyrocket. The weekdays were bypassing the weekends. People were just shut in at home and wanted something to do. We had to actually limit the number of people in the store."
This trend has helped boost sales in the lighting segment.
"Both freshwater and marine lighting sales are up," said Ike Eigenbrode, chief of operations for Current USA and Ecoxotic, aquatic manufacturers in Vista, Calif. "Whenever there's a downturn in the economy and people are staying home, we see more of an uptick in the aquatics industry. People don't want to go out, they can't go out, they're quarantined, they need to relax, and they need to unwind. A lot of them are turning to the hobby, and our industry is doing really well as a result."
As demand for all aquatics products has risen, some retailers have experienced difficulty with shipments and keeping dry goods in stock.
"Things have been booming, actually," said Daniel Griffin, manager of Top Shelf Aquatics, a retailer in Winter Park, Fla. "The pandemic has impacted sales overall, but lighting sales have definitely gone up. We've sold a lot of fixtures. We've had to work to keep stuff in stock. Some of the production seems to be getting back up, but for a while there, it was hard to get a lot of the lights."
Distribution issues have substantially impacted tank availability, which sometimes directly affects lighting sales, as many customers purchase lights at the time of tank purchase.
"Shipping from different areas around the world has been a huge problem, and costs have been a huge problem," said Marcye Sweeney, owner of Sea in the City, a retailer in Orlando, Fla. "A lot of people are actually buying used tanks and are just waiting, hoping some of the pricing comes down once airlines and shipping re-establish themselves. I'm seeing a lot of the distributors are getting stuff back in stock now. It has been really hard to get some of the products we normally always have and sell. It's definitely been a problem in the lighting segment. We had a really hard time getting any of the [EcoTech Marine] Radions for a while."
The recent trends driving sales growth are occurring against the backdrop of a long-term shift in the aquarium hobby. Aquarists are increasingly interested in keeping plants and animals that require high-intensity lighting, which is also fueling demand for quality lighting products.
"Hobbyists absolutely are gravitating toward systems that require better lighting," said Will Garnett, owner of Palmetto Reef, a retailer in West Columbia, S.C. "If you're going to keep coral, you want them to grow. The best thing that you can do for your corals is to get the best lighting. You want color. Color is everything. So whatever the best hue of blue is in combination with what promotes the best growth, that's what everyone's after."
Upping the Intensity
As demand for higher-intensity lighting with greater levels of controllability has continued to grow, lighting manufacturers have responded to the shift in this segment of the aquarium hobby.
"Consumers are looking for a tech-infused product that allows for customization as well as value from a brand they can trust," said Johnathan Hester, aquatics brand manager for the Hagen Group, a manufacturer in Mansfield, Mass. "The aquatic lighting segment will continue to follow current trends by incorporating technology and additional controllability."
There are several new fixtures and lines being introduced to meet this demand, retailers reported.
"Maxspect released a brand-new, more intense LED in the R420r line," Boziel said. "I carry AquaIllumination fixtures, and EcoTech Marine offers the most cutting-edge lighting right now. It's at a higher price point, but the lights can do a lot more. Aquarists can do pretty much anything they want with it and it's got a lot more intensity, so you have to be a little careful with it. You can actually singe corals if you're giving them too much light."
EcoTech recently launched Generation 5 of its Radion line, said Jay Sperandio, sales director for the Allenton, Pa.-based manufacturer. The G5 lineup still includes the 30 and 15 platform fixtures, but now each fixture is split into a Pro and Blue version.
"The Pro continues with the LED/spectrum mix that has made the Radion so successful," Sperandio said. "The Blue is also full spectrum, but leans more heavily towards an LED and spectrum based on a favorite preset color from the last model, [G4] Pro, allowing more power to be put into a forgiving yet proven spectrum that is more blue in appearance. While both model variants are full spectrum, the product line caters more effectively to different user preferences in our customer community."
At one time, separate control units were growing in popularity. Now, however, many consumers are seeking light fixtures controlled via app.
"Everyone's going for [fixtures with] app control," Eigenbrode said. "App integration is huge right now. … We have a high-powered marine light coming out and some modular LED lights as well. Everything that we have is pretty much going Bluetooth."
The quality of LED fixtures continues to improve, with higher intensity and more innovative configurations meeting customer demand for a light that can do everything.
"The newest, most interesting stuff right now is Radion's most recent upgrade," Griffin said. "The Gen 5 Radions have really upped the game in terms of the number of LEDs, how they're spread and the quality of the light. People using them make a lot of comparisons to the effect of running a combo LED-T5 fixture, but just with LEDs. That's probably the most exciting innovation in recent years."
Product integration is also important to consumers, and some have expressed preference for hybrid fixtures and integrated systems.
"We stock the combination Aquatic Life T5 hybrid fixture," Garnett said. "That pretty much has any kind of mount that you can combine with any LED."
Garnett has also had success with products in Red Sea's new lighting line.
"We like the Red Sea LEDs that they released recently," he said. "The Red Sea 90s are great for a beginner. It's very easy to use. It's almost to the point where you cannot bleach your coral or overdo stuff. They simplify it."
Lighting effects are also popular, and some manufacturers are integrating lighting and sound to produce a combined sensory experience.
"It isn't about effects," Eigenbrode said. "It's more subtle. You can watch clouds roll across the aquarium. The LED chips that we use in our lights are individually controlled. You can change the color of your background light to make it look like a sunset. And then you might have a gentle rainstorm or wave sounds playing, among other sounds, but they're all binaural. … There's a lot to say about color therapy. And when people stare at the aquarium, those colors make them feel a certain way. And the binaural audio just adds to it."
Merchandising
Offer a Comprehensive Assortment
Carrying variety and having aquarium lighting products in stock are essential elements to driving sales at retail. In-store displays can help, too.
"Utilize displays from manufacturers," said Johnathan Hester, aquatics brand manager for the Hagen Group, a manufacturer in Mansfield, Mass. "Make sure to stock multiple price points in-store."
Running lights over display tanks is the most important part of merchandising lighting.
"We try to run different lights in our display systems," said Daniel Griffin, manager of Top Shelf Aquatics, a retailer in Winter Park, Fla. "That way, people can see how coral look under them and how they grow. That's an issue too. There are lights we don't offer because corals don't look the same under them."
Griffin noted that consumers are often resistant to buying high-end lighting because of the price tag, but once they do, they get results.
"And then they finally upgrade," Griffin said. "And they had no idea. The light makes their tank look so much better. We do try to have everything here so people can see how the brands perform and see what they're going to look like."
Livestock effectively drives lighting sales, retailers reported.
"If a customer comes in and they like the way our corals look, then the light those corals are growing under is what that customer should take home," said Marcye Sweeney, owner of Sea in the City, a retailer in Orlando, Fla. "Livestock helps sell the light. … Customers come in and experience that wow factor. When that happens, obviously corals and other animals are going to sell your products."
There is a fixture for every system and configuration, and carrying a wide selection is essential to meeting customer demand.
"You want to have variety," said Will Garnett, owner of Palmetto Reef, a retailer in West Columbia, S.C. "Every big reef tank we have in the store is under a different set of lights. We have Kessils, [EcoTech Marine] Radions, [including] the Generation 5 hybrid fixtures, Reef Breeders and AIs [AquaIlluminations] up and running."
Education also plays a role, as lighting features increase in complexity and customers come in to local fish stores with questions.
"Take the time to understand what customers are looking for and help them through the perceived complexities of the equipment," said Jay Sperandio, sales director for EcoTech Marine, a manufacturer in Allenton, Pa. "Present information about how lighting can help customers achieve their goals. This allows retailers to be valuable partners to aspiring hobbyists."
Assessing the Competition
A Boon for Brick-and-Mortars
Where dry goods sales have presented a challenge for many aquatics retailers in the recent past, several factors have converged to turn this trend around, and retailers are enjoying a competitive advantage in the lighting segment.
"I haven't heard any [retailers] complaining about online competition," said Ike Eigenbrode, chief of operations for Current USA and Ecoxotic, aquatic manufacturers in Vista, Calif. "I'd say the one challenge has been that there are not a lot of international flights anymore [due to the coronavirus pandemic]. Some retailers have had issues being able to get fish and corals. But otherwise everybody's been busy."
In many cases, retailers can now compete on price point with online retailers to some extent.
"Our prices are competitive enough with internet-based retailers, where customers' desire to pick stuff up right away usually wins out," said Bruce Boziel, manager of Aquatics Unlimited, a retailer in Greenfield, Wis. "That helps us more than anything else. Sometimes the price point is better [online], but people will look on the internet and see the price of an AI [AquaIllumination] Prime HD, for example, and they'll come in here and check the price and decide to buy it from us that day."
Superior customer experience and after-purchase support are also important factors driving customers back to brick-and-mortar aquarium stores for dry goods purchases.
"Consumers are getting a little more circumspect," said Daniel Griffin, manager of Top Shelf Aquatics, a retailer in Winter Park, Fla. "People want a warranty. They want customer support. They want backup on this equipment. After-purchase support is a definite issue. It's appealing to customers."
Manufacturers that enforce minimum advertised pricing (MAP) have also helped independent pet retailers with the competition.
"Support brands who enforce MAP pricing," said Johnathan Hester, aquatics brand manager for the Hagen Group, a manufacturer in Mansfield, Mass. "It ensures a level playing field for everyone."
Combining availability, competitive price points and super service has allowed retailers to shift demand back in their favor. Coupled with increasing demand for all aquatics products, the trend in the lighting segment is up right now.
"There are certain products that you can't buy on Amazon," said Will Garnett, owner of Palmetto Reef, a retailer in West Columbia, S.C. "You can only get them from stores, such as Red Sea lights. The MAP pricing helps a lot. … We don't have to worry about someone else beating the MAP price online. We are going to offer the best deal customers can get. And we're the only outlet that has the product when customers want to buy it."
---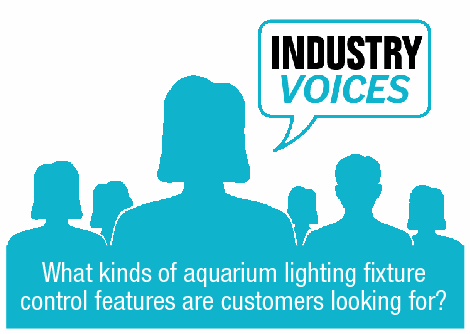 "Lately, I've had more customers interested in lighting with less technology. These have tended to be older clientele who are looking for plant lights or whatever. They don't want the apps. They want a light that they just plug in with a preset program and they're all ready to go."—Bruce Boziel, manager of Aquatics Unlimited in Greenfield, Wis.
---
"Without integrated app control, you need an extra piece of equipment and you don't have as much controllability…I think that's where AquaIllumination has excelled, at keeping that price down, coupled with that mobility and quality of the light. Red Sea has their new lights out as well. They are controlled through Wi-Fi. It may be the case that because Bluetooth [systems] have less issues with stability, manufacturers are leaning towards them."—Daniel Griffin, manager of Top Shelf Aquatics in Winter Park, Fla.