The market for pet treats and chews remains steady, with manufacturers and retailers reporting success with chews made from novel body parts and proteins, as well as treats that contain minimal ingredients and fillers.
"For PureBites, our business has been consistently up for five years, double digits and over," said Marc Cathcart, president of Vaudreuil-Dorion, Quebec, Canada-based Pure Treats, maker of PureBites treats.
Michael Dan, owner of RedRidge Pet Market in Richmond, Va., also reported success in the category at retail.
"Chews and treats have progressed in an upward direction," he said.
Consumers seemingly have unlimited options when it comes to treats and chews, and unexpected ingredients, flavors, shapes or parts can help products stand out on the shelves.
For example, Ziwi USA offers Lamb Trachea Oral Health Chews.
"We find that pet parents tend to gravitate toward lamb or venison products, due to their desire to feed more novel proteins," said Mary Helen Horn, president of the Overland Park, Kan.-based company.
When shopping for chews, many pet owners aren't just looking for a snack. They often want products that are long-lasting and stimulating and that will hold their pet's attention.
"Chews are generally providing a more consistent engagement over many toys currently available," Dan said. "Dogs and cats seem to enjoy them more and maintain their interest for longer periods of time."
Dallas-based QT Dog sells chews ranging from deer antlers and water buffalo horns to hog hides and Churpi Chews made from Himalayan yak milk.
"Deer antler, hands down, is the longest-lasting all-natural chew on the market," said Mike Thomas, vice president of development.
Buffalo Hornz, however, are the manufacturer's biggest seller.
The horns are "inexpensive and super durable," Thomas said. "It's 'everyman's' antler."
Ziwi's most durable and most popular dog chew is its Deer Shank Dog Bone, according to Horn. The deer shank bone is wrapped in beef esophagus, "which gives it an extra boost of flavor, plus an interesting variation in texture that dogs really enjoy," Horn said.
A clean ingredient label is a big factor consumers consider, especially for pets with food sensitivities or allergies.
Tina Stuck, owner of Paws Up 4 You in Princeton, Minn., said her customers are looking for single-protein treats rather than products that contain multiple meat sources.
Pure Treats sticks to putting just one or two ingredients in each of its treats. The company offers 10 different freeze-dried protein options for dogs and 13 for cats.
Cathcart said owners whose pets have food sensitivities or allergies often seek treats that contain the same proteins as the pet's regular diet, and retailers should stock accordingly.
"If a dog or cat has an allergy to chicken … the pet parent can match their food with their treat," Cathcart added.
On the Market
Something New to Chew
To meet the demand for pet treats, manufacturers are offering treats and chews in tantalizing flavors and making them with minimal ingredients.
QT Dog in Dallas recently introduced Texas Tuff Treats, which are made from Texas feral hog hide. Mike Thomas, vice president of development, said the company is also rolling out Texas beef skin chews. The chews are made with no chemicals or preservatives.
"This stuff is minimally processed, super paleo," Thomas said. "It still has remnants of the hair because we don't use any lye or chemicals to make it pretty … These are simply cut and slow-dried, and are not a rawhide item. They are super palatable and digestible."
Pure Treats, based in Vaudreuil-Dorion, Quebec, Canada, released two new single-ingredient treats for dogs last year. Its PureBites Beef Jerky treats are made with Canadian-sourced beef, while its freeze-dried PureBites Salmon treats are made with wild-caught U.S. salmon.
"For pet parents looking for that clean ingredient label, that's the peace of mind we're able to give them in all of our treats," said president Marc Cathcart.
The company also introduced two freeze-dried treats for cats. PureBites Wild Tuna and PureBites Minnow treats are sourced in the ocean and made in the U.S. The fish are freeze-dried raw with no preservatives to lock in aroma and flavor, resulting in treats that are high in protein and low in calories, Cathcart said.
PureBites Minnow treats are especially unique in composition and shape, Cathcart said, adding that they break apart easily and that cats enjoy playing with them.
"All they are are freeze-dried baby fish," he said. "It's still early, but pet parents seem to be loving them. They're quite popular for us."
Ingredient Trends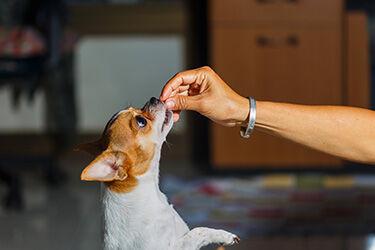 Keeping It Simple
Retailers and pet owners have a plethora of options to choose from when stocking the shelves of their stores and pantries.
"We have a variety of best-selling treats," said Michael Dan, owner of RedRidge Pet Market in Richmond, Va. "Everything from bully sticks to [Earth Animal] No-Hides. Cats seem to really enjoy the bonito varieties [of treats] that are available."  
Dan has also noticed consumer interest in cricket proteins.
With so much diversity on the market, even owners of pets with sensitive stomachs or allergies have plenty to choose from.
"There are currently many exotic proteins offered that help the allergy-suffering pets," Dan said. "Things like kangaroo and water buffalo, but salmon is still king. Aside from omegas, the hip, joint and cardiac benefits coupled with DHA make it a great addition."
PureBites Salmon treats are among Pure Treats' 10 freeze-dried protein options for dogs, along with PureBites Ocean Whitefish. Although fish might be more traditionally associated with cats, Marc Cathcart, president of Vaudreuil-Dorion, Quebec, Canada-based Pure Treats, noted that dogs can reap its skin, coat and other benefits just the same.
The company keeps it simple when developing new products, Cathcart said. Pure Treats only considers options with just one or two ingredients, and then it runs trials to see if they appeal to even the pickiest eaters.
"Before we launch any products, especially for cats, we like to test them," he said. "… We take a subsection of 20, 30 or 40 cats, and we scientifically test against other treats [to see] if they'll eat it and how much they'll eat."
PureBites Chicken Breast and PureBites Wild Salmon are Pure Treats' best-selling freeze-dried treats for cats, while tried-and-true PureBites Beef Liver and PureBites Chicken Breast are its top sellers for dogs, Cathcart said.
Ziwi USA also sticks to short ingredient lists for its dog chews. The Overland Park, Kan.-based manufacturer released four single-protein chews at SuperZoo in Las Vegas last year: Lamb Trachea, Lamb Tripe, Lamb Drumsticks and Beef Weasand.
"Their unique product choices tend to catch customers' eyes while searching for something new and exciting for their furry family members," said Rose Casesi, Northeast senior territory manager for Ziwi.
Ziwi's Oral Health Chews lineup also includes Deer Hoofer Dog Bones and Deer Shank Dog Bones. All of its chews are sourced and air-dried in New Zealand.
"New Zealand is free of many common livestock diseases, so animals are raised without routine use of antibiotics, and they aren't given hormones or growth promotants," Casesi said. "Best of all, they are able to live free-range in grass pastures throughout their lifetime."
Merchandising
Packaging, Product Placement and Promotions
Standout packaging, displays and signage are key to drawing attention to treats and chews, especially in stores with a large assortment of products.
Ziwi USA in Overland Park, Kan., designs packages that feature New Zealand's oceans and mountains, which helps catch customers' eyes, said Northeast senior territory manager Rose Casesi.
"Ziwi chews have super-versatile packaging," she said. "Their bags allow retailers to hang them on peg boards, free stand on shelving units, and even lay flat as there is a graphic on the bottom of the bag." 
This kind of versatility gives retailers the option to get creative with product placement.
At RedRidge Pet Market in Richmond, Va., treats are displayed throughout the store, rather than all together in a single section.
"Many times they are positioned with corresponding items for cross-promotion," said owner Michael Dan.
Pure Treats, maker of PureBites treats in Vaudreuil-Dorion, Quebec, Canada, distributes its treats at set price points, which the company calls entry, midsize, value and supervalue.
"The retailer can choose the different price point that they want to hit depending on the market," said president Marc Cathcart.
The set price points allow retailers to mix and match different treats and "slap one price point on," he said. They also make it easy to run buy-multiple promotions.
The company offers floor stands that take up about 18 inches of floor space.
"Retailers can get started or put something at the front of the store and sell everything at $4.99 or $9.99," Cathcart said.
Standalone displays also work well for QT Dog's products, said Mike Thomas, vice president of development for the Dallas-based company.
QT Dog sells its Buffalo Hornz in five sizes and offers retailers a standalone display that holds 60 chews, with 12 of each size.
But some retailers prefer to handle display and signage on their own.
"We do [the signs] ourselves, and we change them constantly," said Tina Stuck, owner of Paws Up 4 You in Princeton, Minn.
Stuck said the store carries an assortment of about 150 treats and 150 chews, and it runs promotions monthly.
"We run 30 percent off for chews for a month, then we'll run 30 percent off treats for a month," she said. "For some reason it works better than 25 percent. I think it's more of a unique number."