Retailers report steady sales of pet training and behavior products, with a potential uptick in category sales anticipated around the holidays.
"Usually around Christmastime, when people get a new puppy or once school gets out are the best times [for selling these products]," said Miles Hardy, owner of Pet's Choice, a pet specialty store in Kokomo, Ind.
Pet owners want products that make training simple, intuitive and successful, said Jennifer Vargoz, director of the active and training solutions division of Arlington, Texas-based Petmate, which makes training collars, pads and other training products.
"From our experience, pet parents are seeking solutions that make their relationships with their pets easier and more rewarding," she said. "Behavioral concerns can lead to stress in the home and distract from the joy and companionship that pets can bring to our lives."
The training and behavior category is so diverse because it's rare to find a one-size-fits-all solution for every type of pet and pet owner, said Trenton Langston, training and bark category manager for PetSafe, a brand of Radio Systems Corp. in Knoxville, Tenn., which offers training collars, mats and other products.
"There are the traditional training and behavior products we may think of, such as bark collars, remote trainers or in-ground fences, but there are also products that we may not think of as training products that still fill that functional role for pet parents," he said.
Rather than focusing on any specific trend, PetSafe aims to offer a wide range of solutions, Langston explained. Take, for example, an owner whose dog pulls on its leash.
"One solution is a no-pull harness, but another may be a remote trainer where they can teach the dog how to walk off leash completely," he said. "And when they go to shop for a remote trainer, they'll find more options. Maybe they have a large dog who needs static correction to get his attention, or maybe they feel like a spray trainer better aligns with their values."
Controlling Barking and Other Unwanted Behaviors
The No. 1 behavioral issue dog owners are trying to solve is excessive barking, said Debbie Fazica, owner of Pet X Supplies & Tack in Howell, Mich.
Langston said static-correction bark-control collars continue to be the best-known solution among customers, but they aren't the only one.
"We want pet parents to know that there are any number of barking solutions out there, including ultrasonic deterrents and our new PetSafe Spray Bark Collar," he said. "This collar uses a light citronella or unscented spray to kindly remind your dog when it's time to be quiet."
Fazica said the Pet Corrector from Company of Animals is her store's best-selling bark-control solution.
The Pet Corrector is a spray canister of compressed air that creates a hissing sound to grab the dog's attention so the owner can redirect the pet's behavior.
"For any bark-control method, it's good for pet parents to try to understand why their dog is barking and the stimuli that drive him to bark," Langston said. "After introducing a dog to a bark-control device, pet parents can help teach their dog to not react to that stimuli."
Redirection is key to preventing unwanted behaviors from cats—such as scratching furniture. Scratchers provide cats an appropriate place to scratch and groom their claws, Vargoz said.
Many of PetSafe's cat products are focused on cat-proofing the home, Langston said. For example, the SSSCat Spray Pet Deterrent and Pawz Away barriers are designed to keep pets away from "off-limits" areas such as countertops or furniture.
"The SSSCat Spray is motion activated, so it detects when your pet is within 3 feet of an 'off-limits' area and will dispense a quick burst of odorless spray if they get too close," Langston explained.
PetSafe's Pawz Away barriers use a collar to activate a tone or static correction when the pet approaches a certain area. Both indoor and outdoor barriers are available, and the collars are compatible with some of the company's in-ground fences.
"We consider almost all of our products to be 'pet tech' in one way or another," Langston said. "The key to having an effective product, though, is ensuring that it meets an actual need and isn't just technology for technology's sake."
The PetSafe Smart Dog Trainer allows owners to train their dogs right from their smartphones.
"A decade ago, smartphone-integrated products were only in their infancy," Langston said. "Now, people expect to see tech-based solutions that are compatible with phones, voice control, etc. With the Smart Dog Trainer, incorporating smartphone technology into a remote training system made a lot of sense."
The Smart Dog Trainer app and waterproof collar are used to stop behaviors such as jumping, digging and chasing. The system includes tone and vibration correction options, as well as 15 levels of static correction, all controlled through the owner's smartphone.
"With remote trainers, dog parents obviously need to have a remote," Langston said. "In most cases, we design handheld remotes specifically for that use, but many dog parents also have their smartphone within arm's length. So, it makes sense that pet parents would have a device that allows them to incorporate training seamlessly throughout their day, wherever they are."
New and Established Solutions
As the year winds down, Petmate is introducing three new training products to its Brandon McMillan line: the Soft Sounds Martingale collar, which uses soft sounds to redirect the dog's attention without using a chain; the 3-in-1 Training Leash, which converts from a collar and leash to a harness or a headcollar-style leash; and a treat pouch that is designed to hold training tools and treats, Vargoz said. McMillan is a canine behaviorist and trainer and the host of CBS' "Lucky Dog" TV show.
"The full line of Brandon McMillan products will be available at the end of 2019 and creates a full offering of product designed to help pet parents achieve the success and results of training at home," Vargoz said.
Blue-9 Pet Products in Maquoketa, Iowa, offers an in-home dog training system that focuses on redirection. The Klimb Dog Training Kit includes a platform and step-by-step training video. Dogs are taught the Klimb platform is "their place" and to associate the platform with praise and reward, said business development manager Jamie Popper.
Popper said the Klimb is used to redirect behaviors such as jumping, begging and barking.
"The Klimb Dog Training Video covers how to train your dog to go to the Klimb Dog Training Platform and stay there, even in distracting or exciting environments," Popper said. "Training an alternate behavior—go to your Klimb and stay there—is much easier than training a dog not to jump, beg or bark."
Blue-9 Pet Products also offers a Canine Conditioning Video that guides owners through more than 40 exercises to guide their dogs through using the Klimb, as well as a six-point adjustable Balance Harness that ensures a proper fit that allows for freedom of movement, safety and comfort, Popper said.
Assortment Optimization
Cast a Wide Net
Because the training and behavior products category is so diverse, it's crucial that pet specialty retailers optimize their assortment to meet an extensive range of customer needs and wants.
"Retailers can help meet customer needs by ensuring that they're offering a wide array of solution options: everything from different types of correction methods like static or spray to products geared specifically for dogs of different sizes to different pet temperaments like stubbornness to ease of use for the pet parent," said Trenton Langston, training and bark category manager for PetSafe, a brand of Radio Systems Corp. in Knoxville, Tenn., which offers training collars, mats and other products.
Products that have multiple functions are likely to sell most successfully, said Jennifer Vargoz, director of the active and training solutions division of Arlington, Texas-based Petmate, which makes training collars, pads and other training products.
"A dedicated training section with the right product mix goes a long way to helping consumers make product purchase decisions," Vargoz said. "Simplified messaging, which takes the intimidation out of training your pet, is key."
She said products such as those in Petmate's Brandon McMillan line are important to keep in stock, along with quality treats as well as other training collars, leashes and harnesses.
Jamie Popper, business development manager for Blue-9 Pet Products in Maquoketa, Iowa, also emphasized the importance of offering quality harnesses.
"Many harnesses on the market work against dogs' bodies and restrict movement," she warned.
Popper also recommends retailers carry training treats that are "small, soft and highly palatable."
Miles Handy, owner of Pet's Choice, a pet specialty store in Kokomo, Ind., said he stocks a variety of training treats, along with traditional training products such as dog whistles and clicker trainers.
"Treat bags are very important because we like positive reinforcement," he added.
Smaller stores can make the most of their space by stocking a wider range of training products in smaller quantities.
"Just keeping a good selection is key," said Debbie Fazica, owner of Pet X Supplies & Tack in Howell, Mich. "I would rather have one of a lot of different things than a bunch of two to three items."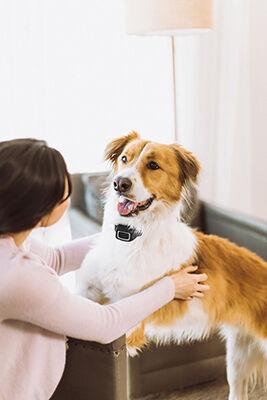 Consumer Education
Train Owners to Train Their Pets
Manufacturers offer instructional videos and other methods to help pet owners be successful in their training efforts.
Through consumer education, Petmate in Arlington, Texas, aims to give pet owners the tools to train their dogs using the same methods as the professionals, said Jennifer Vargoz, director of the company's active and training solutions division.
"Educating the consumer and giving them the confidence to know that they can resolve these issues and create a successful relationship with their dog is our No. 1 goal," she said. "Once a pet parent feels confident in the results of their training efforts, they are more likely to stay the course and resolve the sources of stress created by bad behaviors."
In partnership with trainer Brandon McMillan, host of CBS' "Lucky Dog" TV series, the company provides instructional videos as companions to its training products.
Similarly, Blue-9 Pet Products in Maquoketa, Iowa, includes a demonstration video in its Klimb Training Kit that walks pet owners through the training process, and the company also posts shorter instructional videos to its YouTube channel.
Business development manager Jamie Popper said using the Klimb in group training classes is a great way to teach customers about the product.
She encourages independent retailers that don't offer training in-house to network with local trainers that they feel comfortable referring customers to.
"Having a referral network is not only a benefit to your customers, but often those trainers use and recommend products sold in your store," Popper said. "It can be a win-win for everyone."
Popper said retailers can find certified trainers in their area by visiting the Certification Council for Professional Dog Trainers' website, ccpdt.com.