Consumer confidence in foods that are sourced and made in the USA continues to rise, creating higher demand for these products. Dog owners want to know where their pet food is coming from.
"Made- and sourced-in-the-USA pet food gives the consumer confidence that they are getting high-quality food for their pet," said George DiGuido, owner of NYC Pet in Brooklyn, N.Y. "Pet parents humanize their pets as their kids, and with the evolution of the pet becoming more and more the 'child' of the family, people are much more concerned about food, nutrition, and quality of ingredients and processing."
Nichole Nonini, marketing director for Plato Pet Treats in Fresno, Calif., said the fact that food products that are sourced and made in the USA help the economy is another driving force behind the trend, which has allowed it to thrive.
"It also allows for full traceability of ingredients, enabling each pet owner to trust the brands that are being transparent," Nonini said. "If they know it is sourced in the USA, they know the standards for the Association of American Feed Control Officials are always becoming more rigorous. Low-quality fillers, byproducts and mystery ingredients aren't the standard for our pets anymore. Super-savvy label readers will pay what it takes to ensure their dog has a wholesome diet from brands they trust."
Vanessa Quick, director of sales at Purpose Pet Food in New York, said that there is a higher standard of quality that comes with a "Made in the USA" label.
"To go a step further, the additional designations of being a quality and humanely raised food hold more weight when sourced in the U.S.," Quick said.
At Pioneer Pet Feed & Supply in Seattle, owner David James said he is a big proponent of selling local products such as Woodinville, Wash.-based Grizzly Super Foods.
"People feel good about buying food products that were made in the USA and will continue to do so," James said.
Adrian Pettyan, CEO and co-founder of Caru Pet Food in Vero Beach, Fla., added that although there's no question the trend remains fueled, in part, by memories of past product recalls, there's more to it than fear alone. It's an overall desire for better quality.
"It also reflects what is currently happening with prepared human food," he said. "Consumers want not only safer but healthier products for every part of their family—and that certainly includes their pets."
Assortment Optimization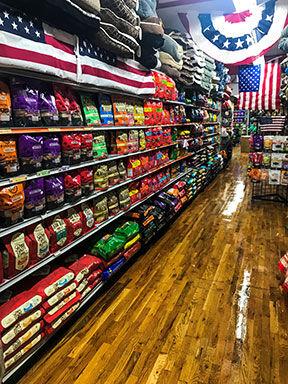 Selecting the Right Mix
Getting a quality selection of products is becoming increasingly easier as more and more foods are being sourced and made in the USA. Still, because U.S.-made food items are typically found in various aisles, it can be tricky to determine the ideal mix for each section, said Adrian Pettyan, CEO and co-founder of Caru Pet Food in Vero Beach, Fla. Pettyan advised that pet specialty retailers pay close attention to the lifestyles and preferences of their customers before deciding which products to carry and where to place them.
"Having a full line of products on the shelf offers a solution or options for pet parents," said Dan Schmitz, national sales manager of KLN Family Brands in Perham, Minn. "From dry kibble to canned products and, of course, treats, customers will become loyal when they trust a company and the product performs."
Nichole Nonini, marketing director for Plato Pet Treats in Fresno, Calif., agreed.
"Remember, a lot of dogs have special diets and/or needs," she said. "Try bundling treats with food purchases that are of equal caliber. If you work hard to keep your dog's diet healthy, it's just as important to feed high-quality treats."
Being knowledgeable about the products in the store can also help retailers optimize their assortments.
"The more knowledgeable you are about the products you carry, the better the customer will feel about visiting your store," said Robert L. Downey, president and CEO of Annamaet Petfoods in Telford, Pa. "With about 5,000 new pet products being introduced per year here in the U.S., it is getting harder for the consumer to understand the overwhelming product selection facing them. But a well-educated retailer can really help the consumer find the right product for their pet."
Merchandising
Showing American Pride
Nichole Nonini, marketing director for Plato Pet Treats in Fresno, Calif., said that an effective display—one that shoppers can get excited about—begins with a retailer's enthusiasm for the category.
"Consumers pick up on the importance of [retailers'] recommendations," Nonini said. "Made in the USA signage paired with American-themed props allow the customer to instantly connect a product as being made here in the U.S. High-traffic endcaps, front-window displays or counters with USA-made brands are great placement opportunities to showcase the category."
NYC Pet dedicates entire aisles in its stores to made in the USA products, reported Alina Marsch, operations director for the Brooklyn, N.Y.-based business.
"It draws attention to the product category and shows the recognition it deserves," she said.
Marsch said that since creating more aisles and window displays with a made in the USA theme, NYC Pet has received positive feedback and increased interest in the category.
While displays can generate some excitement, Denise Strong, co-owner of Pawz On Main in Cottonwood, Ariz., said that at the end of the day, nothing beats a one-on-one conversation with customers about why the made in the USA designation is important.
"You can hang signage everywhere, but it's those conversations that really make a difference," she said. "Spend time with your customers and educate them on why buying foods that are made and sourced in the USA is important. I emphasize that last part because I find a lot of my customers aren't aware that just because a food is made here doesn't mean it was sourced here. These are opportunities for education."
New Products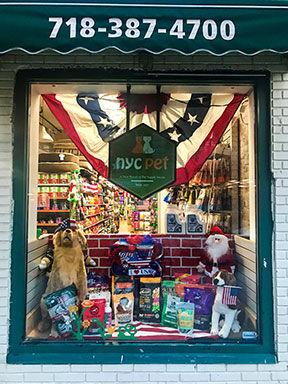 Formulas to Watch
Plato Pet Treats in Fresno, Calif., is adding a formula to one of its top-selling treat lines. Because vegetables are an important part of a dog's diet, the company has partnered with local farms to source fresh pumpkin, sweet potato and carrots for its Veggie Thinkers formula, the manufacturer reported. The product will launch at Global Pet Expo in Orlando, Fla., this month in an 8-ounce and single-serving size.
Caru Pet Food in Vero Beach, Fla., recently added two flavors to its Daily Dish Stews for dogs: Turkey and Turkey with Wild Salmon.
This month, Annamaet Petfoods will introduce Annamaet Ohana at Global Pet Expo. Annamaet Ohana is a grain-free puppy food that is Marine Stewardship Council certified. It is fortified with a stable and sustainable source of DHA. In addition, Ohana has marigold extract as a source of lutein, which is known to support the canine immune system, said Robert L. Downey, president and CEO of the Telford, Pa.-based company.
Annamaet will also debut Re-juvenate at Global Pet Expo. It is a grain-free senior formula that will contain turmeric, said to be one of the most potent natural anti-inflammatories available, Downey noted.
This year, New York-based Purpose Pet Food, which launched last summer, will add two more dog food formulas, two treat flavors, and a food formula for cats to its product assortment.