Pet products for cold weather and those with holiday themes are becoming more popular with pet owners, according to both manufacturers and retailers involved in the categories.
"Dog owners are definitely looking at more seasonal and holiday products for their pooches, and those that have a winter or holiday theme are really trending upward," said Mark Watkins, sales manager at ZippyPaws in Chino, Calif. 
Susan Traub, president of Royal Animals in New York, has seen an increasing number of people buying apparel for their pets, especially for winter.
"Pets are treated as family members and wardrobed equivalently," she said. "We are also seeing an increased emphasis on fashion combined with functionality. The pet must look good while wearing apparel that protects from the elements. Utilitarian alone is no longer sufficient for the modern pet owner."
Sally Adams Trufant, general manager at B&B Pet Stop in Mobile, Ala., noted that even though her store is in a region where winters aren't very cold, sweaters are still trending. 
"For holiday-themed merchandise, we've been seeing lots of Santa hats put on a company's existing toys—which is very cute," she said. "[The manufacturers] know it's a good seller, so why not carry it into holiday?"
New Products
Celebrate with Seasonal Options
Manufacturers have introduced cold weather and holiday-themed products for this year's fall and winter season.
Pet Palette in Sykesville, Md., launched its Halloween and holiday lines this spring. 
"For this Christmas season, we are seeing a trend in buffalo check, which got a huge reaction at Global Pet Expo," said president and COO Michael J. Dagne. "Our exclusive brand, Huxley & Kent, launched antler hats, scarves, ruffs, bow ties and stockings this year in the buffalo check."
Dagne added that Huxley & Kent is offering three design themes this year: Santa, Elf and Buffalo Check. New products include the Hohoho Stocking, Buffalo Plaid Ruff, Santa Ruff, I've Been Good Bone, Long John, Crystal and Disco Dot Red Bow Tie.
Royal Animals in New York recently introduced seasonal raincoats with removable linings and detachable hoods, which make them suitable for spring rain, winter snow and autumn chill, said president Susan Traub. The coats are made of water-resistant material in fashion colors, with Velcro closures that make them easy to put on and take off.
"Also new are winter-ready coats that are warm and cozy, with a built-in holder for poop bags," she said. 
Holiday-themed all-natural dental chews are the newest release from Whimzees, a brand of WellPet in Tewksbury, Mass., said brand manager Lauren Brecher. The chews are grain free and hollow, and come in unique knobby shapes to ensure proper blood flow through the gums. They also prevent bad breath, and plaque and tartar buildup, she said. 
"Holiday Tree- and Snowman-shaped Whimzees are available in both bulk and value bags," Brecher said. 
ZippyPaws in Chino, Calif., has added to the company's Christmas line with several durable toys, said sales manager Mark Watkins.  
"These Z-Stitch toys, made with reinforced stitching on the edges, include a Z-Stitch Christmas Tree, a Z-Stitch Grunterz Penguin and Z-Stitch Grunterz Reindeer," he said. "The Grunterz have our unique and fun Grunter squeaker inside. As the name implies, it makes a loud grunting sound when squeezed. In addition, we introduced three new scarves to our holiday wear line: a blue Winter Scarf, a black and white Reindeer Scarf and a red Snowflake Scarf."
Pearhead, a lifestyle brand based in Brooklyn, N.Y., is unveiling holiday ornaments for dog and cat owners, said marketing manager Theresa Heintz.
"Two of the ornaments include cute and trendy holiday sayings, along with a marker to use to personalize it with your pet's name," she said. "The other two ornaments include an opening to display your pet's picture. These ornaments are great for pet lovers as well as new pet owners." 
Merchandising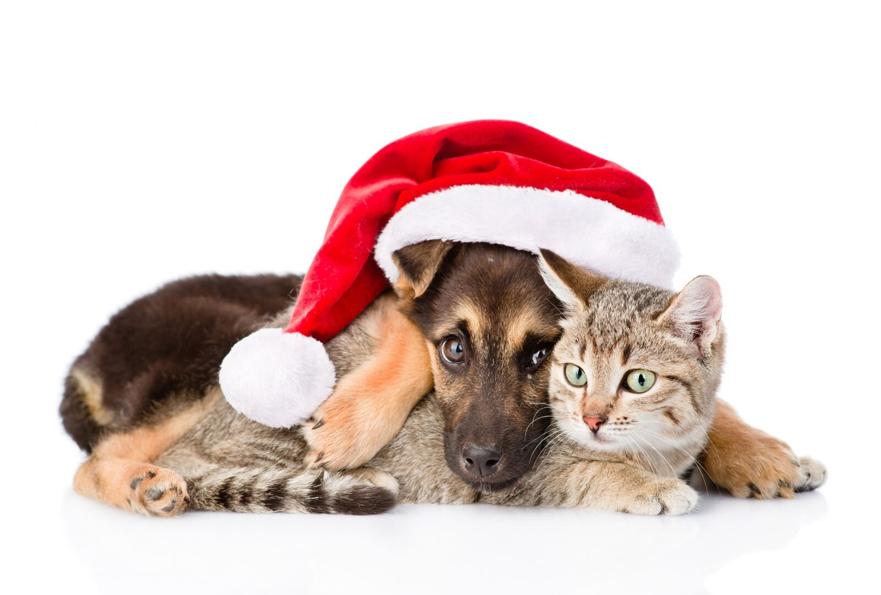 Make Holiday Displays Shine 
The fall and winter selling seasons offer pet specialty retailers an abundance of opportunities to create traffic-building displays featuring seasonal merchandise, industry insiders report. 
"Cold weather and holiday-themed products should be merchandised together to show consumers the products in an organized fashion," said Michael J. Dagne, president and COO of Pet Palette in Sykesville, Md. 
Dagne also recommends that retailers do more than simply hang or shelve merchandise such as winter apparel.
"Any time you can help the consumer visualize the product on their dog helps, so several well-fitted jackets on a mannequin are good to have," he said.
Displaying Christmas stockings stuffed with pet toys and accessories is another eye-catching way to highlight seasonal goods, Dagne added.
"This gives the consumer a reminder not to forget the pups and kitties when it comes to hanging their stockings," he said. 
Gina Swansburg, owner of Gone to the Dogs in Wakefield, Mass., uses display baskets to call attention to the category.
"We use multiple baskets filled with one SKU each, arranged together on a table," she said. "On another table, we display all Christmas apparel, along with a couple of dressed mannequins."
Holiday shopping is all about impulse sales, so countertop display options do well, said Jessica Disbrow, CEO and founder of Bubba Rose Biscuit Co. in Miami.
"We offer three different countertop wooden crate displays, and the displays are free with the purchase of our treats," she said. "Some great ideas are setting up a small fake tree and clipping individually wrapped cookies to it for customers to select from. We've had retailers set up gingerbread house displays using dog treats, making for adorable bakery displays."
Consumer Education
Perfecting Product Selection
To help pet owners make the best purchases in cold weather products, education is important, according to retailers.
"Since I am the sole buyer, I research everything and try to find products that work for the breeds that come into my store," said Laura Haupt, owner of Bark & Meow in Tarrytown, N.Y. "I analyze how effective the product would be for my customers. I have two dogs myself, so over the past 10-plus years, I have learned a lot about products that work and do not work. I carry this philosophy for everything I sell in my store, and I encourage customers to give me feedback."
According to Lisa Borregine, owner of The New York Dog Shop in New York, the most common conversation she has with customers is about the necessity of using clothing to keep dogs warm. 
"It's not about being cute," she said. "If your dog is shivering, he's cold. He feels the cold just like you do. If your dog is limping in the snow, it's most likely because the salt has burned his paw. He needs boots!"
John Gaiser, owner of Gaiser Pets in Yuba City, Calif., said that a caring, interactive and knowledgeable staff is key. 
"Develop a plan that makes your people the smartest around," he said. "And remember to ask your distributors and manufacturers for their free, professional point-of-sale displays, signs, leaflets and other consumer-focused literature."