Dogs spend an average of 12 to 14 hours sleeping each day, so where they catch those Zs is important to dog owners. Pet owners are increasingly selective about the beds they purchase for their beloved companions, according to industry insiders. While design and comfort are important attributes that consumers seek from these products, there's more at play.
"Over the years, we've seen a growing number of customers who are displaying a greater sense of awareness about the company and brand they are purchasing from," said Deborah Feng, director of operations at P.L.A.Y. (Pet Lifestyle And You) in San Francisco. "While the preference for made in the USA [products] has seen a notable increase in the last decade, customers are going beyond asking where things are made and also asking how things are made."
Everything from whether these products are eco-friendly to what a company does to give back to the community are important to customers who "don't just want a good product but want products from businesses they can feel good about supporting," Feng said.
Kayleigh Coulson, pet nutrition consultant at Only Natural Pet Store in Boulder, Colo., agreed that pet owners are incredibly savvy and are particularly interested in natural and recycled materials. She added that customers are paying closer attention to subtle details these days.
Alex Ho, owner of DreamCastle, headquartered in Singapore, said that he has definitely noticed an increased awareness from pet owners regarding their dog's sleeping space, which served as the catalyst behind his Kickstarter-supported bed company.
"There's been a shift toward more eco-friendly materials such as recycled polyester or natural fabrics instead of fibers that are petroleum based," Ho said.
Of course, since dogs do spend so much time snoozing, Feng added that comfort is absolutely critical when it comes to product preferences. P.L.A.Y. recently launched its first line of California Dreaming Memory Foam Beds to meet this need.
"Our Memory Foam Beds have a center cushion constructed of 100 percent high-density foam, surrounded by stuffed bolsters on three sides that are filled with [our] proprietary, eco-friendly PlanetFill material," Feng said. "The breathable microsuede center cushion is reinforced with a waterproof liner to protect the bed from any accidents, and the bed comes with a nonslip bottom."
Another big trend is "solution-based beds," according to Trevor Crotts, president of BuddyRest in Wichita, Kan. This is a key reason why the company has been so successful with its orthopedic beds, which offer support to improve joint health, according to the company. However, customer requests for a nonorthopedic bed that still has many of the BuddyRest special features led the company to develop its recently introduced Oasis and Elation dog beds.
"These more affordable beds are still made in the USA and feature most of the same features without being memory foam or orthopedic," Crotts said.
Merchandising
Displays that Sell
Showcasing dog beds on store shelves can be tricky because they tend to be bulky. While pet specialty retailers want to display as many products as they can, they also know that shelf space is precious.
Many stores stack beds vertically to save space, but Deborah Feng, director of operations for San Francisco-based manufacturer P.L.A.Y. (Pet Lifestyle And You), said it's important to take a careful approach to how this is done.
"Try stacking beds that are similar or from the same brand, especially by size—this has always been successful for our retailers rather than simply having a pile of beds in various shapes, sizes and styles, which can sometimes confuse the customer," Feng said. "Consider alternating colors, or stacking a single color looks great too and creates a focal piece in your shop. Don't forget that buying a bed is a tactile experience, so it is important to make sure that beds are in easy reach of the customer to touch and feel the product."
Feng added that if the store has a "resident dog," retailers might want to consider giving it a bed to use, which will draw more attention and also help pet owners visualize their pet using the product.
Trevor Crotts, president of BuddyRest in Wichita, Kan., shared a similar idea.
"I love how a retailer once set up a Buddy 'Rest Station' with our beds," he said. "It allowed tired pups to give it a try in-store and take a break."
Pattie Boden, owner of Animal Connection in Charlottesville, Va., said that touching and maybe even using products might be important, but she also expressed a very real problem—visiting dogs that end up destroying for-sale products.
"When beds are too low on display, we run the risk of dogs that might lift their leg on them," she said. "Even with our 'you pee on it, you bought it' policy, we've found it can be hard to enforce when some beds retail for over $150. That's why we display some of our beds in galvanized water troughs that are painted a bright color and draw attention. It shows them off but protects against leg lifting."
Boden said that she's often changing the location of the beds throughout the store.
Kayleigh Coulson, pet nutrition consultant at Only Natural Pet Store in Boulder, Colo., said that moving beds around helps keep the displays looking fresh and new as well as attracts attention.
"Keeping beds in various locations helps captures shoppers' attention, perhaps allowing them to notice something they didn't the last time that they were in," she said.
Assortment Optimization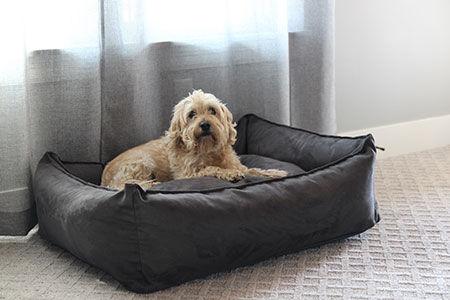 How In-Store Orders Can Help
Because dog beds are bulkier items that take up a lot of floor space, many pet specialty retailers find themselves puzzled over how to create the ideal product assortment without going overboard.
Pattie Boden, owner of Animal Connection, a store in Charlottesville, Va., called the quest to find the ideal product assortment in this category a "never-ending process." She admitted that it is nearly impossible to always have the right color, fabric or size that will please everyone.
"We like to have an assortment of bright colors to get shoppers' attention and make sure to have medium and large beds in stock to give a clear idea of size," Boden said. "But we provide a swatch book and allow our customers to order just the right bed for them."
Alina Ludwick, store associate at Felix & Oscar in Springfield, Va., agreed that giving customers enough in-store options to get a good sense of what the product looks like is important but said that the store sells more dog beds through the brochures than in-store sales. She said that for retailers, accepting that there is no ideal assortment is important.
"It's just too hard to expect that you'll have something for everyone's needs when the colors and the patterns vary so dramatically," Ludwick said. "Pet parents like the idea of seeing the product in the store, but, more often than not, they order the exact one that they want through our brochures and have them sent to the store."
When ordering items to stock, Ludwick said that the goal is always variety. The idea is to have a little bit of everything on display—enough to pique customers' interest. Then they can take it a step further and order a bed that meets their exact needs, she explained. She noted that it's important to give customers something to check out in the store—otherwise, it doesn't differentiate the process from buying online.
"As long as they can touch and feel some of the beds, they have no problem ordering a different pattern," Ludwick added.
At P.L.A.Y. (Pet Lifestyle And You), a San Francisco-based manufacturer, Deborah Feng, director of operations, said that the company always recommends that retailers start out with a stack of P.L.A.Y.'s best-selling Lounge Beds, and then place its Product Showcase line sheet next to it. That way, if the customer decides on a different size and color, they can still easily select what they want.
"The store can call us, and we will dropship the item to them at no additional cost," Feng said. "This has proven to be an effective way to market our entire bedding line without having the store take on the risk of carrying too many beds."