Participants:
Jason Savitt, CEO of Prevue Pet Products in Chicago
Tim Norsen, national sales manager for Vitakraft Sun Seed in Bowling Green, Ohio
Ryan McVeigh, brand manager for Zilla, a brand of Franklin, Wis.-based Central Garden & Pet
Pet Product News: What product and consumer trends are you seeing in the exotics category—herp, small mammal, avian—within the pet industry? What have you heard from retailers and distributors when it comes to the category?
Jason Savitt: Overall, we are seeing an uptick in the popularity of birds as pets. Millennial pet parents gravitate towards more exotic animals, and as urban centers grow, birds offer people companionship and beauty—without requiring a lot of space. 
For the past three years, BEAK (Bird Enjoyment & Advantage Koalition) has made great strides educating and promoting responsible bird ownership and growth. Prevue is a board member of the organization, and when it was founded in 2016, BEAK created MyBird, a campaign and search tool dedicated to sharing the joys and benefits of birds as pets and educating people on responsible bird care. The positive work of the organization has definitely contributed to the growing popularity of birds as pets.
Additionally, and more than ever, pet owners are treating their pets like family and enjoy incorporating their pet's environment into their living space. Throughout history, the beauty of birds, their song and decorative cages have been used to accentuate the décor of homes and create welcoming spaces. This trend is back, making birds increasingly more in demand than we've seen in the past decade. 
Tim Norsen: In the avian category, the trend towards premium products and humanization continues. In general, bird diets continue to progress in quality and nutrition. There is not as much new product development in the bird category overall, but we continue to innovate. We are relaunching our best-selling Vita Prima diets later this year with improved, all-natural formulas. 
Overall, the small-mammal category continues to be strong. They are increasingly popular pets with millennials and other, younger generations. As with bird, there is a continuing move to premium and humanization. We continue to innovate our small-animal product range with our updated Vita Prima diets, our new Vita Balance diets, and the nearly continuous introduction of treats. I think you will continue to see new product development at a steady rate, with the majority being premium natural products.
Ryan McVeigh: In the herp segment, I see more naturalistic enclosures and diets. Both retailers and consumers are looking for more natural décor and habitats. Re-creating their pets' natural habitat and bringing a piece of nature into their homes has become a new goal for most herptile keepers. They're also looking for more natural and wild-diet-based foods. This trend continues to move forward as we progress forward in husbandry techniques and technology.
PPN: What trends have you identified in the exotics category? Are there any big changes coming to the hobby? 
Savitt: People are looking for products that are both functional and aesthetically pleasing. I think we will be seeing more bird parents creating interesting environments in the home that encourage more interactivity with their pet birds. Many bird homes, accessories and toys—not to mention the birds themselves—naturally serve as a design feature in the home. As more pet owners take an interest in birds, we are going to see more people enjoying their birds while making them a focal point in the main living space.
Norsen: According to recent surveys, the data shows a slight increase in pet bird ownership. This is a welcome trend and due in part to the increasing availability of quality live animals.
In general, the same trends apply for small-mammal customers. Brick-and-mortar fares much better here due to larger sets and more stores with live small animals.
McVeigh: Herp product designs continue to focus on basic husbandry needs with an added emphasis on naturalistic components. Over the last few decades, there had been a movement towards minimal and sterile environments for herptiles as the industry grew its husbandry knowledge base. Now we're moving away from that and moving towards more in-depth habitats and creating better-looking and -performing homes for our pets with more enrichment.
PPN: Is the exotics category growing? What do you want retailers to know about the category from a business perspective?
Savitt: The avian segment of the category is growing. Take the opportunity to educate your customers. This is something online stores will never be able to do as well. Sell a variety of bird species and curate healthy and colorful environments in-store that attract the eye and intrigue shoppers to interact.
By creating interactive displays that inspire and educate, retailers will help show people the potential of what they can create at home as well as show them how smart, fun and loving birds can be as pets. Pet activity in-store equals a memorable and exciting experience for families. It makes the store a destination.
Norsen: For the first time, we are seeing some growth in the avian category. Vitakraft Sun Seed is a founding member of BEAK and the public-facing campaign, MyBird. Our mission is to conduct research and a landscape assessment, identify existing resources, opportunities and challenges, and educate and drive awareness of the benefits of bird ownership through a strategic marketing plan and key partnerships and initiatives.
When it comes to the small-mammal segment, there is a high degree of crossover with dog and cat owners. Around two-thirds of small-animal owners also have a dog, and a little over half of small-animal owners have a cat. Retailers who do not embrace small animal risk losing out on dog and cat sales to competition. It cannot be viewed simply in terms of dollars per square foot but in servicing their clients' overall needs.
McVeigh: Reptiles and amphibian keeping is still a young category when compared to other pets in the industry. Husbandry and nutritional information availability is growing every day, and an emphasis on better husbandry practices is the focus of most manufacturers, retailers and herp organizations.
As we continue to have busier lives and move more into urban environments, two things are taking place that make reptiles more optimum pets for most families. First, herps are lower maintenance and require less space. Both of these things help make them a great pet for busy families. Second, as a society we're losing touch with nature, and having an animal that helps us connect with the natural world and having a naturalistic vivarium for it to live in helps to connect families that may not see the great outdoors with a piece of "the wild."
PPN: How is legislation affecting these categories currently, both within the U.S. and internationally? 
Savitt: Right now, the bulk of pet legislation has centered around dogs and puppy mills. Other animals may follow suit, but right now there is no standard for birds. No one in the industry wants there to be more restrictive regulations. Birds offer stores the ability to work with credible breeders and to sell pets responsibly. Retailers should be taking advantage of this opportunity to create long-term customers by promoting safe breeding practices and healthy animals. The selling of healthy, happy pets in-store is a cornerstone of having repeat customers.
BEAK and Prevue are invested in helping to ensure and promote the safe and healthy sale of birds in stores. All retailers should be using BEAK as a resource for themselves and their customers. Who knows where legislation will go in the future, so now is the time for retailers to responsibly capitalize on the growing bird trend by creating a cool and dynamic in-store environment.
Norsen: The availability of birds continues to be a huge challenge. Part of this is a big decline in the number of active bird breeders in the U.S. This has recently seen an upswing as the prices for birds have risen and the demand has increased. We are happy to see improvements in supply and are also working on this as a BEAK initiative. 
Legislation is also impactful. As a board member of the Pet Industry Joint Advisory Council (PIJAC), we are well aware of local, state, and federal legislation that affects the sale, transport and availability of pet birds. Dog sale bans get the most press, but all pets can be and are affected by many pet sale bans. As with all pet categories, anti-pet legislation continues to be a major issue. PIJAC works hard in this area as well.
McVeigh: Legislation is always looming over the herp industry. Rarely is it based in science or with reasonable results and ideas in mind, and often it's written and backed by anti-pet organizations. 
Currently, there is a bill in the federal system to stop animal outreach programs. This limits so many children from interacting with and appreciating these amazing animals. Books and TV shows are great, but they can't replace the feeling someone gets when they are able to interact in person with one of these amazing creatures. No one has ever read a book on snakes and overcome their fear that way, but there are countless cases of people interacting with snakes and learning about them to overcome their fear and appreciate them.
We as a hobby and industry continue to fight bans and anti-pet legislation, but it's an uphill battle. We need support from the entire industry and hobby. Everyone should know and be a member of United States Association of Reptile Keepers (USARK). That's step one.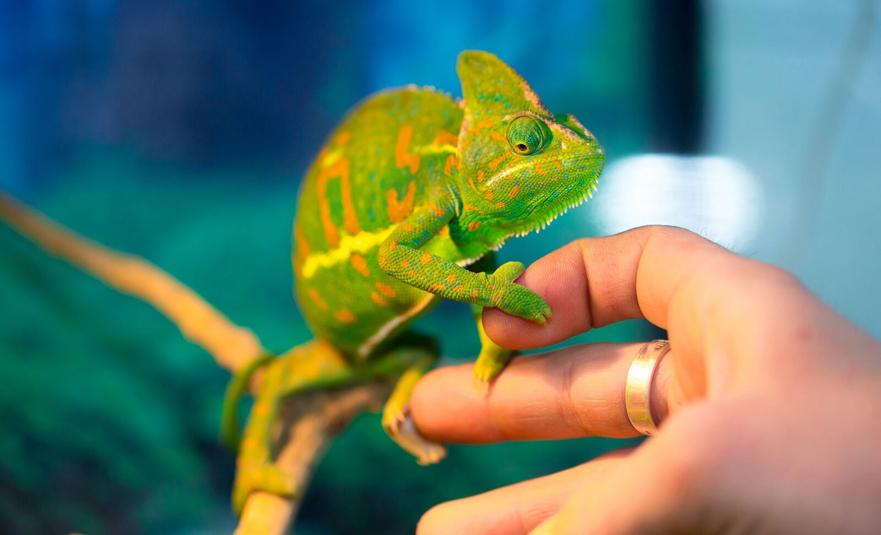 PPN: What challenges are coming in the exotics category? How can retailers prepare for these challenges?
Savitt: Increased competition from product manufacturers who do not understand the intricacies of the bird hobby or the health and safety of birds is becoming an increasing problem. Stores should align themselves with companies that are a resource and can provide quality control, reliability, and service to the store and their customers.
Norsen: For better or worse, e-commerce is taking an increasing share of the business in the avian segment of the category. Brick-and-mortar stores continue to shrink pet bird sets, and finding live birds in stores is increasingly difficult. Retailers must embrace the pet bird category in the right way and devote resources to educate their staff.
The small-animal category isn't feeling as much pressure as bird, but manufacturers are still looking to find ways to grow. I suspect that an industry group similar to BEAK will form in the near future to address proper education, supply and drive interest among consumers. 
McVeigh: Legislation and education are the two main challenges we face. As a younger hobby in the pet segment, technology and techniques for husbandry are quickly advancing. We need to stay on top of the newest information and continue to innovate to provide the best environments for our pets.
Outside of that, education to the public is also a key in our future successes. Keeping herptiles is unlike keeping any other type of pet. [Each species has] specific husbandry requirements, and when even one aspect of their care is incorrect, it can lead to a sick animal. Educating pet owners on proper husbandry and nutrition will be key to helping people be successful in keeping these animals as well as enjoying them in the future.
PPN: Where do you think these categories will be in the next two years, and the next five years?​
Savitt: We see pet birds as a growing trend that will become mainstream and more and more important to stores and their customers.
Norsen: On the avian side, the goal of BEAK is to grow responsible bird ownership to previous levels. We are confident that we will get there and are starting to see some success.
I believe the small-mammal segment of the category will continue to grow for the foreseeable future. They are great as entry-level pets; they are easy to care for, in good supply and generally healthy. 
McVeigh: We are on the edge of a large push for better information and more natural husbandry. As we educate ourselves more on the care and needs of these amazing creatures, we are moving towards caring for them better.
Advances in technology are allowing us to keep animals that were once seen as impossible to keep, and on top of that, captive-breeding efforts are showing huge success for many species never before seen in captivity. As long as we continue to strive for what's best for the animals and embrace new information and technology, we can continue to move the standards of care forward and provide our pets with better, healthier lives.