The aquatics industry is still booming, with tanks and tank kit sales up. The challenge for specialty retailers now becomes how to capitalize on the pandemic-fueled surge in sales well into the future, while juggling residual COVID-19-related supply shortages on some aquatic staples.
"More people are getting into the hobby," said Katie Velie, manager for Nahacky's Aquarium, a retailer in Melbourne, Fla. "People have been at home more. They want something to interact with. They either had fish tanks and now they're getting back into it because they actually have the time, or they're working from home and they want something for them and their kids to be involved in."
Demand for both livestock and products in the aquatics segment has been exceptionally robust, industry insiders reported.
"I have definitely seen strong demand for tanks and kits," said Claus Frenken, sales manager for Sera North America, a Montgomeryville, Pa.-based manufacturer of aquatics products. "Not being able to travel allowed many people the time to find new hobbies. Others who already had a tank but who were not running it anymore restarted in the hobby. I have spoken with many store owners recently who confirm an increased number of tank sales. This goes hand-in-hand with an increase of overall sales, including fish and dry goods."
However, with the pandemic waning, the call for tanks and kits is not as strong for all retailers.
"There's been a small increase in demand," said Frank Schmidt Sr., owner of Coral Reef Pet Center in Norridge, Ill., adding that sales seemed linked to the awarding of federal stimulus checks during the pandemic. "That's made a big difference. Once the government stimulus money started hitting bank accounts, people started buying stuff again."
Sales may be starting to soften, some retailers reported.
"Demand has been up solidly for a year," said Steve Richmond, owner of Lovely Pets Aquarium Store in Quincy, Mass. "I'm just now starting to see the first signs of it shifting back to a somewhat normal level for the industry. People are going back to work, and people are more comfortable going out, as they are being vaccinated."
The goal for many in the industry is to retain these new customers into the future, even as normal market conditions emerge.
"Regardless of where these kits are purchased, this provides an excellent opportunity for retailers to capture the long-term consumables sales from these new consumers," said Catherine Langford, senior brand marketing manager for Tetra, a brand of Blacksburg, Va.-based Spectrum Brands Pet. "The key is to provide these newcomers with assistance in the form of information and easy-to-use product solutions to ensure their 'pandemic fish' become a lifelong passion."
Still, while demand has been strong, supply has proved to be challenging in the segment.
"We're selling whatever the manufacturers can get to the distributors and get to us," Richmond said. "It's not necessarily that there's a glass shortage. It's just a product shortage in general. It's the ripple effect of manufacturers being shut down, and then not having help. It's been a long time now. We're all dealing with it. So we have to learn how to live with the shortages."
Some retailers reported more difficulty finding larger setups.
"Larger tanks have been harder to restock," said Dan Ingebretsen, aquatics manager for Pet Time in Eugene, Ore. "Anything above about a 55-gallon is harder to find. We've been on the waiting list for almost two months now for more 125-gallon tanks. We try to always keep the smaller tanks, the 2.5-, 5- 10- and 20-gallon longs, in stock. We have all of those sizes right now. We also have a mix of 30- and 40-gallon tanks in stock. Where we've had trouble [finding stock] is the medium to larger-sized tanks."
Shipping costs have spiked higher, though some believe this will prove to be a temporary problem for the industry.
"It's just a matter of time before the problems with availability begin to go away," Schmidt said. "But the other part of it is, because freight costs are so high, some of the manufacturers are going to wait rather than pay triple the price on freight."
Small Works Best
Despite the supply challenges, demand for smaller kits and tanks has flourished, according to retailers.
"The smaller kits are what's selling well," Schmidt said. "No one is asking for larger tanks. Occasionally, someone will ask about the 75, but that's usually to replace a tank or for a non-aquatic use."
Just as other types of aquariums can be difficult to restock, kits sometimes prove hard to source.
"Kit sales are up, but mostly because a lot of stuff is out of stock," Schmidt added. "Even so, the kits themselves aren't that easy to come by. We carry kits ranging from a 1-gallon up to a 55-gallon, and the 55 doesn't sell very well."
Complete setups that take the guesswork out of putting together a system remain popular.
"Kits with built-in filtration are always a popular choice among aquarists," said Johnathan Hester, aquatics brand manager for the Hagen Group, a manufacturer in Mansfield, Mass. "It makes setup seamless and really allows the consumer to focus on arranging the aquarium, and doing things like picking gravel, décor and livestock."
Selling fully set up and established display systems off the shelf also helps to drive sales, retailers reported.
"I sell smaller tanks fully set up as fast as I can get them out the door, if customers want them like that," Schmidt said. "It doesn't happen as often as it used to, but when someone sees something they like, they'll go for it."
Kit sales often lead to upgrades, as well, and typically customers are looking to replace filtration or lighting that comes with an all-in-one setup.
"I can easily talk somebody into buying a larger filter, but not so much with the lighting," Velie said. "Convincing customers to upgrade kit lighting is a little harder. They eventually come around, but it's a little harder."
Lighting tends to be more expensive, and making the choice to upgrade filtration is often easier for customers to justify.
"It's very common for us to make add-on sales when we move a kit," Richmond said. "A lot of the box sets we sell, we make sure that it has what people want. But with some of the big manufacturers' box sets, the main thing customers want to upgrade is the filtration."
Design and Demographics
Customers are attracted to novel shapes, sleek designs and aquariums that fit in as décor.
"Some of the novelty tanks are desirable," Schmidt said. "Hagen makes a 32-gallon that has a bow in the front from the top to the bottom, as opposed to left to right. That's a very desirable tank, and people do not mind spending the money."
Freshwater planted tanks are sought after, and smaller setups that fit in around the home sell very well.
"Demand is highest for freshwater planted tanks at the moment," Velie said. "People are really into nano shrimp tanks and planted setups. I'm still getting a certain amount of reef people, but saltwater in general has taken a harder hit as far as supply is concerned."
Rimless tanks are desirable to hobbyists, retailers reported, and setups that have a unique visual appeal perform well at retail.
"I sell a lot of Mr. Aqua tanks or super-clear ultra glass, and small rimless tanks," Velie said. "The weirdest size I sell is Mr. Aqua's 36-inch rimless, which is designed to sit on a bookshelf. It fits perfectly on most bookshelves. I sell stuff like that more than the standard-sized tanks. Everybody wants something a little different. Hagen does a really good job of filling that blank. Also, any of the rimless tanks are selling really well. They're the most popular tanks right now."
Aquarium aesthetics are top of mind for hobbyists, Hester said.
"They are looking for clean lines, bold curves and nice finishes. Tank sales have remained strong the last 12 months, but we've seen an increased growth in both nano marine aquariums such as the Evo and nano planted aquariums such as the Flex."
The robust consumer demand is partially a result of changing and growing demographics in the hobby.
"Demand has been a little bit all over the board," Ingebretsen said. "We have some very avid aquarists who have been in the hobby a long time and are excited to see what we've got in stock, in terms of plants and fish that they're looking for. I've been seeing a lot of new families with little kids come in to buy setups for their little kids' first tank. There have definitely been a lot of people who were in the hobby 15 years ago starting back up as well. We get a little bit of everybody."
Customers want both fresh- and saltwater setups, but freshwater demand is slightly elevated relative to saltwater demand, retailers reported.
"Demand is all over the place," Richmond said. "I see both new hobbyists coming into the store and established hobbyists adding tanks. We've always had customers who come into the store for their second and third tanks, but over the past year, we've seen a lot of new people getting into the hobby. Freshwater as a category is stronger than it's ever been. It always swings back and forth, but it usually seems to average out about 50-50. I'd say that demand is split closer to 60-40 in favor of freshwater livestock and setups right now."
New Products
Style Upgrades Abound
Aquatics hobbyists are always looking for new designs in the tanks and kits they purchase, and manufacturers are working to meet this demand.
"We are launching our new Shaker Aquarium Series at SuperZoo 2021," said Johnathan Hester, aquatics brand manager for the Hagen Group, a manufacturer in Mansfield, Mass. "This aquarium will come in two colors and include Fluval X07 Filtration, Fluval M Heater and a custom fitted AquaSky Bluetooth LED."
The Shaker cabinet features soft-close doors and includes modern handles to complement the design, Hester added.  
Hagen Fluval kits have proven to be very popular, retailers reported, with customers routinely enjoying the styling of the line.
"The Hagen kits sell really well," said Steve Richmond, owner of Lovely Pets Aquarium Store in Quincy, Mass. "They really don't need much upgrading. The Fluval Flex 32 is very hot."
Other all-in-ones are sought after as well, and many customers appreciate setups that include everything they need to get started.
"I sell a lot of the small Hagen Fluval tanks," said Katie Velie, manager for Nahacky's Aquarium in Melbourne, Fla. "I'm also selling a lot of the Red Sea all-in-one kits. The whole plug-and-play aspect is very attractive to a lot of customers. I sell a lot of Fluval Evo, the Spec and the Flex for freshwater setups. I still sell a lot of Bio Cubes, as well."
Smaller setups are capturing the majority of market share, retailers reported.
"Customers are definitely looking for smaller systems," said Dan Ingebretsen, aquatics manager for Pet Time in Eugene, Ore. "Demand is essentially split. Some want smaller tanks such as 10- or 20-gallon longs, or they're on the other end of the spectrum and they want a 75-gallon, or a 125-gallon large tank. That's the one everyone dreams about, but not many people actually buy one. At the same time, people are trying to stick the little 5- to 10-gallon tanks wherever they can."
---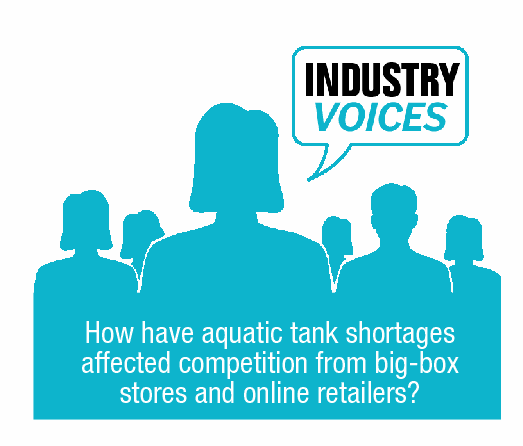 "It's hard to say. People probably go to the big-box stores more often for tanks just because their prices are absolutely unbeatable. We've done some research and they can sell their tanks for cheaper than we can buy them through our distributor. There's just no way we could do that. I'm sure they're able to offer those prices because they're ordering 10,000 tanks or more at a time, and they get a huge price break. Obviously, we don't have the space to be able to display or store 10,000 tanks at a time. … When I was shopping online, everything was either sold out or shipping [prices] were ridiculous everywhere I looked. People are probably staying away from ordering tanks from online retailers right now, in favor of local stores."—Dan Ingebretsen, aquatics manager for Pet Time in Eugene, Ore.
---
"I know of some contractual agreements [big-box retailers have] for certain things, but if it's not available, it's just not available. … I do see customers who will order something online that's custom-made for them. When they really see the freight costs, some don't care, where others will change their mind because it costs $200 for freight for a fish tank that's valued at $400 or $500. It's a huge difference and it jacks up their costs, but some will spend for shipping, if that's what they really want."—Frank Schmidt Sr., owner of Coral Reef Pet Center in Norridge, Ill.
---
"There is pretty stiff competition from the big-box stores, absolutely. They're doing a pretty good job of keeping tanks in stock. The manufacturers are really catering to the big-box stores, and it's kind of a sore spot, to be honest. They have no problem selling their tanks to Petco, and letting them sell for $1 a gallon, and then being out of them for us. So when demand is high and Petco sells them that cheap, it's not really a very good business decision. It's certainly not a way to take care of your independent retailers, who are the ones that bring people into the hobby. I think we're keeping up with the online retailers. That hasn't been an issue for us. The fact is it's really tough to ship glass."—Steve Richmond, owner of Lovely Pets Aquarium Store in Quincy, Mass.