When humans abandoned a simpler diet in favor of highly processed fare, the sustenance of their pets followed suit. Today, pet owners have a better understanding of the role quality food plays in the overall health and well-being of their companion animals and, just as humans are eating cleaner, there's a desire to return pets to a more natural diet, according to manufacturers and retailers.
"The key trend is humanization," said David Yaskulka, vice president of marketing communications at Halo, Purely for Pets in Tampa, Fla. "Pet parents treat their dogs and cats like members of the family and want diets that mirror healthful human food."
Consumers are becoming increasingly suspicious of the ingredients in commercially prepared foods, and many shoppers believe that it's safer and healthier to serve their families—including pets—simpler, less-processed foods, said Rob Cadenhead, vice president of sales and marketing for Performance Pet Products, maker of Spring Naturals pet food, in Mitchell, S.D.
Closely associated with this concept is the idea that whole food ingredients are nutritionally better because they're closer to being in their natural state, Cadenhead added.
"Pet parents treat their dogs and cats like members of the family and want diets that mirror healthful human food."
Clean Eating
Poor nutrition can lead to increased incidents of health issues including allergies, digestive problems, poor weight management and a dog that just seems unhealthy, said Adrian Pettyan, CEO and co-founder of Caru Pet Food Co. in Vero Beach, Fla.
Likewise, diseases such as cancer, diabetes and being chronically overweight have affected a large percentage of the pet population, said Bette Schubert, co-founder and senior vice president of sales, new product development and education for Bravo Pet Foods in Manchester, Conn.
"Pet owners and curious veterinarians suspected these issues were due to poor diet," she added. "From a benefits perspective, raw diets and all-natural products provide pets with a high-quality, nutritious diet that can help prevent health problems and increase longevity. So in a way, the market created itself out of a real need."
Natural Options
Halo has added a new Grain-Free Turkey, Chicken & Salmon dry recipe to its Vigor line for dogs, Yaskulka said. As with the entire line, the product is formulated with real meats, and it is completely free of rendered meats, chicken meal and byproduct meal, he said.
"Specialty retailers cater to the growing number of consumers who don't want to feed their pets 'animal feed' proteins and are feeding their pets raw, dehydrated, human-grade or home-cooked diets," Yaskulka said.
For pet owners wishing to add variety to their dog's diet, The Nutro Co. recently released Nutro Rotations, said Keith Danoff, marketing director for the Nutro brand for Mars Petcare, which is based in Brussels. Each recipe is designed to complement the other, with consistent macronutrient profiles (protein, fat and fiber) for effortless transition between bags, Danoff said. The product is available in Lamb & Potato, Salmon & Barley and Chicken & Brown Rice Recipes.
Nutro's new Farm's Harvest meals combine meaty kibble with real, colorful, farm-raised fruits and vegetables that are harvested at the right time and then freeze dried to lock in the nutrients dogs need, Danoff said.
Farm's Harvest is available in Chicken & Whole Brown Rice Adult and Small Breed Adult Recipes, Lamb & Whole Brown Rice Adult and Small Breed Adult Recipes, and Salmon & Whole Brown Rice Adult Dog Recipe.
In response to growing consumer demand, Solid Gold Pet recently launched six grain- and gluten-free holistic dry dog food recipes, said Jennifer Berglund, director of marketing for the Greenville, S.C., company.
"As with all of Solid Gold's formulas, these new products do not contain any byproduct meal, corn, wheat, soy, sugar, artificial preservatives or flavors added," Berglund said. "And none of our ingredients are sourced from China—ever."
The new recipes feature a variety of exotic proteins including quail, lamb, buffalo, turkey, salmon and venison.
Solid Gold also has introduced Fit and Fabulous low fat/low calorie weight control formula, created with fresh-caught Alaskan pollock.
A Natural Shift
"People are finally realizing the impact of diet on an animal's overall health," said Lorin Grow, owner of Furry Face in Redlands, Calif. "Thus we felt it was time to make some big changes in product offerings at Furry Face."
These changes include the addition of six freezers in-store, with six overflow freezers for raw diets and treats. Three more in-store freezers and four overflow freezers are planned for the future, she said.
"We increased our selections of freeze-dried and dehydrated foods and treats as well; this applies to both the dog and cat sections," Grow said. "Technically, 100 percent of our inventory is 'natural,' using the industry's definition of 'natural.'"
Living up to its tagline, The Health Food Store for Pets, Natural Pawz, with locations in the Houston area, promotes less-processed, natural diets for pets, said co-owner Nadine Joli-Coeur.
"We don't carry anything with corn, soy or wheat and stay away from fractured grains or vegetables," she said. "Basically, our philosophy is not too many ingredients and only whole ingredients."
In order to determine that foods are prepared to Natural Pawz's standards, and proper safety protocols are in place, the manufacturing plants of the brands carried are paid personal visits.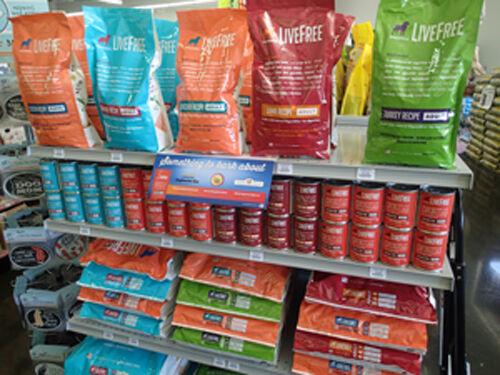 "When we tell customers we have seen the manufacturing process, and can talk about the cleanliness and how the foods are packed, people's eyes light up," said Joli-Coeur. "It carries a lot of weight."
At Healthy Spot, which has several locations in Southern California, co-owner Andrew Kim has also witnessed a growing consumer awareness of natural foods. The stores' food product mix reflects that attitude.
"We consider our baseline to be natural," Kim said. "We are Healthy Spot—it's in our name. Carrying anything less would be inconsistent with who we are and what our customers expect from us."
Kim has noted a shift away from traditional canned and kibble food products to raw and raw alternatives.
"People see the value of feeding better-quality products and the improvements in health," Kim said. "We won't carry anything we wouldn't use for our own furry family, meaning anything less than natural."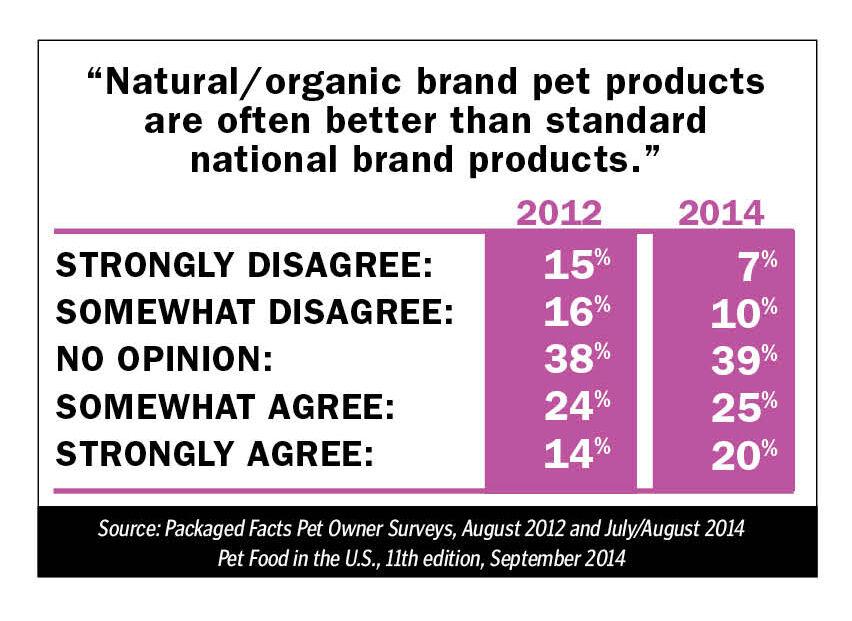 The Right Fit
Education is key in marketing natural selections, Bravo's Schubert said.
"We find that better-educated retailers have the most success because they are better able to match the customer with the right product for his or her pets," Schubert said.
With so many options in the natural category, it's easy for customers to be confused, said Halo's Yaskulka, adding that educational content from trusted sources is a great way to begin the process.
"We've recently produced a short informative video explaining how chicken meal and byproduct meal, while not necessarily bad ingredients, may not be what some consumers believe they are," he said.
At Natural Pawz, staff members undergo extensive training and are considered probationary until completing 100 hours of education. Once meeting this training requirement, employees proudly wear a "nutritional consultant" badge, Joli-Coeur said.
Educational resources are readily available at the Customer Information Center, sited in every Natural Pawz store. Each center's computer is at the disposal of both staff members and customers wishing to investigate and discuss food ingredients and other products.  
But what does natural really mean?
For pets and humans alike, the word "natural" brings to mind better and more healthful food choices; however, seeing that word on a label can be confusing and misleading. According to Merriam-Webster Dictionary, a natural food is one that has undergone minimal processing and contains no preservatives or artificial additives.
"Pet parents tell us that when they see 'natural' on a product label, they envision the use of ingredients as nature made them," said Rob Cadenhead, vice president of sales and marketing for Mitchell, S.D.-based Performance Pet Products, maker of Spring Naturals pet food. "They want minimally processed ingredients, obtained from as close to the original source as possible."
In labeling dog food, the term "natural" is to be used only in reference to the food as a whole, when all of the ingredients and components of ingredients meet the Association of American Feed Control Officials' (AAFCO) "natural" definition, said Adrian Pettyan, CEO and co-founder of Caru Pet Food Co. in Vero Beach, Fla.
Pettyan added that the AAFCO guidelines define "natural" as "a feed or ingredient derived solely from plant, animal or mined sources, either in its unprocessed state or having been subjected to physical processing, heat processing, rendering, purification extraction, hydrolysis, enzymolysis or fermentation, but not having been produced by or subject to a chemically synthetic process and not containing any additives or processing aids that are chemically synthetic except in amounts as might occur unavoidably in good manufacturing practices."
"Therefore, if any chemically synthesized ingredients are present in the products, such as synthetic vitamins and minerals, then the correct labeling would be "natural dog food with added vitamins and minerals," she said.
"Natural" can be a tricky and manipulative term, said Lorin Grow, owner of Furry Face in Redlands, Calif.
"Lots of things are natural; that doesn't necessarily mean they are good options to be added into a diet," Grow said. "Most highly processed pet foods add vitamin packs, and most vitamin packs contain at least some synthetics.
"We choose not to use the word 'natural' at Furry Face because it's such a vague and ambiguous term with regard to foods and treats," Grow said.
Because many brands market themselves as natural, today's informed consumers do not find the word to be a differentiator, said Andrew Kim, co-owner of Healthy Spot, which has several locations in Southern California.
"Consumers are more interested in what's in the bag of food than on the bag of food," Kim said. "'Natural' for Healthy Spot means a food that is more similar to what a dog should be eating, meaning biologically appropriate foods with less processing, better ingredients, no fillers and more meat."—LB
---
This article originally appeared in the October 2015 issue of Pet Product News.