As more cat owners recognize that their cats need more stimulation, demand for cat toys is growing. Although cats might spend much of their day snoozing, when they are awake, they need to exercise and indulge their hunting instincts, and toys tailor-made for them can be a solution. 
Betsy Hintzmann, co-owner of Four Dogs Pet Supplies in Charlotte, N.C., said that the store is seeing increased sales in cat toys—and feline products in general. The store recently added a "cat corner" that more than doubled the existing space it had been using for cat toys and other supplies. Hintzmann said that since the store's name is focused on dogs, the owners felt it was important to invest more in their cat customers to show they are just as important. 
"Cat owners are starting to realize that their cats need attention, too," she said. "We've seen more attention to this category pay off for us with more sales. I'm not sure that we realized just how many cat owners we had coming here—and they want variety, just like dog parents do." 
Mary Wolff, president and founder of Honest Pet Products in Manitowoc, Wis., said that, generally speaking, retailers often lack variety when it comes to cat toys—and this should be an area of focus. 
"Just take a look in almost any store at the number of different dog toys in comparison to cat toys," she said. "I've also heard it said that most of the cat toys out there today are 'just junk.'" 
Cat owners care about quality and safety, Wolff added.
"Cat parents are now showing concern over the materials the toys are made of that their cat will have in their mouths for the duration of their lifetime," she said. "Many are asking, 'What is that crinkle ball actually made out of?'"
Cat owners are also looking for toys that not only get their pet engaged, but also challenge them intellectually. Samantha Henson, a certified clinical pet nutritionist and merchandising manager at Premier Pet Supply, which has stores in Michigan, said that crinkling up a ball of paper might temporarily interest a cat, but it's not actually going to stimulate it intellectually. 
"Cats like to be challenged," she said. "Therefore, something that is specifically designed to intrigue a cat's brain is definitely worth the extra cost. That might include electronic toys that will cost a little bit extra than your standard toy." 
Eric Merva, sales manager for Los Angeles-based Vee Enterprises, agreed that cats need toys that are both safe and stimulating. He said the company's PURRfect Cat toy wands were designed with this in mind.
"No harsh chemicals are used in the treatment of our feathers, so they retain the natural scent of the bird and, unlike other similar products, our toys do not use metal connectors, which can snag a nail or chip a tooth, so they are safe for play," Merva said.
Consumer Education
Encouraging Cat Owners to Buy
Before cat owners can be expected to make a toy purchase, retailers might need to help them overcome their doubts about whether their pet will actually play with the toy. 
Peter Ostapowicz, marketing communication specialist for OurPet's Co. in Fairport Harbor, Ohio, said that it is important that cat owners understand how their cat likes to play. This will help them determine what type of toy will work best for their cat—and make it more likely that their investment will be worth it. 
"If they're really into catnip or sounds, there are a lot of toys that will meet those needs," Ostapowicz said. "Electronic toys will often meet the majority of cats' needs, since they add in an element of movement. It's like hunting prey in the wild."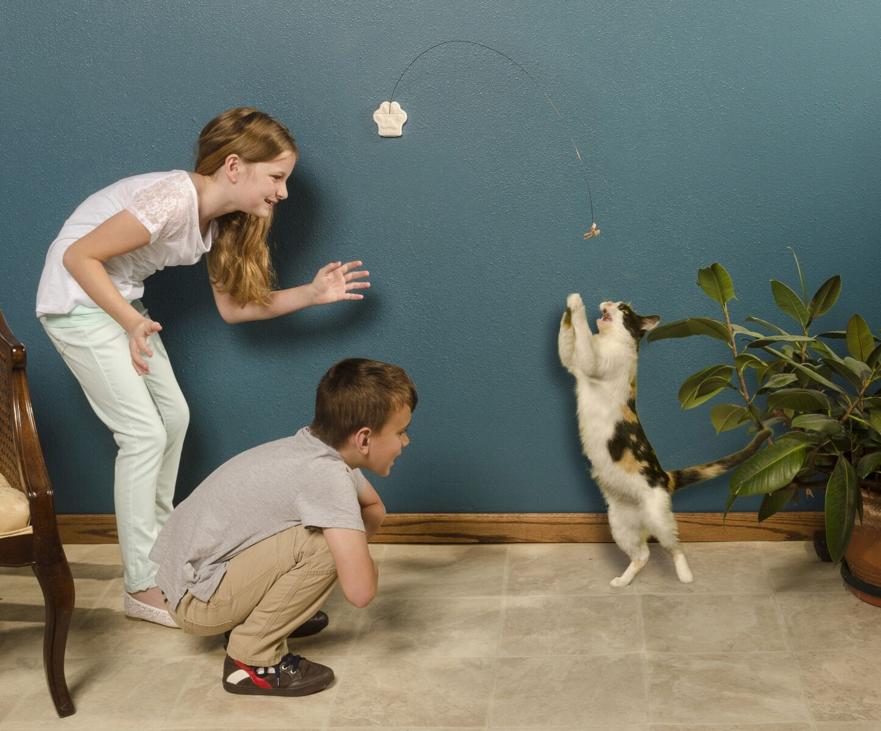 Any time a cat owner can play on their cats' instinctual needs or desires with a toy, it is likely going to be a hit, said Samantha Henson, a certified clinical pet nutritionist and merchandising manager at Premier Pet Supply, which has stores in Michigan.
"Cats absolutely like to feel like they are stalking their prey, and they take pride in capturing it," she said. "Toys that create this experience help fulfill a need for your pet that a typical toy would not." 
Demonstrations—particularly with electronic toys, which need to be switched "on"—can also help a cat owner make a buying decision. Henson said that allowing cat owners to see what the toy can actually do is key in helping them decide if their cat will like it. 
Retailers can boost toy sales by having well-trained staff members ready to explain the benefits of interactive toys to pet owners, said Eric Merva, sales manager for Los Angeles-based Vee Enterprises.
Enticing consumers can also begin before they enter the store, noted Merva, who suggested the use of giveaways and contests.
"Having customers submit photos of their cats on the various social media channels playing with toys or other products from the store and winning a prize is a win-win for the consumer and the store." 
Merchandising
Toys on Display 
Getting creative with displays can help pet specialty retailers attract cat owners and lead them to make more toy purchases. 
Obesity is the No. 1 health problem with house cats, and retailers can use displays to educate consumers about how play can help keep cats active, said Jim Boelke, president of Cat Dancer Products in Neenah, Wis. 
"One thing I always tell our retailers is to put a few of our Cat Dancer toys near the light or reduced-calorie foods," he said. "Anyone buying these foods has an overweight cat, and a Cat Dancer toy is a great way to get some exercise for their pet. Playing is so important for house cats. Besides weight loss, it can stave off depression, anxiety, joint problems and diabetes." 
Consumers are also paying closer attention to where products are made, said Eric Merva, sales manager for Los Angeles-based Vee Enterprises.
"Having a dedicated made in the USA section or table can be a great way to showcase products like ours and others made right here in the U.S.," Merva said.
Photos and video can attract customers to cat toy displays, said Sarah Johnson, sales coordinator at P.L.A.Y (Pet Lifestyle And You) in San Francisco.
"Having a small screen with videos of the toys being used can help show the customer that the toys are enticing and also help them picture their own cat playing in a similar fashion," Johnson said. "Plus, this gives you a chance to engage customers by asking them to share some of their own videos—or photos—of their cats to be included in the store's video." 
Retailers should continually rotate their displays so that cat owners can find toys they have not seen before.
"Keeping the display looking fresh will encourage cat parents to keep buying," said Brandon Roberts, assistant general manager for Panhandle Pet Supply in Tallahassee, Fla. "You want to keep enticing the customer to check out the section because it constantly looks new and appealing."
New Products
Fueling Feline Fun
Cat Dancer Products in Neenah, Wis., recently debuted its Cat Dancer Deluxe, a Cat Dancer with a special holder that attaches to the wall using Command Strips. This allows the cat to continue the fun even if the owner walks away.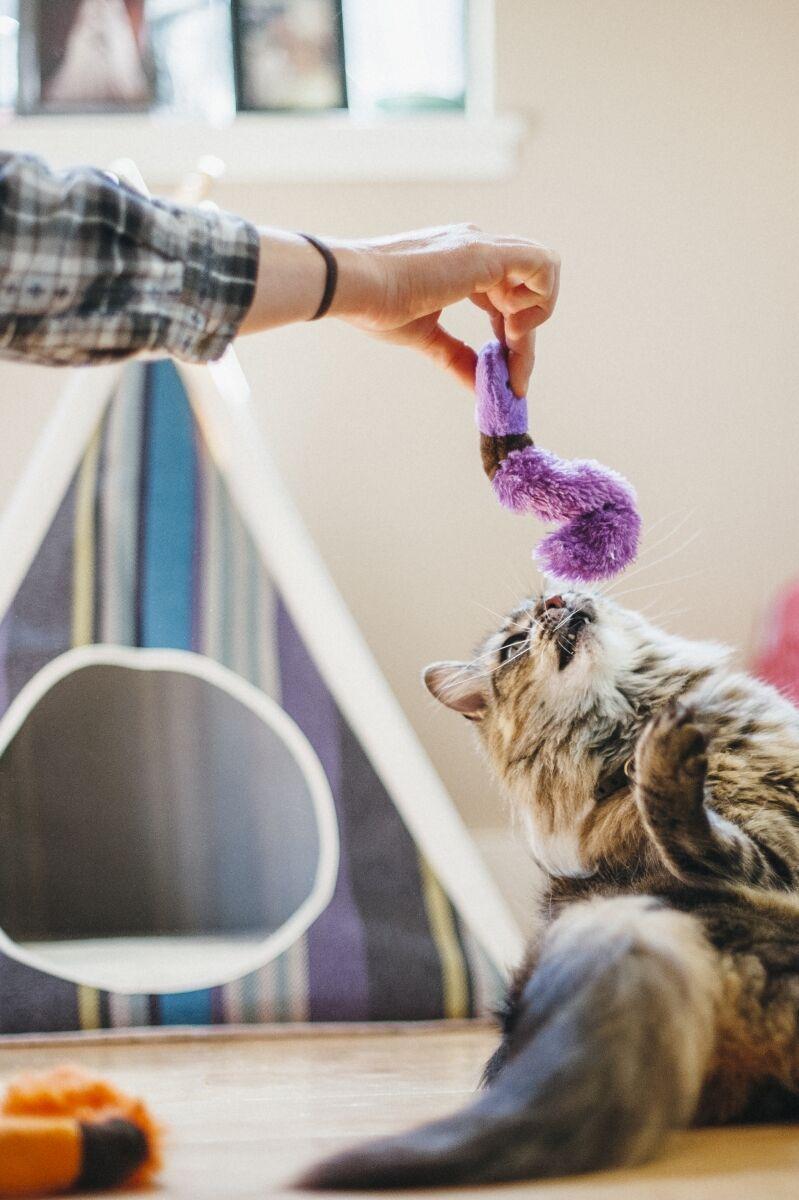 San Francisco-based
P.L.A.Y (Pet Lifestyle And You)
has released its first collection of cat toys. The Feline Frenzy Cat Toy Collection features eight sets of plush toys that come with a built-in, refillable pouch stuffed with USDA organic catnip. The line offers a range of engaging shapes and textures, from barbecue favorites to crawly critters, said company officials. The plush toys are 100 percent machine washable (with the catnip removed) and feature eco-friendly stuffing and azo-free dyes.
Pleasanton, Calif.-based R2P Pet has introduced its Mad Cat toys. New to the plush collection are Gnome Sweet Gnome, Ninth Life Ninja, Chicken and Waffles, Lumpurrjack, Sassy Sasquatch, Mewnicorn and Yowlin Yeti designs, all of which come in two-packs. Also new are Mad Cat wands, designed with a custom silly straw handle that has the perfect amount of flex for interactive play, according to the company. Designs include the Cookies and Milk Wand, Rainbow Chaser Wand and Sushi Swatter Wand. New Mad Cat Kickers are the ideal toys for kicking, cuddling and wrestling, and the added crinkle inside each kicker creates enticing sounds with every kick and pounce, said company officials. They come in Cactus Kicker, Burrito Kicker and Bacon Kicker styles. All Mad Cat toys contain a custom blend of premium catnip and silvervine that is pesticide free.