Product demands have taken a sharp turn this year as cleanliness, health and safety have taken center stage in everyone's lives and businesses due to the COVID-19 pandemic. As demand for toilet paper and cleaning products spiked, followed by concerns over food shortages, consumers became more acutely aware of supply chains and where their products were being made. In the process, USA-made pet products enjoyed a surge in popularity, according to industry insiders.
"When the COVID-19 crisis hit, the demand for made in the USA products skyrocketed in the United States," said James Brandly, associate trade marketing manager for Cosmos Corp., parent company of Wentzville, Mo.-based TropiClean Pet Products. "In a survey conducted by financial tech company Sezzle, more than 65 percent of consumers said they are more likely to buy American-made products during COVID-19."
Consumer shopping trends have significantly changed since the pet food recalls of 2007-2008. Ingredient sourcing and manufacturing for consumable products are more important, with USA-made foods, treats and chews a keen focus. Insiders reported that this fixation remains relevant today.
"Consumers are demanding more made in USA products for their pets," said Tony March, marketing manager for Pet Factory, a pet chew and toy manufacturer in Mundelein, Ill. "They are willing to pay extra for products that are meeting higher standards in safety, quality and best practices in manufacturing."
Many pet owners consider made in the USA synonymous with safer products, so they feel more comfortable with U.S.-made pet products, said Mollie Backode, nutrition consultant at Wholesome Hound, a pet store in Naples, Fla.
"Customers are looking for safety for their pets, actually knowing what's in the toys and treats, knowing the locations of sourcing and being able to trust that," she said, adding that people are often less trusting of products manufactured abroad.
Aidan Gannon, owner of Petzlove in Lone Tree, Colo., said customers at his store expect a superior product with USA-made purchases.
"They're looking for longevity, superiority and quality," he said. "They really examine the quality, as they're spending more money on it. They expect it to be a superior product, last longer and have a guarantee on it."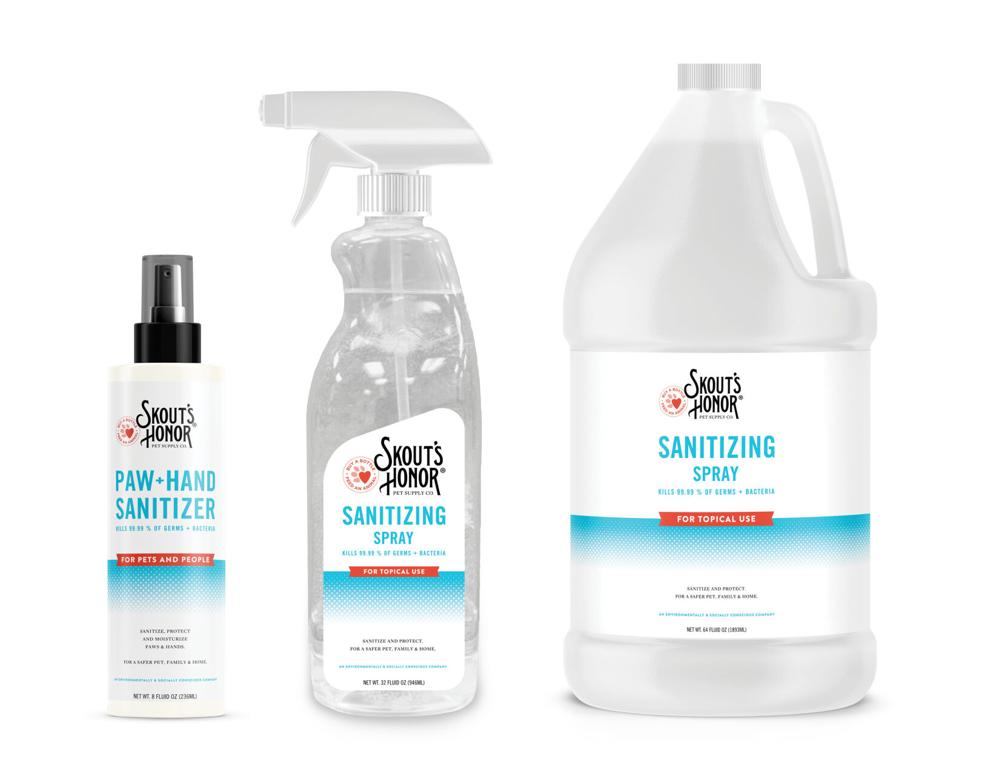 Launched in the USA
Though businesses pivoted dramatically this year, many manufacturers continued to fulfill plans to launch USA-made products into the pet marketplace.
In response to COVID-19, Skout's Honor fast-tracked a new line of Pet-Safe Topical Sanitizers this summer, said Jenny Gilcrest, vice president of marketing for the Irvine, Calif.-based company.
Formulated to be safe and effective for pets and their people, the sanitizers are formulated to kill 99.99 percent of germs, bacteria and viruses, according to the company. The line includes a Paw + Hand Sanitizer Spray (8 ounces), Topical Sanitizing Spray (32 ounces) and a Topical Sanitizing Spray Refill (64 ounces).
Also concentrating on cleanliness, Oxyfresh released Crate & Cage Cleaner in June. The nontoxic, eco-friendly, fragrance-free cleaner is formulated to clean messes and eliminate odors in crates, kennels, cages, perches and hard surfaces, said officials for the Coeur d'Alene, Idaho-based company.
In time for flea and tick season, TropiClean introduced Natural Flea & Tick Bite Relief Spray. The medicated solution is formulated to stop itching and irritation from these pests while cleaning out the pet's pores and promoting healthful cell exfoliation and replenishment, Brandly said. Later this year, TropiClean will launch a new grooming line, Brandly added.
Keeping pets from chewing and biting, Skout's Honor debuted Super Sour Anti-Chew Spray in the fall. Available in 8-ounce bottles, the spray features sour apple and natural bitters to discourage biting and chewing.
Also in fall, Pet Factory introduced a line of top-quality chews called CareChewz as an appropriate alternative for chewing dogs. Made of 100 percent collagen from USA beefhide, the chews include Digest-A-Boost, a compound that conditions the beef collagen during the preparation process for 25-percent faster digestion than traditional rawhide, March said. They come in four shapes in 100 percent Natural and in Chicken Marinade.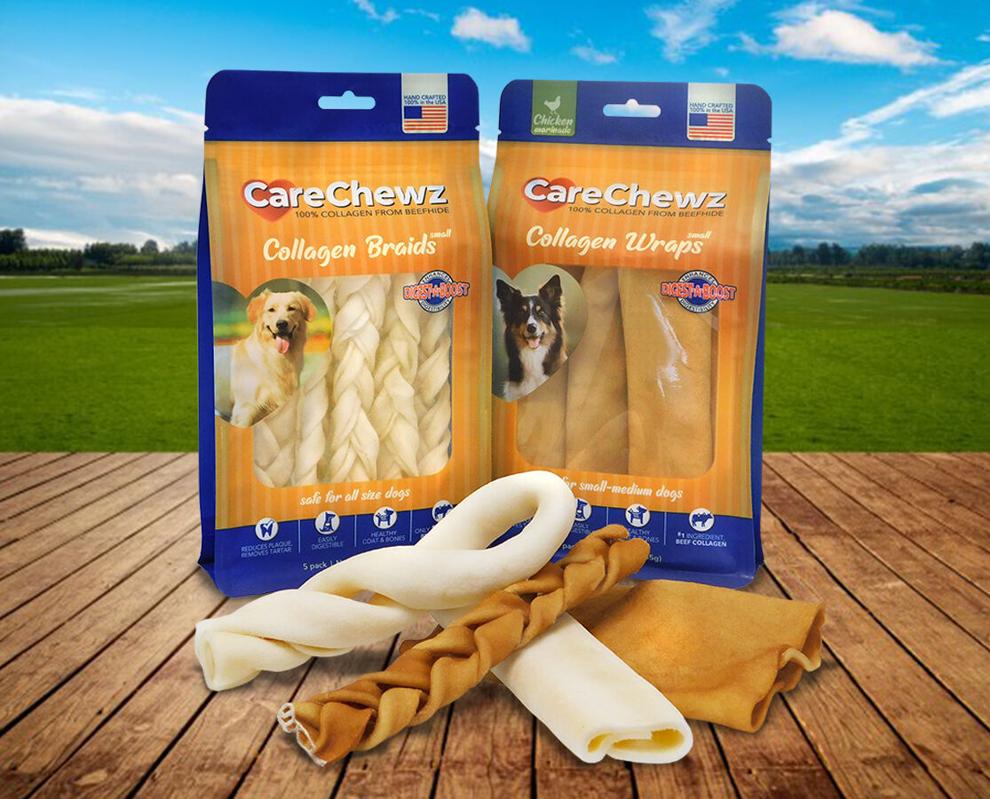 In the pet food category, SquarePet Nutrition launched two formulas in June. VFS Low Fat Formula for adult dogs is veterinary inspired and formulated for gastrointestinal health, and can be fed to dogs with difficulties in digesting fat or those experiencing digestive sensitivities, said Tyler Atkins, chief sales and marketing officer of the Austin, Texas-based company.
Squarely Natural food for dogs and cats contains one primary protein, one primary carbohydrate and one primary healthful oil.
"Squarely Natural is made with responsibly sourced ingredients like USA-raised cage-free turkey or pasture-raised New Zealand lamb in combination with non-GMO USA-grown rice and locally harvested cold-pressed sunflower oil," Atkins added.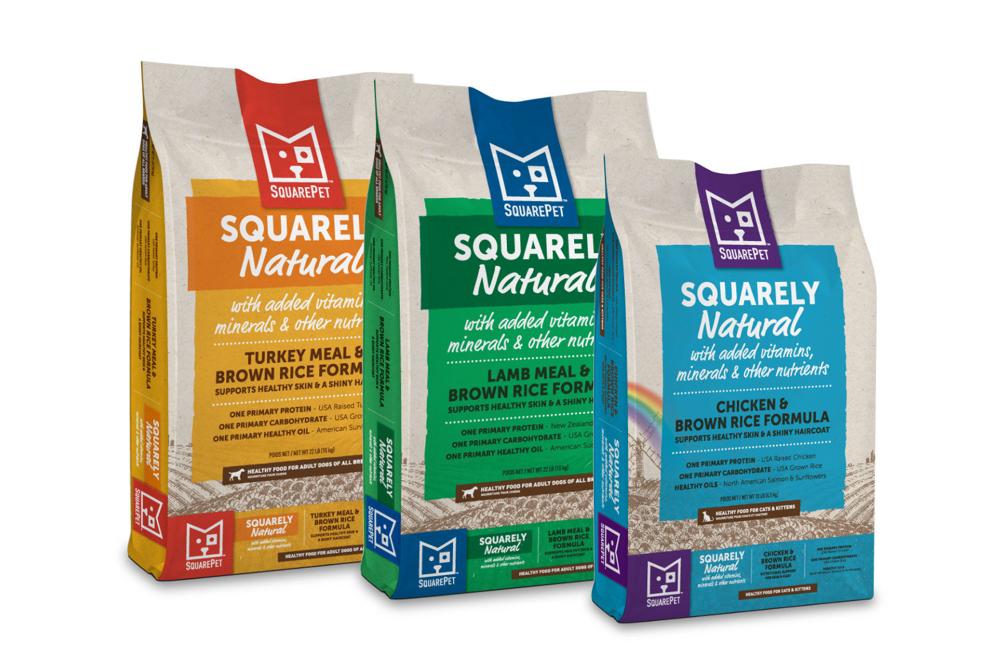 Giving Back
In addition to debuting new products, giving back is a focus for many manufacturers in the pet industry.
"Giving back is the very reason our company exists," Brandly said. "Our founder, Don Kassebaum Sr., had a desire to help those around the world and began Cosmos to help his nonprofit organization, Gifts of Love International."
Through the organization, Cosmos has helped build a children's home in Guatemala and, more recently, a school. The nonprofit's food program helps feed 800 children in Haiti and supports Strong Tower Ranch in Missouri, which offers hope and mentors youth, especially those at risk, Brandly added.
"In March 2020, Cosmos added a hand sanitizer production line to help address shortages caused by the COVID-19 pandemic," he continued. "Not only are we helping meet current market demand, but we have also donated more than 3,500 bottles to local charities, first responders and organizations locally and abroad."
Skout's Honor's ongoing giveback program is "Buy a bottle, feed an animal," which supports Rescue Bank, a national organization based in Houston.
"This is something that has always been a part of our brand and is something that allows us to work together with our customers every day with each purchase, to make a positive difference for animals in need," Gilcrest said. "We have donated millions of meals to rescue animals to date."
Also pitching in when COVID-19 hit in March, Skout's Honor provided a supply of much-needed sanitizing products for pet specialty retailer partners who were unable to access them due to shortages. This enabled employees and customers to remain safe and keep their businesses up and running, Gilcrest added.
With a twist on the traditional buy-one-get-one (BOGO) promotion, SquarePet Nutrition rolled out a buy-one-give-one program. For every bag of SquarePet purchased, the company donated a bag to local pet charities.
The manufacturer recently partnered with Emancipet, a nonprofit based in Austin, Texas, that aims to make veterinary care affordable and accessible to all pet owners. During the COVID-19 public health emergency, Emancipet also provided free dog and cat food to Austin-area pet owners, Atkins said.
With an eye to the future, Oxyfresh recently partnered with Pet Sustainability Coalition (PSC). Based in Boulder, Colo., the nonprofit organization is focused on advancing "business through profitable environmental and social practices," the website states.
"They are doing phenomenal things to help our pets and our planet," said Melissa Gulbranson, vice president of marketing for Oxyfresh. "We are excited to do our part in collaboration and advancement of this important cause."
Stay-at-home orders have affected everything this year, but savvy businesses haven't let that stop them from finding ways to protect and help.
"Even though COVID-19 has hindered many charitable events, the need is still there," March said. "Community and charitable organizations still rely on assistance through community volunteering and support. Caring individuals and committed companies help the organizations to make a positive impact in the community."
---
What Retailers Say About Made in the USA
Aidan Gannon, owner of Petzlove in Lone Tree, Colo., and Mollie Backode, nutrition consultant at Wholesome Hound in Naples, Fla., answer a couple of questions about the made in the USA pet products category.
What are your top-selling USA-made pet products this year?
Aidan Gannon: Raw foods are top selling. Next, outside of food, is treats. We have products from smaller Colorado companies, so the combination of local and USA are top sellers for us.
Mollie Backode: The West Paw and Planet Dog brands have been doing very well. Puzzle toys and heavy-duty toys have been doing better, especially with quarantine and people home with their dogs more.
What does the future hold for USA-made pet products?
Gannon: It can be [a] very strong, huge market for innovative people to get USA products onto the shelves. In our [consumables] lines, USA-made is a huge selling point. USA-made toys that are durable and have a 30-day guarantee will fly out the door. There's certainly a hole in the market for truly USA products, and they must be above the standard that's coming from overseas.
Backode: Companies with transparency, [especially with sourcing, because people are concerned about it,] and high social media presence will be really successful. Just because a product says "USA made" doesn't mean it's a good thing. We look for smaller companies and those that have their own manufacturing plants and delve deeper for sourcing and where it's actually made.