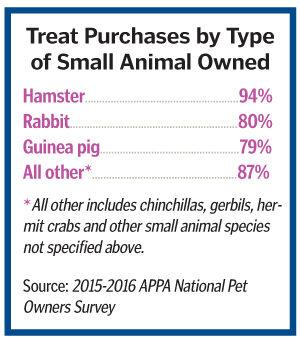 Today's average pet owner isn't quite so average anymore," said Lucas Stock, communications manager for Oxbow Animal Health in Murdock, Neb.
Pet owners are more educated and are looking for healthful and nutritious foods, treats and supplements for their small animals. Manufacturers and retailers reported that overall, people are taking better care of their animals, including their small mammals.
"The trend toward animal health and wellness seems to have gotten its start with cats and dogs, but now it is really beginning to take off for smaller pets, too, such as mice, gerbils, hamsters, guinea pigs, ferrets and rabbits," said Janice Karlovich, vice president and co-founder of Green Oak Technology Group in Brighton, Mich.
The top two desires customers express about their small pets' diets are for complete, balanced nutrition with a focus on natural ingredients and fun, interactive options, industry insiders said.
Small animal owners aren't looking for the cheapest product out there, said Samuel Cohen, vice president of sales and marketing for Healthy Pet in Ferndale, Wash. 
"Consumers love their small pets like children and actually want a product that their pet is going to be comfortable in and a product that performs exceptionally well," Cohen said.
The company's newest product is Carefresh Complete Farmer's Garden, a USA-made, species-specific small animal food.
Balanced Nutrition
"Everything in nutrition is moving to 100 percent balanced, complete diets, like we see in dogs and cats, with natural ingredients and natural foods," said David Hitsman, director of product development for Ware Manufacturing in Phoenix. "They are all focused on high-end, natural, quality items."
Incorporating gourmet natural ingredients, F.M. Brown's Sons of Sinking Spring, Pa., recently developed Tropical Carnival Natural Fortified Daily Diets.
"We took our time to develop this line of food," said Sue Brown, senior vice president of sales and marketing. "Our goal was to be original and unique and generate excitement for the small animal and pet parent. We combined gourmet natural ingredients such as pineapple, kiwi, filberts, veggies, rose petals and other goodies with nutritious natural baked crisps and our famous Zoo-Vital biscuits."
Most of the new nutritional products for small mammals this year fall under healthful treats. Vitakraft Sunseed updated the formula for its Sunseed Vita Prima Grainola Treat Bars to provide Barley 'n Apple for Rabbits and Guinea Pigs, and Coconut & Carrot Treat Bar for Hamsters, Gerbils, Rats and Mice, while Oxbow Animal Health recently added five varieties—Peppermint, Cranberry, Carrot & Dill, Bell Pepper and Apple Banana—to its Simple Rewards line of healthful treats.
"The baked treats combine the benefit of high-fiber hay with wholesome, fresh flavors and ingredients," Stock said. "Small herbivores have specialized digestive systems that are not designed to process ingredients such as starches, sugars and fats. For this reason, we are committed to only producing treats that pet parents can feel good about giving to their beloved companions."
Raw food diets are a growing trend. Marshall Pet Products introduced a line of Bandit's Freeze Dried Ferret Treats available in Duck, Turkey and Rabbit recipes.
"The crunchy, natural treats are made with single-sourced, whole animal protein, bringing a new level of portability and convenience to ferret owners wishing to supplement with raw meat," said Linda Cope, global marketing manager for the Wolcott, N.Y., company. "They're also a great source of vitamin A, B6, zinc, taurine and more."
Single component extruded kibble is a growing trend worldwide, said Claire Hamblion, marketing manager for Supreme Petfoods in Suffolk, England.
"In the U.S., sales of our Selective extruded kibbles have surpassed all our expectations," Hamblion said. "This format is vastly different from traditional cold-pressed pellets held together with molasses. Veterinarians are increasingly recommending extruded kibbles as a way to avoid selective feeding, and when it comes to a healthful diet, extrusions really do have the edge, as they are palatable, too."
The company also offers food mixes designed to encourage natural foraging in its Tiny Friends Farm range, which was recently introduced to the U.S. market.
To support healthful eating habits, Green Oak Technology Group developed STAYbowl, a spill-proof feed bowl for small animals designed to ensure that small pets get the proper nutrition they need and to minimize the mess and cleanup for owners and retailers, Karlovich said.
"Many people don't realize, for example, that an adult guinea pig only requires about two tablespoons of kibble each day," Karlovich said. "Lighter bowls tip easily, and small animals seem to love to spill their food. A lot of times, small animals refuse to eat the kibble off the bottom of the cage, so owners keep filling up the bowl when it is empty, having no idea how much their pet actually has eaten. Making sure our pets get the proper nutrition they need is critical. It can help to extend their lives."
Several companies also updated their small mammal packaging this year.
"We're seeing bigger-volume bags, better pricing and more dramatic and vibrant packaging that pops off the shelf," said Kevin Bloomquist, co-owner of The Stock Shop in Glendale, Ariz., and two feed stores in Tucson. "We're also seeing manufacturers use suggestive selling through recommending better products and ingredients."
Lisa Kniceley, marketing and trade sales specialist for Vitakraft Sunseed in Bowling Green, Ohio, reported seeing a trend away from blister packaging "because it can become cloudy and collects dust, so [Vitakraft Sunseed] is eliminating the blister packing and replacing it with a fresher, cleaner look of polybags, which also are nitrogen flushed, creating a fresher product as well."
Oxbow Animal Health's new packaging represents a complete makeover, Stock said, addressing the growing focus on premium packaging with "premium" information as well.
"Consumers are looking for packaging with attractive, appealing graphics and compelling on-pack education and content," Stock said. "They want to know what's in the food they provide to their pets, and they want to feel good about the companies they choose to purchase products from."
Hamblion agreed that pet owners these days closely scrutinize ingredient labels.
"Awareness has never been higher on the big issues of the day, such as selective feeding, the need for high fiber for herbivores and the pressure to avoid added sugars such as molasses," she said.
The Fun in Nutrition
Recognizing the importance of getting more people started in petkeeping and keeping the industry going, Ware's Hitsman said fun and interactivity are key components in the small mammal nutrition category.
"Small animal [petkeeping] has picked up in the last 20 years and is the leader in getting people in the hobby," he said. "Make it an enjoyable experience for kids so they evolve through the industry … move from hobby to lifestyle. Interactive includes treats. Feeding treats to small mammals gets a response from the child and from the pet, which makes the bond. And that's the goal: Make it fun."
One of the ways Ware does this is with its mineral chew treats. The company takes a basic mineral element, such as calcium from clamshells, and makes it into a fun shape, such as a bar with icing, an ice pop or a peanut, Hitsman said. The company does everything it can to make small animal ownership fun and interesting to keep people in it for the long haul and returning for repeat purchases, he added.  
STRATEGIC PLACEMENT, CLEAR SIGNAGE MAKE THE SALE
Because natural is such a trend right now, sources recommend providing a separate natural section in the small animal set with signage to help to educate consumers regarding natural foods.
"Treats benefit from strategic placement in their retail setting," said Lucas Stock, communications manager for Oxbow Animal Health in Murdock, Neb. "Not surprisingly, treats perform well at eye level and in situations where they're positioned to stand out."
Both Stock and Rebecca Horvath, owner of Pet Kingdom USA in Las Vegas, said hanging hooks and clip strips in the aisle are great display options when possible. 
Full shelves are the key to good sales, according to Kevin Bloomquist, co-owner of The Stock Shop in Glendale, Ariz., and two feed stores in Tucson. About 10 percent of his sales are small mammal, and 90 percent of that is nutrition, he said.
"We're big believers that a full shelf sells," he said. "We tell our staff that there are two types of shelves. The theme shelf is where you put food, dishes, waterers and supplements. You can walk a new owner over to the shelf to see waterers, cages, etc., to talk about everything that's available. Then you have the wall, like for timothy hay bags, and a sign that says the special and a shelf-talker. This is for your repeat customers who know exactly what they need to refill."
At Pets On Broadway, a full-line pet store in Portland, Ore., the store's buyer, Sarah Hudson-Sims, recommends picking a few high-quality manufacturers and sticking with their products. 
"It looks better on the shelf and is less confusing to customers," she said. "If customers come in looking for a brand we don't stock, they usually don't hesitate to try one of the brands we do carry, even though we always offer to special order their food for them at no additional charge."
Time is a precious commodity for modern shoppers, said Claire Hamblion, marketing manager for Supreme Petfoods in Suffolk, England.
"By having clear signposting and creating one 'pocket pet' destination in-store, retailers can eliminate frustration and maximize sales," she said. 
Stock recommends buy-one, get-one sales.
"BOGO offers and similar promotions are a great way to promote key treats," he said. "For example, running a promo where a free treat accompanies the purchase of a larger-size hay variety is a great way to incentivize the purchase of a daily nutritional staple."
Healthy Pet in Ferndale, Wash., uses a similar strategy.
"We are best known for bedding, so we have put instant redeemable coupons for our food on our bedding," said Samuel Cohen, vice president of sales and marketing. "This allows customers who buy our bedding to get a free bag of Carefresh Complete food. We want to run promotions to help our retail partners increase revenue and retain more repeat customers."
The bottom line is that if retailers use the products in their stores, consumers want to buy them, said David Hitsman, director of product development for Ware Manufacturing in Phoenix.
"Anything you physically use in your store—a specific diet, water bottle, treat-dispensing toy, etc.—customers will buy it," Hitsman said. "Whatever you put with or use on the in-store animals, that's what sells it."—SC
---
This article originally appeared in the November 2015 issue of Pet Product News.