As pet owners seek out more healthful and natural diets for their dogs and cats, there has been growing interest in raw frozen and freeze-dried foods as well as dehydrated options.
While raw diets hold only a small percentage of the overall pet food category, that percentage is continuously growing, said Tracey Hatch-Rizzi, vice president and co-founder of Radagast Pet Food Inc. in Portland, Ore. The focus largely has been on freeze-dried and dehydrated foods, but Hatch-Rizzi said more stores are looking to add freezers or expand their freezer section.
Brook Bickford, owner of Gone to the Dogs Boutique in St. Pete Beach, Fla., is among those retailers who are considering adding a freezer. He has been selling freeze-dried foods, and though he admitted it's a small market, he said it's a steady one. The biggest pushback has been the price. Bickford said he has had to educate customers on the benefits that make these foods worth the extra cost.
"There is some sticker shock from the customers who have never purchased freeze-dried foods before, and that remains my biggest hurdle," Bickford said. "But the clients that buy it do so on a recurring basis. For that reason, I have been deciding if there is also enough of a market to justify a freezer."
Dan Owens, co-owner of Four Dogs Pet Supplies in Charlotte, N.C., said the benefits of a raw diet that customers seem to like are the high absorbency rate and the production of less waste. Cats and dogs with allergies and sensitivities also seem to do well on raw diets, Owens said.
"Once customers see the benefits for themselves, they tend to be hooked," Owens said. "It's particularly popular in urban markets, where having less waste makes the pet a lot more manageable."
As pets become more a part of the family, the market will continue to grow, said Doug Jones, director of social media for OC Raw Dog in Rancho Santa Margarita, Calif.
"Dogs are part of the family, and pet parents look at them like their children," Jones said. "Because of that, they're doing more research on healthful diets and, ultimately, turning to raw."
New to the Category
Minneapolis-based Sojos is helping customers start their customers' dogs on a raw diet in the first stage of life. With the recently introduced Sojos Complete for Puppies, launched at SuperZoo in Las Vegas in August, retailers can offer a raw diet to their customers' youngest pets.
The raw diet's blend of freeze-dried turkey and salmon, select superfoods, and essential vitamins and minerals rehydrates in just five minutes to minimize prep time, said Ward Johnson, co-founder.
Family Owned Spot Farms in Kings Mountain, N.C., launched a line of human-grade dehydrated dog food this summer. Spot Farms Dehydrated is available in five recipes: Grain Free Chicken, Grain Free Turkey, Grain Free Pork, Chicken & Whole Grain and Turkey & Whole Grain.
Educating Customers on Raw
Dan Owens, co-owner of Four Dogs Pet Supplies in Charlotte, N.C., said it's not uncommon for customers to have a lot of questions if they're considering a new diet and that customers want to understand the defrosting portions as well as how to keep the food frozen. Customers who are new to raw diets will turn to the retailer for support, and that's what is beneficial about being an independent retailer, he said.
"We really have the time and the desire to discuss this kind of information with the client—and to be there to support them through a change," Owens said. "Even though more people are learning about raw diets, you'd be surprised how often the first time they've heard anything about it is from you. If a customer asks a question about their pet's diet, that's the perfect opportunity to bring up the benefits of raw."
As more pet owners become interested in switching diets, the opportunities for retailers will grow. Jeana Evans, manager of Pet Barn in Fulton, Md., said that as interest grows, retailers need to take responsibility to get the facts straight.
"At the very least, consumers are looking for information, and they're going to turn to retailers for the answers," Evans said. "Have a good knowledge of your products and make sure your employees do, too."
Ward Johnson, co-founder of Sojos in Minneapolis, said retailers also have the opportunity to make the transition easier on consumers.
"Every day, more and more concerned pet parents are discovering the amazing difference a raw diet can make," Johnson said. "Even so, the leap from kibble to canned can be intimidating. It's important for pet specialty retailers to be ready to introduce pet parents to freeze-dried alternatives, like Sojos, that combine the affordability and shelf-stable convenience of kibble with the superior nutrition of raw."
Alison Schwartz, general manager of All Pets Considered in Greensboro, N.C., said that hosting seminars in which the public is invited to come out and learn about a raw diet, as well as ask questions, is helpful in educating large groups.
"There's definitely a lot more interest in raw—but there are also a lot of questions," Schwartz said. "Most customers want to know how to introduce it as well as how to feed it. 'Do I have to cook it?' is a very common question we get."
Displayed to Sell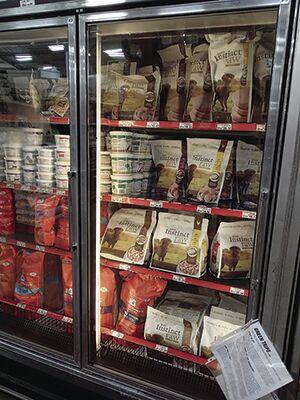 Like anything else, the key to selling more raw frozen, raw freeze-dried and dehydrated foods is visibility, said Dan Owens, co-owner of Four Dogs Pet Supplies in Charlotte, N.C. However, visibility is admittedly a challenge when raw foods might be hidden away in a freezer. Owens said he makes a point to generate conversation about raw diets so that customers are encouraged to check them out. 
Jeana Evans, manager of Pet Barn in Fulton, Md., said that her store's seven glass-door walk-in freezers allow her to display each line of food very well.
Of course, it's helpful to have the freezer section positioned in high-traffic areas, said Tracey Hatch-Rizzi, vice president and co-founder of Radagast Pet Food Inc. in Portland, Ore.—particularly when retailers have solid-door freezers.
"Colorful signage letting customers know 'there's something good inside' is also helpful," Hatch-Rizzi said. "There are also a growing number of retailers who are opting for glass-front freezers, which merchandise very well and give the customer the opportunity to explore the freezer section fully—without ever having to open a door."
Retailers should put some thought into the overall appearance of their freezer, manufacturers reported. If there is food that has been in there a long time and past the expiration date, it's going to be an automatic turn-off to customers, said Doug Jones, director of social media for OC Raw Dog in Rancho Santa Margarita, Calif.
"What consumers love about raw is that it's fresh and healthful, but having old food in your freezer is going to immediately give a bad impression," Jones said. "Make sure you are continually checking food and keeping it up-to-date."
Caroline Gunther, owner of Wag! A Unique Pet Boutique in Hendersonville, N.C., said that very few of her customers happen across raw and become interested. Most already have heard about it somewhere and have done a little research. Still, for customers who are brand new to the category, Gunther starts a dialogue.
"For me, selling more raw food always starts with a conversation," Gunther said. "It's not the type of food that consumers are going to discover and understand on their own unless they've already done their research, so I make a point to talk to my customers about it."
This article originally appeared in the October 2016 issue of Pet Product News.