No longer a niche market, natural food has emerged as a popular tool in customers' efforts to improve the health of their dogs and cats.
"They seem to be making the connection that if they are feeding themselves and their children quality, whole foods, then perhaps they should do that for their pets," said Katrina Boucher, owner of The Cape Cod Dog in Eastham, Mass.
Why has the natural pet food market grown? An increased focus on health is one reason, retailers and manufacturers reported. Other rationales touch on several trends within the pet industry, including the changing role of pets within the family as well as the desire to know exactly what goes into pet food and where it comes from.
"People are noticing a difference [in how] the way they eat makes them feel, so they are starting to buy for their pets the same way," said Pam Webb, owner of Paws in the City in Cary, N.C.
Natural foods' shift from a niche market to mainstream staple has much to do with the changing role of pets, said Kirill Tikhomirov, vice president of brand commercialization for Nutram Pet Products, a division of Elmira Pet Products Ltd. in Elmira, Ontario, Canada.
"The biggest reason is that pets in popular culture truly became members of the family, and they are expected to be cared for as one, which includes how and what they eat," Tikhomirov said.
Many factors are driving the shift to natural and raw pet foods, said Ward Johnson, owner and president of Sojos, a Minneapolis-based manufacturer.
"In simple terms, I'd say it began in the '90s with the growing humanization of pets," Johnson said. "Then the widespread recalls of 2007 accelerated demand."
Those recalls left many pet owners clamoring for information about the foods they feed their pets, Johnson and other industry observers said.
Paul Baumann, owner of All Paws Pet Center, a retailer with locations in the Wichita, Kan., area, opened his first store in 2006, not long before the recalls first hit.
He decided before his store opened to sell only products without corn, wheat or soy—a decision he made after doing extensive research, he said.
"I realized that much of what we were feeding our dog at the time wasn't high quality," Baumann said. "I was really quite disappointed. I thought I was feeding my dog a good food, and I wasn't. I knew there were a lot of people like us—they cared about what they were feeding [their pets]. It wasn't an afterthought."
The decision has paid off, Baumann said. Since the first location opened in 2006, he has added two stores. More and more, he said, customers are asking questions about where products are being manufactured and what they contain.
"It's a conversation we have multiple times a day," Baumann said.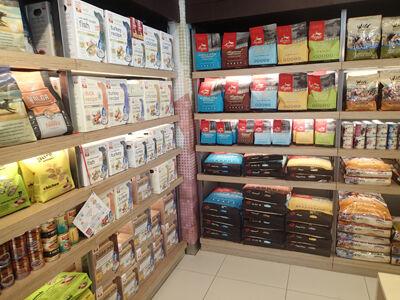 Cats vs. Dogs
Those conversations vary among dog and cat owners, industry observers said. Cat products often follow trends seen in dog foods, but with a delay, Johnson said.
"We've found that trends in feline products tend to follow their canine counterparts by two to three years," Johnson said.
Some differences drive purchases, however. The shift toward natural products includes a rise in the demand for species-specific foods, said Bette Schubert, co-founder and senior vice president of sales, new product development and education for Bravo Pet Foods in Manchester, Conn.
"Cat owners are typically looking for those products that include important ingredients, like taurine, while keeping the unnecessary ingredients, like vegetables, to a minimum or absent from the food all together," Schubert said.
Dog owners, on the other hand, are looking to what their pets' forebears ate, said Mark Sapir, vice president of marketing for Merrick Pet Care in Amarillo, Texas.
"Interest in ancestral canine diets is on the rise overall, as pet parents seek ways to feed their dogs as they may have eaten in the wild," Sapir said.
Challenging Preconceived Notions
Even though natural goods are gaining traction, preconceived notions about their cost continue to affect customers' buying decisions, according to some industry participants. That's where sales staff can make the difference.
Sojos' Johnson noted that, when armed with the knowledge to answer questions and clear up misconceptions, employees can affirm the value of buying natural foods, including raw.
"A little well-reasoned advice can go a long way toward alleviating doubt—and putting a valued customer on the path to a healthier, happier pet," Johnson said.
One way to educate customers is to compare natural foods to their non-natural counterparts, Tikhomirov said.
"By providing more information to the customer and walking them through the comparisons between different foods for their individual pet, ultimately the consumer will make the very best choice for their pet," Tikhomirov said. "It takes time, of course, but the results are much better. And [retailers will] always have a happy customer who will keep coming back for more."
Once educated about the benefits of natural, customers are willing to open their wallets if it helps their pets, retailers reported.
"People are willing to pay more for higher-quality foods from family-owned companies," said Webb, whose store, Paws in the City, uses social media and partners with local veterinarians to build business.
Yet natural foods don't have to break the bank, All Paws Pet Center's Baumann said.
"We have a food for every budget," Baumann said. "The most important thing is, the customer needs to be aware that good-quality dog food doesn't have to be expensive."
What's New in Natural
• Nutram Pet Products, a division of Elmira Pet Products Ltd. in Elmira, Ontario, Canada, launched recipes in three categories at Global Pet Expo in Orlando, Fla., this year: Nutram Sound Balanced Wellness, Nutram Ideal Solution Support and Nutram Total Grain Free, said Kirill Tikhomirov, vice president of brand commercialization for Nutram.
• Canidae Natural Pet Food Co. in Norco, Calif., released several new products this spring: Under the Sun, new grain free Pure formulas and Grain Free Pure Chewy Treats. Under the Sun is a grain-free formula for both cats and dogs. The Pure line has eight new formulas aimed at specific needs or pets, such as weight management, hairball control, small breed, kittens and seniors. Grain Free Pure Chewy Treats contain ingredients such as bison, wild boar, trout, pomegranate, kale and rabbit.
• Sojos recently introduced Sojos Wild, a line of shelf-stable raw dog food. It's a high-protein, ultrapremium diet made with freeze-dried exotic meat or fish as the No. 1 ingredient, said Ward Johnson, owner and president of the Minneapolis-based manufacturer.
• Bravo Pet Foods in Manchester, Conn., launched two dog foods at Global Pet Expo: freeze-dried Homestyle Complete Dinners and Crunchy Delights baked treats for dogs, said Bette Schubert, co-founder and senior vice president of sales, new product development and education.—KS
Putting Manufacturers to Work
Manufacturers can be a resource, Bravo's Schubert said.
"You will want to work with manufacturers who have a good reputation and provide educational support so you can train your sales team," Schubert said. "Education is an inexpensive way to boost sales, as being knowledgeable about the unique benefits of a product goes a long way in matching customers with the right product."
Schubert recommends that retailers create a section for natural products. But for those whose size doesn't permit such a section, don't worry: Some retailers noted that a small store has its advantages, too.
Boucher said The Cape Cod Dog's size makes it possible for staff to interact with each customer. She and her staff ask customers a lot of questions: How old is your pet? Is the pet active? What does the pet like? She tries to meet their needs, even if she doesn't stock the right product.
"I also am willing to special order brands that I cannot stock due to space issues," Boucher said. "Of course, I would rather sell them something off my shelves, but it is more important to me that we find the right food for their pet and keep them coming back."
She will even refer customers to other stores if necessary.
"My philosophy is that I am not here to just sell you anything," Boucher said. "I want to sell you the right thing the first time around, if possible. This develops a trusted relationship and lessens returns as well."
When all else fails, she said, she goes by the golden rule.
"My business happens to be in the town I grew up in, and everyone knows me, so it's important to maintain a strong, positive relationship with my customers," Boucher said. "They are literally my neighbors. My tip to retailers is to treat people the way you would want to be treated."  
---
This article originally appeared in the August 2015 issue of Pet Product News.