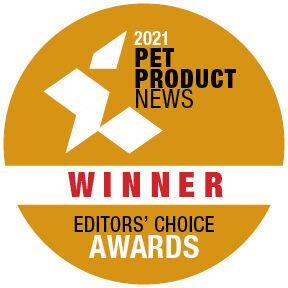 The Editors' Choice Awards are one of the most highly anticipated happenings of the year for us at Pet Product News (PPN). They remind us how our industry is always evolving to not only meet but exceed pet owners' expectations, with manufacturers continuing to release innovative, new products that help owners give their furry friends their very best lives possible.
We announced the finalists for the 2021 Editors' Choice Awards in the October issue of PPN. Now, on the following pages, we present the top products from among those finalists—products that have earned a coveted Editors' Choice Award.
Thank you to everyone who participated by sharing their great pet products with us. As always, we can't wait to see what you come up with next!
---
Aquatics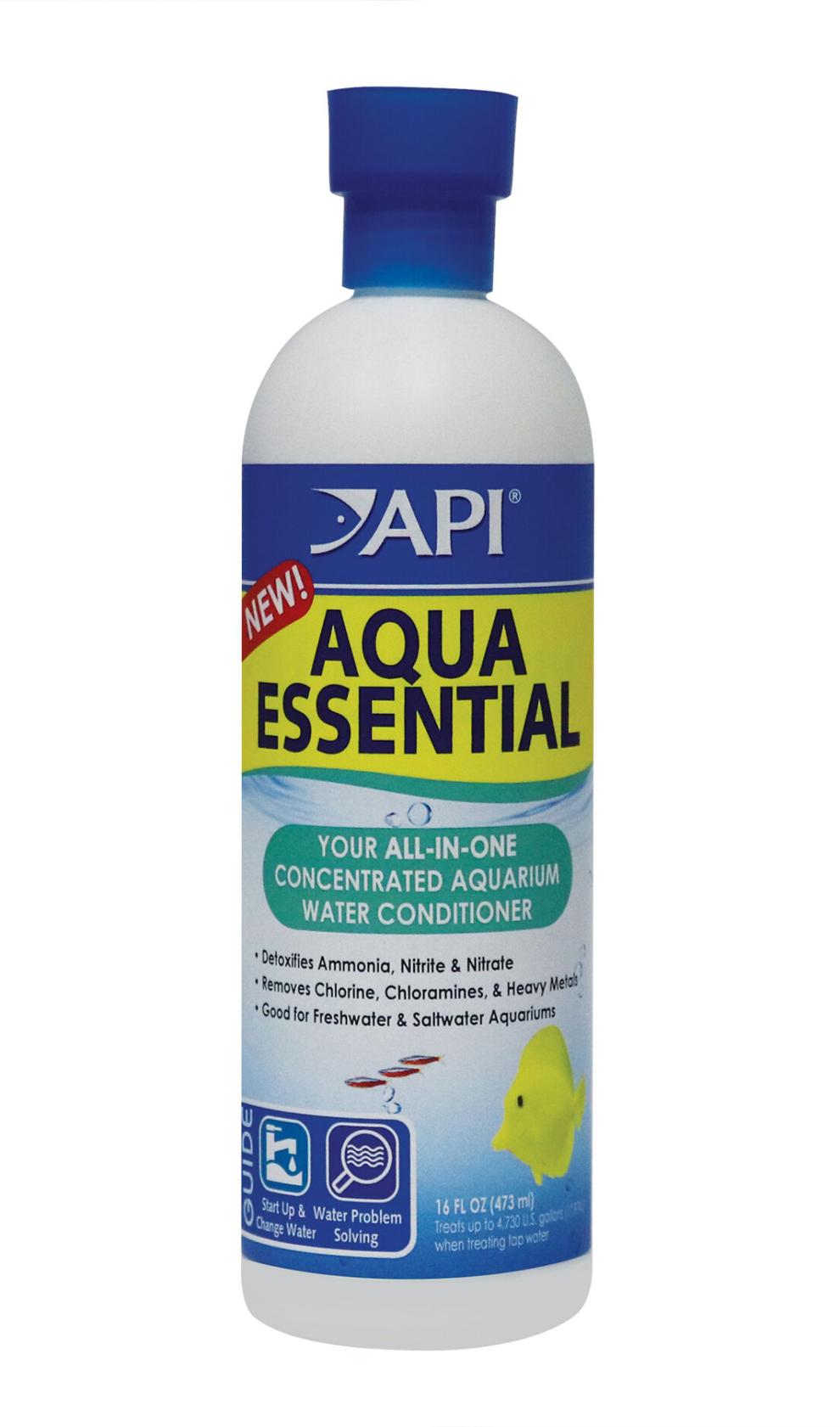 Mars Fishcare
API Aqua Essential
Mars Fishcare offers API Aqua Essential, an all-in-one concentrated aquarium water conditioner. In an independent research study, the company learned that all-in-one treatments are seen as a positive attribute to water treatments because fish owners view routine maintenance as a challenging part of their water care routine. In addition, fish owners are increasingly seeking highly concentrated formulas to treat their aquariums to help stretch a dollar. The product answers both of these demands and is good for use in both freshwater and saltwater aquariums. The water conditioner not only treats tap water by removing chlorine, chloramines and heavy metals, but also instantly detoxifies ammonia, nitrite and nitrates. apifishcare.com
---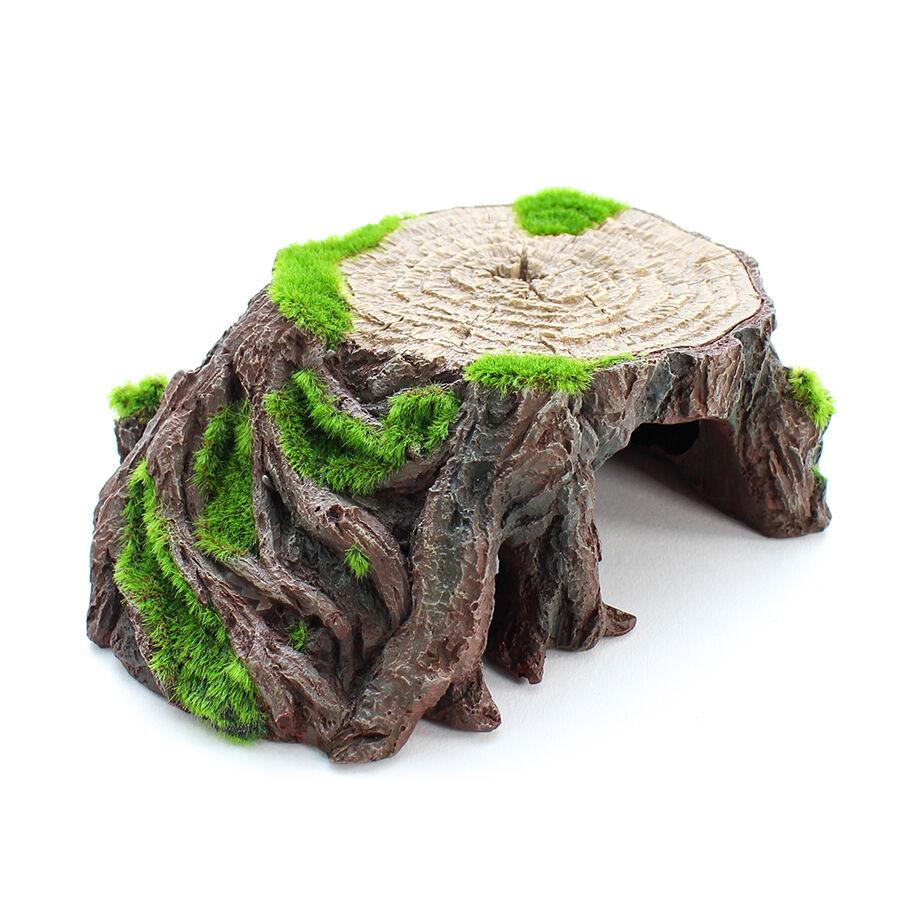 Penn-Plax
AquaFloras Grow Resins
Penn-Plax presents AquaFloras Grow Resins. The line of resins is easy to use; live freshwater plants sprout in four to 10 days, with no maintenance required. The plant seeds sprout straight out of the resin. Once submerged, the plants will activate and the growing process starts immediately. AquaFloras will grow in most water conditions but will flourish in warm, filtered water under a plant growth LED light. penn-plax.com
---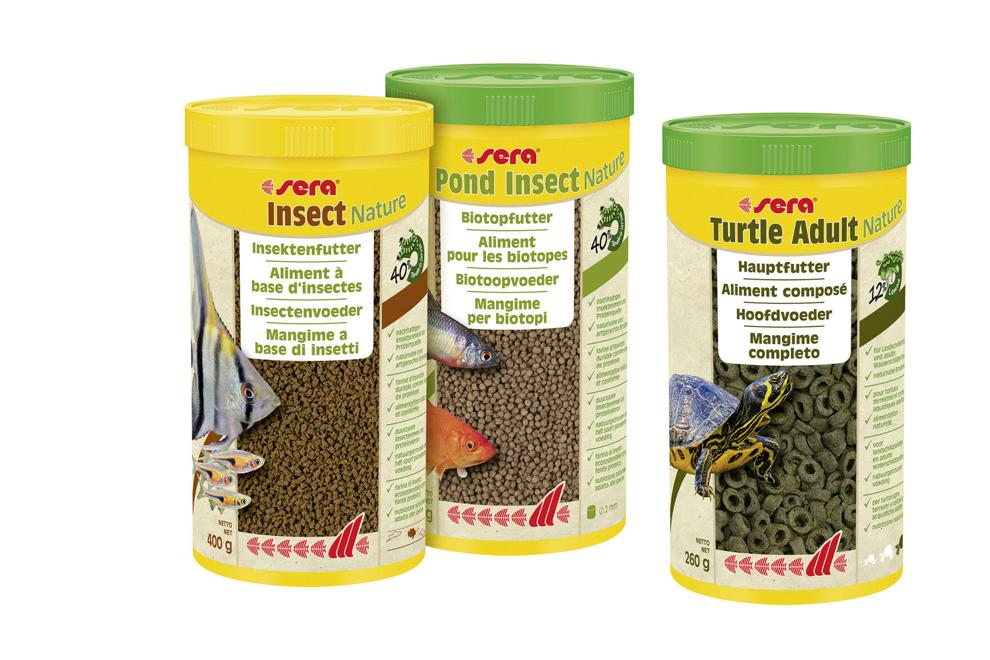 Sera
Insect Nature, Pond Insect Nature and Turtle Adult Nature
Sera presents Insect Nature, Pond Insect Nature and Turtle Adult Nature, which do not contain any dyes or preservatives. They are based on sustainable food concepts. The two fish foods contain all animal proteins from the Tenebrio larvae. Turtle Adult Nature is an all-veggie turtle food based on water lentils for tortoises and adult terrapins. The packaging of the food line consists of 35% sugar cane and underlines the sustainability of the products. The renewable raw material is 100% recyclable and thus actively contributes to reducing CO2 emissions. sera-usa.com
---
Exotics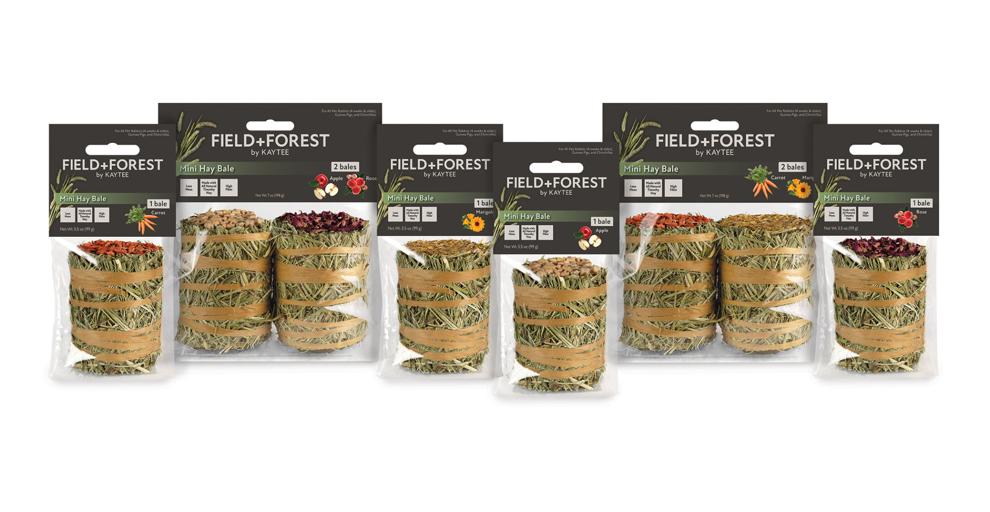 Kaytee
Field+Forest Mini Hay Bale
Kaytee's Field+Forest Mini Hay Bales mean less mess. The bales are made with timothy hay and topped with veggies, fruit or botanicals, and wrapped in a pet-safe, palm-fiber tie for easy, convenient foraging fun. The company's exclusive, all-natural timothy hay is naturally grown without pesticides, specifically for small pets. The bales are available in the following toppings: carrot, marigold, apple and rose. fieldandforestpet.com
---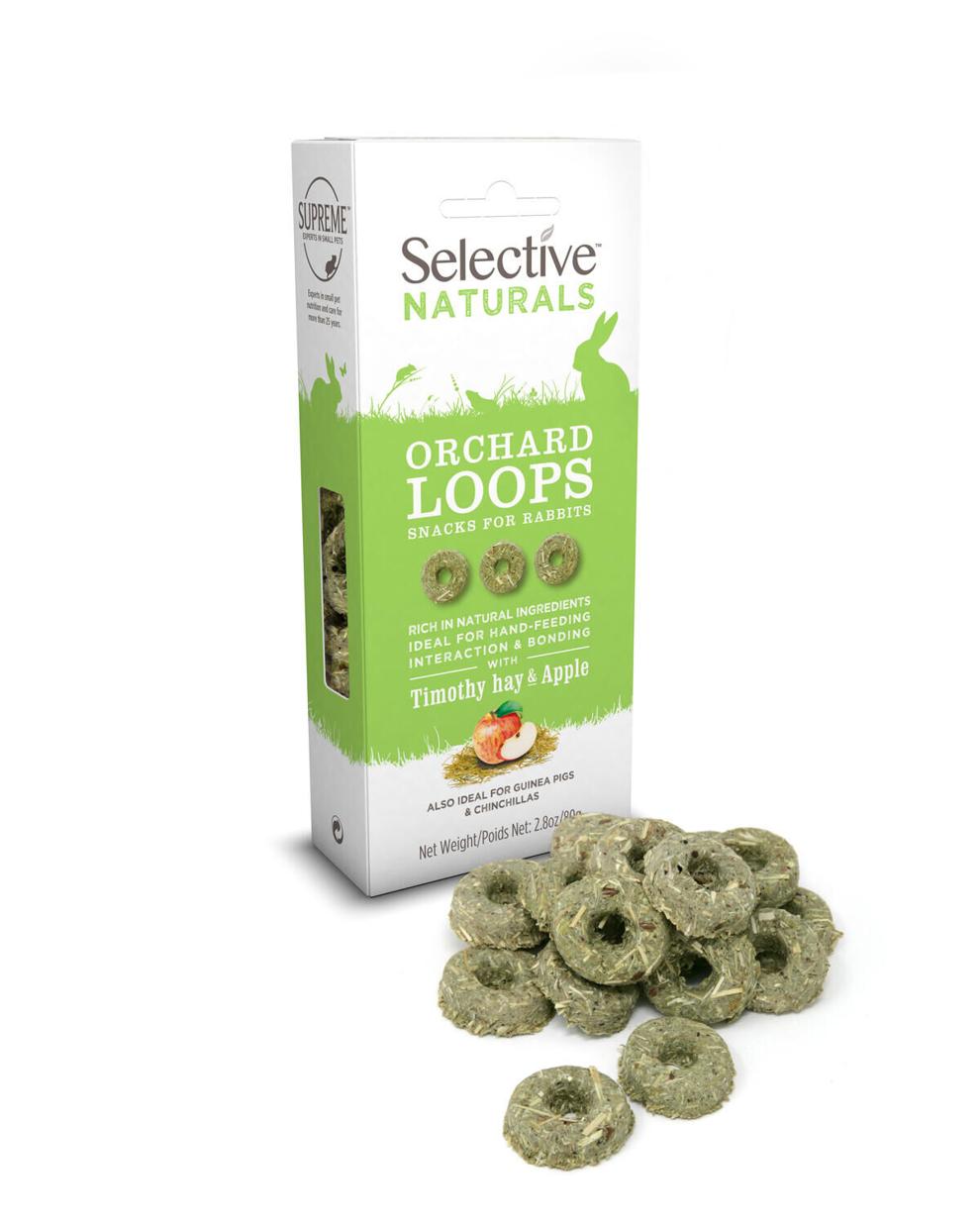 Supreme Petfoods
Selective Naturals Berry Loops and Orchard Loops
Supreme Petfoods' Selective Naturals Berry Loops and Orchard Loops are healthy, high-fiber treats rich in natural ingredients. They are designed for rabbits, guinea pigs and chinchillas. Both products combine nutritious timothy hay with fruit flavors: Berry Loops contain cranberry, and Orchard Loops are based on apple. These fruit flavors are appealing to small pets, while the timothy hay boosts the fiber content to support digestive and dental health. Alongside these natural ingredients, the treats contain no added sugar and no artificial colors. supremepetfoods.com
---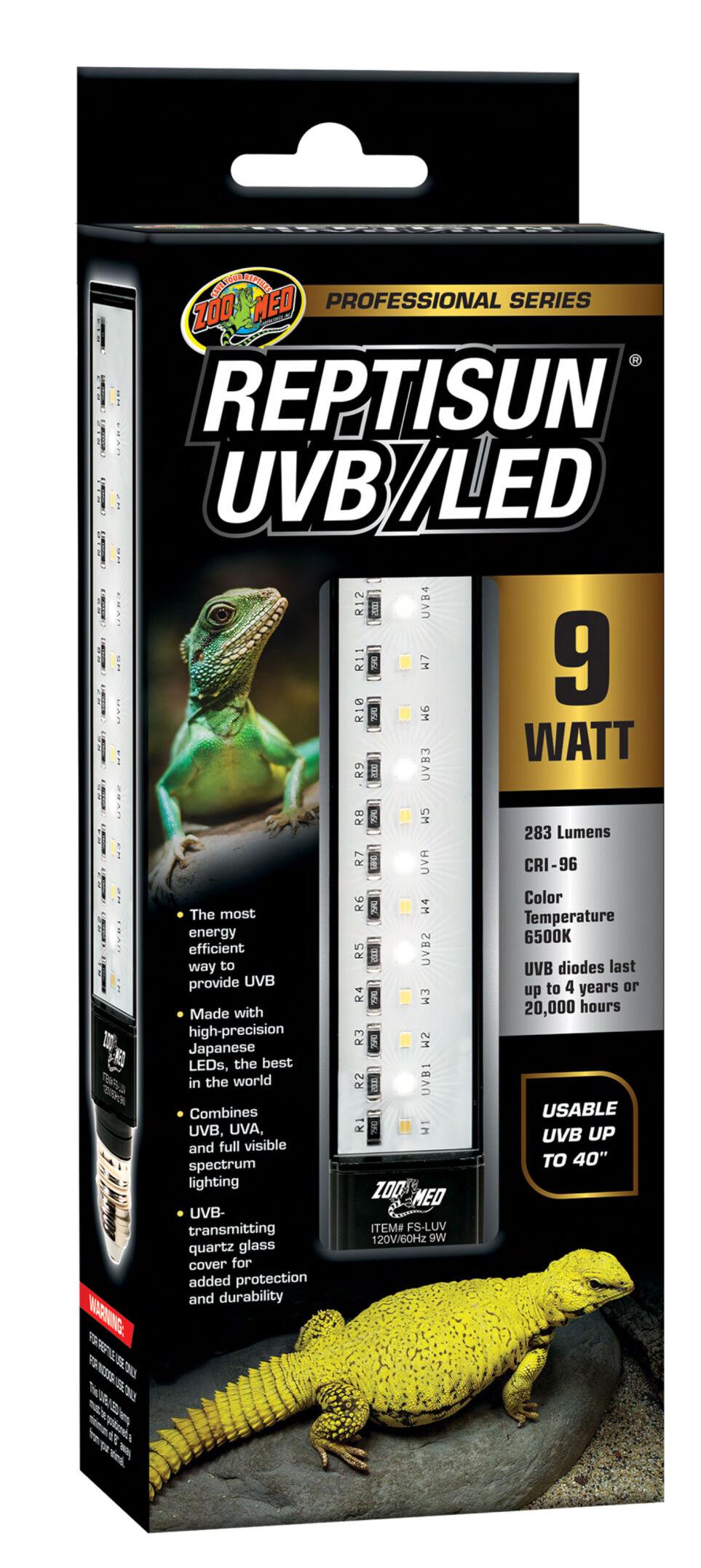 Zoo Med Laboratories
ReptiSun UVB/LED
Zoo Med Laboratories offers the ReptiSun UVB/LED, a full-spectrum light for reptiles and amphibians. It's packed with powerful UVB diodes that create usable wavelengths up to 40 in. away. It also includes bright, 6500k white light LEDs and a centrally mounted UVA diode to complete full-spectrum output. It uses far less energy than comparable UVB sources, the company states, and it lasts an extremely long time; it emits usable levels of UVB for up to four years. zoomed.com
---
Cat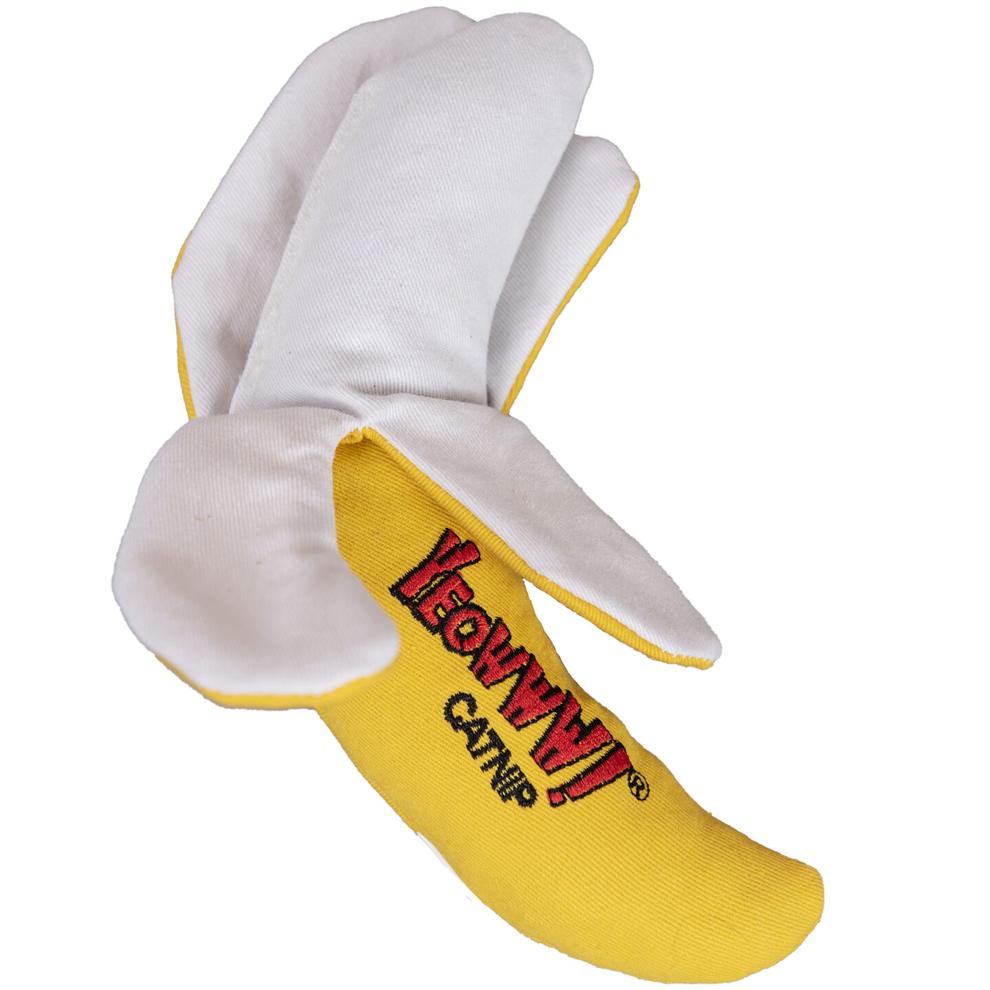 DuckyWorld Products
Yeowww! Catnip Chi-CAT-a Banana Peeled
DuckyWorld Products offer the Yeowww! Catnip Chi-CAT-a Banana Peeled. The toy is made of durable cotton twill and filled with 100% organically grown catnip—no fillers and no chemicals. It's tough enough to withstand a cat's energetic bites and kicks, and it has the curved shape that cats love. The peels are crinkly for extra fun. yeowww.com
---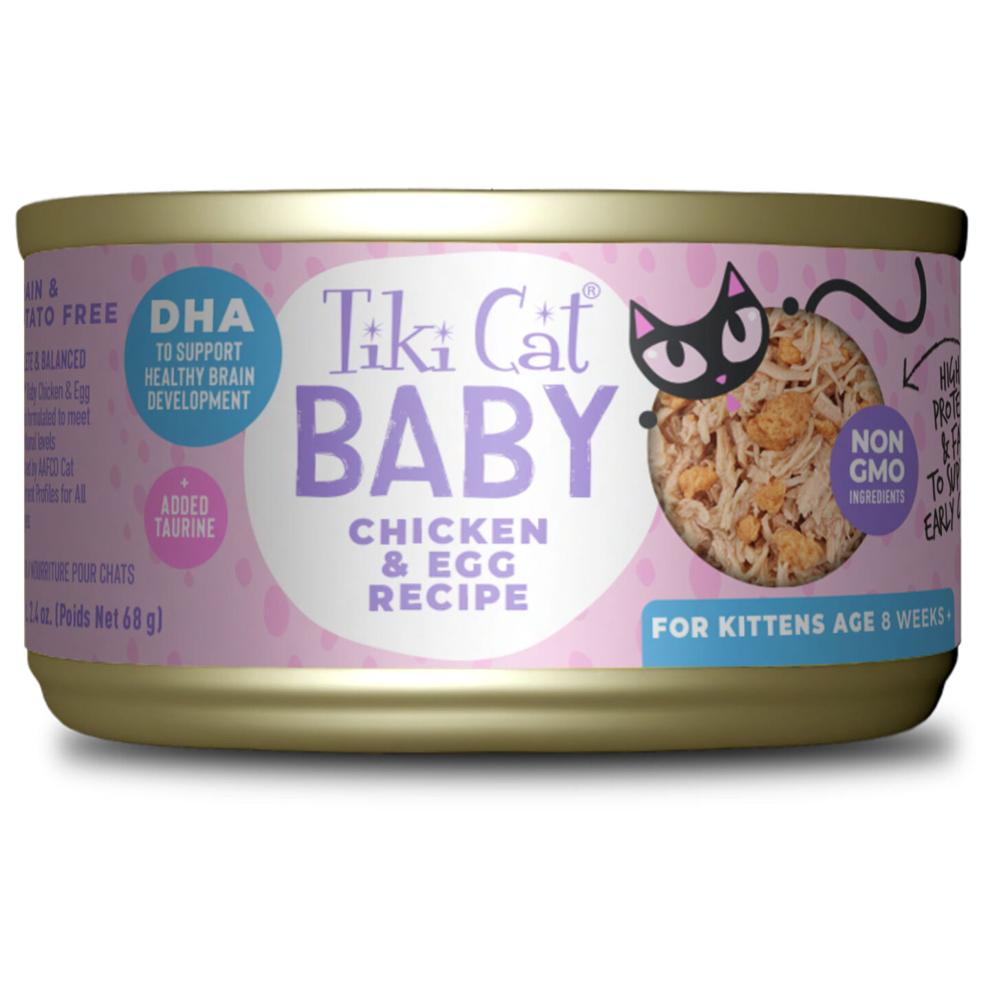 Tiki Cat
Tiki Cat Baby
Tiki Cat offers Tiki Cat Baby, a range of life stage nutrition that takes kittens through their first year—from nursing to weaning to eating whole foods on their own. Tiki Cat Baby offers four formulas coordinated to kittens' developing nutritional needs: Baby Thrive is a smooth, easy-to-lick energy supplement for baby kittens that are underweight or losing weight; Baby Mousse & Shreds is formulated to help transition from mother's milk and is the perfect starter food for weaning kittens; and Baby Chicken & Salmon Recipe and Baby Chicken & Egg Recipe, for kittens eight weeks and older, provide complete nutrition for kittens up to one year. tikipets.com
---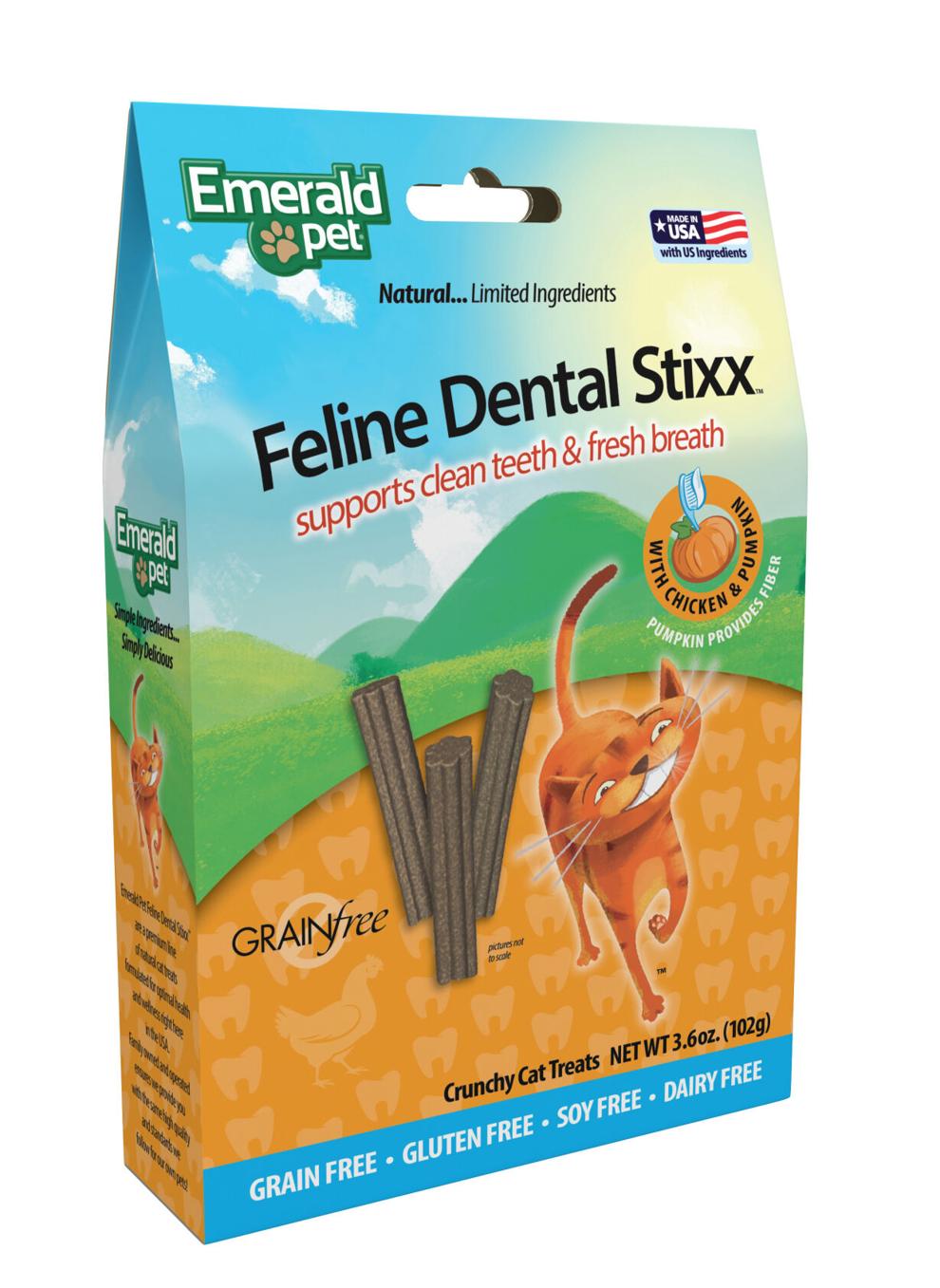 Emerald Pet Products
Feline Dental Stixx
Emerald Pet Products presents Feline Dental Stixx. With ridges that run the entire length of the stick-shaped dental treat, they are designed to reach the back teeth and massage the gums. The unique shape and texture satisfy a cat's natural desire to chew and crunch while promoting oral health through chewing action with calcium carbonate, the same abrasive used in toothpaste, to help remove tartar and plaque buildup. Real pumpkin is included in each of the recipes. The natural, limited-ingredient treats are made in the USA with U.S. ingredients and are grain, gluten, dairy and soy free. They contain no artificial ingredients, colors or flavors and no added sugars, sweeteners or salt. They are available in Chicken with Pumpkin, Salmon with Pumpkin, Tuna with Pumpkin and Catnip with Pumpkin. emeraldpet.com 
---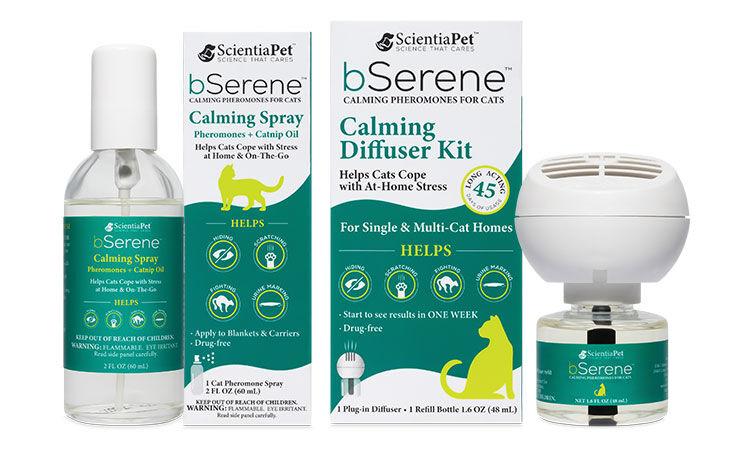 H&C Animal Health
Scientia Pet bSerene line
H&C Animal Health presents the Scientia Pet bSerene line, which consists of a Calming Diffuser Plug-in Kit, Diffuser Refill and Calming Spray. The products specifically mimic the naturally produced feline facial pheromone, which helps cats mark their surroundings as safe and bond with other cats. Scratching, hiding, fighting or urinating outside the litterbox often stem from nerves or fear, and how cats respond to this stress is their way of communicating that they're upset, the company states, adding that when cats sense bSerene, they feel calmer, safer and more secure. The diffuser provides an effective, drug-free solution to ensure cats are calm all day at home. Refills are available to swap into the plug-in unit, and each lasts 45 days. For a fast-acting, targeted calming effect, the spray quickly quells cats' nerves due to unexpected/short-term lifestyle or environmental stressors. It is infused with catnip. bserenepet.com
---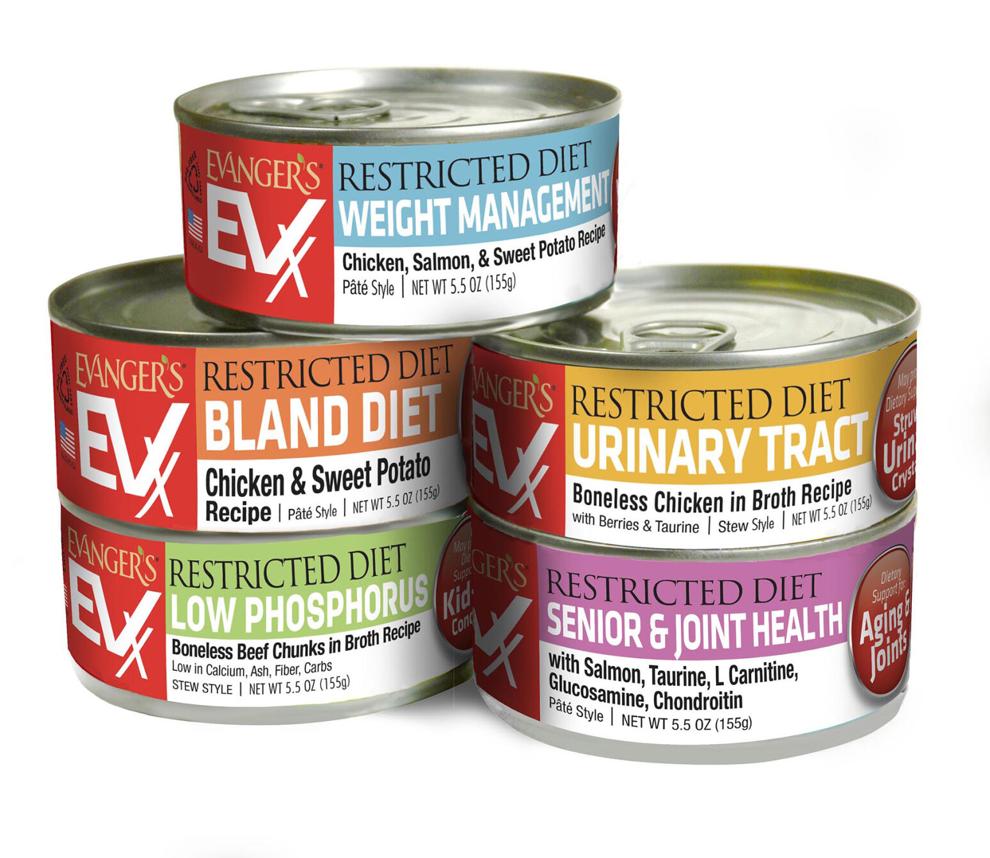 Evanger's Food for Dogs & Cats
EVx Restricted Diet Dinners for Cats
Evanger's Food for Dogs & Cats presents EVx Restricted Diet Dinners for Cats, a line of food formulated for common feline health issues. Formulas address overweight cats, aging cats, joint issues, cats with kidney disease, renal failure, pancreatitis issues, urinary tract health and digestive disorders. The foods contain Alltech NVGEN for feeding the gastrointestinal tract for healthy aging. The line was developed with nutritionists to provide dietary support. evangersdogfood.com
---
Dog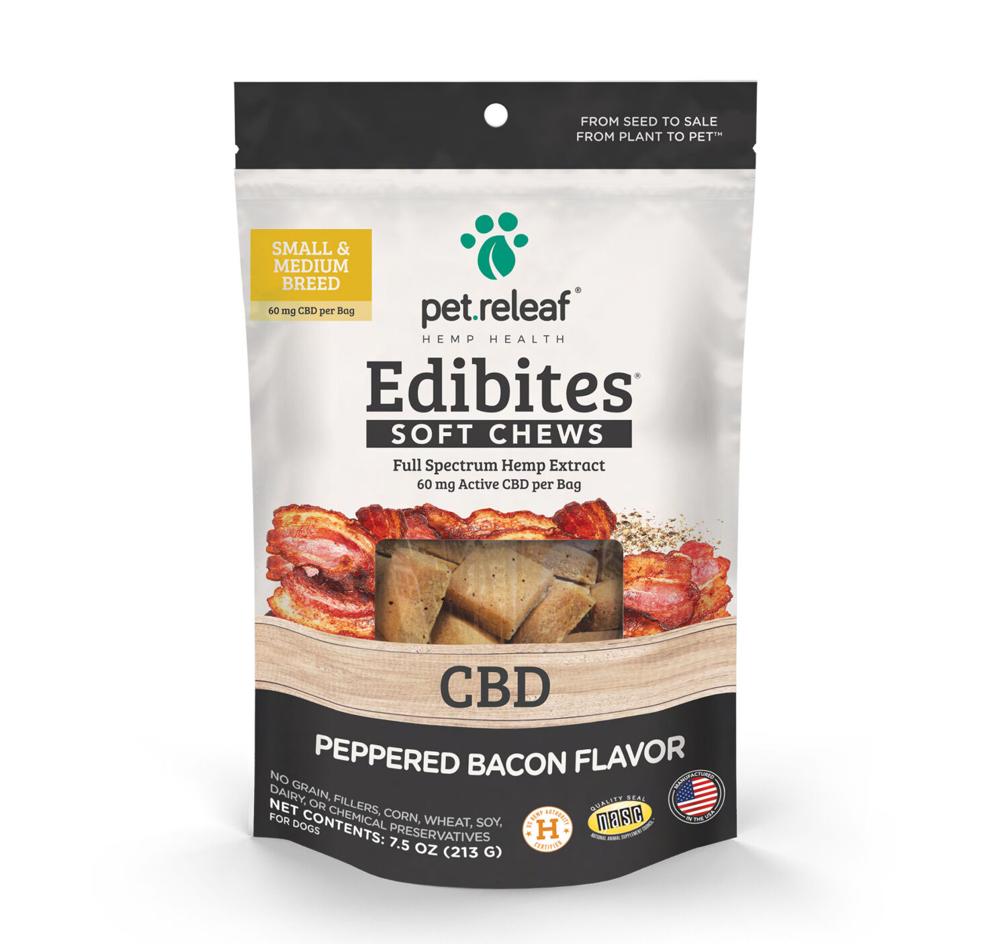 Pet Releaf
Peppered Bacon Edibites
Pet Releaf offers Peppered Bacon Edibites, designed to support pets' everyday wellness and optimal body function. Along with its tasty flavor, black pepper is rich in a plant compound called piperine, which is an antioxidant that can help support a normal inflammatory response in the body, especially during the early developing stages of respiratory issues or seasonal allergies, the company reports. Other piperine benefits include that it may support and even enhance brain function, as well as support blood sugar levels within normal ranges. As with the other Soft Chew Edibites, pets that enjoy the Peppered Bacon variety will also get full-spectrum hemp extract with naturally occurring cannabidiol (CBD). The chews contain no grain, fillers, corn, wheat, soy, dairy or chemical preservatives. petreleaf.com
---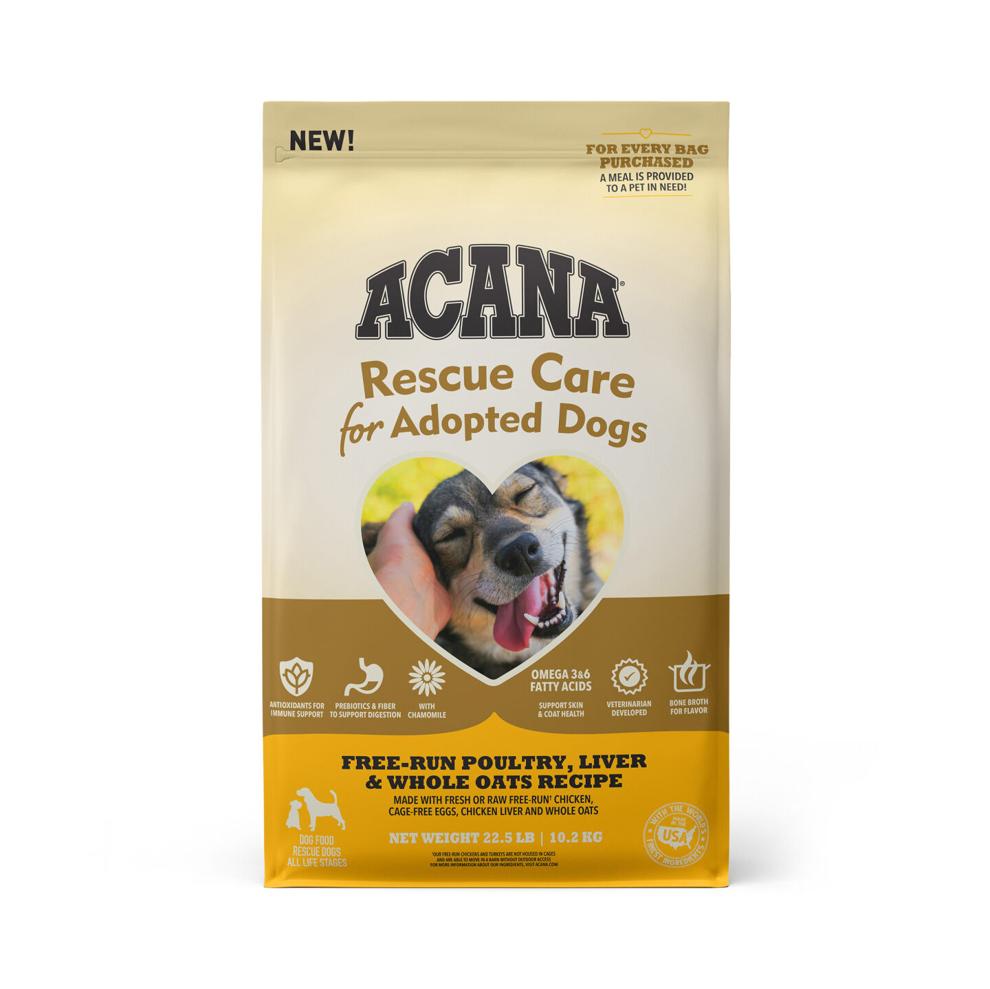 Champion Petfoods
Acana Rescue Care for Adopted Dogs
Champion Petfoods' Acana Rescue Care for Adopted Dogs is a veterinarian-developed recipe specifically formulated to help rescue dogs transition from a shelter to a forever home. It is made with fresh or raw animal ingredients and balanced with grains, fruits and vegetables, and bone broth for exceptional flavor. Important ingredients were also intentionally added to aid in transition, including prebiotics to support a healthy gut, fish oil to promote a healthy skin and coat, antioxidants to support the immune system and botanicals such as chamomile, which is known for its soothing effects, the company states. acana.com
---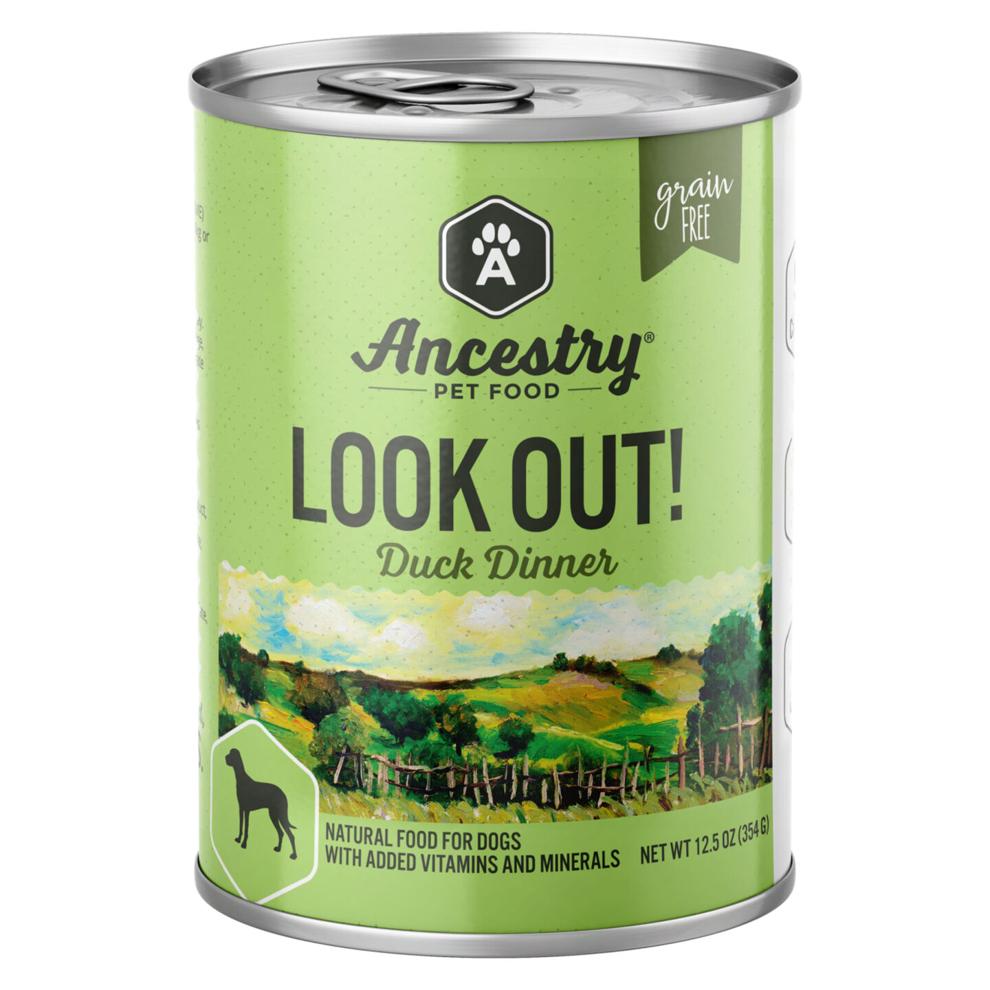 Ancestry Pet Food
Canned recipes
Ancestry Pet Food offers canned recipes for dogs. The meat-first pâtés provide all the protein necessary for any dog's diet. They are available in three wholesome recipes: Grain Free Look Out! Duck Dinner, Grain Free Farmland 95% Chicken and Lamb Dinner with Rice. Cooked in the can for added safety, the recipes contain no byproducts, rendered animal fats, BHT, ethoxyquin or GMOs. The food is made in the U.S. ancestrypetfood.com
---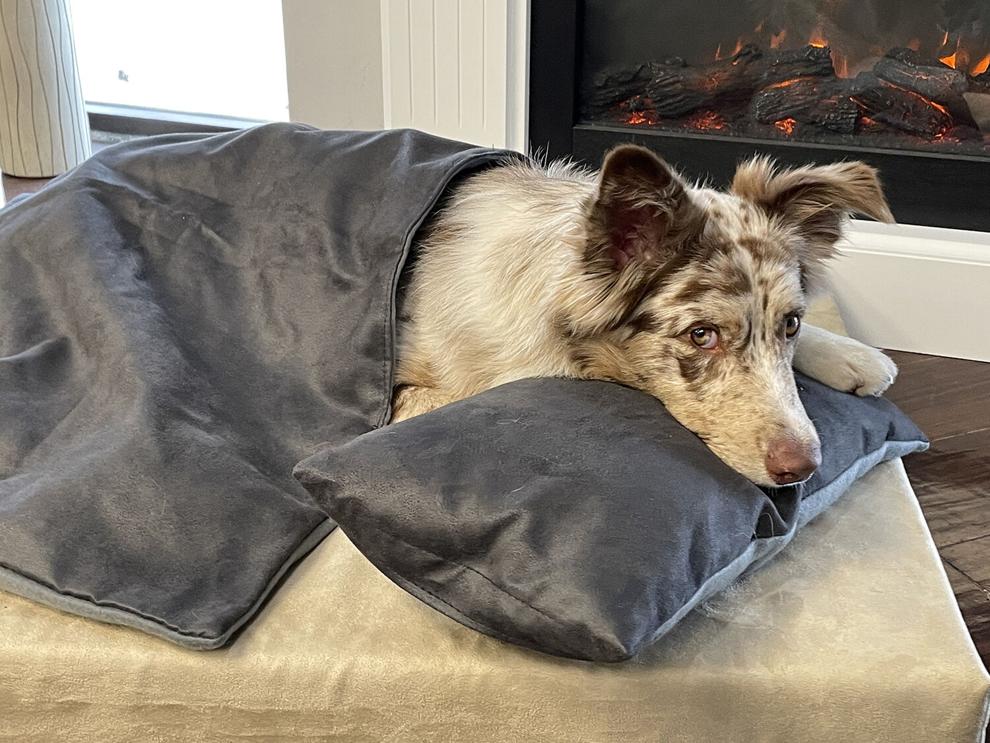 BuddyRest
Soothe Anti-Anxiety Weighted Dog Blanket and Pillow Combo
BuddyRest offers the Soothe Anti-Anxiety Weighted Dog Blanket and Pillow Combo. The blanket provides a soothing soft pressure that helps calm anxiety and overexcitement in dogs. One side is made of super-soft fleece, and the other is the BuddyRest Smart Suede, a fabric that stays clean, doesn't smell and rarely needs to be washed. The blankets are available in medium, large and X-large. The pillow is lavender infused to help promote a soothing and calming effect for anxiety-ridden dogs. buddyrest.com
---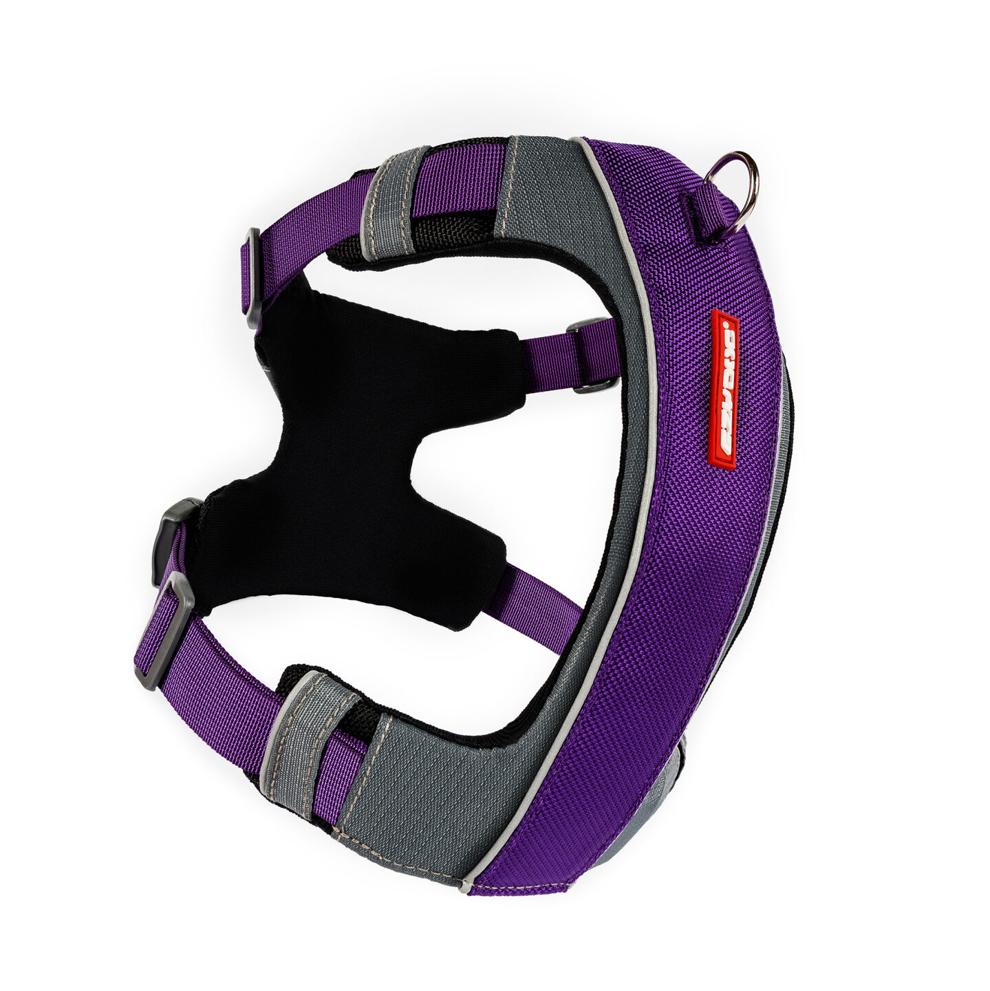 EzyDog
X-Link Harness
EzyDog's X-Link Harness has two stainless steel D-rings for attaching a leash. The leash attachment, located on the back panel, is arched to provide increased ergonomics for regular walking, while a front-pull leash attachment, located on the chest panel, provides increased control for strong pullers or training purposes. The harness has reflective piping for increased safety in low-light conditions and EZYfit side release buckles for easy removal. The "X"-shaped design of the harness allows freedom of movement for the dog's front legs and excellent security. ezydog.com
---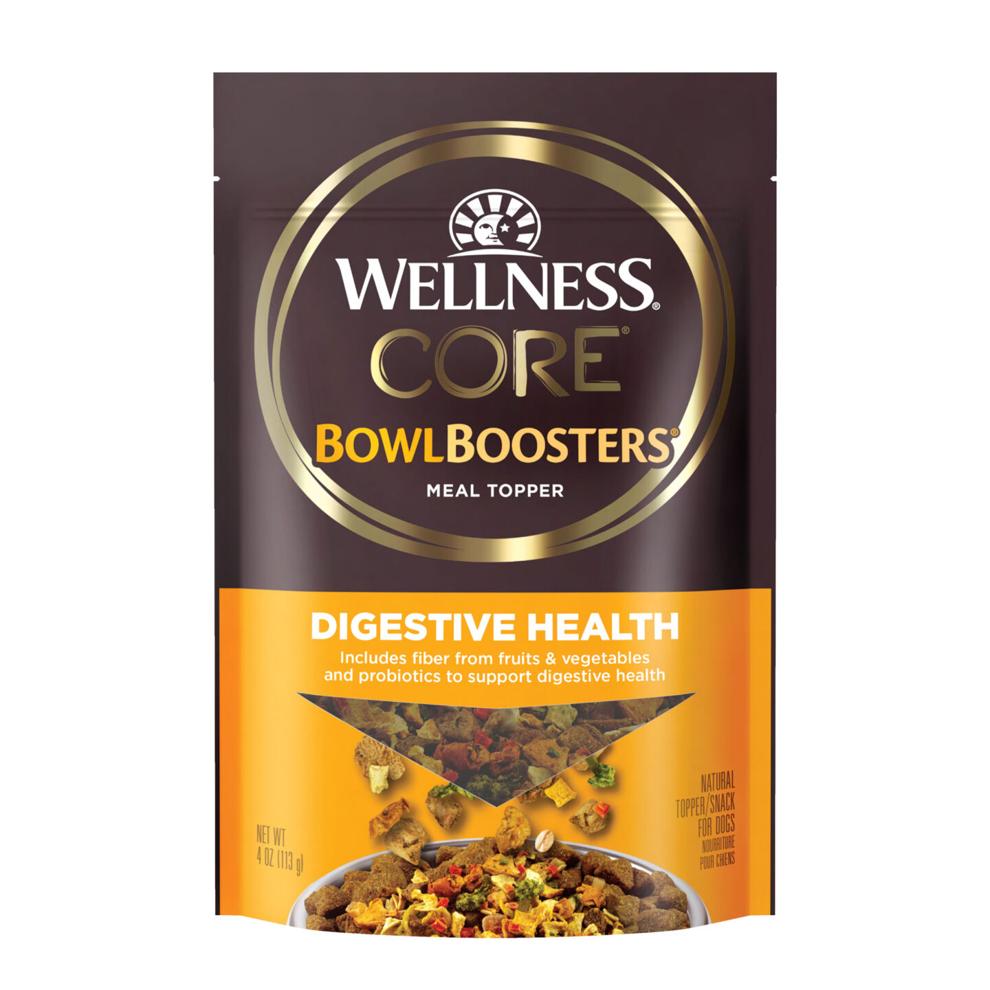 WellPet
Wellness Core Bowl Boosters functional toppers
WellPet offers Wellness Core Bowl Boosters functional toppers. The natural, functional toppers deliver guaranteed nutrients, protein and crave-worthy flavor to support a lifetime of well-being in dogs. The toppers are available in four recipes: Digestive Health with guaranteed levels of probiotics to support a healthy microbiome plus fiber-rich fruits and vegetables to aid healthy digestion; Heart Health with guaranteed taurine and L-carnitine to support a strong heart; Joint Health with glucosamine to support mobility and chondroitin sulfate for healthy bones and joints; and Skin & Coat Health with omega-3 and omega-6 fatty acids to support a healthy coat, along with vitamin E and biotin to support skin health. wellnesspetfood.com
---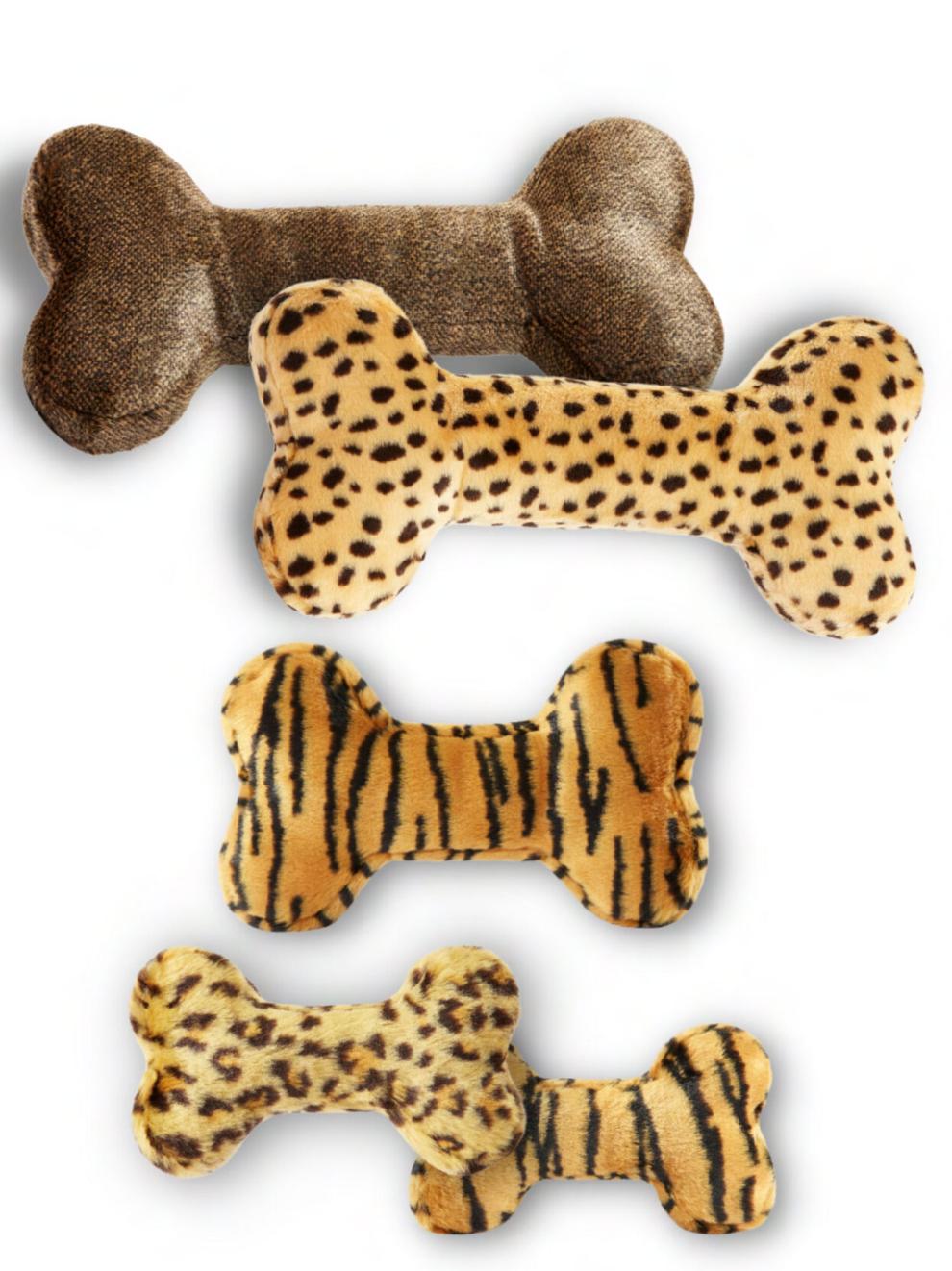 Fluff & Tuff
Bones
Fluff & Tuff's Bones Collection emphasizes the company's beautiful premium fabrics in a classic bone shape. The products feature the mixture of durability and style that consumers expect with the company's plush toys. The collection includes the Classic and Cheetah Bones (both extra large), a medium Tiger Bone, and small Leopard and Tiger Bones. The extra-large bones can be used in a game of tug or as a pillow for a snooze, and the medium and small bones are a great toy for any sized dog. fluffandtuff.com
---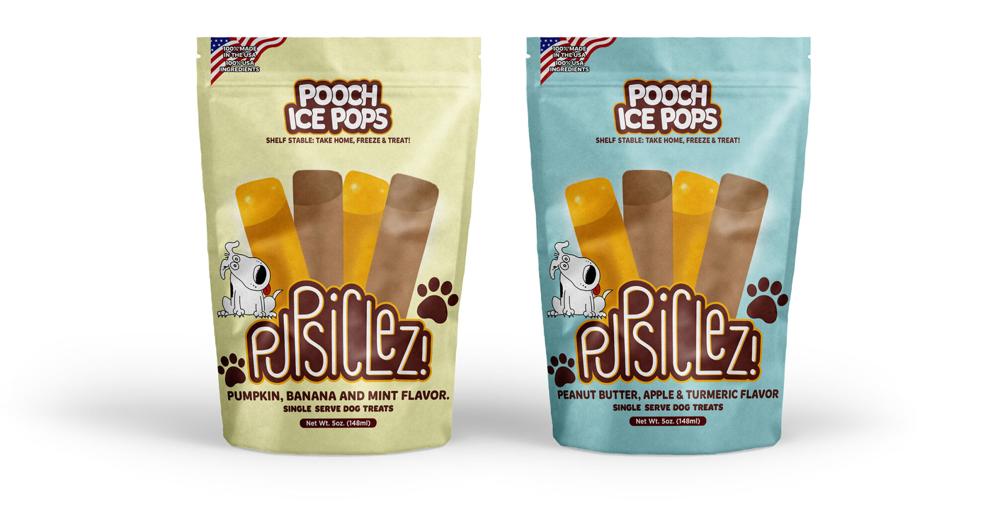 Luv Tails
Pupsiclez! Pooch Ice Pops
Luv Tails offers Pupsiclez! Pooch Ice Pops, shelf-stable, freeze-at-home dog treats that have been formulated by a food scientist and veterinarian to meet the highest industry standards. The treats are individually wrapped for convenience. They are made with human-grade, natural, functional ingredients, and are 100% sourced and made in the USA. There are no unnecessary ingredients such as oils, sugars or byproducts, and each flavor has its own primary ingredient without any added fillers. pupsiclez.com
---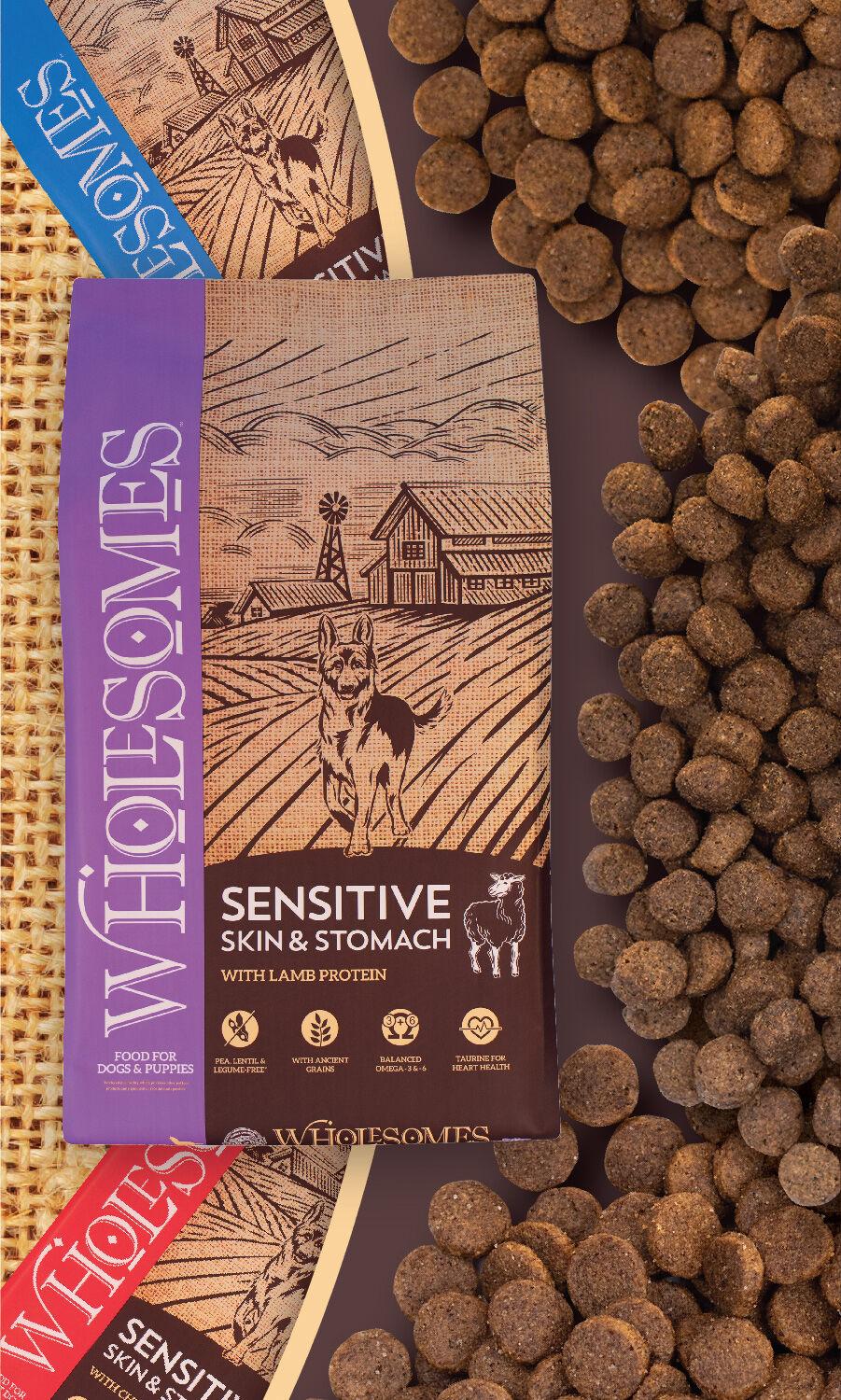 Midwestern Pet Foods
Wholesomes Sensitive Skin and Stomach for Dogs and Puppies
Midwestern Pet Foods offers Wholesomes Sensitive Skin and Stomach for dogs and puppies. The line is formulated for dogs and puppies that struggle with digestive health. The recipes are crafted with gentle ancient grains and easy-to-digest proteins such as lamb, salmon and chicken. Packed with omega-3 and omega-6 fatty acids to promote healthy skin and coat, these taurine-enriched recipes are pea, lentil and legume free. sportmix.com
---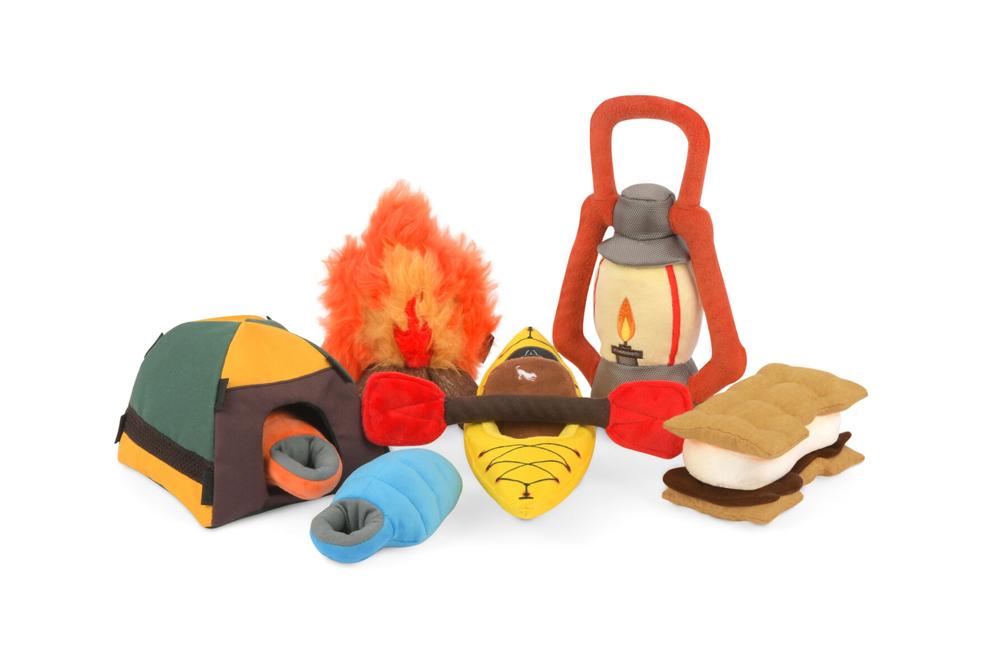 P.L.A.Y. (Pet Lifestyle And You)
Camp Corbin Plush Toy Collection
P.L.A.Y. (Pet Lifestyle And You) presents the Camp Corbin Plush Toy Collection, inspired by the company's beloved office dog and head product tester Corbin's love of the great outdoors. This collection is comprised of all of Corbin's favorite camping essentials in plush toy form including a tent with cozy sleeping bags inside, a kayak with paddle, a bright lantern and a carob s'more to enjoy by the cozy campfire. These plush toys are 100% machine washable and feature eco-friendly stuffing and azo-free dyes. petplay.com
---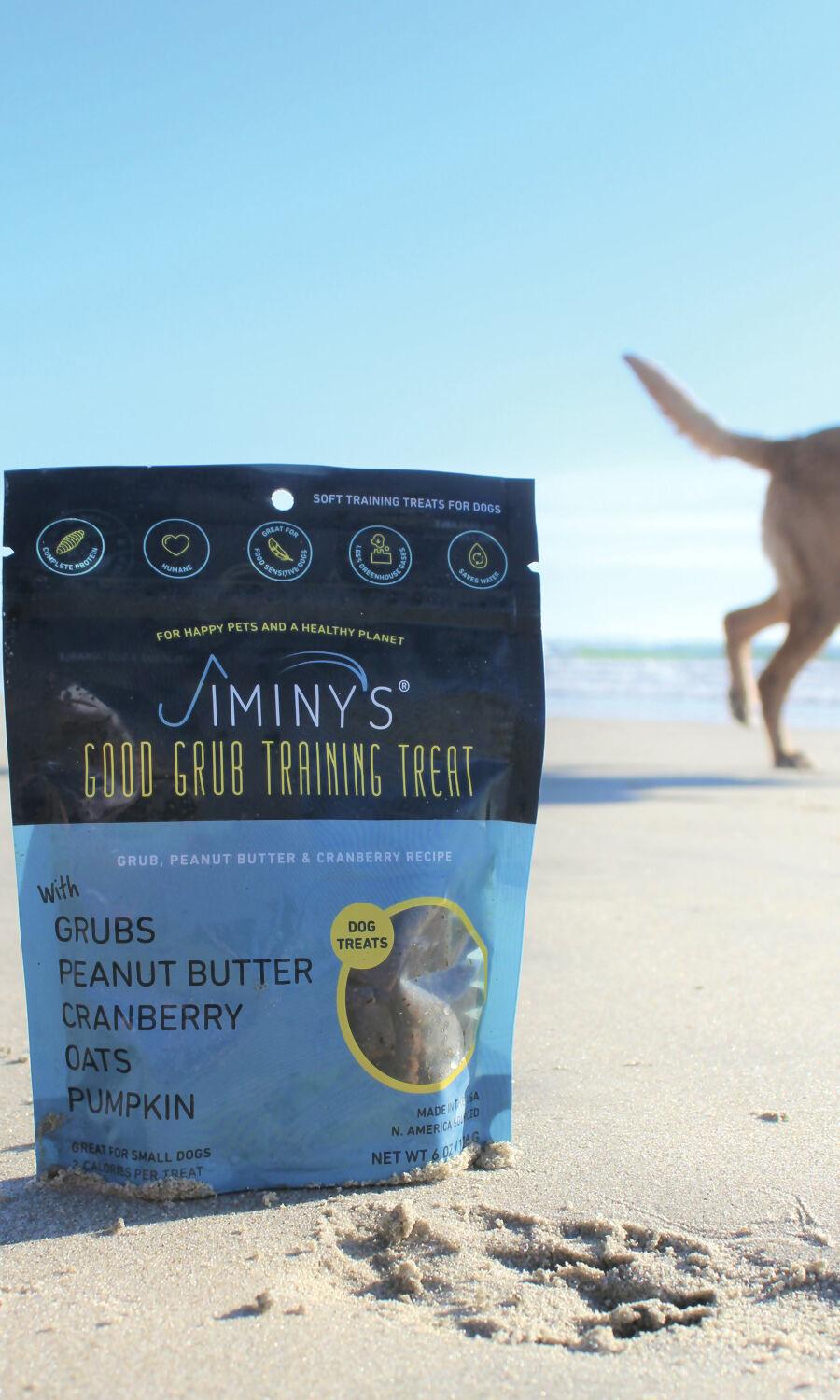 Jiminy's
Good Grub Training Treat
Jiminy's presents Good Grub Training Treat. The soft and chewy training treats are designed to reward dogs during training and are made with grub protein, which is even more sustainable than cricket protein. In addition, they contain peanut butter, cranberry, oats and pumpkin. They have less than 3 calories per treat. The treats are small so they can be eaten quickly without distracting the dog, and they are easy to break into tiny pieces. They support a dog's normal diet with added health benefits—omegas, vitamins, fiber and more. The treats are grain free. jiminys.com
---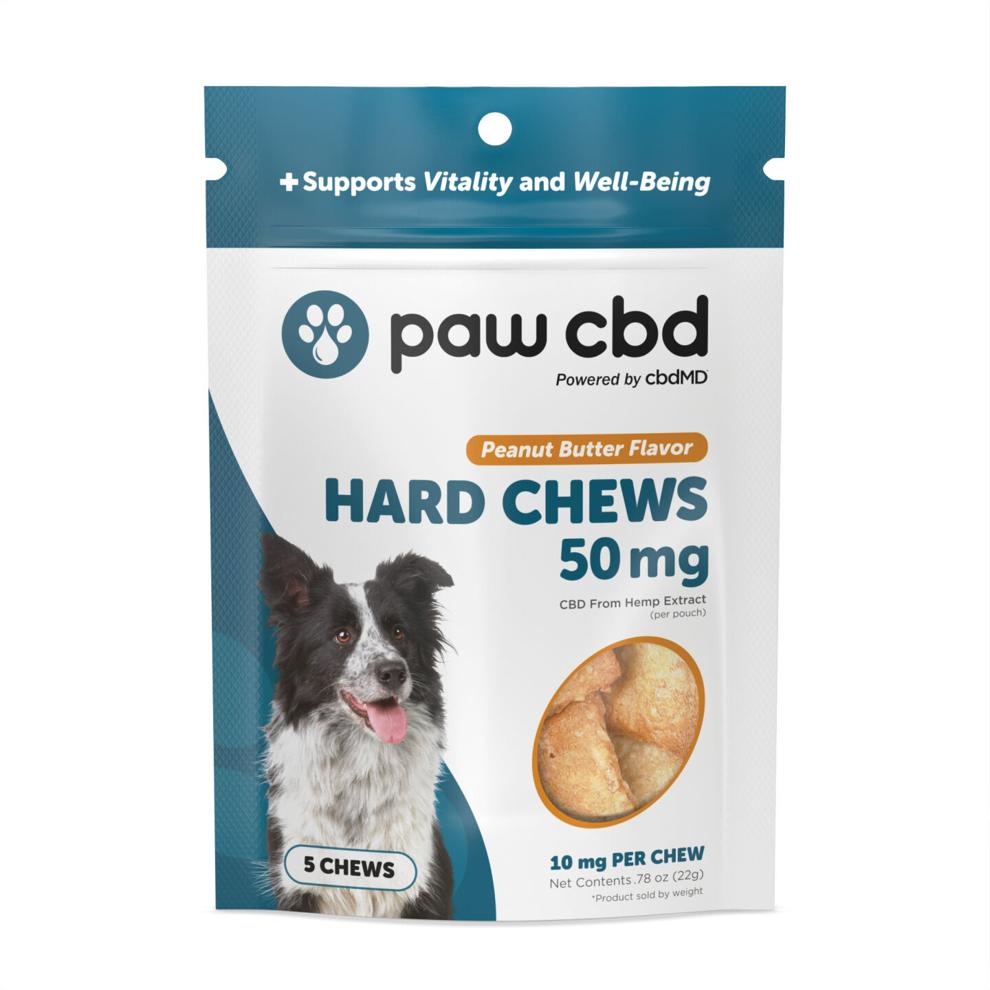 Paw CBD
Travel Size Paw CBD Baked Treats for Dogs
Paw CBD's Travel Size Paw CBD Baked Chews for Dogs offer a convenient, crunchy way to serve up superior broad-spectrum-formula cannabidiol (CBD) for daily wellness. Small and portable, this five-count bag makes the perfect travel companion, and dogs love the peanut butter flavor. The chews are made with hemp that is ISO-certified lab tested for safety, are made with human-grade ingredients and have no fillers or artificial flavors. pawcbd.com
---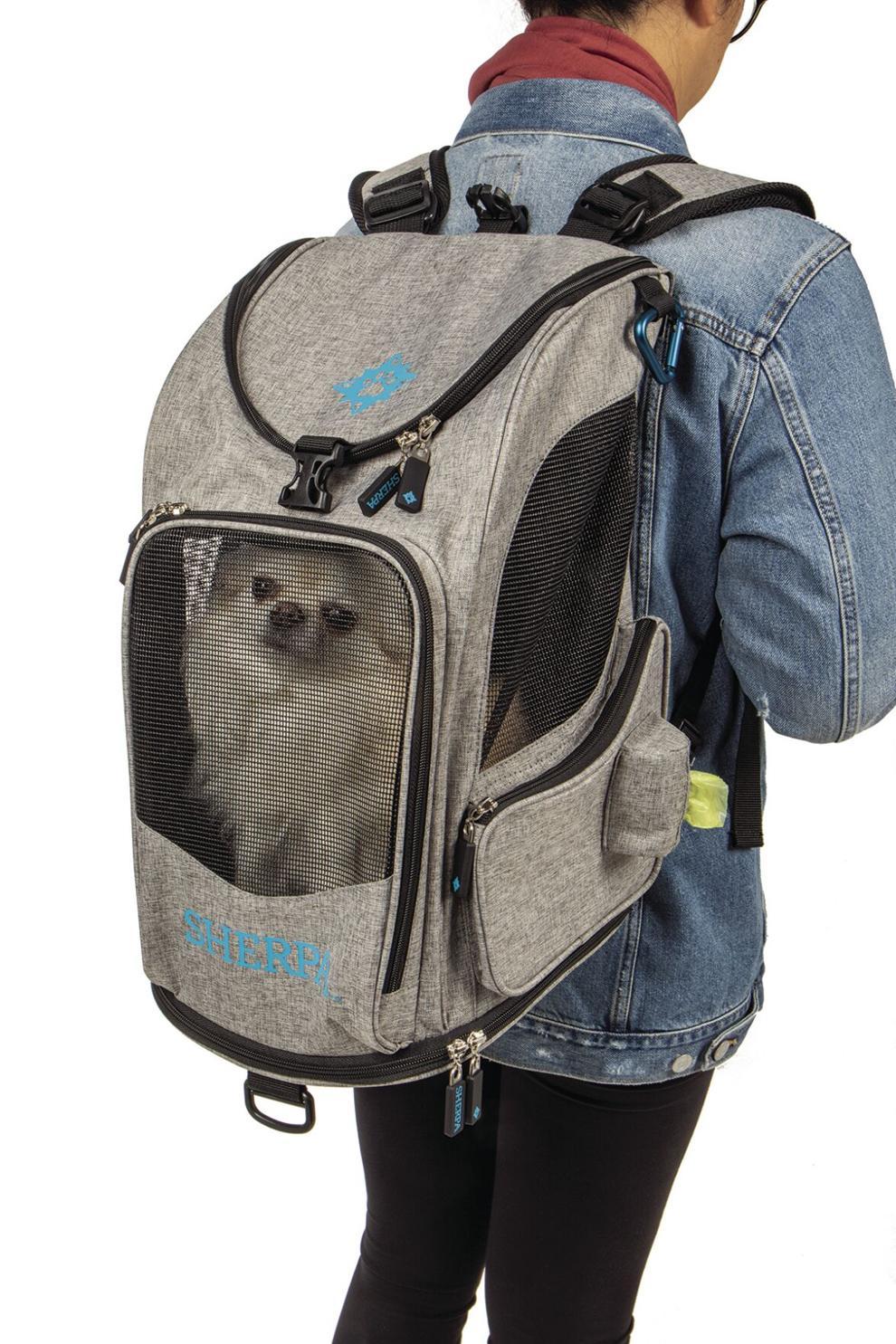 Worldwise
Sherpa Airline Approved Travel 2-in-1 Backpack Pet Carrier
Worldwise's Sherpa Airline Approved Travel 2-in-1 Backpack Pet Carrier is perfect for traveling in style and comfort by plane or car. The patented spring wire frame allows the rear end of the carrier to be pushed down several inches, and a strong and durable base keeps the backpack rigid for the dog's safety. It features mesh windows for ventilation, top and double-sided entry with locking zippers for safety, a padded, adjustable, no-slip carrying strap and two pockets for convenient storage of treats, a leash and poop bags. sherpapet.com
---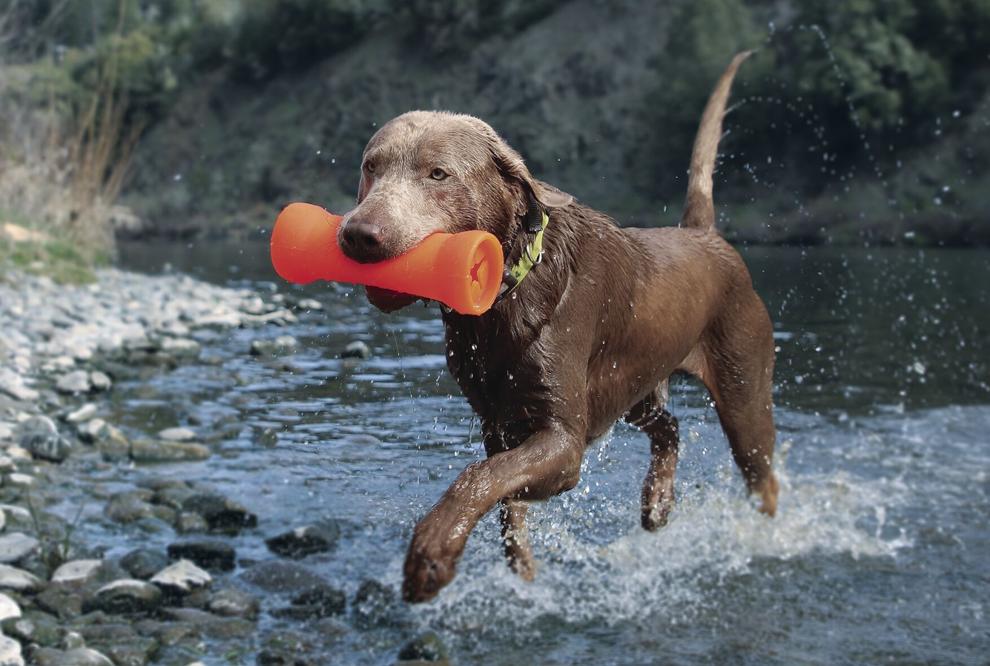 Ruff Dawg
Crinkit and Crinkit XL
Ruff Dawg's Crinkit and Crinkit XL consist of a replaceable empty water bottle center encased in a durable outer shell of FDA-approved solid rubber. The water bottle provides strong crinkly-crunching sounds and a crunchy feel when dogs chomp down to entice retrieving and play, while the chew-resistant premium solid rubber shell protects dogs' teeth and gums. The products are 100% made in the USA, free of phthalates, latex and BPAs, are fully recyclable and float for water retrieval. ruffdawg.com
---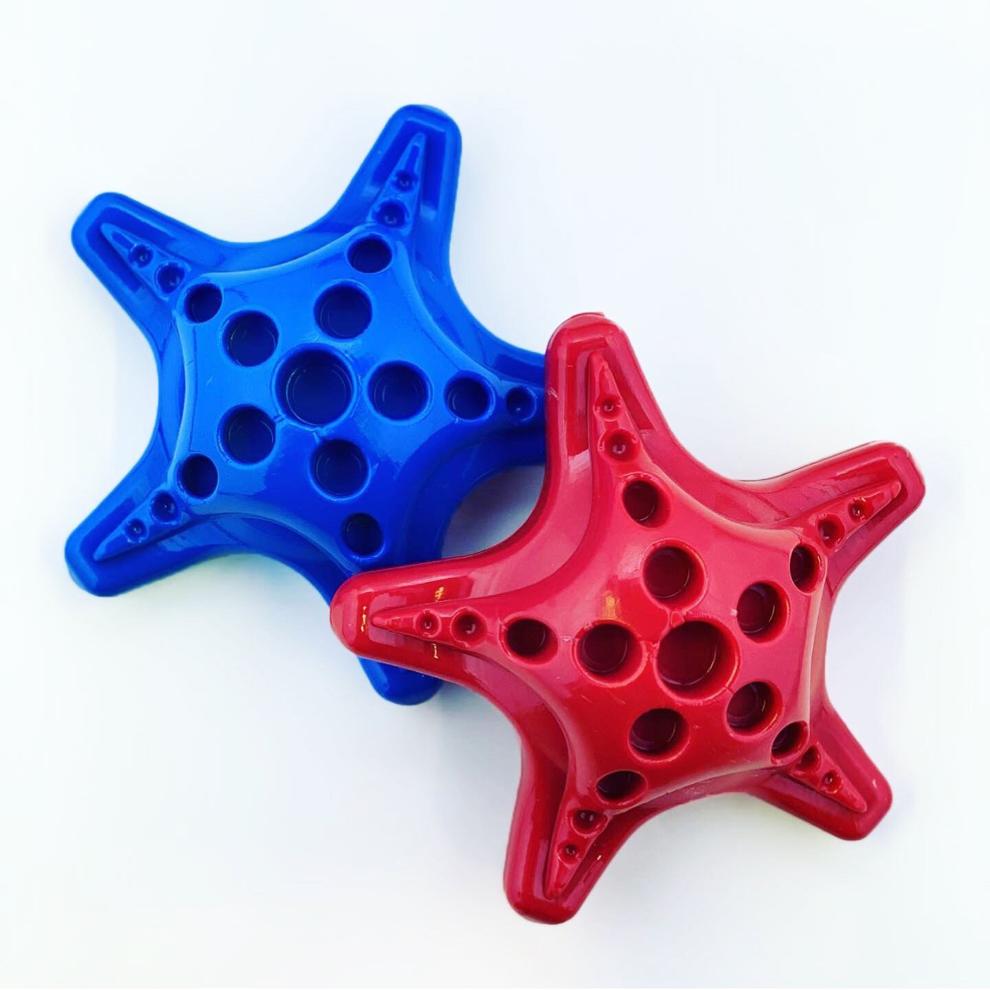 SodaPup
Starfish Nylon Chew & Enrichment Toy
SodaPup offers the Starfish Nylon Chew & Enrichment Toy. Most dogs tend to chew only on the knuckles of nylon dog bones, so SodaPup designed this toy with more parts that stick out for the dog to chew on, the company reports. It also has treat pockets where owners can smear soft foods, turning the chew toy into an enrichment toy as well. The nylon toy is FDA compliant and safe for dogs, the company states. sodapup.com
---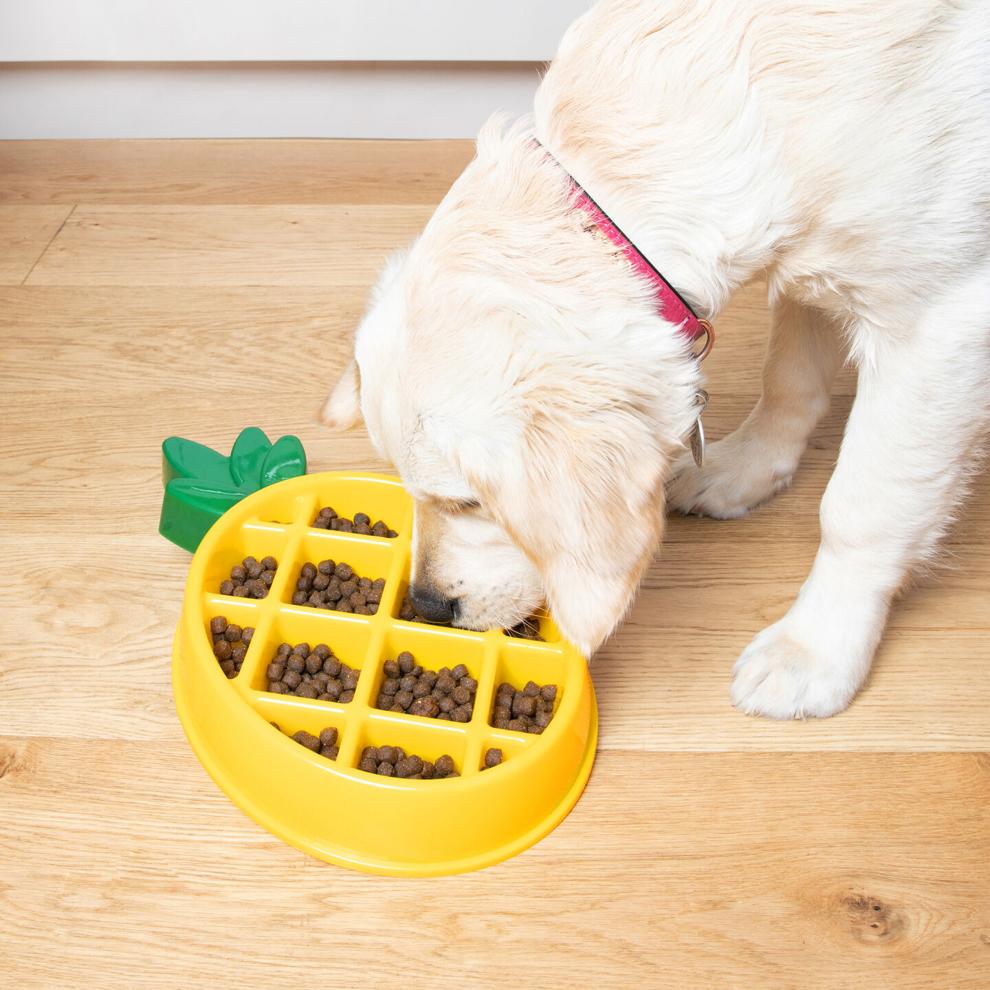 ZippyPaws
Happy Bowl
ZippyPaws offers the Happy Bowl, a slow-feed bowl that makes mealtime fun for eager eaters. The raised design allows dogs to eat up to 10 times slower, helping to prevent bloating, belching and choking—promoting a healthy diet and weight. It has a non-slip base to prevent sliding and holds 4 cups. Styles include: Donut, Pineapple, Pizza, Hamburger and Ice Cream. zippypaws.com
---
Dog & Cat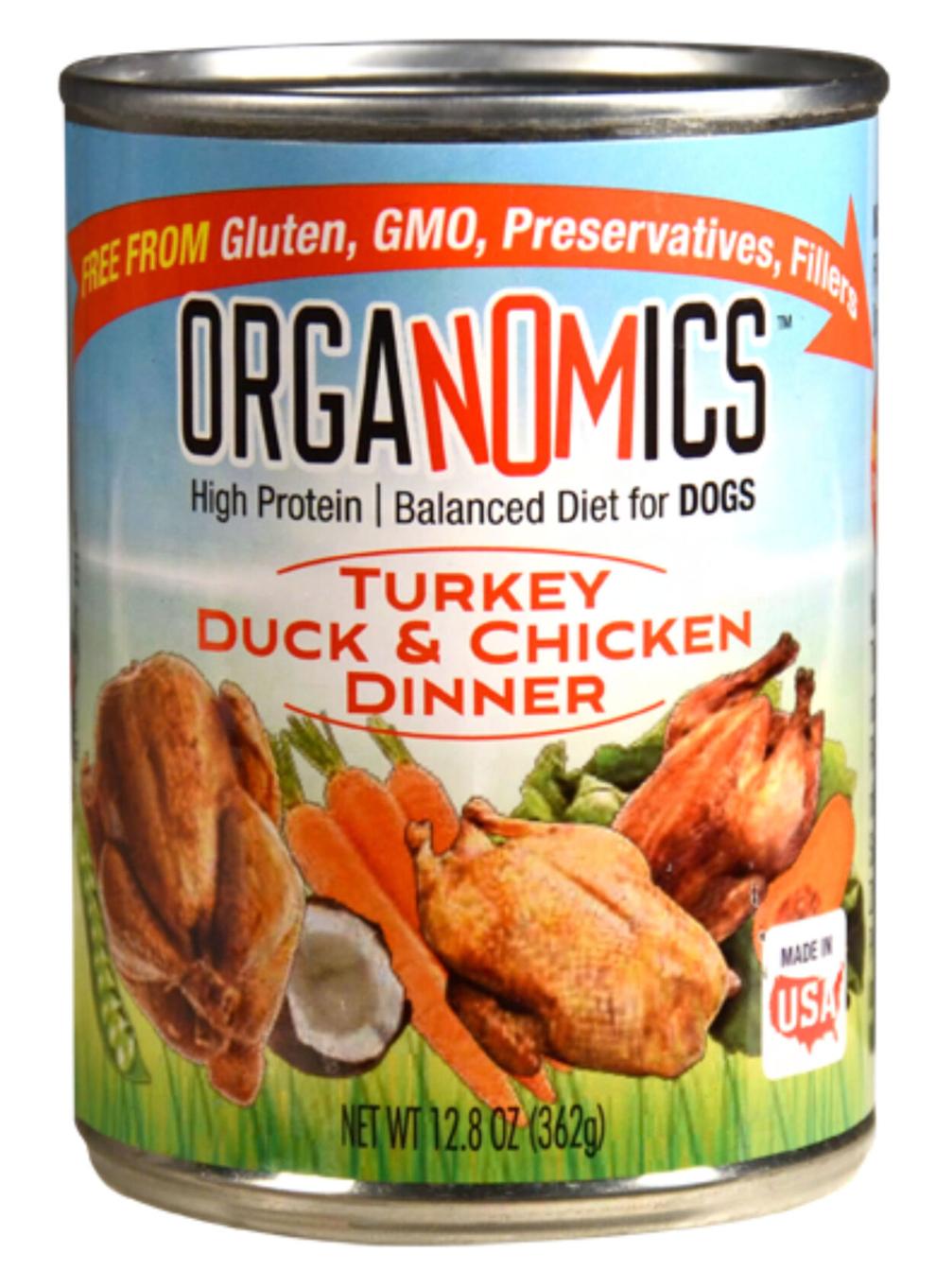 OrgaNOMics Pet Food
OrgaNOMics Canned Dog and Cat Food
OrgaNOMics Pet Food presents OrgaNOMics Dog and Cat Food. The affordable, made in the USA foods are made with organic produce, proteins, vitamins and minerals. The selectively sourced meals are grain and gluten free and produced in BPA-free cans. The high-protein balanced diets are free of GMOs, preservatives and fillers. organomicspetfood.com
---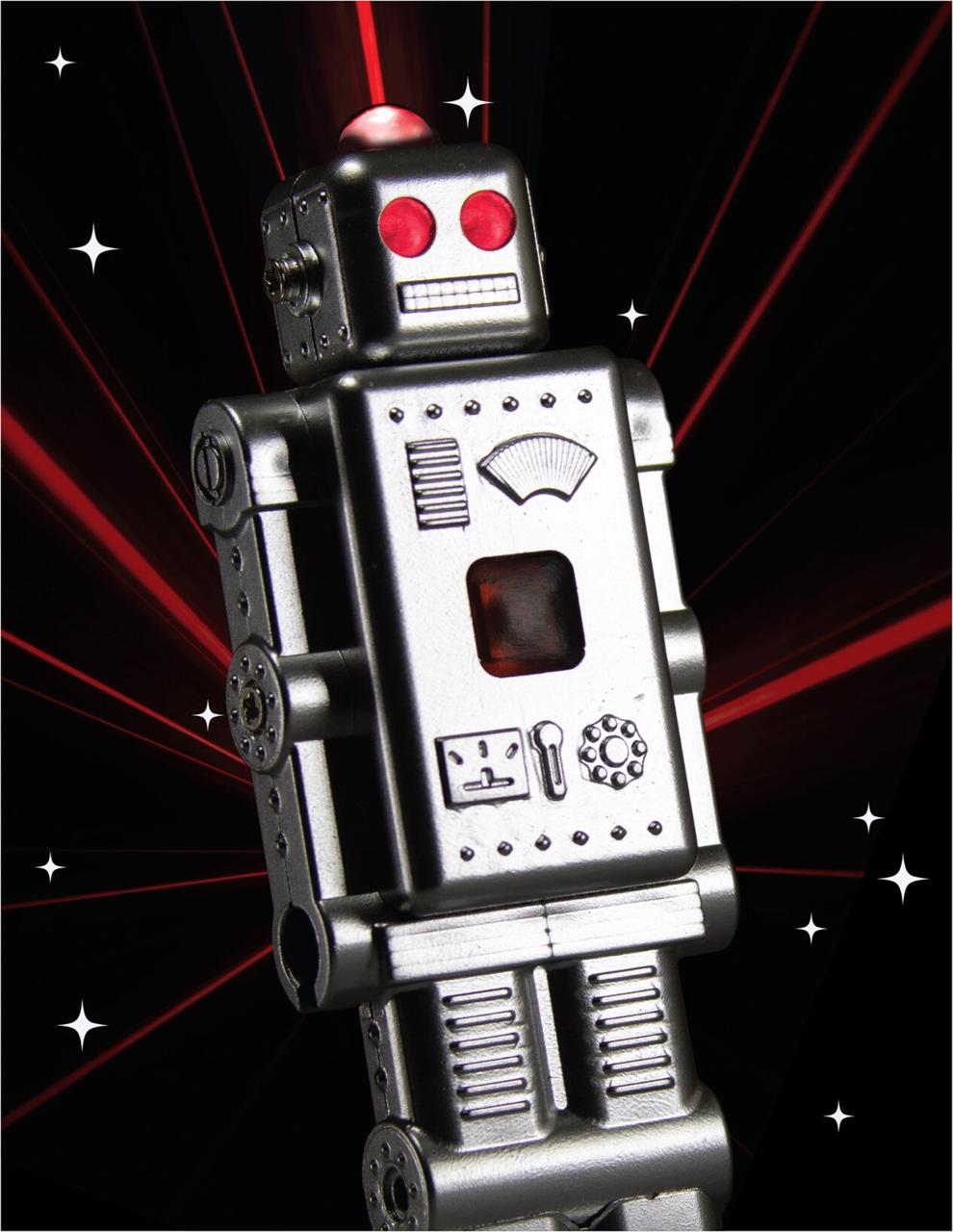 Petsport
USB Rechargeable Laser Chase Robot
Petsport's USB Rechargeable Laser Chase Robot is a custom-designed, high-quality and safe LED laser light toy that helps owners interact with their beloved pets, the company reports. Dogs, cats, birds, reptiles and even fish go wild as they chase the red dot wherever owners point. An integrated USB port is located at the feet and recharges in 30 minutes, providing up to five hours of continuous play. petsport.com
---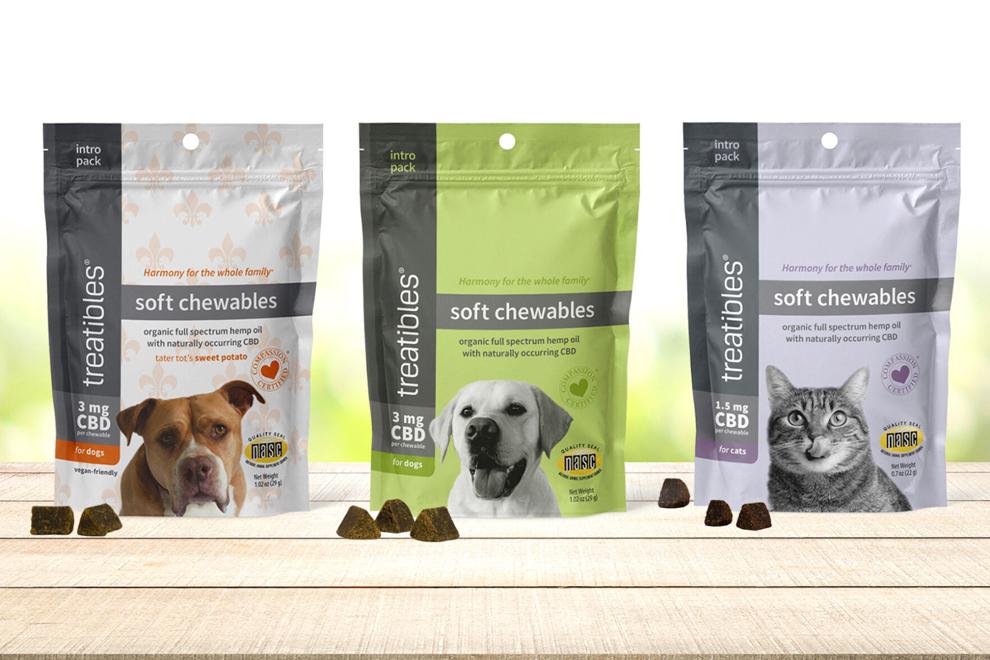 Treatibles
Treatibles Soft Chewables Intro Packs
Treatibles offers Treatibles Soft Chewables Intro Packs. Created for those who are wishing to introduce a cannabidiol (CBD) product but aren't sure if their pet will take to something new, they are a cost-friendly option. Each pack contains several days' worth of product so pet owners can witness the benefits and find the perfect dose for their dog or cat. The line includes Soft Chewables for Cats (chicken liver flavor) with 1.5mg CBD per chewable, Soft Chewables for Dogs (beef liver flavor) with 3mg CBD per chewable and Tater Tot's Sweet Potato Soft Chewables for Dogs with 3mg CBD per chewable (vegan). treatibles.com
---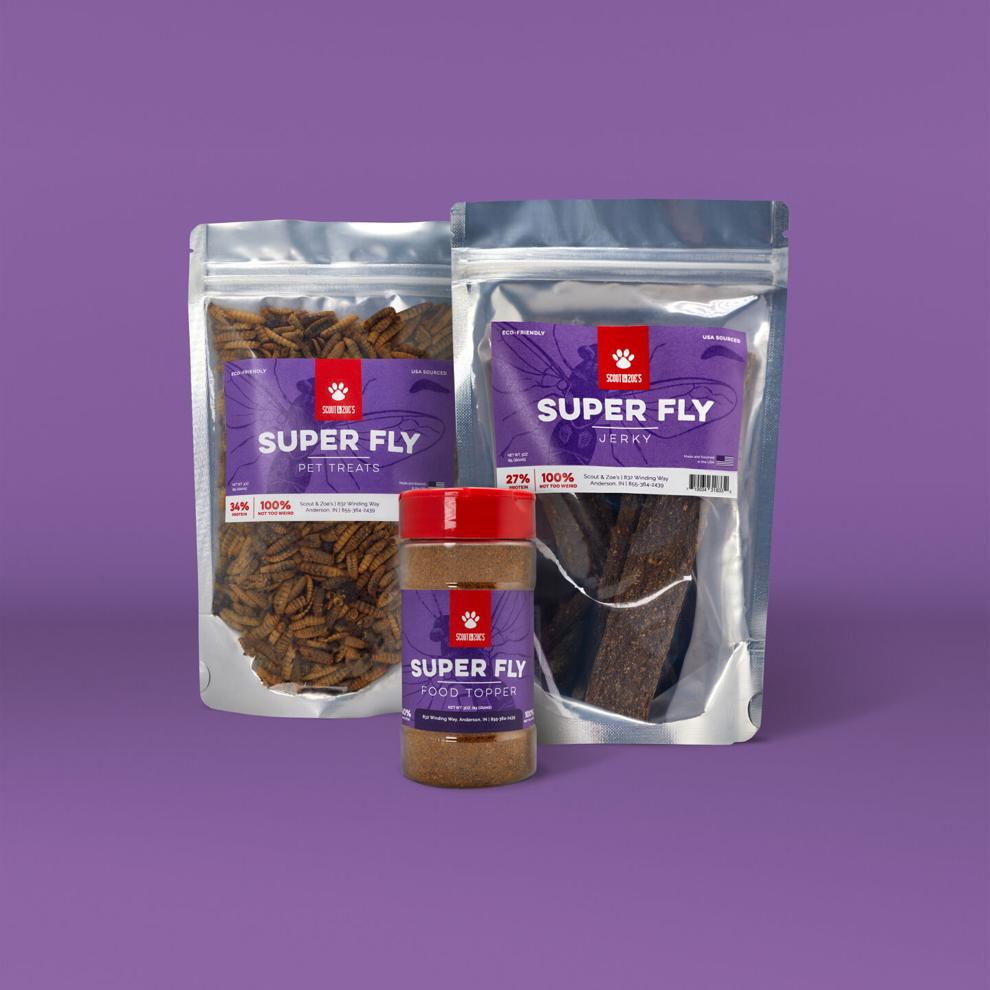 Scout & Zoe's
Super Fly pet treats
Scout & Zoe's presents Super Fly pet treats, created with black soldier fly larvae. The line of products includes Super Fly Black Soldier Fly Larvae, Super Fly Black Soldier Fly Food Topper and Super Fly Black Soldier Fly Jerky. Black soldier fly larvae have a small carbon footprint and are beneficial for pets and the environment. The products contain high amounts of protein, lauric acid and amino acid. They feature no rawhide, pesticides, grains or chemicals. scoutandzoes.com