Providing birds with the most natural environment possible is the trend these days when it comes to avian perches and playgyms. Whether it's using all-natural materials or designs that mimic the bird's environment in the wild, manufacturers are creating products meant to make both birds and their owners happy.
Terry Gao, president of Caitec Corp. in Baltimore, sees a trend in perches made of pine, exotic wood, cotton and sisal, in addition to the traditional plastic. Playgyms, on the other hand, are moving toward greater activity for birds.
"Perches are a simulation of tree branches, while playgyms are starting to have more built-in features, like different perches, toy hangers and feed cups," he said. "It's all about stimulation. Birds need to chew, strip and destroy."
Dena Tucker, owner of Greenfeather Bird Supply LLC in West Hartford, Conn., sees a move toward products made with the health of the planet in mind.
"Composted products, and those that are green, eco-friendly and utilize materials from managed forests, are coming into the greater consciousness of manufacturers," she said. "The elimination of white glue in products for birds is also important."
New Offerings for Perch and Play
Natural materials and stimulating designs are part of the most recent perch and playgym product releases.
"We just launched a playgym called the Window Play Center," said Terry Gao, president of Caitec Corp. in Baltimore. "It features two feed cups, a toy hanger and a swing perch."
The Window Play Center was designed to provide birds with a chance to see the outdoors, Gao said.
Greenfeather Bird Supply LLC in West Hartford, Conn., recently introduced a flat perch called Sqwatters, said owner Dena Tucker.
"Sqwatters is handmade in the USA, and we are committed to development in that vein," she said. "Additionally, our upcoming products feature up-cycled American hardwood maple. Being a green-certified business, we do our best to use recycled materials.
"We want to eliminate the use of lead and of any toxins," she added.
Colors for Birds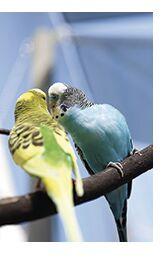 Birds are known for their ability to see a broad spectrum of colors, and humans are particularly attracted to color, too. Combine these realities and it's easy to see why color matters when it comes to avian perches and playgyms.
Color is key to creating a healthy pet bird habitat, said Brittany Green, product manager for toys for Petmate in Arlington, Texas. Mirrored surfaces provide added entertainment, particularly for pet birds that are kept alone, engaging and attracting the bird while providing companionship, she noted.
In keeping with the trend toward natural materials in perches and playgyms, natural colors also are becoming a popular choice for these products.
"Natural-colored products are being developed more and more each year," said Dena Tucker, owner of Greenfeather Bird Supply LLC in West Hartford, Conn. "[With] perches and playgyms, the more eye-grabbing, the better."
According to Edna Bresnahan, owner of Crystal Parrot in Southampton, Mass., color has been a topic of discussion for years.
"If it catches the consumer's eye, it's the start of a conversation," she said. "Many times, a customer will purchase the most eye-appealing perch or playgym; but now, many prefer natural colors such as reds, cedar and blonde wood. These colors are subtle but appealing."
Perch and Play Display
The way retailers display perches and playgyms can make a big difference in sales.
"Because it can be overwhelming for consumers to select the proper product for their pets, be sure your merchandising is organized and clear on which products are for which type of pet bird," said Brittany Green, product manager for toys for Petmate in Arlington, Texas.
"Never generalize pet accessories, as all species and sizes of birds are unique and have their own needs," she added.
For retailers that don't have space for birds or assembled items, Ronny Uehling, manager of Planet Pleasures in Gardena, Calif., recommends hanging items instead of displaying them on a shelf or on the floor.
"Accessorize and offer the buyer a micro-environment," he said. "Create a simple but eye-appealing natural floor plan. If you take time to furnish a display, it's like letting someone test-drive a car."
Educating Avian Customers
The perch and playgym category benefits significantly when consumers are educated, according to manufacturers and retailers.
"Consumer education is hugely important for both the bird and the owner," said Michael Acerra, digital marketing manager for Penn-Plax Inc. in Hauppauge, N.Y. "Educated consumers are going to provide their birds with the best environment possible, while also increasing their enjoyment within the hobby."
Acerra recommends that retailers start at the staff level.
"Do your best to staff your store with passionate, knowledgeable people who enjoy imparting that knowledge upon others," he said. "Not only is that good for the customer, but it establishes your store as a knowledgeable outpost of experts, which can do wonders for your return business."
Retailer Daniel Kopulos, owner of Fauna in New York, said that far too often, retailers assume that customers know what they need.
"When it comes down to it, they know they need a perch or a gym and not much else," he said. "We spend a great deal of time educating our clients about total health care, including the bird's physical and mental health. We demonstrate how to use the products, what they should be looking for in perching and gyms, and review training methods to get their birds comfortable with the new items.
"Of equal importance is to stress how frequently and what products to use to clean and disinfect their perches and gyms," he added. "This is often overlooked and is cause for ulcerations and infections that go unnoticed until they have become severe."
This article originally appeared in the October 2016 issue of Pet Product News.