Consumers are showing increased interest in products that are made in
the USA.
Paws Pet Boutique in Annapolis, Md., offers collars, baked dog treats and unique pet gifts for people proudly created by American artists.
"By providing Made in USA products, we feel we are supporting small businesses across the country just like us," said Michelle Kownacki, owner of Paws Pet Boutique. "Many of our clients seek USA-made products. Having an opportunity to meet or learn about an artist who makes a product gives the buyer a greater connection to the item. Additionally, some of our clients feel they are supporting jobs in this country and are confident of the product's origins when they make a purchase."
West Paw Design in Bozeman, Mont., handcrafts all of its products, from beds to mats to toys, said Spencer Williams, owner and president. He has seen a rising interest in American-made products.
"As far as the trends, we've seen a need—from both our customers and retailers—for lightweight, durable dog toys that are made in the USA," he said. "To answer this trend, we have introduced a dog ball, Boz, and [flying disk]—toys meant to satisfy fanatical fetchers who can tear through a tennis ball in seconds flat and who love to play in the water." 
Lanette Fidrych, president of Cycle Dog Earth Friendly Pet Co. in Portland, Ore., said the company has seen a demand for its handmade in the USA soft dog toys, and that it is expected to increase as the year comes to an end.
"Toys and treats are always great gift items because they aren't sizing specific, so they sell well during the fourth quarter," she said.
Improving Sales
Calling out that products are made in the USA with either signage or a separate merchandising area often does the trick.
"Retailers who keep their pulse on their customers' (and their dogs') wants are the ones who are thought of as great resources for their consumers and, therefore, going to get repeat purchases," Williams said. "This is especially important as the holiday seasonis coming."
Grain- and gluten-free treats and fun shapes are popular with customers, who are seeking foods and products that are USA made, said Doug Ratner, founder of I'd Rather Be With My Dog in Atlanta.
"Besides the obvious health benefits of providing your dog with grain/gluten-free food and treats, there is peace of mind knowing that you're feeding your pet food that has come from this country," he said. 
---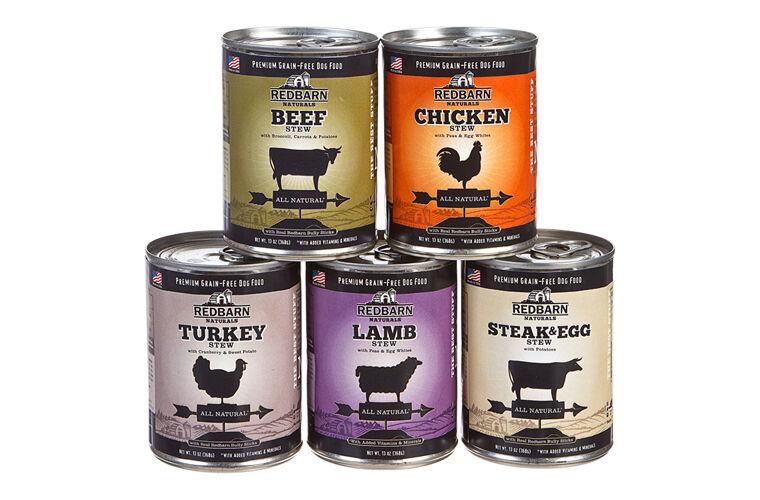 ​
Redbarn Pet Products offers its Redbarn Naturals Canned Stews for dogs, which have premium cuts of meat as the first ingredient in every can. The all-natural recipes are grain free, feature Redbarn Bully Sticks for added flavor and are made in the USA. redbarninc.com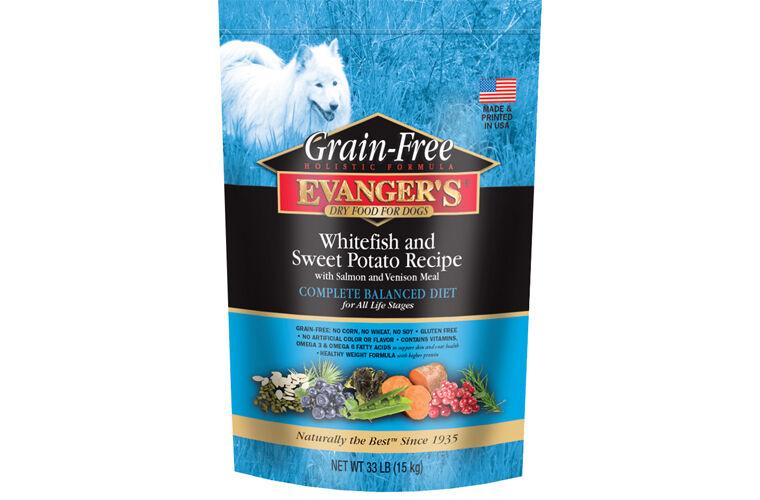 Evanger's Dog & Cat Food's Grain Free Whitefish and Sweet Potato Dry Dog Food is a USA-made grain-free formula that uses fresh, USA-farm-grown, human-grade meat as its first ingredient and does not include corn, wheat or soy. It contains All Tech supplements, prebiotics and probiotics to help support a healthy digestive system. LactoSacc helps support the population of good digestive bacteria for a healthy digestive system; BioPlex helps maintain a visibly healthy skin and coat by providing superior mineral bioavailability and absorption; and SelPlex aids in immune support, the company states. evangersdogfood.com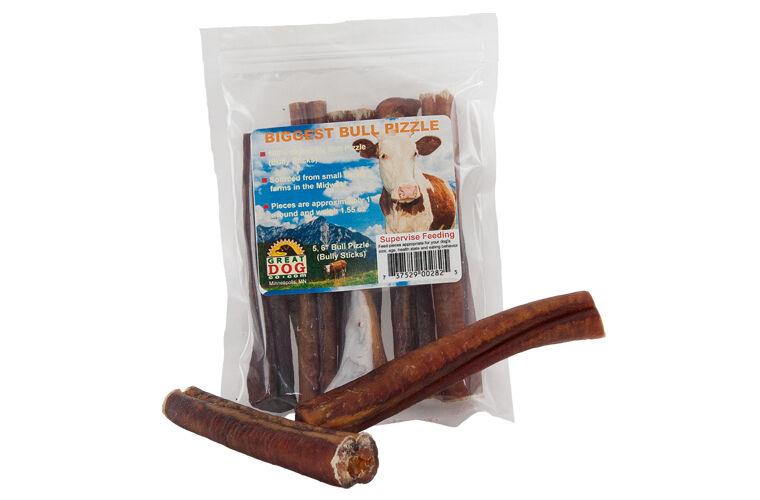 Great Dog Co.'s Biggest Bull Pizzle is sourced in the USA, federally inspected, pharmaceutical grade and cooked in a human-grade facility without preservatives, irradiation or excipients. The average weight of a 6-in. segment is 1.72 oz. The product is sourced from small farms in the Midwest. greatdogco.com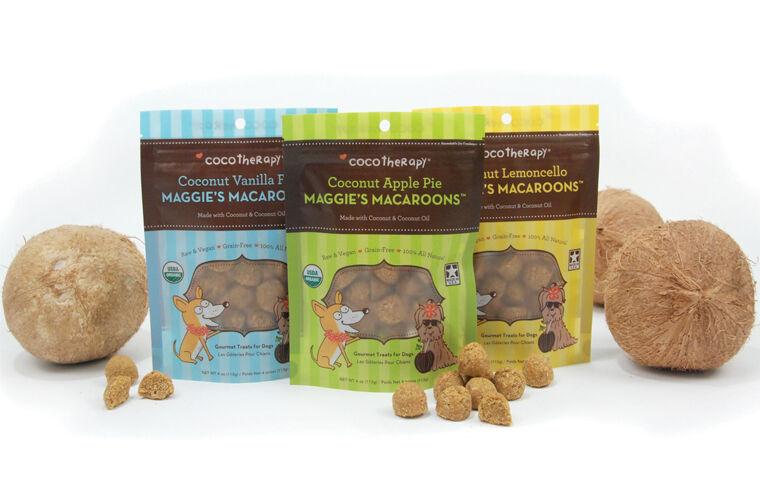 Oscar Newman's CocoTherapy Maggie's Macaroons are raw, USA-made coconut treats that are nutrient dense, are minimally processed and contain only pure organic ingredients. The treats are vegan, grain and gluten free, dairy free, egg free, and made with no preservatives, colors or artificial flavors. The macaroons are slowly dehydrated at low temperatures, preserving the health benefits of coconut and coconut oil. Available in three flavors: Coconut Lemoncello, Coconut Apple Pie and Coconut Vanilla Flax. cocotherapy.com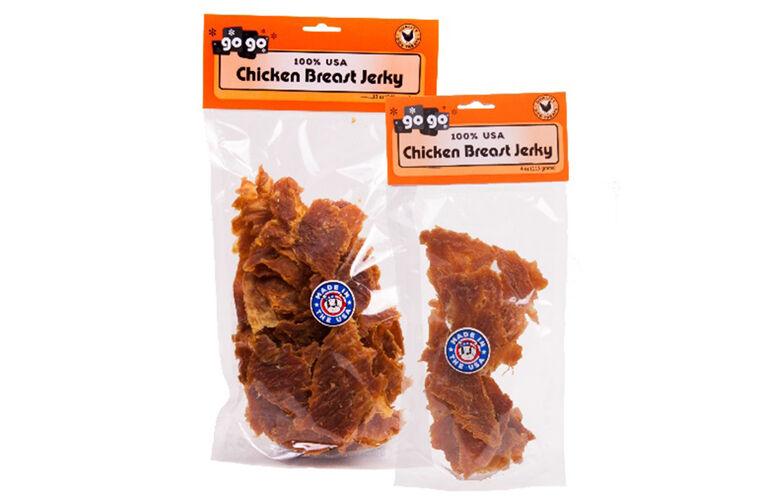 Artvark Pet Products presents GoGo 100 Percent USA Chicken Breast Jerky. The jerky contains only 100 percent pure USA chicken breast—no salt, glycerin, additives, preservatives or fillers. The jerky is roasted to perfection and is a naturally nutritious treat that is high in protein and low in fat. It is available in a 4-oz. and 12-oz. resealable bag with a GoGo header card. artvarkpet.com 
---
This article originally appeared in the October 2015 issue of Pet Product News.