When it comes to nutrition, modern pet owners are shrewd, and many have an exacting list of demands and must-haves when purchasing products designed to boost the health and wellness of their feline companions. For many, USA-sourced ingredients top the list.
"Simply put, consumers want better ingredients and foods that will benefit their pet in the long term," said Bette Schubert, co-founder and senior vice president of sales for Bravo Pet Foods in Manchester, Conn. "Consumers are more comfortable with, and trusting of, products offering ingredient transparency and local manufacturing under watchful eyes."
These savvy shoppers study ingredient panels, research sourcing and scrutinize manufacturing practices with a well-developed appreciation for what "the best" truly looks like, said Jen Loesch, general manager of Sojos in Minneapolis.
Further, pet owners rely on federal agencies such as the U.S. Food & Drug Administration (FDA) and U.S. Department of Agriculture (USDA) to ensure food quality and safety, said Karen Neola, founder of My Perfect Pet in Poway, Calif.
While inquiry of this type has been evident in the dog products category for some time, the call for transparency in sourcing for feline nutrition is gathering momentum.
"We've certainly seen the made in USA trend make its way over to the cat food category for many of the same reasons that are driving the industry as a whole," Schubert said. "The primary driver continues to be consumer demand for better foods for our feline friends—foods that are nutritionally sound and manufactured using stringent safety protocols."
Historically, many of the wide-reaching health issues surrounding pet foods have developed as a result of ingredients sourced from other countries, said Noelle Selleck, California sales manager for Smallbatch Pets in Portland, Ore. For this reason, consumers often generalize and deride all ingredients that arrive from outside the USA, she added.
"Consumers equate USA-sourced and -made ingredients with quality," Selleck said. "It's a convenient box to check when evaluating myriad available options."
Samantha Cohen, vendor relations manager and corporate buyer at Woof Gang Bakery, which has headquarters in Orlando, Fla., said that offering a mix of cat foods featuring the highest-quality ingredients and nutrition is the first and foremost consideration.
"Most of our kibble diets are USA made and sourced," she said. "With that in mind, cats require a higher level of moisture, and sometimes simply supplying water does not suffice; therefore, it is important to include some canned food in their diets."
However, canned offerings are not strictly limited to USA sources, Cohen said.
"We also carry brands that are packed in human-food facilities around the world following other guidelines, such as strict EU standards," she said. "Ultimately, when it comes to sourcing, we want foods from the highest-quality suppliers around the world. For example, many manufacturers source their lamb and venison from New Zealand."
Consumer interest in freeze-dried, USA-sourced cat food products is growing dramatically, Loesch said.
"With cat parents looking for safe, convenient ways to feed their pets, using the freshest ingredients possible, raw food has become an important part of the made in the USA movement," she added.
Consumer Education
Explaining Why USA-Made Matters
Helping customers to find the best food to meet the needs of their individual pet at a budget-pleasing price can be a challenge, said Karen Neola, founder of My Perfect Pet in Poway, Calif.
"Products containing high-quality, USA-sourced ingredients will never be cheap, so pet specialty retailers must assure shoppers that they are making a healthier, safer choice," Neola said.
It is also vital that independent retailers building awareness for USA-sourced products share their research findings and reasons for selecting a product with sales associates, said Bette Schubert, co-founder and senior vice president of sales for Bravo Pet Foods in Manchester, Conn.
Noelle Selleck, California sales manager for Smallbatch Pets in Portland, Ore., agreed.
"A knowledgeable, effective staff is often what sets brick-and-mortar retail stores apart from mass-market chains and e-commerce, and independents should definitely take advantage of the training offered by manufacturers," Selleck said. "In an age where anyone can publish anything online and put it forth as fact, it's important to cultivate a sense of expertise that consumers feel they can trust."
Following trends in human foods, pet owners are demanding easier-to-understand labels and more wholesome, natural ingredients, yet many remain unaware of the source of those ingredients and might become confused by conflicting pet food company claims, Neola said.
For example, she said, retailers can play a role in helping pet owners understand the difference between diets formulated with synthetic chemicals versus those prepared with fresh, natural sources of vitamins, minerals, antioxidants and enzymes.
At Odyssey Pets in Dallas, co-owner Sherry Redwine noted that retailer expertise plays a vital role in simplifying the food selection process for shoppers.
"Our customer base wants a quality product from a reliable source at a decent price," she said. "They trust us to offer the very best in pet foods, and we do not carry foods containing corn, wheat gluten, byproducts or Chinese ingredients. However, when I have a conversation with a customer about the particular sourcing of ingredients and the intricacies of co-packing, their eyes glaze over."
In addition to in-store knowledge, education methods such as email blasts and social media marketing can increase reach, Selleck said.
Visibility is another linchpin to building awareness.
"I've seen stores create an entire made in the USA product section to help the customer find what they are looking for," Selleck added.
The independent retailer continues to be instrumental in advocating, educating and spreading the word on good nutrition and, because of these efforts, more and more pet owners are recognizing USA-made foods as superior, safe and convenient alternatives to highly processed foods, said Jen Loesch, general manager for Sojos in Minneapolis.
New Products
Fresh on the Feline Front
The feline crowd is catching up to its canine counterparts in terms of the demand for quality, but challenges remain in getting some cat owners to upgrade their pets' diets, said Stephanie Wright, Westside manager for Bend Pet Express in Bend, Ore.
"Because cats tend to be finicky eaters, they are notoriously difficult to switch to higher-end foods and are also very good at hiding medical issues rooted in diet," Wright said. "Additionally, owners who have been feeding low-end food for years often see no reason to upgrade because Fluffy is an outdoor kitty and doing just fine on brand X."
Manufacturers are paying attention to these unique challenges and offering solutions, including more foods with ingredients that are mostly or entirely sourced in the U.S.
Intended as a treat, mixer or topper, Smallbatch Pets' Freeze-Dried Bites for cats is available in four recipes. Each selection contains 95 percent meat, organ and bone and is 100 percent USA sourced and made, said Noelle Selleck, California sales manager for the Portland, Ore.-based company.
"We've also incorporated fermented purple cabbage for a nonanimal-derived source of probiotics," Selleck said.
Each protein combines a superfood ingredient: chicken and turmeric, turkey and cranberry, beef and papaya, and duck and mushroom.
Smallbatch also recently added rabbit to its mix of frozen cat foods.
"The rabbit in our new frozen slider offering is completely USA sourced, as are all other ingredients, with the exception of organic kelp, which is sourced from the pristine waters of Iceland," Selleck said.
My Perfect Pet recently introduced two USA-sourced, grain-free recipes for cats, said Karen Neola, founder of the Poway, Calif.-based company.
Toby's Turkey Carnivore Grain Free Blend, formulated for both kittens and adult cats, meets Association of American Feed Control Officials (AAFCO) nutrient profiles for all life stages and is made with freshly baked boneless, skinless turkey. Additionally, a limited amount of fresh, whole foods, such as spinach, cranberries and kale, supplies essential nutrients, Neola said.
Low Phosphorus Chicken Carnivore meets AAFCO adult maintenance profiles, with the exception of phosphorus and chloride, and is rich in antioxidants to promote a healthy immune system, Neola said.
"We start by gently cooking 100 percent restaurant-grade meats and blending them with raw vegetables and cranberries," she added. "We refuse to use meals, corn, sugars or soy in our blends, and all produce is free of GMOs."
Ingredients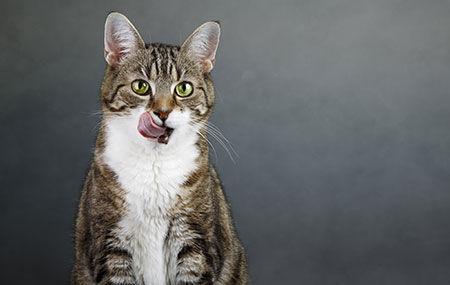 A Sourcing Challenge
USA-sourced cat food faces a few sourcing obstacles, as many of the proteins beyond the basic chicken, beef or turkey can be difficult to obtain entirely in the USA, said Noelle Selleck, California sales manager for Smallbatch Pets in Portland, Ore.
A large part of that challenge has to do with agriculture in the U.S., she said.
"Simply put, other countries consume and grow more of the exotic proteins such as duck, rabbit or lamb," Selleck said. "Also, taurine is difficult to source in the USA and must be supplemented in cooked products. Unless the eating patterns of the United States change, these issues are unlikely to go away."
Processed meals often originate from offshore sources that are not disclosed, with final "manufacturing" taking place in the U.S., said Karen Neola, founder of My Perfect Pet in Poway, Calif.
Smaller companies are leading the charge by using only restaurant-grade foods primarily sourced in the USA, Neola said.
Attention to the country of origin information on the ingredient list, the reputation of the manufacturer and the company's policies on transparency are all important when making buying decisions, said Bette Schubert, co-founder and senior vice president of sales for Bravo Pet Foods in Manchester, Conn.
"With vitamins and minerals and/or particular spices, you'll likely do better sourcing from a country rich in those particular resources," she said.
A benefit of manufacturing food in the U.S. is the elimination of the need to divert production dollars to transportation costs and other inefficiencies that are unavoidable with imported goods, said Jen Loesch, general manager of Sojos in Minneapolis.
"That, plus growing consumer demand, will no doubt continue to attract more and more manufacturers to the advantages of in-country production, and appeal to retailers to feature brands offering made in the USA products," Loesch said.