For many pet owners, purchasing made in the USA products is driven by a demand for quality. However, customers are also increasingly interested in supporting domestically produced brands they can relate to or those that share similar beliefs, according to industry participants. 
Wentzville, Mo.-based TropiClean Pet Products strives to provide quality products that help improve the lifestyles of both pets and their people, said James Brandly, public relations manager. The company is also proud to create made in the USA products that help strengthen the local communities it works in as well as the U.S. economy, he added. 
For TropiClean, a "Made in the USA" sticker not only showcases where its products are produced, but also that its products are held to the industry's highest standards, according to Brandly.
"The U.S. holds manufacturers like ours to strict manufacturing practices and regulations," he said. "Our products and ingredients have to exceed the industry standards, and our facilities have to surpass strict manufacturing guidelines."
Julie Creed, vice president of sales and marketing for Ardsley, N.Y.-based Pura Naturals Pet, which offers a full range of organic pet wellness products for dogs and cats, all made with U.S.-sourced ingredients, manufacturing and packaging, said today's customers have many options, but they increasingly value companies that manufacture and source domestically and keep jobs close by.  
"USA-made is not only associated with keeping jobs local, but also stricter guidelines and controls," she said. "Our American factories engage in environmentally friendly practices and comply with product quality standards and strict guidelines. The majority of our products are USDA certified organic."
Some pet specialty retailers report that customers have more faith in made in the USA products because they believe products made elsewhere lack quality control and safe ingredients or manufacturing processes. 
"One thing I always remind my customers about is that it can't just be 'made' in the USA, products must be sourced in the USA as well," said Denise Strong, co-owner of Pawz On Main in Cottonwood, Ariz. "We are living in a time where people are more sophisticated buyers who are willing to educate themselves about what they are giving to their pets. Therefore, it's not surprising that people are choosing these products." 
As more consumers demand made in the USA products, many retailers are devoting more space to the items.
"We are pleased that more retailers are carving out made in the USA sections in their stores in response to increased customer demand," Creed said. 
Diane Lundeen, owner of Petcetera NOLA in New Orleans, said products that are made in the U.S. are very important to her customers.
"The serious issues with foreign-sourced toxic substances in dog food several years ago made people much more aware of the importance of what's in their pet's food, treats, toys and accessories," she said. "Many Americans simply tend to trust American-made products more. Customers perceive American manufacturers to be held to strong regulations to keep their pets safe and healthy."
Charitable Efforts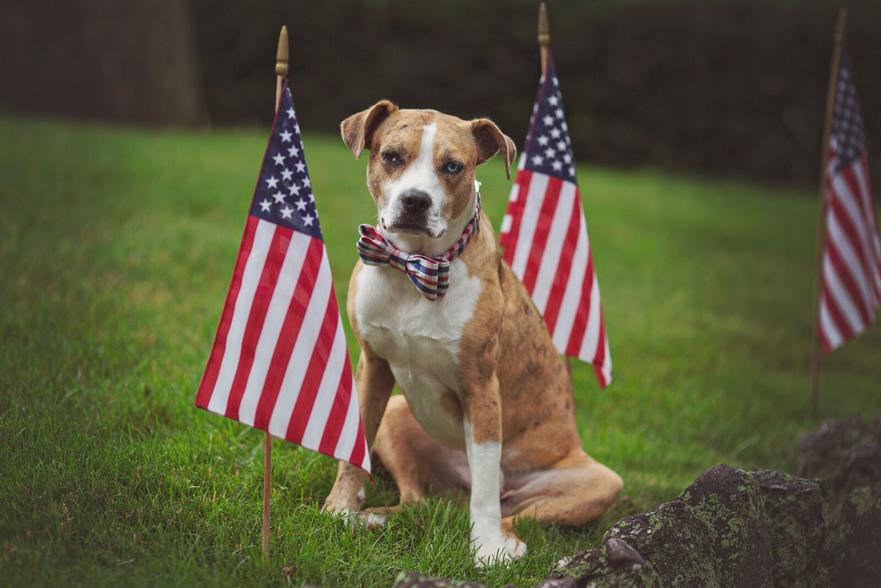 Giving back is at the core of many companies that manufacture their products in the USA—and it's a trend that consumers are noticing. 
In fact, 87 percent of consumers would purchase a product because a company advocated for an issue they cared about, according to the 2017 Cone Communications CSR Study, conducted by Boston-based media company Cone Communications. 
"It feels good to make a difference any way you can and with every buying decision that you make," said Donna Bodell, vice president of Up Country in East Providence, R.I., adding that "made in the USA" has been the company mantra since it was founded in 1984. "Why not choose a product that will help your community in a wide variety of ways, with a huge ripple effect? I think people are realizing this more and more."
Up Country is committed to giving back to a variety of animal-related causes with a goal of not only funding deserving organizations, but also raising awareness for their causes, Bodell said.
"For more than seven years, we have given a collar and leash to every dog adopted from our neighbor the Rhode Island Society for the Prevention of Cruelty to Animals (RISPCA). Close to one thousand sets and going strong," she said. "Our partnership with the David Sheldrick Wildlife Trust donates part of the proceeds from our Leader of the Pach collar and lead to help elephants orphaned by poachers. And our No Bones About It collar and lead helps support the PetFinder Foundation, a champion for adoptable pets."
Brandly said giving back is the very reason TropiClean exists. 
"Giving to those in need and making products that bring people and their pets closer—that's why TropiClean does what we do," he said. "A generous portion of TropiClean's revenue goes directly to supporting the poor, widowed and orphaned in countries like Guatemala, Haiti and Africa through Gifts of Love International."
TropiClean also donates to charities and animal shelters each year through products, gift baskets and monetary donations. In addition, the company supports the well-being and improvement of shelter animals through programs such as TropiClean First Impressions, which officially launched in 2017.
"Partnering with animal shelters, we provide TropiClean pet products and resources for shelters to use on their adoptable pets," Brandly said. "The goal is for the shelter to use TropiClean products prior to the adoptable pet meeting their potential parent, helping provide the best first impression."
The passion for giving back is also engrained within the company's culture. TropiClean encourages employees to donate time and resources to the community by giving them five paid mission days to help organizations locally and abroad. 
Pura Naturals Pet supports the American Society for the Prevention of Cruelty to Animals (ASPCA) and sponsors Karma Rescue's Paws for Life Program. 
"In this program, canines are pulled from high-kill shelters and inmates in maximum state prisons train the dogs," Creed said. "Upon graduation, the dogs know 70-plus commands and are gifted as a service dog to a U.S. veteran with post-traumatic stress disorder (PTSD)."
Additionally, as a manufacturer of pet wellness products, the company wanted its philanthropy efforts to further its message and benefit animal safety and wellness.  
"Our team aided Hurricane Harvey efforts, and our involvement with the Paws for Life program has been the donation of product, monetary and time," Creed said. "Knowing we are making a difference is invaluable. We also actively promote these causes in our newsletters and HTML campaigns and updates with a focus on how our retailers can get involved. It all makes a difference."