Products that are made in the USA are always a popular seller. Whether these items are grouped together in a section or dispersed throughout the store, shoppers like to see products with the American flag or the words "Made in the USA." There are a lot of reasons why retailers and their customers support U.S.-made products, but safety and workforce support are two of the most prominent.
"I definitely believe that safety as well as supporting our country's workforce are the two driving factors keeping the made in the USA category so popular," said Glenn A. Novotny, president of Emerald Pet Products in Walnut Creek, Calif. "People feel more comfortable buying products made here because they know they're held to certain standards and that safety precautions are taken."
Andrea Bourne, marketing manager for Pure Treats in Vaudreuil-Dorion, Quebec, Canada, which makes its freeze-dried products in the USA, said that it comes down to peace of mind. Customers like to know where products—particularly food products—come from, and they want to feel confident about feeding them to their pet.
Knowing where pet food is made and sourced is a huge concern for customers at Pets Naturally in Traverse City, Mich.
"Our customers will even go as far as wanting to know where each individual ingredient is sourced from," said sales associate Larissa Hunter. "We've called manufacturers to get those answers for our customers."
Adam Baker, founder and CEO of True Dogs LLC, maker of the SodaPup brand in Boulder, Colo., said that by producing his products in the USA, he can ensure fair wages and safe working conditions—and he can have greater confidence in the safety of the materials.
"We have hands-on control over our quality, and we have confidence that we minimize the environmental impacts throughout the manufacturing process and the life cycle of our products," Baker said. "Our products are natural, sustainable, biodegradable, nontoxic and FDA compliant."
There's a good feeling associated with supporting businesses that are, in turn, supporting the country by employing people here in the U.S., Novotny said.
It's certainly a big factor for Jan Hopper, owner of Living Pawsitively Natural Pet Food Store in Lafayette, N.J.
"I believe in carrying made in the USA products because I believe it's important to support our workforce," Hopper said. "Not only do we carry a lot of products made in the U.S., but we also really focus on buying items within 90 miles of our store. We believe in supporting our local job market whenever we can, and our customers appreciate that."
USA-Made Introductions
Introduced in June, Purely Prime treats, made by Emerald Pet Products, are a healthful version of turkey bacon and turkey sausage slices—both USA-made with USA-sourced meat.
"It's a healthy alternative to what pet parents might find in the grocery store," said Glenn A. Novotny, president of the Walnut Creek, Calif.-based company. "The packaging is a lot of fun."
Poochie-Pets LLC introduced a new pet bell at SuperZoo in Las Vegas in July that is shaped like a small cowbell and has a rust-proof white enamel coating. It has a small fabric loop that can be adjusted and affixed to the pet's collar.
Adam Baker, founder and CEO of True Dogs LLC in Boulder, Colo., launched the USA-K9 brand at SuperZoo. It is a line of U.S.-made durable natural rubber dog toys with designs inspired by World War II military objects. The brand was launched with 12 SKUs. Baker said that while most dog toys tend to be cute, this brand is all about being tough.
Creative Displays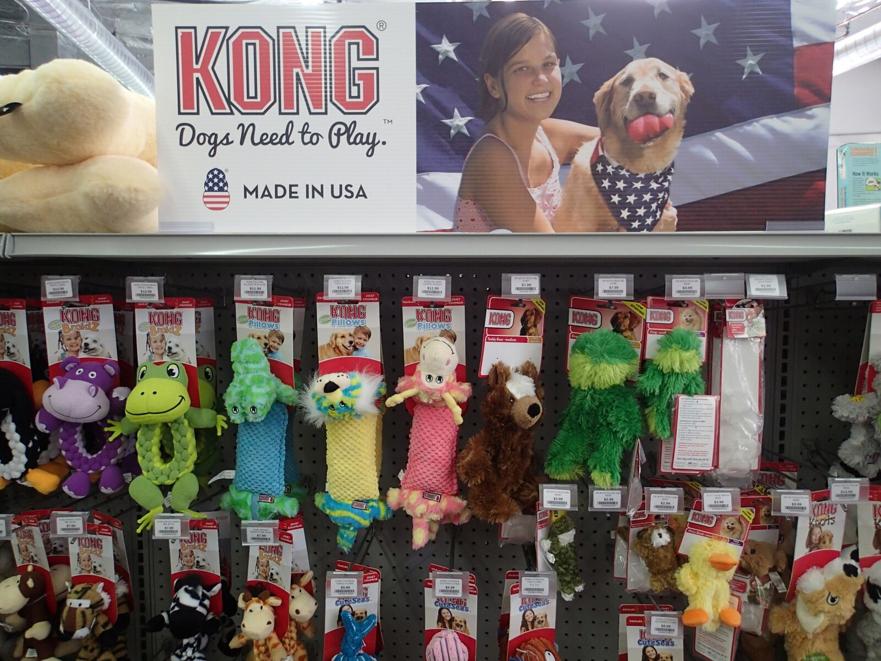 With only so much space, it might not be feasible to pull all products that are made in the U.S. and create a separate section with them in a store. But, at the very least, an endcap or something special near the front of the store—especially around patriotic holidays—can help draw attention to the category.
Jessica Short, marketing coordinator for Riley's Organic in St. Louis, said that retailers should celebrate made in the USA products, as market research company Mintel has found that 84 percent of registered voters prefer to buy U.S.-made products. The summer months are an excellent time to bundle products for a made in the USA theme, she noted. Utilizing a holiday such as Labor Day to host a made in the USA sale, run contests, hand out samples or do other giveaways can turn it into an event, celebrating the country as well as the products.
Glenn A. Novotny, president of Emerald Pet Products in Walnut Creek, Calif., suggested creating a fun made in the USA section as an endcap or a special display. It's easy to find plenty of flag decorations that could be used to draw attention to the section.
While most packaging clearly calls out when a product is made in the USA, going the extra mile never hurts, Novotny added. He said that adding American flags to U.S.-made products, creating signs or grouping items together can really help "drive home the sale."
Cindy DiMatteo, co-owner of The Urban Dog in Rochester Hills, Mich., said that she displays little corrugated cardboard signs with the American flag and the words "Made in the USA" by the appropriate products. Although most packages already say it, the signs help attract extra attention, even if customers are in another part of the store, she said.
Spread the Word
While most U.S.-made products contain branding that identify them that way, some manufacturers feel it's important for retailers to talk to customers about this category. Cheryl Pedersen, owner of Poochie-Pets LLC in Simsbury, Conn., said that despite the fact that each PoochieBells instruction tag states the company's origins, people still seem surprised when they learn that the products are handcrafted in the USA. That means that customers aren't always reading the tag, and Pedersen said that she has partnered with retailers who understand the value in educating customers.
"We find that when we explain to someone exactly where PoochieBells are made, they are delighted in the knowledge and happy to be purchasing a USA-made product," Pedersen added.
Urging pet owners to look at food product labels is also important.
"We always encourage pet parents to turn the bag around and look at ingredients as well as where product is made," said Andrea Bourne, marketing manager for Pure Treats in Vaudreuil-Dorion, Quebec, Canada, which makes its freeze-dried products in the USA. "You would be surprised how many pet parents buy a dog or cat treat merely because the packaging is nice or they see it on an endcap. By actually reading the information on the back of the bag, pet parents will quickly get the information they need to make an informed decision based on what's inside the bag."