Small animals that were once considered unconventional—animals such as chinchillas, rats, hedgehogs and sugar gliders—are growing increasingly popular with pet owners. As a result, manufacturers of small animal habitats and cages are developing new designs to accommodate the unique needs of these pets.
"In years past, pet parents had limited, affordable choices for housing, and were forced to purchase cages that were designed specifically for ferrets or rabbits," said Jason Savitt, president of Prevue Pet Products in Chicago.
Savitt noted that tight wire spacing is essential for many of the species that are becoming more popular with pet owners.
"The minimum wire spacing requirements for adult ferrets and rabbits is larger than for a rat or sugar glider," he said. "That's why Prevue has gone to great lengths to create quality options to accommodate the changing needs of all small animal pets."
John Gerstenberger, vice president of product development and sourcing for Ware Pet Products in Phoenix, said small animal pets are an emerging pet category and deserve products that are species specific and designed based around their unique housing care, nutritional and play needs versus a one-size-fits-all mentality.
"Products for these pets must now appeal to an ever-expanding range of adult pet owners including their desires and tastes in product designs, packaging designs, etc.," he added. "Our goal is to [create products that] serve the unique needs of each small animal species and also design packaging that is not only clean and easy to merchandise and display for our retail partners, but also easy to understand for the pet-parent customers who are shopping for a small animal pet."
Another significant shift in the market is color. In years past, almost all small animal products were designed to appeal to kids and fit in their play areas or bedrooms.
"Small animals, like hamsters, guinea pigs, rabbits and ferrets, were often brought into the home to live in a child's space. Therefore, designers and manufacturers focused on offering housing in bright primary colors and fun pastels," Savitt said. "However, there has been a shift in trend, and pet owners are now much more interested in housing options that fit more seamlessly into the family's living space."
Shoppers in the small animal category are also on the hunt for products that are affordable and versatile, industry experts report. 
Jason Casto, director of Pets International, Kaytee Hard Goods, in Chilton, Wis., noted that pet owners of all ages are price conscious and discerning.
"As an expanded market that includes both younger and older demographics as well as families enjoying small animals as pets, they are looking for products that do more than just meet their pet's unique needs," Casto said. "They are seeking new and different, innovative, and better quality at a reasonable price."
Pet World in Lawrence, Kan., offers both indoor and outdoor habitats and enclosures for pets. Sherry Emerson, owner of the store, said customers continually seek to improve the lives of their small animal pets.
"We're noticing more and more interest in what used to be considered oversized habitats that offer flexible options for design and setup with ample space for animals," she said. "For the times you can't interact with your pet outside of its enclosure, it's important to create a large habitat that mimics what animals would experience in the wild, minus the predator/prey stressors, of course. It's more than just providing water, food and shelter."
On the Market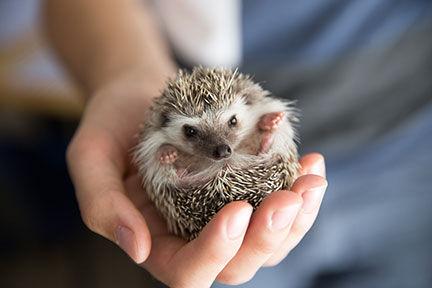 Trendy Habitats
Manufacturers are offering a range of small animal habitat options to appease pet owners' evolving tastes and demands.
To satisfy pet owners that are looking to follow the latest trends, Prevue Pet Products, based in Chicago, now offers designs in a more neutral color palate.
"[Last year,] Prevue introduced two new small animal homes, both with extra tight wire spacing to help provide peace of mind and keep pets safe while unattended," said president Jason Savitt. "Additionally, both cages have some of the largest living space for small animals on the market—keeping active pets healthy and engaged."
Prevue's Deluxe Critter Home offers-inch tight wire spacing and no gaps or pinch points, while its Small Animal Home offers plenty of room but is more compact for a single pet and owners who have less space. 
Kaytee recently released the CritterTrail Super Habitat, specifically designed for larger breeds of small animal pets such as Syrian hamsters, as a complement to an array of new products in its small animal portfolio.
"The design of CritterTrail still allows multiple habitats and accessories to be attached to build a connected habitat system of any size," said Jason Casto, director of Pets International, Kaytee Hard Goods, in Chilton, Wis. "However, the new CritterTrail Super Habitat meets a need for a single CritterTrail habitat with ample living space."
John Gerstenberger, vice president of product development and sourcing for Ware Pet Products in Phoenix, said the company will be launching new small animal habitats at Global Pet Expo in Orlando, Fla., this March. 
"We have listened to feedback from our retail partners and small animal owners themselves to develop new products that cater to the unique needs of small animal pets," he said.
Marketing
Let's Make a Deal
Sometimes selling more small animal habitats at retail just takes a little marketing and promotional creativity, industry participants report.
At Adventure Pets in Mandeville, La., the store offers pricing deals to customers who purchase a small animal and a cage.
"We offer 15 percent off health care and a free visit to the vet," said co-owner Stephen Creech. "It entices people to spend money here."
Selling more of these small animal habitats often comes down to educating and personalizing a customer's experience, both in-store and via social media.
"Retailers should be the local experts on all things pet," said Jason Savitt, president of Prevue Pet Products in Chicago. "Educate and guide your customers to purchase the appropriate home for their pet. For example, teaching people the importance of wire spacing and the specific product needs of their pet, offers customers a huge added value over online shopping."
Ware Pet Products in Phoenix offers its retail customers in-store education, video, marketing and more, and it provides sale sheets to distributors to share with buyers as requested. The company has also updated and launched a new website to help share information, features and benefits, and images to educate and engage retail customers and pet owners alike.
Merchandising
Seeing Is Believing
Displaying small animal habitats in high-traffic, highly visible locations is among the most effective ways for pet specialty retailers to boost sales in the category, according to industry insiders.
At Adventure Pets in Mandeville, La., co-owner Stephen Creech displays animal habitats on the top shelves throughout the store, so they are in full view of customers.
"I always like to have them out because they sell 10 times better when people can get a good visual on them," he said.
Jason Savitt, president of Prevue Pet Products in Chicago, said retailers should create a mini showroom with these cages.
"Replicate an environment in your store that highlights how a cage may look and feel in a customer's home," he said. "In today's market, people will spend a little more if they know their pet's home will fit in with the décor of their living space. Think of it like you are selling furniture."
John Gerstenberger, vice president of product development and sourcing for Ware Pet Products in Phoenix, encourages retailers to have at least one preassembled small animal habitat on display on the shelf, as this is a tried-and-tested way to increase sales of these products. 
"Not an easy task for many retailers due to space constraints, but most will tell you, their sales increase when a customer is able to see how a cage is set up and they can touch it," he said.
Sherry Emerson, owner of Pet World in Lawrence, Kan., said that customers often take inspiration from her store's cage displays.
"Our animals are kept in huge, open pens, which encourages new owners to take a similar approach," she said.