Participants:
Melanie Allen, avian product specialist for The Hagen Group in Mansfield, Mass.
Lucas Stock, communications manager for Oxbow Animal Health in Omaha, Neb.
Caroline Janczak, co-owner of Critters Pet Shop in South Elgin, Ill.
Chris Luberski, manager of Todd Marcus Birds Exotic in Delran, N.J.
Caroline Morgan, owner of TC Feathers Aviary in Chantilly, Va.
Kelly Parsons, manager for Denny's Pet World in Kirkland, Wash.
Pet Product News: How healthy are the small mammal and bird categories, from a business and hobby perspective?
Melanie Allen: The bird category is growing, but it's a slow growth from what we have seen in the past. It's small. It's not jumping like it did in the 1980s and 1990s. But it's certainly not flat, by any stretch. The most important trend that I see is that we're seeing more of the younger demographic. They're doing a lot more with rescue and adoption.
There's a shortage of bird breeders. That's a big problem. Retailers are asking me all the time when I visit their stores where they can get birds.
Caroline Janczak: We promote all small mammals, and interest in the small mammal category has not wavered. We've integrated rescue into what we do now, and we see a large number of animals—particularly guinea pigs—come in through my rescue.
Caroline Morgan: The bird category is growing, and we're definitely seeing an increase in new customers. I don't know that people are necessarily more educated, but with the use of the internet and social media, a lot of people are starting to find us online rather than by word-of-mouth like they used to.
Kelly Parsons: We had a pretty good Christmas with small animals. We sold lots of hamsters and lots of rabbits. People seem to be going back to them a little bit more. Some of the parents that had them as kids are now getting them for their children.
The biggest obstacle with the bird category is getting birds. I just can't get parakeets, I can't get finches, and part of it is because I won't buy from [breeders who breed in mass]. I get them from local people.
PPN: How have foods and feeding changed for bird and small mammals? What are the latest trends in husbandry practices for both categories?
Allen: More consumers want natural and wholesome products for their birds. They want natural and wholesome components of their bird toys, they want them in their bird foods and certainly in their treats. Bird owners are reading labels. A lot of that came about a few years ago with the recalls on some bird foods.
Lucas Stock: The bond between [small mammals] and pet parents grows stronger all the time, and these passionate pet parents are looking for ways to enrich their pets mentally, physically and through nutrition. Pet parents love to feel good about the choices they make on behalf of their pets.
Chris Luberski: Everybody's more on a natural trend right now. They're using a lot more natural foods and products to feed their birds, and taking a more holistic approach to things. People are doing their research and planning before making a bird purchase.
Parsons: Customers do seem to go for a more-high-quality food for their small mammals, but that's because that's what we're feeding. So we don't really give people a choice. We recommend Oxbow for them so they get the exact same thing we've been feeding, and we're selling way more pelleted diets.
PPN: How have equipment and supplies for each category evolved recently?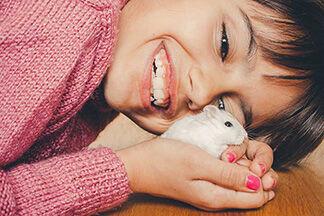 Allen: I know several bird owners that have multiple cages for their pet birds, where one may be a retreat or a sleep cage. It's something I implement with my birds. It's where they go to bed. Their daytime cage is larger; it has a lot more activity opportunities such as toys and enrichment food.
Janczak: Small mammal cages are not selling as well as they did a few years back, and I'm not sure if maybe people are buying online. Or maybe they're getting cages from their family and friends. But the category still sells overall.
Luberski: Cage standards for birds have definitely gone up a lot. The saying "bigger is better" is definitely true with bird caging. Sun lights, or UVB lighting, are definitely growing in popularity.
Parsons: Customers are definitely using large enclosures for small mammals. People are pretty good about wanting a good-sized cage. They kind of understand what their needs are and are getting much better cages than they had in the past.
PPN: What legal issues and regulations is the industry facing?
Allen: There are a lot of pending regulations and regulations that are already in place. One regulation that is very much a threat—and it scares me—is the Endangered Species Act (ESA). We have 25 states that also adopt ESA-listed birds as illegal to own, unless you have federal permits for them, which are usually only given to those who are working towards conservation.
It's getting sticky. There are 25 states in the United States where it's illegal to have certain species of birds. That causes a little bit of a challenge. That has an impact not just on pet ownership, but on the pet product manufacturers who make cages, seeds and toys. It's a domino effect.
Janczak: Rabbits have suddenly become somewhat controversial, which is just a regional thing in the Chicago area. There is a group of people who are pushing for laws to prevent the sale of not just dogs and cats, but rabbits too. That's sad, because I am one of the stores that offers rescue rabbits, but if that legislation goes through, I fear I will no longer be able to do that.
I do wish they would give the pet industry the benefit of the doubt. You don't choose this as a profession if you hate animals.
Luberski: There's a lot of stuff with birds being ESA-listed where they can't be shipped over state lines. In New Jersey, we're impacted a little bit more, because we're not allowed to breed, sell or own ring necks or Quaker parrots. A lot of people who own companion birds are now stepping up and letting their voice be heard to make sure those birds are able to be kept in states where they're not allowed. The bird community has definitely grown in strength.