The small mammal category continues to grow, and bedding products for these animals offer repeat sales opportunities to pet specialty retailers with the right assortment. According to industry insiders, the market has shifted away from cedar-based products as customers seek alternatives.
"Paper bedding is becoming the most popular option," said Glenn Mocabee, owner of Rancho Feed & Pet in Rancho Cucamonga, Calif. "Pine and softwoods bedding are becoming less and less popular. Paper has a good texture, and it does a lot better in terms of absorption."
Bedding options for small animals is an individual choice, but many in the market prefer the paper varieties. Corncob is also popular for specific applications. 
"Most people are shifting more towards the paper bedding," said Carol Hoover, owner of Carol's Critters in Tallahassee, Fla. "I, personally, don't like it. I don't think it's great for absorption or odors. We use pine for most of the animals, and then corncob for everything that needs dry bedding, such as the ferrets and hedgehogs."
Still, for the average customer, paper bedding has edged out corncob bedding, according to retailers. 
"Customers are gravitating to paper bedding," said Mike Simms, co-owner of Critter Pet Shop in Allen Park, Mich. "It's almost taken over my corncob sales, and I sell a lot of corncob."
Quality is another top consumer demand in the category.
"One exciting trend we have noticed is greater consumer awareness of the importance of quality litter and bedding," said Lucas Stock, communications manager for Oxbow Animal Health in Omaha, Neb. "In days past, these products may have more often been perceived as an afterthought or something that was purchased without much research or consideration. Now, we're finding that discerning customers who want to know about the specific attributes and functionality of their chosen litter or bedding. [Customers] want to provide materials that are safe, comfortable, and effective at keeping pets clean and odors minimized."
Consumer Education
Build a Rapport 
For pet specialty retailers, being in tune with customers is among the most effective ways to increase sales in any product category. Small mammal bedding is no exception. 
Retailers report that the small mammal customer demographic is skewing slightly older than the young customer base that is traditionally associated with the segment.
"My customer base is a mix," said Mike Simms, co-owner of Critter Pet Shop in Allen Park, Mich. "It's definitely parents and their kids, but I see a lot of 20- to 30-year-olds coming in and getting small mammals also." 
For both older and younger customers alike, kits help to introduce them to the hobby, and bedding options are a vital part of putting together a kit for a first-time small animal owner.
"We offer a kit that we put together ourselves for every animal we sell," Simms said. "We have kits already set up with prices on it with the bedding and everything inside.
"When customers ask my opinion, I just give them the facts of what I use and what works. They make their decision from there, but they usually go with my suggestion. I'll help by answering their questions about what works the best, what keeps the smell down the best and what lasts the longest." 
Offering educational material can help build relationships with customers as well.
"An educated sales associate or helpful handouts can easily assist first-time pet parents with selecting which goods their new forever friend will need," said Rylee R. Moder, marketing analyst, small animal, for Kaytee, a brand of Walnut Creek, Calif.-based Central Garden & Pet.
Offering advice and additional information can help drive all repeat sales—not just bedding.
"We constantly do education on everything," said Carol Hoover, owner of Carol's Critters in Tallahassee, Fla. "We have a sheet where we list each animal's bedding requirements and that sort of thing. We also emphasize educating customers verbally. We demonstrate what works by using [products] ourselves in-store."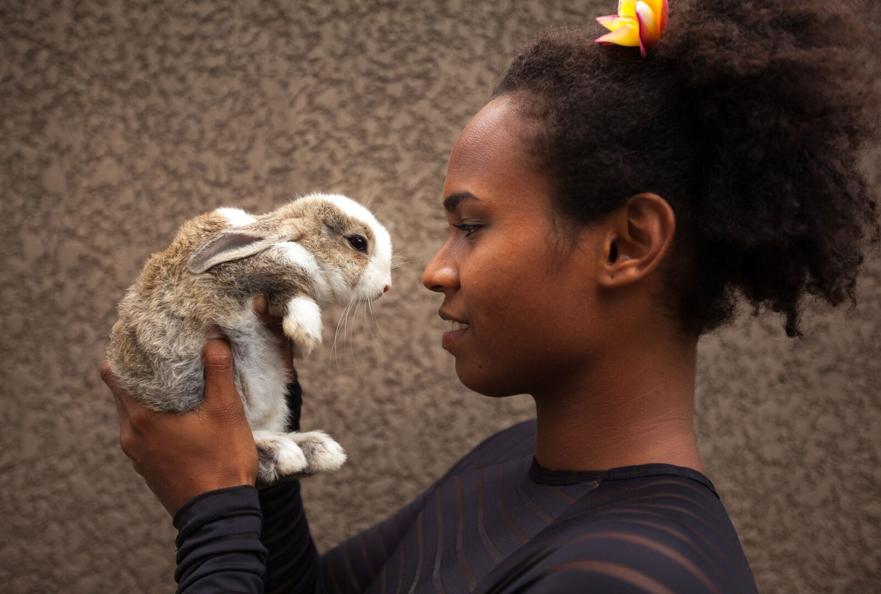 Merchandising
Showcase Products with Live Animal Displays 
The small mammal segment is expanding, and pet specialty retailers can leverage this trend by showcasing live-animal displays that are clean, attractive and feature the bedding options in stock.
"The small mammal business is definitely growing," said Mike Simms, co-owner of Critter Pet Shop in Allen Park, Mich. "It's been a lot better this past year than it has been in a long time. Having clean cages and bedding helps drive sales. It also shows off the bedding we're using."
In addition to visiting the local pet store for small-animal food, pet owners will often return to the store for bedding, so maintaining a tidy appearance is especially important to make a good impression.
"Bedding is primarily a repeat sales item. Customers go through bedding fast, and they'll come back more for that," said Carol Hoover, owner of Carol's Critters in Tallahassee, Fla. "In-store cleanliness is very important. We clean cages daily. So we go through a lot of bedding ourselves. People want to go to stores where they can actually see pets, and having live animals on display definitely helps."
Building trust will help further expand retailers' customer base and bring shoppers back in-store more regularly.
"For independent retailers, customer loyalty and trust are key in an ever-competitive marketplace," said Lucas Stock, communications manager for Oxbow Animal Health in Omaha, Neb. "Bedding and litter are essential products that make up an important component of the overall picture of health and wellness for small animals. Retailers should make it a goal to get their customers in the habit of purchasing bedding regularly, in conjunction with other essentials such as hay and pellets."
New Products
Making the Bed
As customers increasingly gravitate toward paper bedding options, manufacturers in the category are focusing on health concerns and product quality.
Oxbow Animal Health recently redesigned the packaging of its Pure Comfort paper bedding line to include easier-to-read usable volume listings, said Lucas Stock, communications manager for the Omaha, Neb.-based company. The packaging change incorporates an updated look with expanded features describing benefits along with graphics, and an improved bottom panel with a larger window, Stock noted.
Aesthetics, absorption and odor control are all important attributes to customers, and new products seek to emphasize these traits. 
Kaytee, a brand of Walnut Creek, Calif.-based Central Garden & Pet, recently introduced new Clean & Cozy bedding SKUs, including its Natural 72L, Apple Spice and Extreme Odor Control, said Rylee R. Moder, small-animal marketing analyst for the company.
Clean & Cozy Natural 72L is packaged to offer more bedding per SKU, Moder noted, and is designed to be 99.9 percent dust free, with better absorption. Apple Spice is a scented bedding option designed to offer pet-safe fragrance to help with odor control. Extreme Odor Control includes a 14-day odor control guarantee, Moder added.
Several popular brands sell well, including Oxbow, Kaytee and CareFresh options, retailers reported.
"The most popular things that I sell are good old pine and paper bedding, CareFresh, and also Pure Comfort by Oxbow and Boxo Comfort," said Carol Hoover, owner of Carol's Critters in Tallahassee, Fla. "All of that is pretty popular here." 
Having a wide variety of options is helpful to improve sales and meet customers' specific applications.
"Recently conducted studies have found that odor control is the most important factor for consumers," Moder said. "Other industry trends include the consumer shift to larger pack sizes for basic natural and white bedding, and a preference for smaller-sized colored bedding to customize habitats."