The dog and cat toy market is going strong, with puzzle and enrichment toys experiencing a boost over the past year.
"The pet toy market is at a great steady incline," said Grant Jape, assistant marketing manager for ZippyPaws, a manufacturer in Chino, Calif. "All forecasts and trends are looking promising for the industry, and that's mainly due to the fact that there will always be cute puppies to please."
Jape said the top three factors dog owners are looking for in a toy are durability, unique squeakers and relatability.
"The first two factors are mainly for the pups," he said. "The relatability factor is the cherry on top and tailored for dog owners. Our products such as the Happy Hour Crusherz or plush Donutz give dog owners a good laugh, but our quality is what keeps them buying."
Offering relatable products that appeal to humans and not just pets is also a focus for SodaPup, a manufacturer in Boulder, Colo. Pet owners are quite diverse, and there are many different segments that can be targeted within the dog-owning population, said president Adam Baker.
"After all, dogs will chew on anything we give them," he said. "So, our philosophy is to build toys for the dog owner, not the dog."
SodaPup has multiple sub-brands aimed at different consumers. For example, the SodaPup brand celebrates junk food and manufactures toys that are shaped like soda cans, hot dogs and popcorn.
"One of our best-sellers is a treat dispenser in the shape of a coffee go-cup," Baker said. "For a suburban mom with a couple of kids and a family dog, who loves her Starbucks, the coffee cup design resonates with her."
SodaPup's USA-K9 brand, on the other hand, resonates with a different, more predominantly male audience that includes military members, members of law enforcement, veterans and owners of "tougher" breeds such as Malinois, German shepherds and pit bulls, Baker said, adding that one of USA-K9's best-sellers is a grenade-shaped treat dispenser.
"This is a design that I was highly discouraged from making because it isn't politically correct," Baker said. "But the market is dominated by 'cute and colorful' designs targeting women, while many other types of consumers are underserved. We created the grenade design specifically to speak to some of these other consumers."
Demand is way up for "brain game," slow-feeder and puzzle toys, said Spencer Williams, CEO and owner of West Paw, a manufacturer in Bozeman, Mont. Sales of the manufacturer's 5-year-old Toppl treat-dispensing toy were up 160 percent in 2020 as compared to 2019, according to Williams.
"This became even more apparent during the coronavirus pandemic," he said. "More people worked or attended school from home, so it was even more important to keep dogs busy so we could all get things done."
Williams said customers are willing to pay more for toys that offer innovative solutions.
"Toys that are mentally stimulating or treat-dispensing are great examples of where unit sales do not decline with higher pricing," he said. "This makes sense because mentally stimulating toys help dogs and their owners by keeping their minds active and providing outlets that mitigate bad behavior."
Toppls were one of 2020's best-sellers at Just Dog People, a pet store in Garner, N.C., alongside Benebones, said owner Katie Ast.
"Made in the USA and 'shop local' are [also] trends that are growing by the week," Ast said.
When it comes to cats, owners want safety, quality and enjoyment for their pets, said Kris Kaiser, marketing specialist for DuckyWorld Products. The Roseville, Minn.-based manufacturer stuffs its Yeowww! Catnip into shapes that are recognizable for humans and stimulating for cats, such as fruits, crayons, fish and cigars.
"Our Chi-Cat-a Banana is one of our most popular toys, and many of our customers believe their cats love the shape of the toy," Kaiser said. "The curve makes it easy to grab with the front paws and bunny kick."
New Products
Offering a Playful Variety
Last year saw a bevy of new toys hit the market, from the catnip filled to puzzle toys and SKUs in people-pleasing designs shaped like beer bottles, snowflakes and even a marijuana leaf.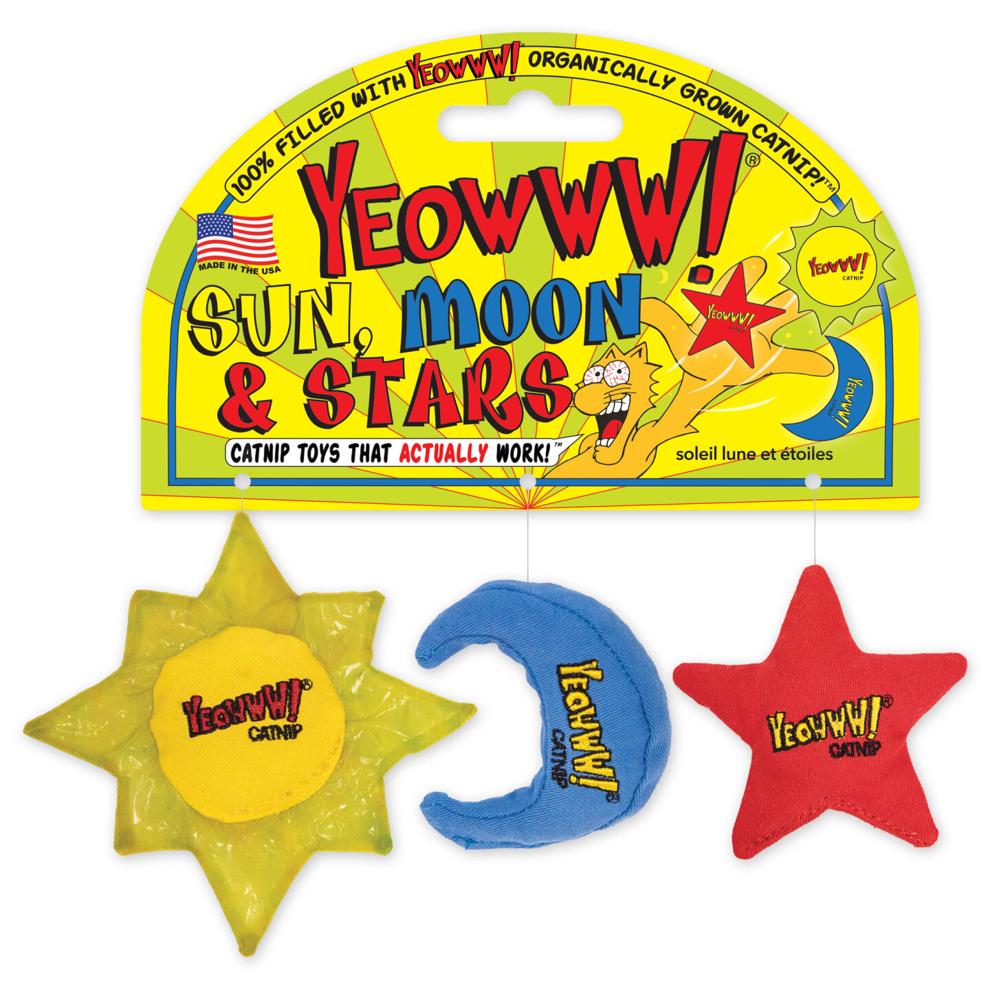 DuckyWorld Products introduced its Yeowww! Sun, Moon & Stars catnip toy set in early 2020. The Roseville, Minn.-based manufacturer fills the cotton twill toys with Yeowww! Catnip, its own blend of organic, U.S.-grown catnip with no stems, twigs or fillers, said marketing specialist Kris Kaiser.
"Many people say that their cat has never responded before to a catnip toy until they tried a Yeowww! Catnip toy," Kaiser said. "We believe that is due to the quality of catnip inside the toy, as well as the toy being filled with nothing but catnip."
In August, ZippyPaws, a manufacturer in Chino, Calif., released its Brewery Collection, which joins the Happy Hour Crusherz line. Happy Hour Crusherz are plush toys designed to look like bottles of whiskey, tequila, champagne and other beverages. Each comes with a squeaky cap and a replaceable water bottle inside to keep dogs chewing and engaged. The new collection includes Stout, Pilsner, Lager and IPA.
West Paw, a manufacturer in Bozeman, Mont., launched the Zogoflex Echo Rumbl in September. The slow-feeder puzzle toy features a fish-trap opening and comes in two sizes to fit a range of dry foods or treats.
Zogoflex toys are durable, dishwasher safe and recyclable through West Paw's Join the Loop program, through which the company collects certain products from its customers and recycles them back into new toys and apparel indefinitely, according to the manufacturer. Like the other Zogoflex Echo toys, Skamp and Zwig, Rumbl has a hollow center for lightweight, springy fun.
In the last half of 2020, SodaPup, a manufacturer in Boulder, Colo., introduced more than 20 new SKUs. Two of president Adam Baker's favorites are the nylon Snowflake and Colorado Maple Leaf.
Both toys are built for aggressive chewers, and owners can smear peanut butter or other soft foods into the toys' depressions.
"We have taken nylon chew toys and evolved them into enrichment toys, giving them a dual purpose, and thus greater utility and value," Baker said. "It's a hybrid between a lick mat and a chew toy."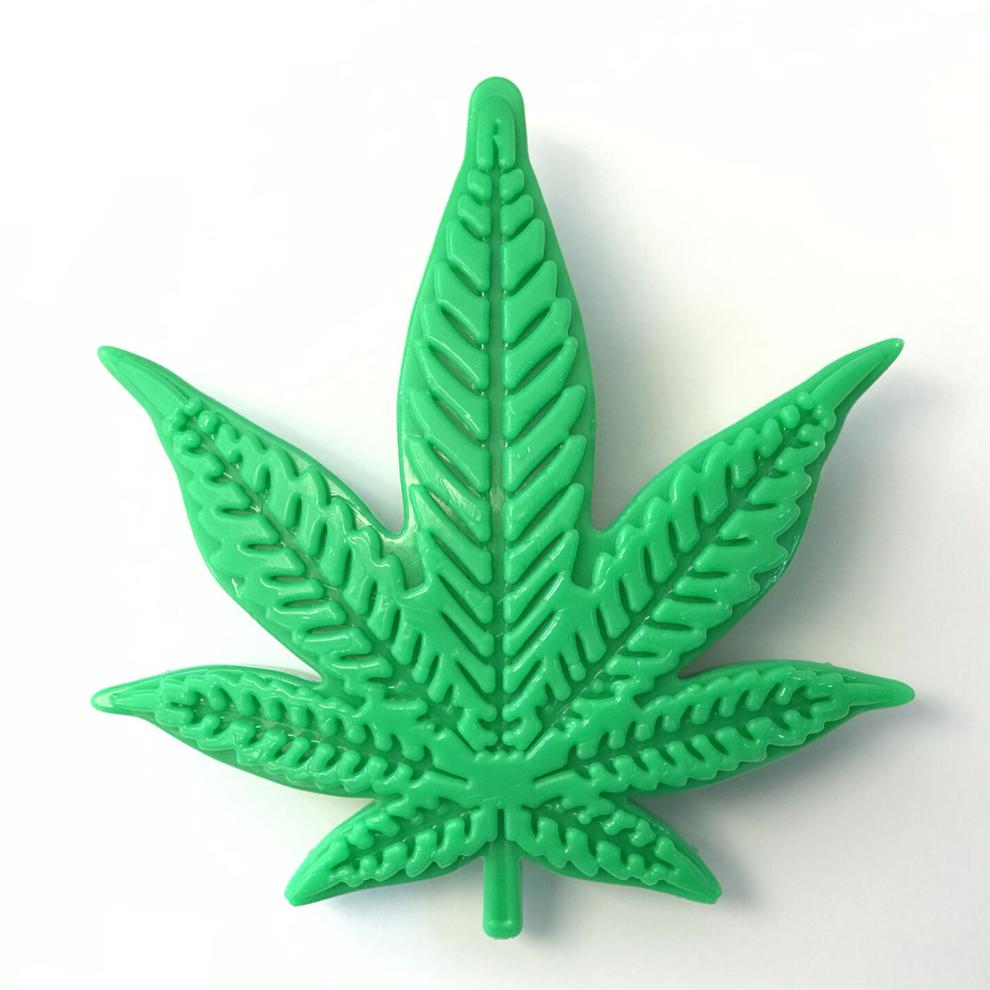 Baker said he was discouraged from creating the Colorado Maple Leaf, which is designed to look like a marijuana leaf, but he said the product was a hit right away and shows SodaPup's "willingness to step outside the box and create fun and unexpected toys that might have broad appeal."
Product Development
The Quest for Durability
Manufacturers and retailers agree that toys' durability is a top priority for dog owners.
"Dog people want long-lasting toys that can't be destroyed in five minutes, and they want it at a good price," said Katie Ast, owner of Just Dog People, a pet store in Garner, N.C.
When building their assortments, retailers should remember that small dogs need durable toys, too.
"You would think bigger dogs go through toys faster than smaller dogs, and often they do," Ast said. "However, small dogs destroy toys just as often. It's usually the smaller dogs that sit and chew at a seam, or an eyeball on a stuffed toy, until the 'inside' is on the 'outside.'"
Durability is a big concern for ZippyPaws, a manufacturer in Chino, Calif. The company offers a wide range of non-plush toys made from latex, ZippyTuff thermoplastic rubber (TPR), rope and more.
"They are built for tough, heavy chewers," said assistant marketing manager Grant Jape. "We have many pups in the office, and luckily for them, they get to test out our prototypes and samples. If our products do not pass our dogs' standards, then we go back to the drawing board."
The company also sells a line of toys made from real fire hose. The idea was born when the company was looking for strong materials beyond TPR and rubber components, Jape said.
"We discovered the fire hose material and how firefighters rely on its toughness and durability when they need it the most," he said. "We wanted to bring that confidence to our toys."
Even ZippyPaws' plush toys are designed to hold up to chewers, with many featuring strong border webbings stitched together with the company's Z-Stitch pattern.
West Paw prides itself on the durability and safety of its Zogoflex material, a nontoxic thermoplastic elastomer (TPE) material manufactured in Bozeman, Mont. It is infinitely recyclable through the company's Join the Loop program.
"All Zogoflex toys are designed with durability in mind, and we provide options for a range of chew and play habits," said Spencer Williams, CEO and owner of the Bozeman, Mont.-based company. "Our classic Zogoflex has a solid core but offers great flexibility for tough chewers and interactive play. Zogoflex Echo has a hollow core and is built for dogs that love the chewy, durable, bounce-back resistance. Our Rowdies plush toys are made from a HardyTex fabric and Zogoflex chew zones, so they are the perfect durable toy for dogs who prefer plush over our harder plastic toys."
SodaPup, a Boulder, Colo.-based manufacturer, has put significant resources into developing a proprietary rubber compound that is highly durable.
"Natural rubber is a cross-linked polymer," said president Adam Baker. "This means that during the manufacturing process, the material changes its molecular structure while curing under high heat and pressure. The molecules cross-link, which gives it very high tear strength."
Not all rubber compounds are created equal—manufacturers can adjust ingredients based on their performance and pricing goals. Brands that prioritize low pricing often manufacture in China and add fillers like clay to their rubber compounds, Baker said.
"Since those budget rubber compounds contain more filler and less rubber, there are fewer cross-linkages, and, therefore, they have lower tear strength," he said.
Merchandising
Playful Displays
Humanizing pets is a way for retailers to get creative with their toy displays, said Grant Jape, assistant marketing manager for ZippyPaws, a manufacturer in Chino, Calif. For example, Jape said, retailers have used ZippyPaws' food-related products, such as Birthday Cakes and NomNomz, to create bakery displays.
Just Dog People, a pet store in Garner, N.C., keeps a birthday table stocked year-round with birthday-themed collars and leashes, cookies and cakes, hats and other party favors, said owner Katie Ast.
The store changes two of its tables monthly to fit themes such as senior dogs, new adoptions and seasonal displays. Two of Ast's favorites from 2020 were the "stuck in the house" and "paw-litical" tables.
The "stuck in the house" table featured puzzle toys and long-lasting chew toys to keep dogs busy while their owners worked from home. The "paw-litical" table showcased patriotic gear, plush elephants and donkeys, and made in the USA treats. Customers were asked to vote for their favorite dog breed, and two winners received their choice of a political toy.
"We really had fun with this year's paw-litical table," she said. "Our community really enjoyed it as well. We noticed many customers taking photos with the table, and at least one person a day made it a point to tell us how much they enjoyed the patriotism of the table."
Retailers should also take advantage of manufacturer-created displays, recommended Kris Kaiser, marketing specialist for Roseville, Minn.-based manufacturer DuckyWorld Products, which is known for its Yeowww! Catnip toys.
"Our displays sell up to 40 percent more product than being pegged," Kaiser said. "We have smaller displays for countertops and shelves, as well as larger displays that showcase a lot of product while taking up a very small footprint."
Stores should keep displays, shelves and peg hooks full, as full displays sell more product, Kaiser noted.
Cindra Conison, owner of The Quirky Pet in Montpelier, Vt., makes cat grab bags with toys and catnip at tiered prices, so customers can just grab them and go.
"You've got to help people along," Conison said.
As a special touch, she offers to add a squirt of catnip oil into cat owners' bags at checkout.