Consumer demand for cat scratchers and furniture has been strong, report industry insiders, who conclude that the trend is driven in part by the uptick in people working from home. Designs that are sturdy or that save on space are particularly sought after among today's cat owners, according to insiders.
Until recently, however, supply shortages related to the COVID-19 pandemic have put a dent in product availability, with larger pieces of cat furniture being particularly difficult to source, retailers reported.
"As far as cat furniture goes, it has been pretty difficult for us to get a lot of product in," said Beya Alcaraz, owner of The Animal Connection in San Francisco. "Our vendors are having pretty big shortages on actual furniture, probably due to the pandemic, just like every other shortage. But as far as the larger furniture, including cat trees and other items, stock is just starting to become available again. At one point, there was no large cat furniture to be had at all. Now we're seeing supply trickle back into the marketplace."
Some retailers have had to scramble to avoid running out of product, but creative and proactive approaches have kept the situation manageable.
"Cat furniture is among the many items that have been difficult to restock in the aftermath of COVID," said Susan Zornes, co-owner of Monster Pets in Philadelphia. "That's been especially true of furniture, but not so much for scratchers. Shipping issues would have been a larger problem for us if we had not learned to adapt. If you see a trend with one of your distributors where problems are cropping up, you have to get ahead of it."
Scratchers made from corrugated cardboard are selling particularly well, retailers reported.
"Corrugated cardboard scratchers have been coming in pretty well," Zornes added. "Whether it be Petstages or Catit from Hagen, we carry a lot of scratchers. It is a hot commodity."
Cardboard scratchers also serve as reliable repeat-sales items, bringing customers back into the store more frequently than cat furniture. Cat furniture that is actually made from cardboard is also attracting attention.
"Cardboard is getting more and more popular," said Sue Green, co-owner of The Whole Cat & Dogs Too in Denver. "Cardboard is probably the newest trend, but it still has its limitations because of the issues with weight and durability."
Some customers are looking for more long-lasting scratchers and furniture with built-in scratchers.
"Inexpensive scratchers that can be recycled and replaced are popular," said Kate Benjamin, marketing director for Primetime Petz, a manufacturer based in Rockwall, Texas. "However, there is a trend toward larger scratchers or scratching surfaces that are integrated into other furniture with replaceable parts, extending the life of the piece."
Product manufacturers are increasingly rising to the challenge of offering options that will stand up to the needs of even a multiple-cat household.
"Our furniture is designed to be rock solid," said Darryl Michaelson, president of Purrniture Cat Furniture, a manufacturer of cat furniture based in St. Paul, Minn. "It's meant to serve as a jungle gym apparatus that multiple cats can do whatever they want on."
Products that keep pets engaged—thus helping to protect furniture—are popular among cat owners, as well.
"All cats love to use scratchers, especially the interactive ones," Alcaraz said. "It gives them a little bit more enrichment than the standard flat cardboard and wood models. We tell customers, [enrichment products] help keep cats sweet and reduce destructive tendencies. Protecting furniture is often a big concern."
Enrichment in Demand
Owners are more aware than ever of cats' need for stimulation as well as mental and physical exercise.
"Today's cat owners are becoming more educated about the importance of having enrichment features for cats in their homes," Benjamin said. "Retailers need to reinforce this knowledge with additional educational materials whenever possible. Scratching, climbing and hiding are all very important for creating an environment where a cat can thrive, and if products are aesthetically pleasing as well, then cat owners will be more inclined to purchase these items for their home."
Some owners are more focused on playing with their cats and interacting directly by incorporating furniture into their enrichment activities.
"More people are trying to play with their cats, which is why some are going for furniture with toys and things like that," Green said. "It's more about wanting to interact with their cats than anything else."
Many cats are kept indoors, especially in urban environments where space is limited, and enrichment options become even more important for customers with cats who don't travel outdoors.
"Indoor cats—which is most of what our customers have, being in the city—get bored at home," Alcaraz said. "Having something that's shreddable and something that's different, that has new textures or that customers can add catnip to, helps make life a little more interesting for cats. Enrichment can definitely help reduce some of a cat's excess energy. We encourage customers to give their cats something to do, to help simulate their natural environment, where they would be foraging and hunting. It also helps customers' cats stay at a healthy weight."
Most customers want cat furniture that is practical, providing both stimulation and durable spaces for cats to explore and rest. Focusing on furniture that can meet a variety of needs is the best approach, retailers reported.
Pricing and Merchandising
Customers are sensitive to price point when shopping for scratchers, which they know they will have to replace.
"The scratcher market is quite price sensitive since scratchers become worn out with use," Benjamin said. "Scratching surfaces that are built in to other cat furniture are popular, combining multiple functions into a single piece. Easily replaceable scratching surfaces are also popular as well as wall-mounted scratchers that don't take up floor space."
Quality sometimes outweighs price when it comes to larger furniture pieces, retailers reported.
"Price is a big factor," said David Lee, owner of Pet Joy in Rancho Cucamonga, Calif. "People who buy our furniture understand that quality cat trees that are durable cost more than the particleboard products that are sold in other stores. But we only sell a small amount because most people prefer to buy lower-priced options." 
Conserving floor space, both on the sales floor and inside cat owners' homes, is a top priority. Square footage for product display is at a premium, and cat owners seek to economize their living spaces.
"We stock scratchers and other cat furniture on a shelf that's pretty high up, 10 feet off the ground," Alcaraz said. "Anything that's large or tall gets placed up there just so it doesn't take up floor space. We do get a lot of customers asking for wall hangers. The internet creates a lot of trends. Being in San Francisco, rent's expensive and living spaces are small. So customers are looking for hanging beds, cat furniture that folds up and scratchers that can be slid under a bed. Space-saving furniture is definitely very popular. Demand for smaller posts is also higher than demand for large pieces of cat furniture."
Making room for cat furniture on the sales floor and creating displays that allow customers to easily view products help drive sales.
"Cat furniture needs to really have its own space," Michaelson said. "Merchandising is best done in a large area of the store, something like a 20-by-20-square-feet area, where customers can step back and look at it. Often, retailers will stack other stuff on or around furniture, and that doesn't help. I have found personally, because I do have my own retail storefront, that when I pile this stuff up to the ceilings from front to back … customers come in overwhelmed."
Smaller furniture that economizes living space aligns with the high demand for affordably priced products, retailers noted.
"We don't have to carry a lot of expensive, boutique-type items," Alcaraz added. "Our target markets are working class families and young people in tech. Everyone's definitely on a budget. Our trees range from $100 to $120 when we can get them."
Apartment and city living is driving demand for reasonably priced furniture that fits into unused spaces within smaller homes.
"We try to keep more stock of products in the $79.99 range and below," Zornes said. "A typical price point for any kind of cat furniture is around $49.99. That's what customers are willing to pay. Most people reason that if something is not too big, not too small, and it's around $50, they'll buy it. That's what they're going for. We have some really cute furniture that can adapt to any apartment city living style."
Many cat owners have multiple cats, she added.
"They're not looking for anything fancy," Zornes said. "Some are, but it's very few. Customers need practical products, both price-wise as well as space-wise."
And for some shoppers, it's more important for cat furniture to be functional and provide maximum space for cats than to fit their home's décor, retailers reported.
"Customers look for good quality and functionality," Lee said. "Aesthetics aren't the main concern. They want the trees to last a long time and for the cats to have ample space." 
New Products
The Cat's Meow
Manufacturers are focusing on producing new furniture and scratcher designs that meet market demand for interesting items that fill novel spaces within cat owners' homes.
"We are working on a new version of our Scratch Pole under-table adjustable cat scratcher," said Kate Benjamin, marketing director for Primetime Petz, a manufacturer in Rockwall, Texas. "It is designed to stay in place with tension under any standard table or desk, allowing cat owners to make use of unused space, creating a sturdy scratching surface that doesn't take up much room."
With more pet owners working remotely, home offices are increasingly common, and cat scratchers and furniture that help customers share desk space with their cats are increasingly popular.
"We've recently induced a product called the Desk Topper," said Darryl Michaelson, president of Purrniture Cat Furniture, a manufacturer of cat furniture based in St. Paul, Minn. "It's a small, carpeted wooden platform designed to fit on or near a desk. It provides cats a spot for themselves. People stuck at home working behind their desks find their cats crawling on their keyboards, but that's just because there isn't a spot for the cat and they're just trying to home in on their people. With so many people now working at home … this is something that's more of a necessity than a luxury."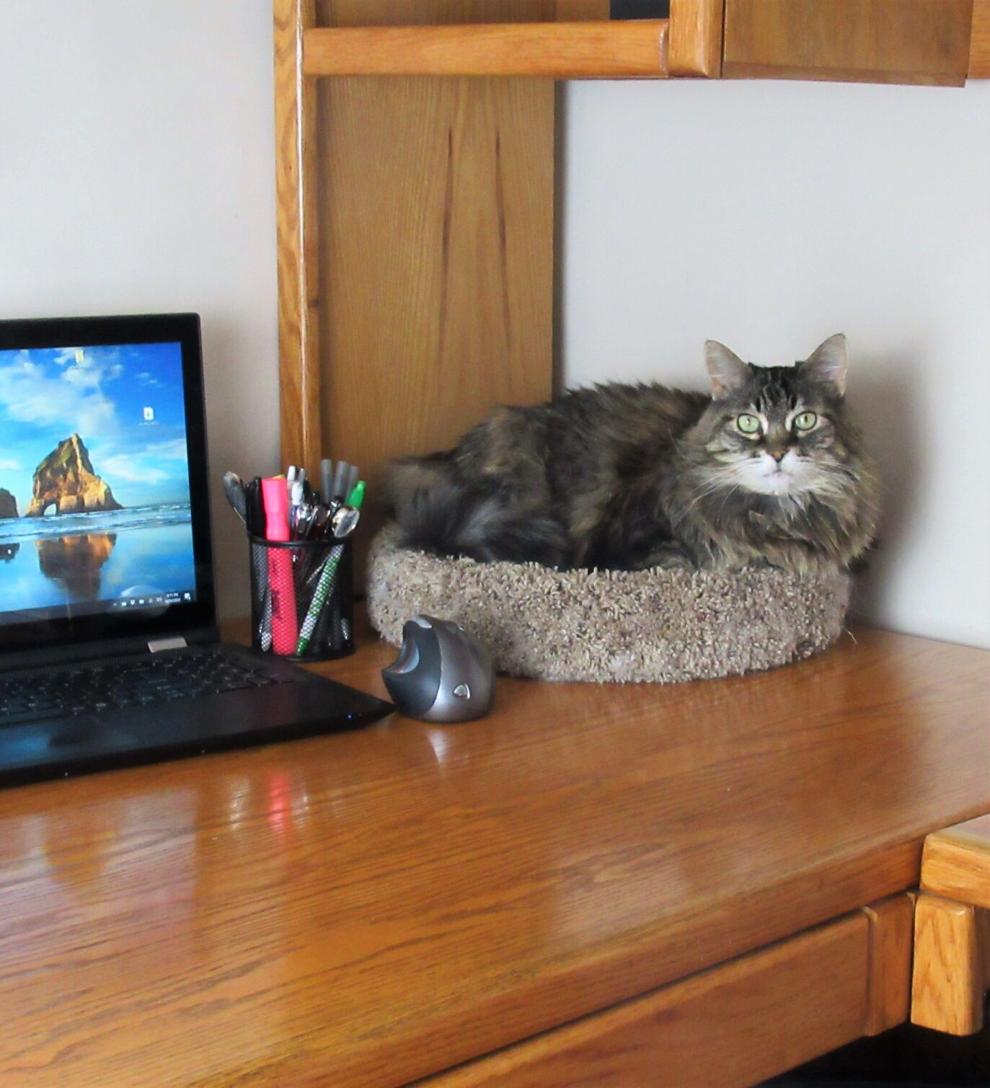 New corrugated cardboard scratchers are adding variety to the market, as well.
"There are a lot of fun new shapes and sizes of corrugated cardboard cat scratchers coming onto the market, and interactive products are becoming available," said Beya Alcaraz, owner of The Animal Connection, a pet store in San Francisco. "A lot of different companies are introducing cat scratchers. Kong is a staple brand for us. We carry a lot of their scratchers. Animal Supply Co. has its house brand, Petcrest, that we introduced to our shelves. They offer some scratchers and little trees, and we've been really happy with those."
The inability to travel to trade shows hindered new product discovery over the past year, though as conditions ease up, retailers are sourcing new scratchers to add to their shelves.
"It's been hard to actually look for new stuff," said Susan Zornes, co-owner of Monster Pets in Philadelphia. "I'm starting to see a few new pieces of cat furniture and scratchers. We get so deep into running the business that we're not looking outside for new products. We haven't had any shows to go to either."